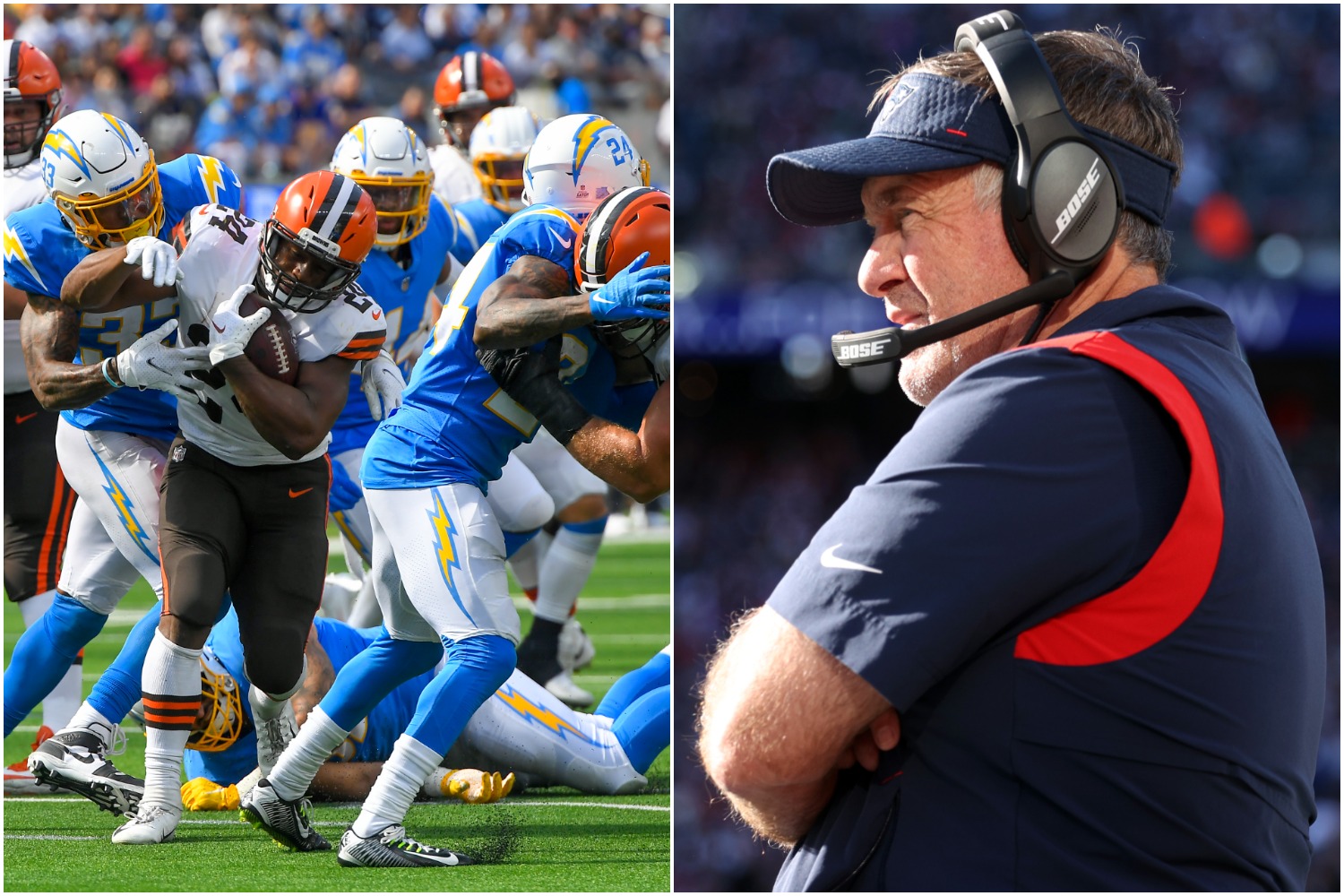 The Los Angeles Chargers' Fatal Flaw May Force Bill Belichick to Let a Promising Playmaker Out of the Doghouse Once and For All
The Chargers haven't been able to stop anyone on the ground this season. If Bill Belichick wants to take down Justin Herbert in Los Angeles, he needs to finally put the ball in the hands of a playmaker with star upside.
Perhaps no coach in NFL history has mastered the art of exposing an opponent's biggest weakness better than Bill Belichick. Known for devising unique game plans designed to exploit critical flaws, the legendary leader of the New England Patriots has an opportunity to show off his schematic skills against Brandon Staley's squad.
And if Belichick wants to leave Los Angeles with a win over the Chargers, he needs to finally let a promising playmaker out of the doghouse for good. After all, to hand star quarterback Justin Herbert his second straight loss, the Patriots must take advantage of his team's fatal flaw.
Brandon Staley's squad has struggled mightily to stop the run
Despite hiring a former defensive coordinator as their new head coach, the Chargers have experienced some significant struggles on that side of the ball. They rank 22nd in points allowed through the first six games of the Brandon Staley era — a one-spot jump from a year ago.
The primary problem with LA's defense?
It can't stop the run. In fact, no team has performed worse in that area than the 4-2 Chargers. Of course, some of that has to do with the quality of their opponents. The Dallas Cowboys, Kansas City Chiefs, Cleveland Browns, and Baltimore Ravens had no trouble running the ball against Staley's squad, which shouldn't have been a major shock given their personnel.
Still, it's impossible to look at the numbers and not come away with concerns about the Chargers' chances of winning a championship. They've allowed a league-high 162.5 rushing yards per game — over 40 more than the 31st-ranked Arizona Cardinals. They've also surrendered 5.4 yards per carry, which puts them a half yard ahead of Kliff Kingsbury's team.
To no surprise, LA ranks dead-last in Football Outsiders' rush DVOA metric.
That bodes well for a Patriots offense that's shown the ability to pound the rock and control the line of scrimmage in recent weeks. And based on the Chargers' glaring weakness, it's time for the greatest coach in NFL history to stop messing around at running back.
The Chargers' fatal flaw may force Bill Belichick to finally embrace the idea of putting Rhamondre Stevenson on the field
Belichick badly needs to leave LA with another win on his resume. And the Patriots' path to victory against the Chargers must include utilizing a player who clearly hasn't earned the coaching staff's complete trust to this point: Rhamondre Stevenson.
A physical running back with surprisingly nimble feet and deceptive speed, he's flashed intriguing potential over the last few months. Yet despite possessing the physical tools needed to make a major impact, Stevenson has found himself in Belichick's proverbial doghouse at times.
A costly fumble in the Patriots' season-opening loss to the Miami Dolphins led to three straight healthy scratches for the talented rookie. It looked like Stevenson had turned a corner with his rock-solid performance against the Dallas Cowboys, but he surprisingly landed on the inactive list in Week 7.
But Belichick can't afford to stick with this approach.
Stevenson boasts Pro Bowl upside, and his combination of power and quickness adds a unique dimension to the offense. Plus, the 6-foot, 227-pound back can make an impact in the passing game, especially on screens. The Patriots need every ounce of playmaking potential in the lineup, which means Belichick has to find a way to get the rookie fourth-rounder involved.
Josh McDaniels can utilize Harris and Stevenson to wear down an undersized Chargers front seven that hasn't shown the ability to slow down opposing rushing attacks on a consistent basis. That duo could inflict serious damage and control the clock, which would force Herbert to watch from the sidelines.
That is, of course, if Belichick activates his promising first-year running back and finally embraces the idea of playing Stevenson every week.
Don't be shocked if the Patriots spoil Justin Herbert's fourth home start of the season
Although the Patriots have a 3-4 record, don't be shocked if they earn their fourth win of the season Sunday. This matchup actually doesn't look so favorable for the Chargers, as Mac Jones and a rapidly improving offense have the potential to make life difficult for LA's underwhelming defense.
New England's offensive line has shown marked improvement in recent weeks. With Michael Onwenu moving from left guard back to his natural position of right tackle, the Patriots have the makings of a top-tier unit. And if the line generates consistent movement, that should lead to big gains for Harris, Stevenson, and maybe even J.J. Taylor.
Don't sleep on the Jones-led passing attack, either. Kendrick Bourne has emerged as a threat at receiver. Hunter Henry, who should have no shortage of motivation going up against his former team, continues to stand out as a red-zone threat. And if Jonnu Smith builds off his promising performance against the New York Jets, the Patriots could cause major trouble for the back end of the Chargers' defense.
Of course, Belichick must work his magic to slow down Herbert and his cast of weapons. Then again, the iconic coach accomplished that feat last year when his defense held the Chargers scoreless in a 45-0 victory.
Although the Patriots don't possess elite talent on that side of the ball, they have a wealth of experienced pros and a few young players with upside. A well-conceptualized game plan, utilizing the right personnel in key situations, and making adjustments when necessary would go a long way toward helping Bill Belichick head back to Foxborough with a .500 record.
Oh, and making Rhamondre Stevenson a more prominent figure in the offense would help, too.
All statistics courtesy of Pro Football Reference.