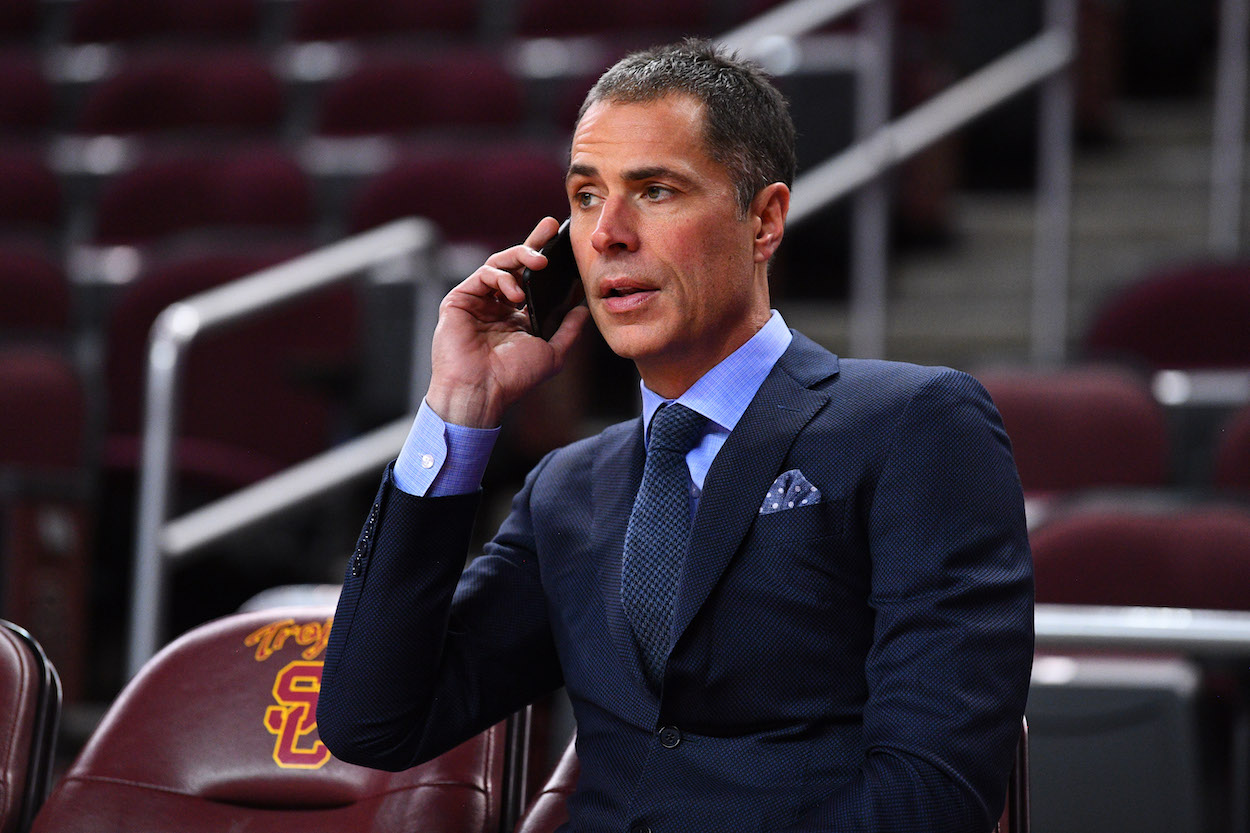 Did Los Angeles Lakers GM Rob Pelinka Play Basketball?
Los Angeles Lakers general manager currently Rob Pelinka has one of the most prestigious jobs in basketball. Before becoming a GM, signing LeBron James and trading for Anthony Davis, Pelinka won a college National Championship, played with the Fab Five, and represented NBA players as an agent, including the late great Kobe Bryant.
After a disappointing first-round exit from the 2021 NBA Playoffs, the man in charge of resetting the Los Angeles Lakers for another championship run in 2022 is general manager Rob Pelinka.
If you've watched a Lakers game recently, you've probably seen Pelinka. He's the tall, dark-haired guy in a suit who looks like actor Rob Lowe. TV cameras often cut to him watching the action on the court from the team tunnel.
Pelinka has an amazing job now but his path to get there is even more incredible. He previously worked with one of the greatest basketball players of all time and played on one of the greatest (and definitely most fun) teams of all time.
Rob Pelinka was a successful sports agent who represented Kobe Bryant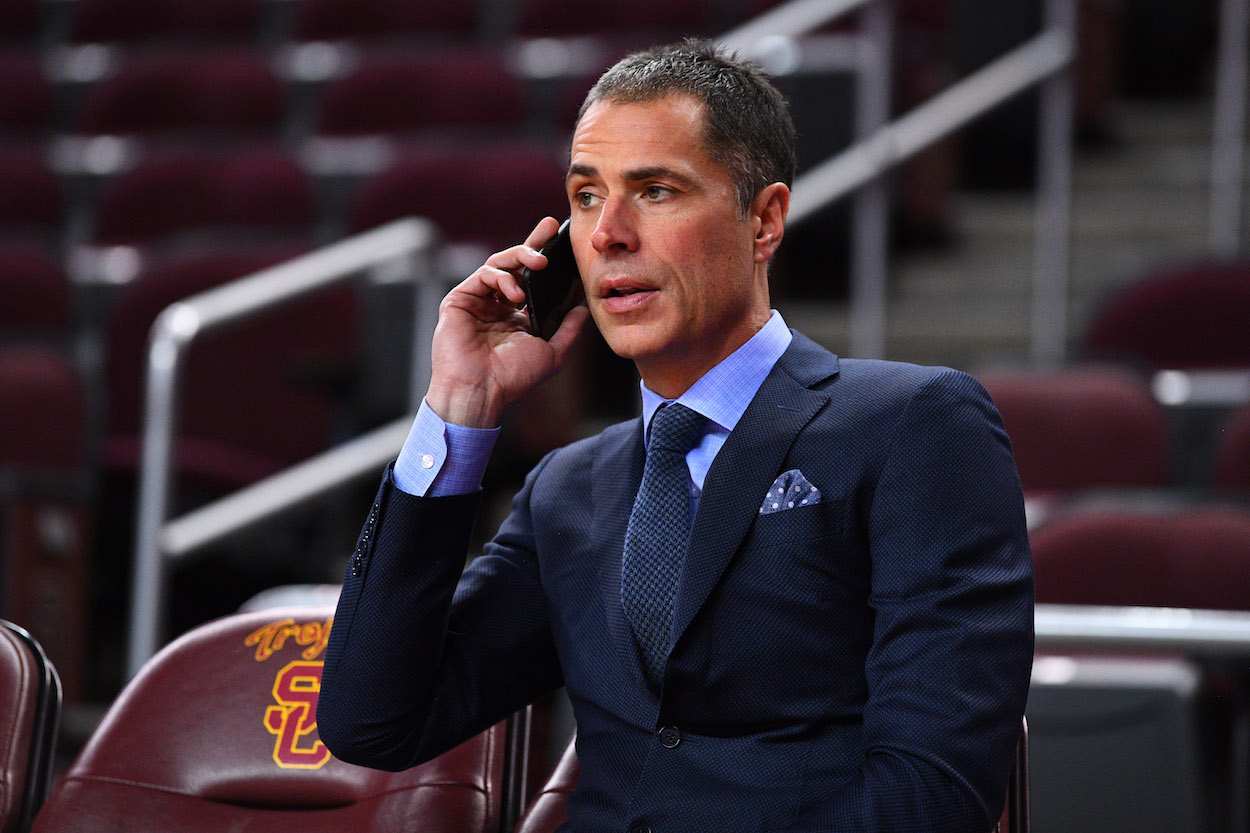 Prior to getting arguably the most prestigious job in the NBA, Pelinka had another pretty sweet gig. He was an NBA player agent for several prominent stars.
According to Forbes, Pelinka ran Landmark Sports Agency before starting with the Lakers. In 2016, the last year he was an agent, Pelinka's net worth was $13.9 million.
Pelinka represented a relatively small amount of NBA players but, what he lacked in quantity, he made up for in quality. The Chicago-area native represented stars such as James Harden, Channing Frye, Eric Gordon, Trevor Ariza, and Andre Iguodala.
The biggest star Pelinka ever represented, however, is Kobe Bryant. Pelinka represented Bryant for most of his career, and the two were very close friends and business partners leading up to Bryant's tragic death in a helicopter accident in 2020. 
Pelinka played basketball at the University of Michigan with the Fab Five
Unlike some GMs and agents that only know the business side of the game, Pelinka knows what playing ball at a high level feels like. While he never played in the NBA, Pelinka did play at the University of Michigan.
He is the only player in school history, according to NBA.com, to play on three Final Four teams. As a freshman, the 6-foot-6 guard was a member of the 1998-99 National Championship team that featured Rumeal Robinson, Glen Rice, and Loy Vaught.
Pelinka redshirted the following year, making him a junior and senior when the Fab Five was at Michigan. In his last season with Chris Webber, Jalen Rose, Juwan Howard, Jimmy King, and Ray Jackson, the future GM played 16 minutes a game and averaged 4.3 points.
Pelinka pulled off two of the most significant moves in Lakers history
In 2017, Pelinka signed a five-year contract to become the GM of the Lakers. His first year produced a 35-47 record, but former Wolverine quickly made two of the most impactful moves in franchise history to remedy the situation.
Pelinka started bringing the Lakers back to glory by signing the best player in the game, LeBron James, to a four-year, $154 million contract, as reported by NBC Sports. James only played 55 games due to injury that season, so the Lakers' record only improved by two games over the previous season.
The following offseason, Pelinka made a blockbuster three-team trade to get James some superstar help. The Lakers traded Isaac Bonga, Jemerrio Jones, Moritz Wagner to the Washington Wizards and Lonzo Ball, Josh Hart, De'Andre Hunter, Brandon Ingram, and several first-round picks and swaps to the New Orleans Pelicans for Anthony Davis.
For a franchise known for big moves (trading for Kareem-Abdul Jabbar, signing Shaquille O'Neal), the moves Pelinka made are among the biggest. Bringing in James and Davis led to the team winning the 2020 NBA championship.
Now, after losing in the first round for the first time in James' career, Pelinka again has his work cut out for him, but he's not afraid to take big swings as we've seen in the past.
All stats courtesy of Basketball Reference