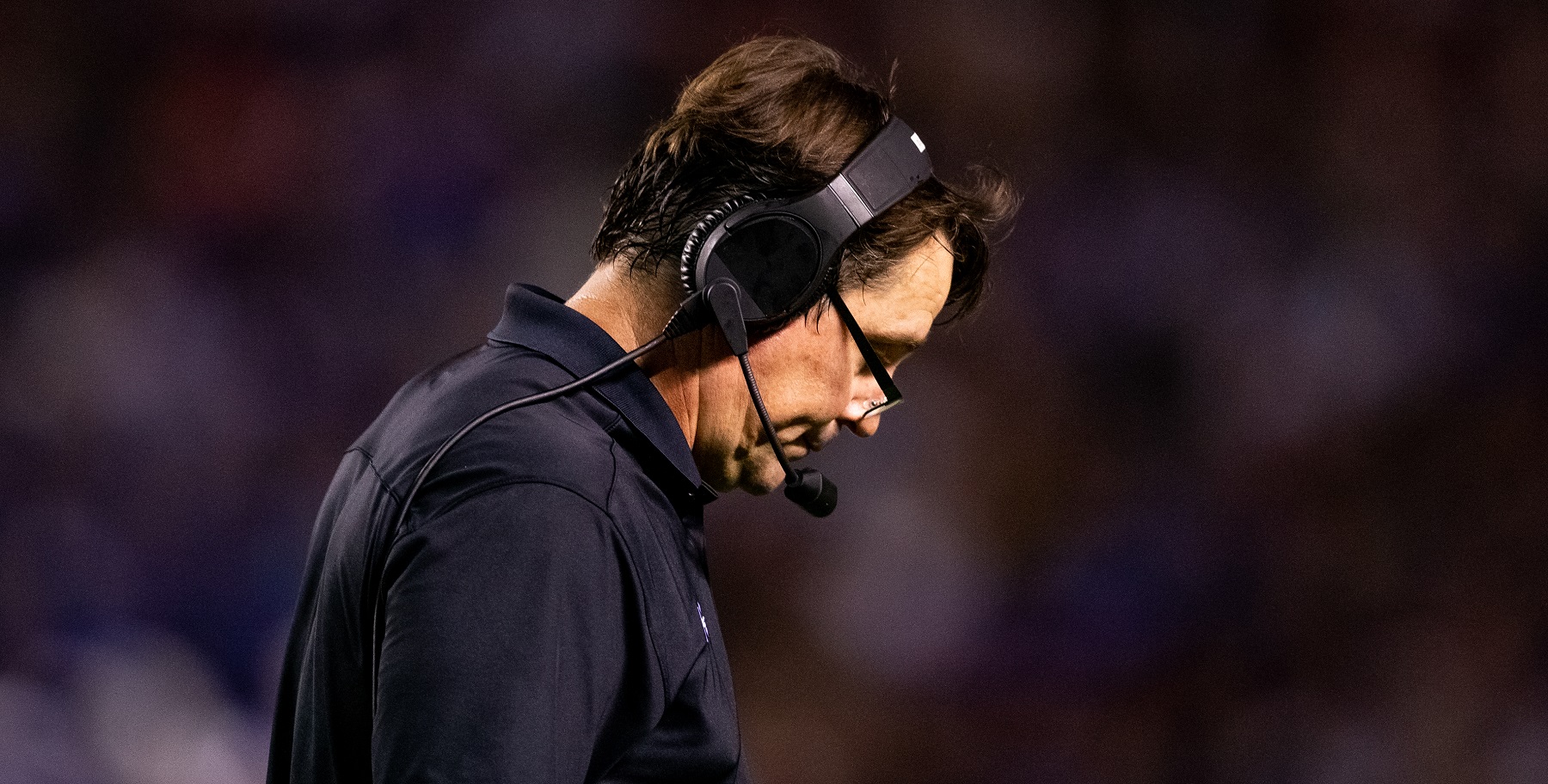 Losing Is a Lucrative Career Option in College Football
Will Muschamp has been fired twice from schools that had to pay huge buyouts.
"Show me a good loser," iconic NFL coach Vince Lombardi once said, "and I'll show you a loser.
Lombardi didn't have much experience with losing. He coached the Green Bay Packers to an 89-29-4 record in nine seasons, winning five NFL championships. But the Pro Football Hall of Fame coach may not have thought the issue of losing all the way through. College football is teaching us how easy it is to win by losing.
'Buy games' are a college football tradition
When the Big Ten made the decision that its college football teams would not play non-conference games this fall, it set off alarms at other midwestern schools. That's because athletic directors in the Mid-American Conference were counting on those games to balance their budgets.
So-called "buy" games are a tradition all across the land. The Ohio State Buckeyes or Alabama Crimson Tide invite an FBS program from one of the lesser conferences to come to town to absorb a beating in the neighborhood of 56-7. In return, they get to go home with a sizeable check for helping to fill a huge stadium with fans happy to see the home team win.
But when the Big Ten scrapped non-conference games this fall because of the pandemic, MAC schools took worse beatings than what they would have experienced on the scoreboard. According to Sports Illustrated, Ball State lost a $975,000 payday from Michigan, Kent State missed out on $1.5 million from Penn State, and the University at Buffalo had to kiss $1.7 million farewell from Ohio State.
Eleven Big Ten cancellations cost the MAC more than $10 million. Kent State was the conference's biggest financial loser because it also had a pair of SEC "buy games" at Kentucky and Alabama. Coupled with the Penn State contest, the Golden Flashes missed out on about $5 million – or approximately 17% of the school's athletic budget for the year.
Losing a few college football games was an OK deal for Gus Malzahn
Speaking of losing out, 10 FBS coaches have resigned or been fired so far this season. Oddly, multiple other college football coaches may have been saved by the pandemic; some schools couldn't afford to buy out the remaining years on their contracts because of the money lost by not having fans at home games or cashing checks from "buy games."
The administration at Auburn didn't care. Though 68-35 overall in eight seasons, Gus Malzahn's Tigers were 6-4 this year when his firing was announced. The offensive coordinator at Auburn when Cam Newton led the team to a victory over Oregon in the BCS National Championship Game during the 2011 season, Malzahn was never quite able to recapture the magic when he was brought back as head coach after a year at Arkansas State.
But Malzahn isn't going away empty-handed. Based upon the buyout clause in the seven-year, $49 million contract he signed in 2018, he is getting $21.45 million to not coach Auburn going forward. Half the money is due by early January, with the rest spread out over four years.
Other coaches have mastered being fired
Given his reputation for recruiting and innovation on offense, Auburn's Gus Malzahn likely will resurface at another major-college program before too long. That may not be the case for Kevin Sumlin, who was recently fired for the second time in three years. Then, again, he's made good money from bad results.
Texas A&M was the first college football program to let Sumlin go after four straight five-loss seasons dropped his record with the Aggies to 51-26. Sumlin still had two years and $10.4 million left on his contract when the school fired him in 2017, but there was no offset language in his contract. In layman's terms, that means that he did not have to return any of the money to A&M even if he took another coaching job. Sure enough, The University of Arizona hired Sumlin seven weeks later.
Well, Sumlin's ride with the Wildcats ended last week with an 0-5 season and a 9-20 overall record. According to the Arizona Daily Star, the buyout will cost the school $7.29 million. The good news for the state's taxpayers is that Sumlin's contract does contain offset language; money he earns coaching elsewhere will be subtracted from what Arizona owes him.
Sumlin has company this year in the art of twice being paid to leave. Florida fired Will Muschamp in 2014 after a 28-21 record in four seasons, and South Carolina just dropped him after a 28-30 performance in five seasons.
Florida finished paying Muschamp the $6.3 million it owned him in 2018. Now, South Carolina is on the hook for $13.2 million. An interesting clause in his Gamecocks contract says that any school hiring Muschamp while he's still on the South Carolina payroll must pay him at least 75% of what the previous person holding the position was paid.
If Muschamp becomes a coordinator at a big-money program, that could save South Carolina more than $1 million a year through the offset provision.
Like Sportscasting on Facebook. Follow us on Twitter @sportscasting19.