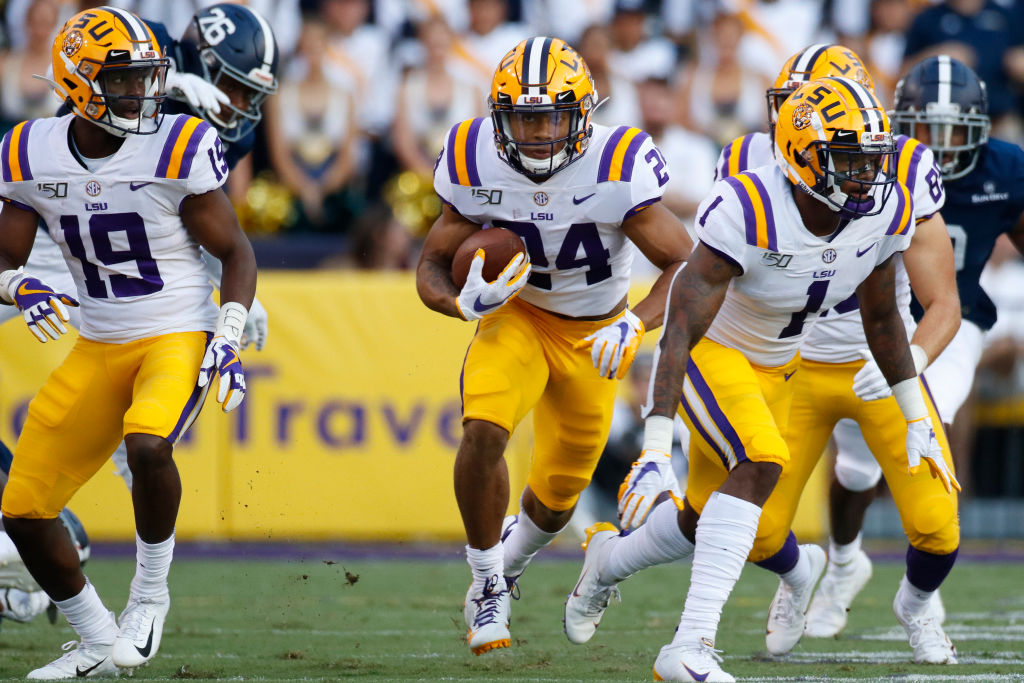 LSU's Derek Stingley Jr. Always Has His Late Grandfather on His Mind
LSU All-American cornerback Derek Stingley Jr. always has his late grandfather on his mind when he takes the field.
As a college freshman, Derek Stingley, Jr. has already experienced what most hope to do in your years. He was a starting cornerback on LSU's National Championship team and was named First-Team All-SCC. Stingley Jr. was also a consensus All-American selection. As a person, Stingley, Jr. has experienced something nobody hopes to go through – knowing his grandfather was left paralyzed playing the sport he loves.
Stingley – a football family
Derek Stingley Jr. is following the steps of his father and grandfather in the football world. His father, Derek, played professionally in the Arena Football League. His grandfather, Darryl, played college football at Purdue University before playing five years in the NFL as a wide receiver for the New England Patriots.
Derek Stingley, Jr. attended The Dunham School in Baton Rouge, Louisiana. While his grandfather played professionally as a wide receiver, Stingley Jr. played on the other side of the ball as a cornerback. In his school, he finished his career with 27 interceptions, opening the eyes of many scouts. He was also named Louisiana Gatorade Player of the Year as a senior.
Stingley Jr. remained in his home state after high school. He earned a scholarship and played for LSU. As a freshman, he started and helped guide his team to the NCAA title game with a win over Clemson. In his first season of college football, Stingley Jr. led the SEC with six interceptions. He was a consensus All-American.
His grandfather's career-ending injury
Darryl Stingley has played five seasons with the New England Patriots and was ready for his sixth when a preseason injury against the Oakland Raiders ended his career. Stingley was running a slant pattern, left his feet, and extended his arms while he took a vicious hit from safety Jack Tatum.
Stingley never played again. He was left a quadriplegic. Darryl Stingley died in 2007 when his grandson Derek Stingley Jr. was 5 years old. Both Derek Stingley Jr. and his father continued to play football after the tragic accident. Although he was young when his grandfather died, Stingley Jr. knows what happened to him on the field. That won't make him shy away from the sport he loves.
"I don't think my family is worried about me having an injury like my grandpa," said Derek Jr., in The Advocate in 2018. "You can't play scared. I don't think about it at all when I'm playing. I do think about my last name and bringing praise to the family."
Derek Stingley Jr. thinks of his grandfather all the time
Like his grandfather, Derek Stingley Jr. is a family-first man. He's humble and seems to live by the line that the name on the back of the football jersey is more important than the name on the front of it. He says he has some memories of his grandfather, but always thinks about him and the rest of his family when he steps on the field.
"I don't remember that much," he said in the Lafayette Daily Advertiser in January. "We would go up there for Christmas. And he would always give me a Darth Vader mask and cape and the voice thing. That's pretty much all I remember. And my dad said that he saw something in me back then, but I don't remember."
Because of his grandfather, Stingley Jr. is a New England Patriots fan. He's young, but he's on the right path to the NFL. He doesn't think about the future. For now, he thinks about his family and that includes his late grandfather. "I'm just continuing on the Stingley name," he said. "And every time I go on the field, I always think about him. And I think about my dad and all of my family."