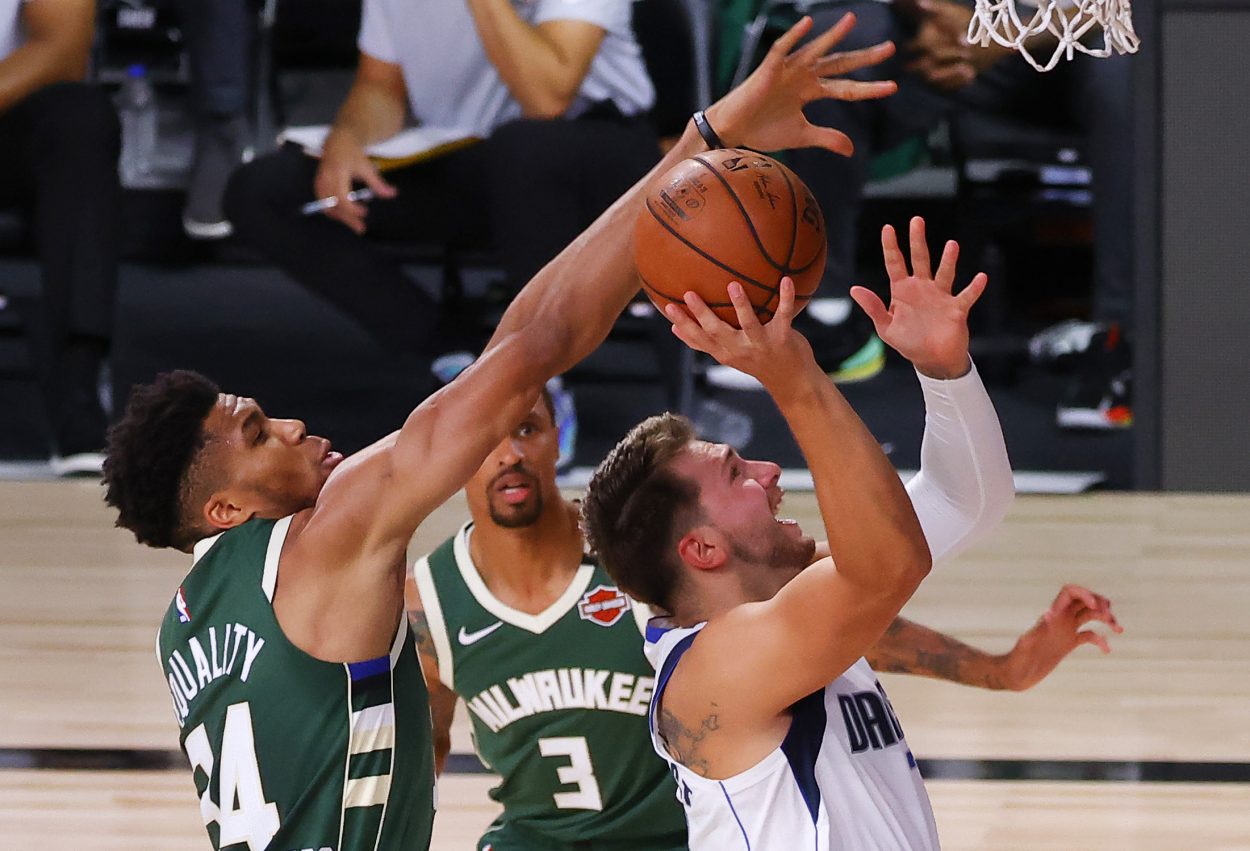 Luka Doncic Boldly Predicts Giannis Antetokounmpo Will Win 5 More MVPs
Luka Doncic has undying praise for Giannis Antetokounmpo and believes the two-time NBA MVP will have plenty more hardware when all is said and done.
Luka Doncic and Giannis Antetokounmpo are two of the best international players in the NBA. They've also developed reputations as two of the more humble superstars in the league. However, when it comes to praising their peers, there's absolutely no filter necessary.
Doncic gushed about Antetokounmpo during All-Star Weekend in Cleveland, as much for the sincere individual the Greek Freak is as a dominant force on the court. Luka also sees plenty of additional hardware in Giannis' future trophy case.
There's plenty of young talent in the NBA. In many ways, the league appears to have anointed Ja Morant as its next face. But Doncic alluded to Antetokounmpo taking up that mantle with a bold prediction about the Milwaukee Bucks star asserting his dominance over the rest of the NBA.
Luka Doncic and Giannis Antetokounmpo are top NBA MVP candidates
Antetokounmpo already has two NBA MVPs on his resume. He's gunning for a third this season in one of the most exciting races in the award's history. Doncic is in the picture, too.
Luka is averaging 27.8 points, 9.2 rebounds, and 8.8 assists for a Dallas Mavericks team that has won five straight games. He's played a prominent role in the team's gargantuan leap on the defensive end of the floor, orchestrating clean switches and knowing when to blitz ball-handlers.
But while Doncic has begun to climb the MVP ladder, Giannis is that much closer to the top.
Antetokounmpo has once again been tremendous on both ends of the floor. He's averaging 29.4 points, 11.6 rebounds, and a career-high 6.0 assists. The Greek Freak has also tallied 1.4 blocks and 1.0 steals per contest.
Giannis has overtaken Nikola Jokic in player efficiency rating and could eclipse his own record for the highest single-season PER in NBA history. He narrowly trails Jokic in win shares per 48 minutes, box plus-minus, and value over replacement player (VORP).
Doncic projects as a future league MVP. But it still might be Antetokounmpo's time. In fact, Luka thinks that Giannis could dominate MVP narratives for numerous seasons to come.
Doncic thinks Antetokounmpo can win five more MVPs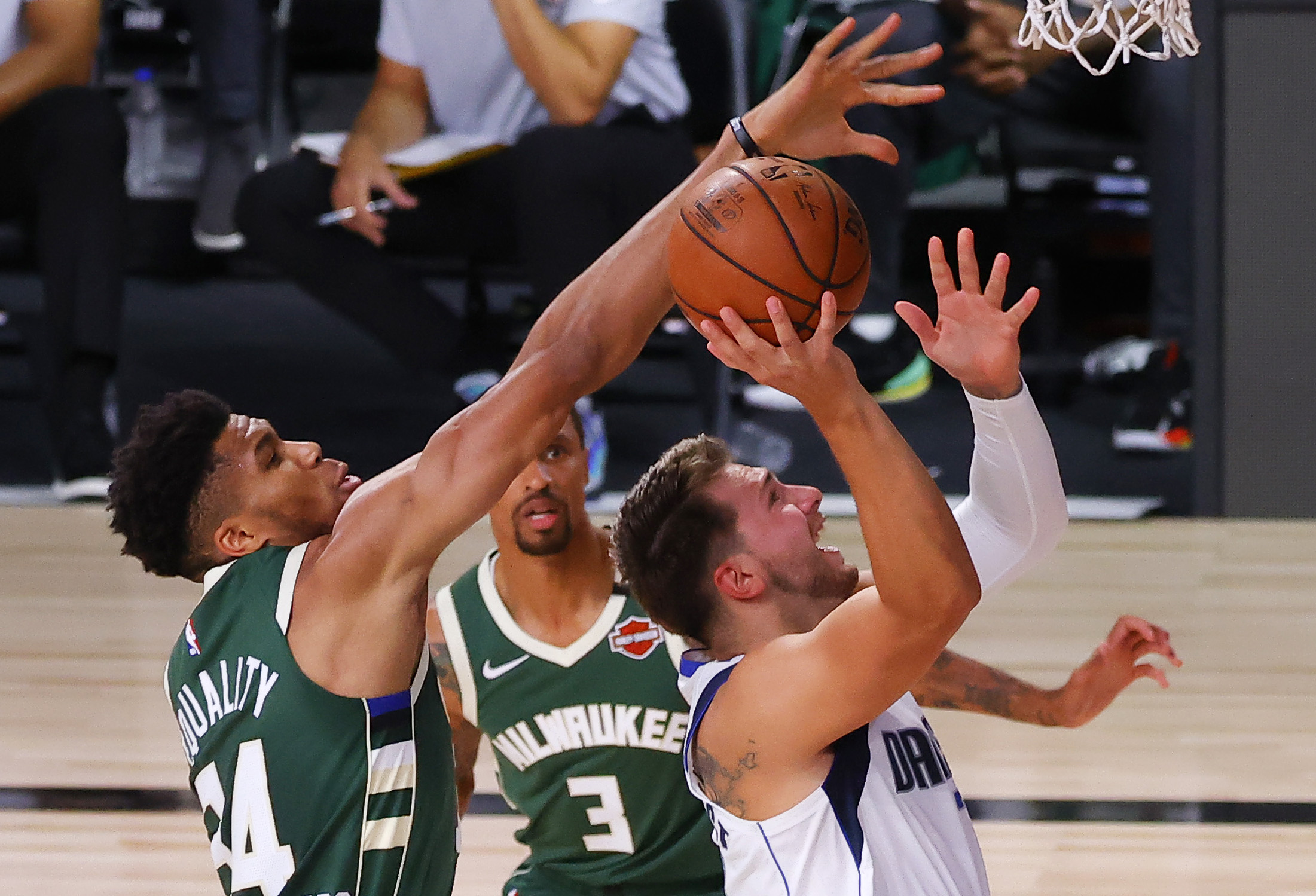 Luka Doncic has the utmost respect for Giannis Antetokounmpo, both on and off the floor.
The Mavericks star had quite a bit of praise for the reigning Finals MVP during All-Star Weekend. Doncic said (h/t Eurohoops) he's most amazed by Antetokounmpo's humility and grace.
"You know what I'm gonna say. [Antetokounmpo's] an amazing player but what amazes me the most is his personality, a great guy just to talk to."

-Luka Doncic on Giannis Antetokounmpo, via Eurohoops
Luka has a tremendous appreciation for Antetokounmpo as a person and seems to regard Giannis' makeup as the essential part of his character. Still, from a basketball perspective, he holds the Greek Freak in the highest esteem. So much so that he suggested Antetokounmpo has plenty more NBA MVPs to win.
"He was the MVP twice, I think he'll be maybe five times more. A great player."

–Doncic on Antetokounmpo, via Eurohoops
Antetokounmpo's consistent evolution has made him one of the more unstoppable offensive forces in the NBA. Still, it would make for quite the achievement if the 27-year-old captured five more MVPs. That would give him a record-setting seven in his career.
Whether Doncic has something to say in future MVP races remains to be seen. For now, he's following Antetokounmpo's model in prioritizing team-oriented goals.
Championships come first
Both of Giannis Antetokounmpo's NBA MVP campaigns ended with playoff disappointments. The Greek Freak became more adamant about minimizing the importance of individual accolades in his dogged pursuit of a championship.
Luka Doncic is adopting the same mentality.
After making his glistening remarks about Antetokounmpo, Doncic was asked where he thought he stood in the MVP race. The Slovenian sensation responded by saying he only has one goal on his mind.
"I don't know, I just want to win a championship. That's it."

–Luka Doncic, via Eurohoops
Time will tell whether Doncic can help lead the Mavericks to a title. He's had ample success in his new partnership with Spencer Dinwiddie and continues to thrive alongside Jalen Brunson and Dorian Finney-Smith. But the top of the Western Conference is loaded, with the Utah Jazz and Denver Nuggets also building momentum in the final stretch. Not to mention, the Eastern Conference is full of contenders, with Antetokounmpo and the Bucks a strong candidate to win a second consecutive title.
Perhaps Luka and Giannis will meet in the Finals in June. If nothing else, the two figure to battle for league MVP honors in the years to come.
Stats courtesy of Basketball Reference.