Mac Jones Gets Testy, Triggers Memories of Bill Belichick's 'We're on to Cincinnati' Line
Quarterback Mac Jones appeared to get a little agitated Monday when he was asked about Saturday's loss to the Colts.
The New England Patriots are on to Buffalo. That's the message quarterback Mac Jones had Monday when he appeared as a guest on Boston radio station WEEI. The rookie seemed to get a bit agitated with questions about his performance in Saturday's loss to the Indianapolis Colts, triggering memories of Bill Belichick's famous "We're on to Cincinnati" comments.
Mac Jones and the New England Patriots had a rough night against the Indianapolis Colts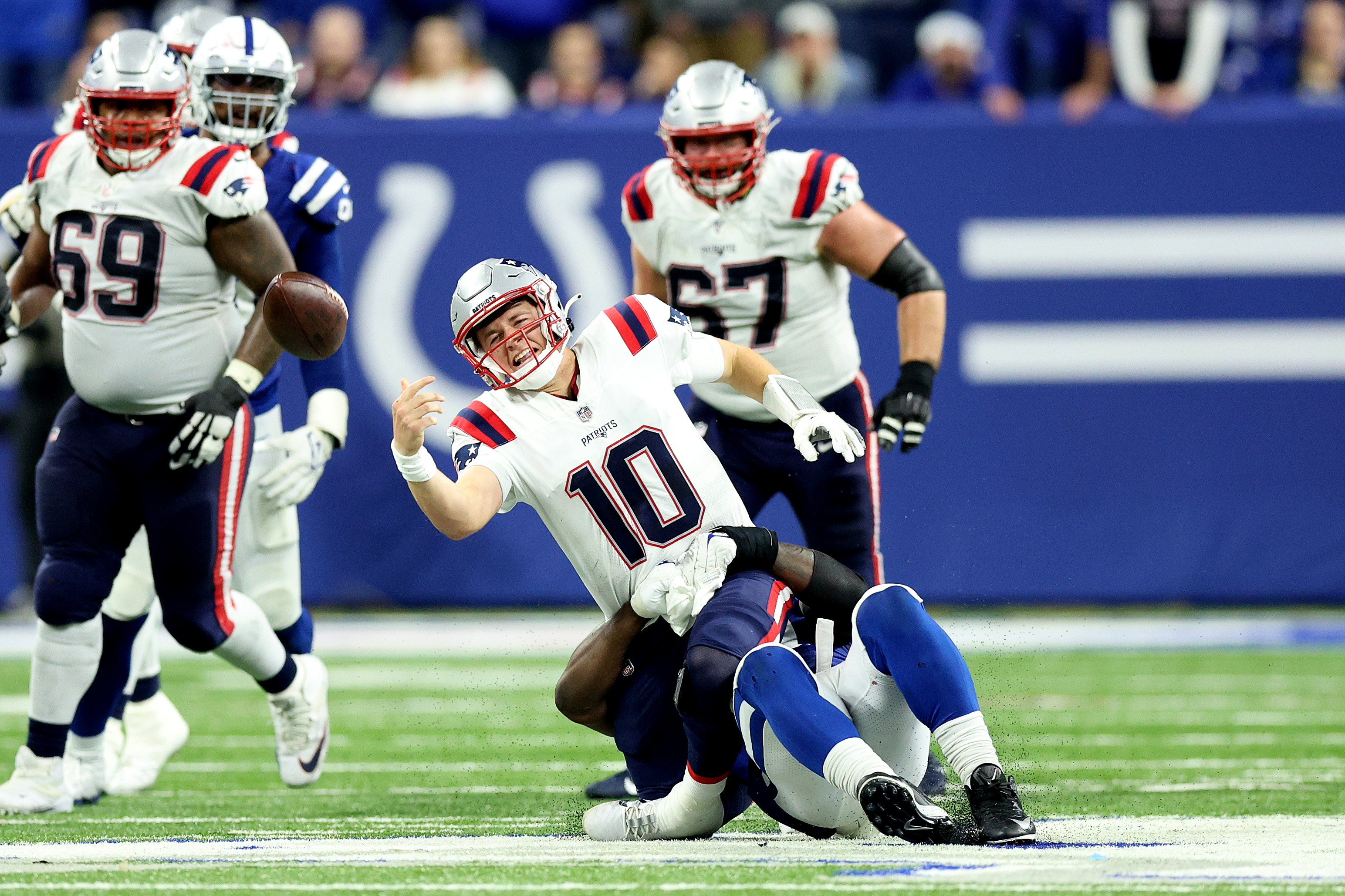 The Patriots were riding high entering Saturday's Week 15 game against the Colts. Winners of seven straight, the Patriots were flirting with having the top seed in the AFC one year after finishing with their first losing season in 21 seasons.
Enter Jones. New England's first pick in the 2021 NFL Draft initially wasn't expected to secure the starting quarterback job, but he beat out veteran Cam Newton. After a sluggish 2-4 start, Jones and the Pats won seven straight before hitting a roadblock in Indianapolis.
Colts linebacker Bobby Okereke challenged Jones, saying the Indianapolis defense wanted to make him beat them.
"I think he's good," Okereke said of Jones, according to WEEI in Boston before Saturday's matchup. "He's confident back there. He's got a good command of the offense. But we're really going to try to make the game one-dimensional and see what he can do."
They did just that, and the Patriots were held without a point through three quarters in a 27-17 loss. Jones threw two interceptions before heating up in the fourth quarter.
Mac Jones got a bit irritated talking about the Colts game during a Monday interview
Although Jones' final numbers weren't bad Saturday, the offense was awful through the first three quarters. New England's win streak came to a crashing halt. Now they face the Buffalo Bills in a rematch of another ugly offensive output played three weeks ago.
The Pats traveled to Buffalo in a hyped-up meeting played in poor weather conditions that included high winds and three total passes by Jones. Despite two completions the entire game, New England knocked off the Bills, 14-10. The teams meet again Sunday, and that's where Jones' focus was.
The quarterback was asked about an ugly-looking flea-flicker in the Colts game that took too long to develop and resulted in an incomplete pass.
WEEI co-host Lou Merloni asked Jones if the play was an intentionally delayed flea-flicker or just a late pitch back to him.
"Umm, I mean, I already talked about it," Jones said. "I'm kinda done with that game, so I don't know if you will have any more different questions for me. That was just a bang-bang play. There was people open and I need to complete the pass."
Co-host Christian Fauria jumped in and said, "So we are 100 percent moving on to Buffalo. You don't want to talk about the game at all?"
"Yeah," Jones said, "Sorry, but yeah."
Although Jones wasn't angry, it brought back memories of an angry Belichick after a 41-14 loss to the Kansas City Chiefs that had the Patriots 2-2 with an upcoming game against the Cincinnati Bengals.
After that loss, Belichick was asked five questions about the Chiefs game, and all five times he quipped, "We're on to Cincinnati."
Jones and the Patriots could have additional issues in their passing game Sunday against the Buffalo Bills
The Bills certainly didn't get an up-close look at the Patriots' passing game during their Week 13 loss. They still might not get a true read on it Sunday.
Patriots wide receivers Nelson Agholor and N'Keal Harry didn't finish Saturday's game against the Colts after suffering injuries. A third receiver, Kendrick Bourne, was played on the reserve/COVID-19 list, putting serious doubt into their availability against the Bills.
Before Bourne got his news Monday, Belichick said he wouldn't be surprised if he got word that multiple players landed on the reseve/COVID-19 list with the recent uptick in cases.
"Every day, you kind of walk in here and if our medical people came in one day and said we have 20 people positive, I don't think any of us would be surprised," Belichick said his press conference, per the Patriots.
"It's nice to hear that we have no positives or that we have no symptoms. Those are great words to hear, but I don't think it would surprise any of us. We've already seen five, six, seven teams, whatever it is, have a wide-ranging problem on their team, between staff and players, or both. Who's next? I don't know. Maybe nobody. It wouldn't surprise me if it was anybody."