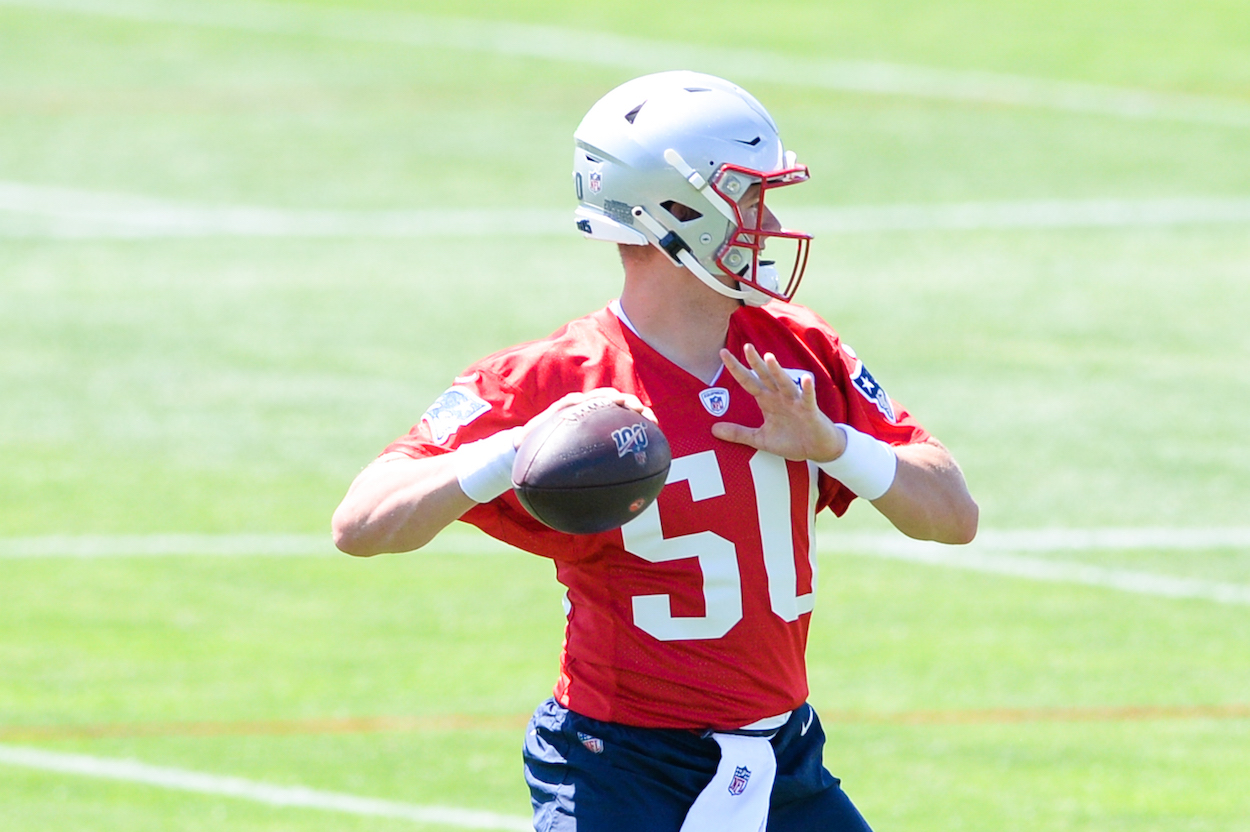 Mac Jones Has a 'Productive Paranoia' That Drives Him to Succeed
Mac Jones' QB coach describes him having "productive paranoia." He says that it is how the QB thinks and what allows him to constantly get better. This served him well at Alabama and he'll need to continue to operate this way to in the New England Patriots starting job for the 2021 season.
There are a lot of words and phrases that people use to describe NFL quarterbacks. You can call them gunslingers or game-managers, or dual threats. You don't often hear a QB referred to as productively paranoid, but that is exactly what New England Patriots rookie passer Mac Jones' quarterback coach calls him.
As strange as this may sound, saying Jones has "productive paranoia" is a compliment. Renowned quarterback coach David Morris says it's this personality trait that drives Jones to get better constantly.
Mac Jones was part of an amazing quarterback group at Alabama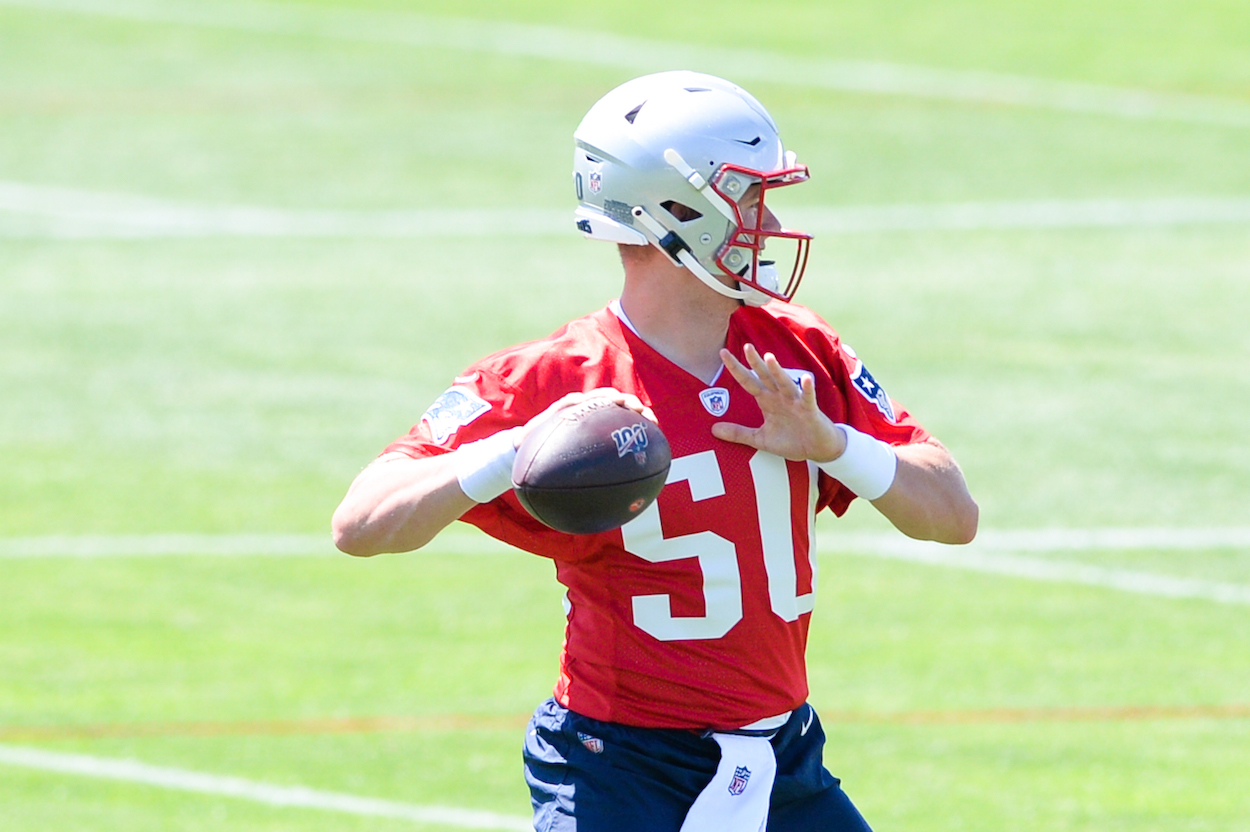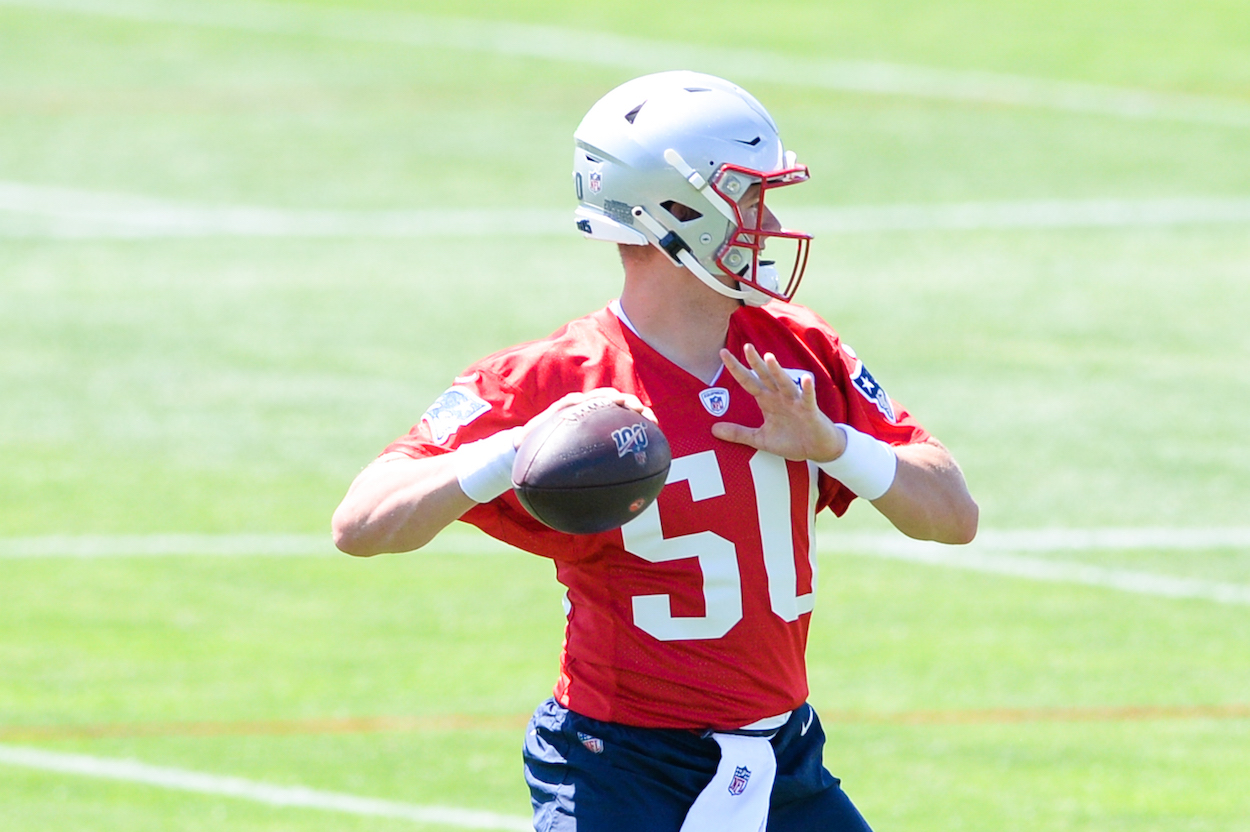 In the fall of 2017, Jones and fellow top recruit and current Miami Dolphins' QB Tua Tagovailoa joined the now-Philadelphia Eagles signal-caller Jalen Hurts on campus in Tuscaloosa, Alabama.
Jones redshirted his freshman season, but Tagovailoa played here and there and, when called on in the 2018 National Championship game to replace Hurts, he helped lead the Crimson Tide to the title.
Hurts and Tagovailoa would split time the following year before Hurts transferred to Oklahoma. In Jones' third season on campus, Tagovailoa suffered a major hip injury, leading to Jones taking the starting job. He kept the job after Tagovailoa left for the NFL, and, in his redshirt-junior season, he led the school to yet another National Championship.
Even with Hurts and Tagovailoa gone in 2021, the Alabama quarterback room was still strong. Backing up Jones was Bryce Young, the No. 2 QB recruit in the country and No. 1 dual-threat signal-caller, per 247sports. Young may be joining these past Alabama QBs in the NFL in a few years as well.
Jones' QB coach says he is incredibly driven to succeed  
One thing that undoubtedly allowed Jones to stay ready while he was third on the depth chart and propel him to become a National Championship-winning QB and the No. 15 overall in the 2021 NFL draft is his desire to get better.
His personal QB coach, Morris, told NFL Network what drives Jones to seek constant improvement:
With great competitors and people that are really successful, there's a sense of a productive paranoia. It's almost like, if you're not doing something, you're not getting better. 'There's someone doing more than me.' I think that's what Mac has.
Morris goes on to say that Jones' hard work is impressive, but he may go overboard at times. "He's probably doing more than enough or too much," Morris says. "But that's just his makeup. That's his mindset."
That mindset will serve Jones well if he hopes to beat out former Auburn Tigers QB Cam Newton to win the Patriots' starting job.
Cam Newton vs. Mac Jones may be the most fascinating training camp battle in the NFL 
Training camp QB battles are always intriguing. There should be several good battles to watch in 2021. This includes Jameis Winston vs. Taysom Hill (New Orleans Saints), Justin Fields vs. Andy Dalton (Chicago Bears), and Trey Lance vs. Jimmy Garoppolo (San Francisco 49ers).
The most interesting battle, though, will be in Foxborough, Massachusetts. Former NFL MVP Cam Newton will finally have a real training camp to go along with the year he has under his belt in OC Josh McDaniels' system. If his body healed in the offseason, Newton will hope to return to the form that made him a top 10 QB just a few seasons ago.
On the other side of the battle, Jones comes in with more expectations than any QB in the Bill Belichick Era. He must have come with high recommendations from Jones' former coach and Belichick's confidant Nick Saban.
The Pats are trying to rebound from missing the playoffs for just the third time in the last 20 years in 2021, and Belichick and Daniels have to pick the QB that gives the team the best chance to do that. Whether they choose the short-term solution in Newton or the (hopefully) long-term answer in Jones will be exciting to watch.
Like Sportscasting on Facebook. Follow us on Twitter @sportscasting19