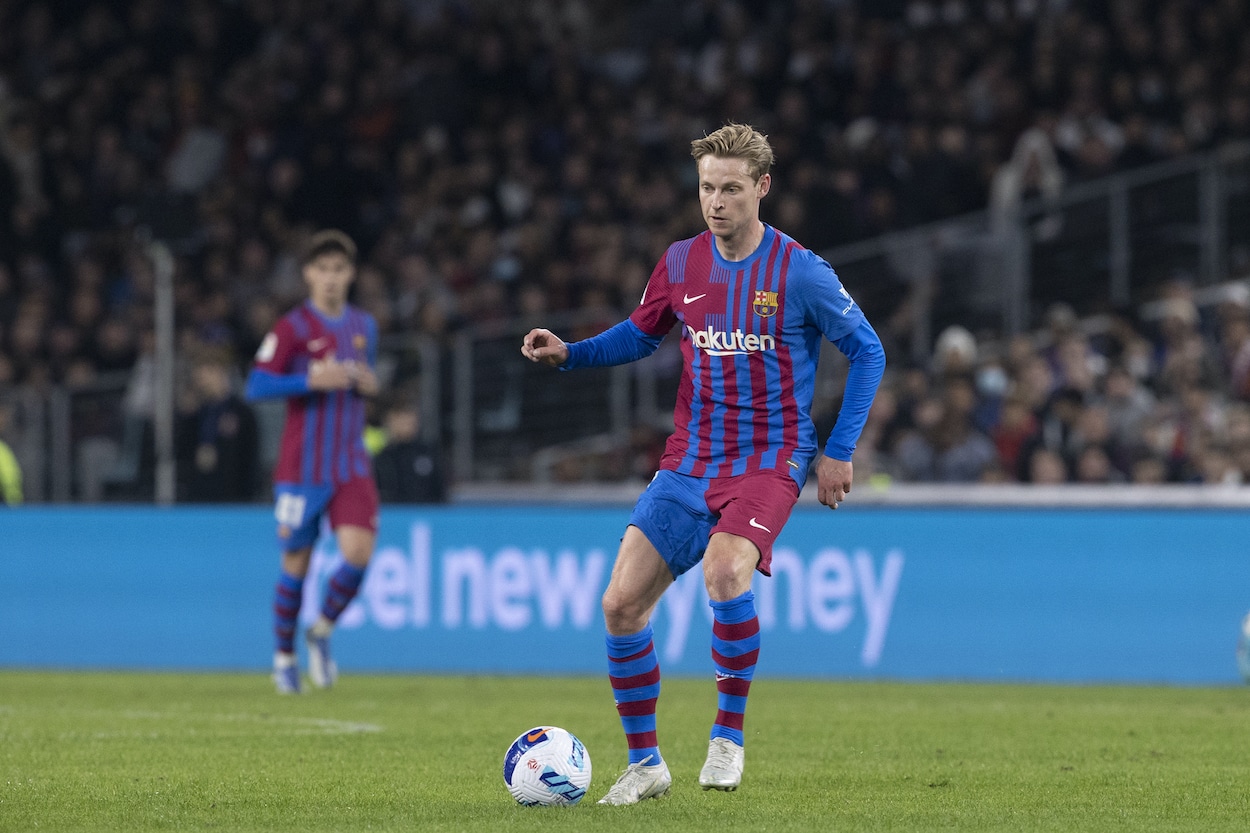 Manchester United Transfer News: Barcelona Rejects Red Devils' $73M Offer for Frenkie de Jong
In the latest Manchester United transfer news, the club made Barcelona a $73 million offer for Frenkie de Jong and the Spanish side refused.
Transfer season just started, and two of the biggest football clubs in the world are locked in a battle over 25-year-old Dutch star Frenkie de Jong. The Manchester United transfer news starts with the club's need for fresh young talent, which new manager Erik ten Hag can start his rebuild with. For Barcelona, the club needs money before it can bring any new players in this offseason. A deal for De Jong seems to make sense for both sides, but after Barca turned down United's latest offer, it could be a while before the midfielder moves to Manchester.
The latest Manchester United transfer news means the club is reinventing itself for the 2022-23 season
Since Sir Alex Ferguson stepped down after 27 seasons on the touchline for Manchester United, one of the most decorated clubs in the world hasn't found much success.
Under David Moyes, Ryan Giggs, Louis van Gaal, José Mourinho, Ole Gunnar Solskjær, Michael Carrick, and Ralf Rangnick, the Red Devils have only managed to win one FA Cup, one Carabao Cup, and the Europa League.
While that would be a stellar decade for most teams across Europe, United's success is measured in double and trebles that include Premier League trophies and Champions League glory.  
Now, after running through club legends (Giggs, Solskjær, Carrick) and EPL retreads (Moyes, Mourinho), the club has tapped a rising star in Ten Hag to give United a makeover.
The first order of business is clearing out overpaid vets to make room for new talent. To this end, reports are Jesse Lingard, Juan Mata, Paul Pogba, Edinson Cavani, and Nemanja Matic are all out this summer.
These moves will clear the way for the team's prospects and well-performing stars to play more next season. It also opens the door for some big-name summer transfers, and that starts with the Manchester United transfer news about Frenkie de Jong.
Barcelona turned down Manchester United's opening bid for Frenkie de Jong
Barcelona is massively in debt and needs to bring in £4m for every £1m they want to spend. Selling an in-demand young star like Dutch midfielder Frenkie de Jong is the best way to do that.
Barca needs to do this relatively quickly and for a big number. The club's already "guaranteed" deals for free transfers Andreas Christensen and Franck Kessié and a move for superstar striker Robert Lewandowski is on the table as well.
When the European summer transfer window opened on Friday, June 10, 2022, the Manchester United transfer news from football insider Fabrizio Romano is that United made Barcelona an initial offer for De Jong. Roman tweeted:
Manchester United have made an opening proposal for Frenkie de Jong after talks started June 1. €60m plus €10m add-ons. Barcelona have turned down this opening bid — but clubs remain in contact. De Jong has never indicated his desire to anyone. He's still waiting.

Fabrizio Romano on Manchester United transfer news
All told, that is approximately $73 million Barcelona turned down. That's in line with De Jong's estimated value on Transfermarkt, which is at $66 million.
However, for a deep-pocketed club like United and a prospect like De Jong, that number should rise to nine digits.
Last summer, Manchester City paid $129.25 million for then-25-year-old Jack Grealish, and United shelled out $93.5 million for 21-year-old Jadon Sancho. That is likely the upper and lower range De Jong will go for.
How Frenkie de Jong will fit with his new Premier League side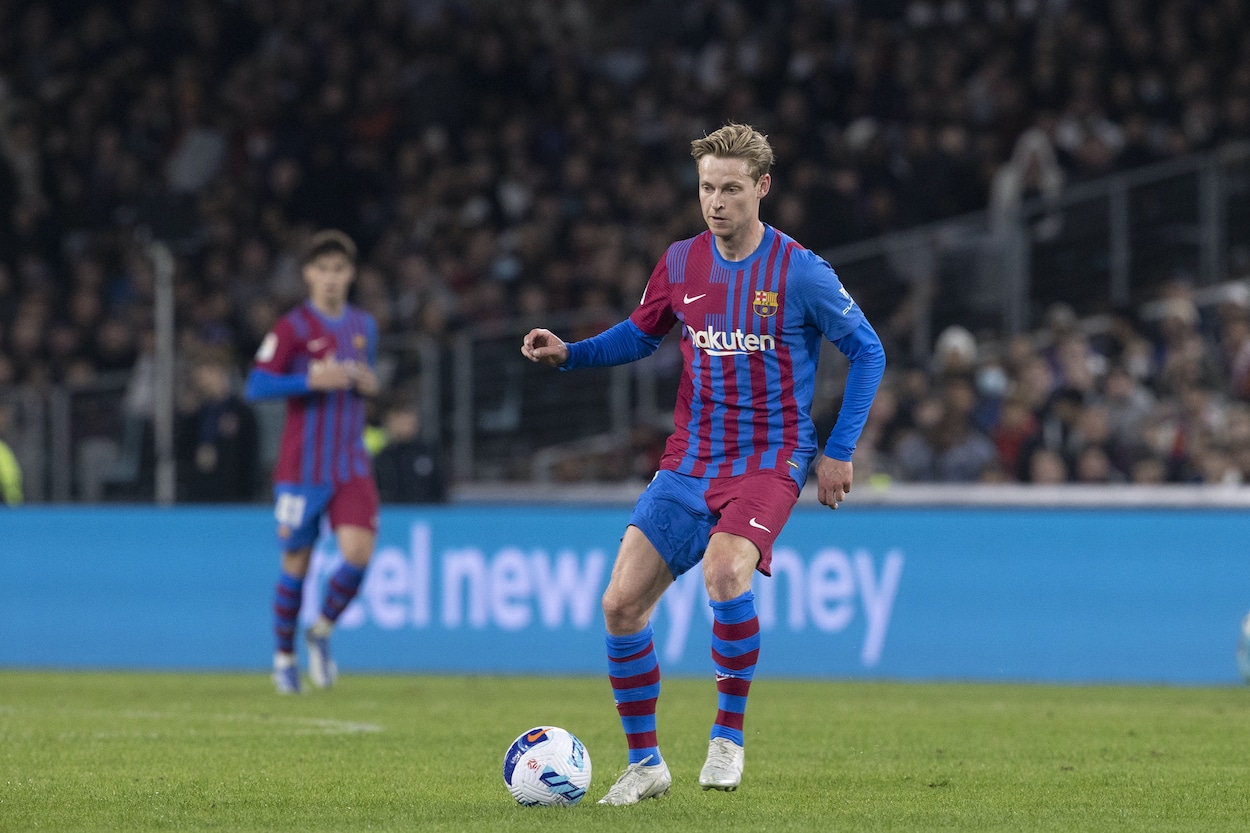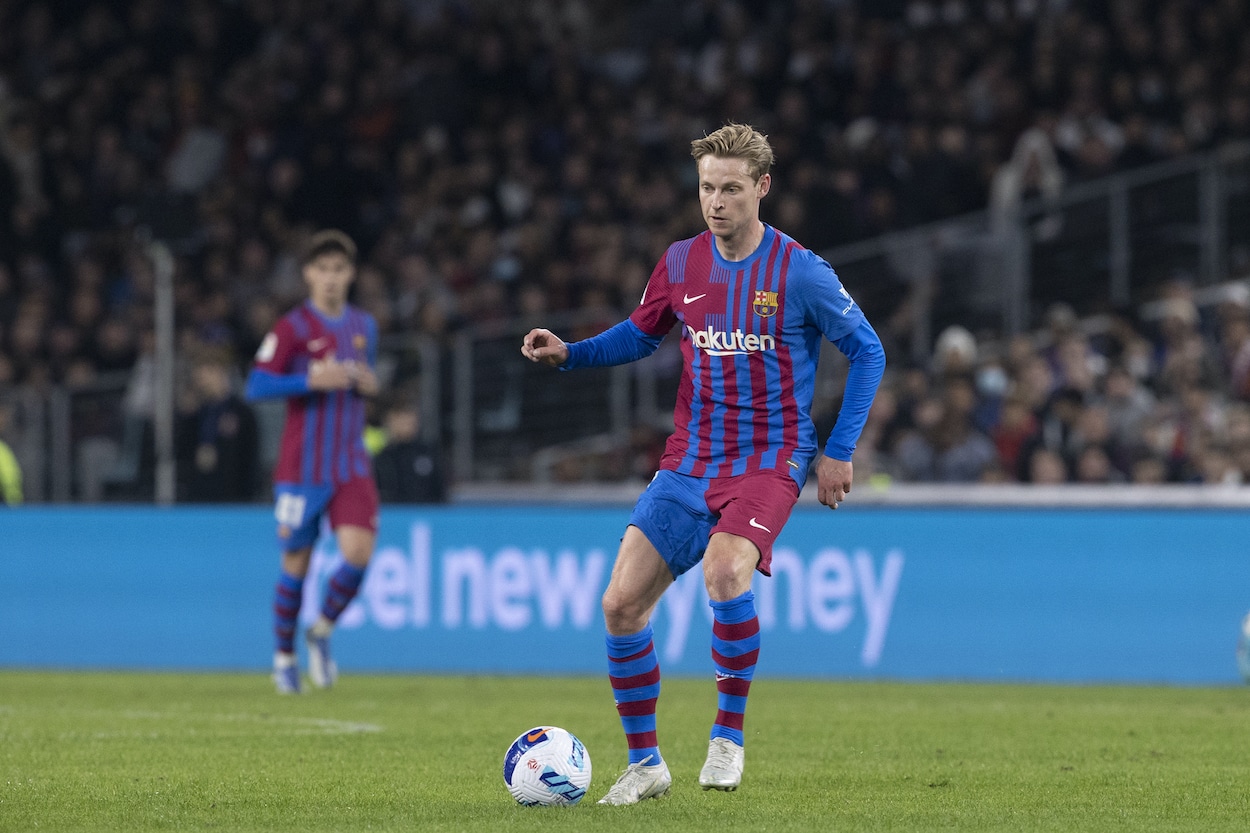 Barcelona's Frenkie de Jong is a slick-passing, box-to-box midfielder who can play several roles in a team's midfield. The 25-year-old from the Netherlands is best in a central position or as a defensive, deep-lying playmaker. He can also set up on either side of a 4-3-3 midfield and has even set up at center-back on occasion.
At Barcelona, he primarily played left or right center midfield. De Jong produced three goals and 17 assists in 140 appearances in this role.
While the stats don't jump off the page, the Dutchman was a great fit at Barcelona and did a lot of the little things that lead to winning.
Before his time in Spain, De Jong played for the Dutch giant Ajax. There, he played further back on the pitch, making 50 CDM, 19 CB, and 17 CM appearances. This is predictive of what could happen with this Manchester United transfer news because his coach in Amsterdam was none other than Erik ten Hag.
At United, we could see De Jong set up with Bruno Fernandes and Scott McTominay in front of him in the midfield. That would help United's link-up play to get the most out of Cristiano Ronaldo, Marcus Rashford, Mason Greenwood, and Jadon Sancho up front.
Now all the club has to do to make this Manchester United transfer news a reality is cough up the money.
Like Sportscasting on Facebook. Follow us on Twitter @sportscasting19 and subscribe to our YouTube channel.
All stats courtesy of Transfermrkt