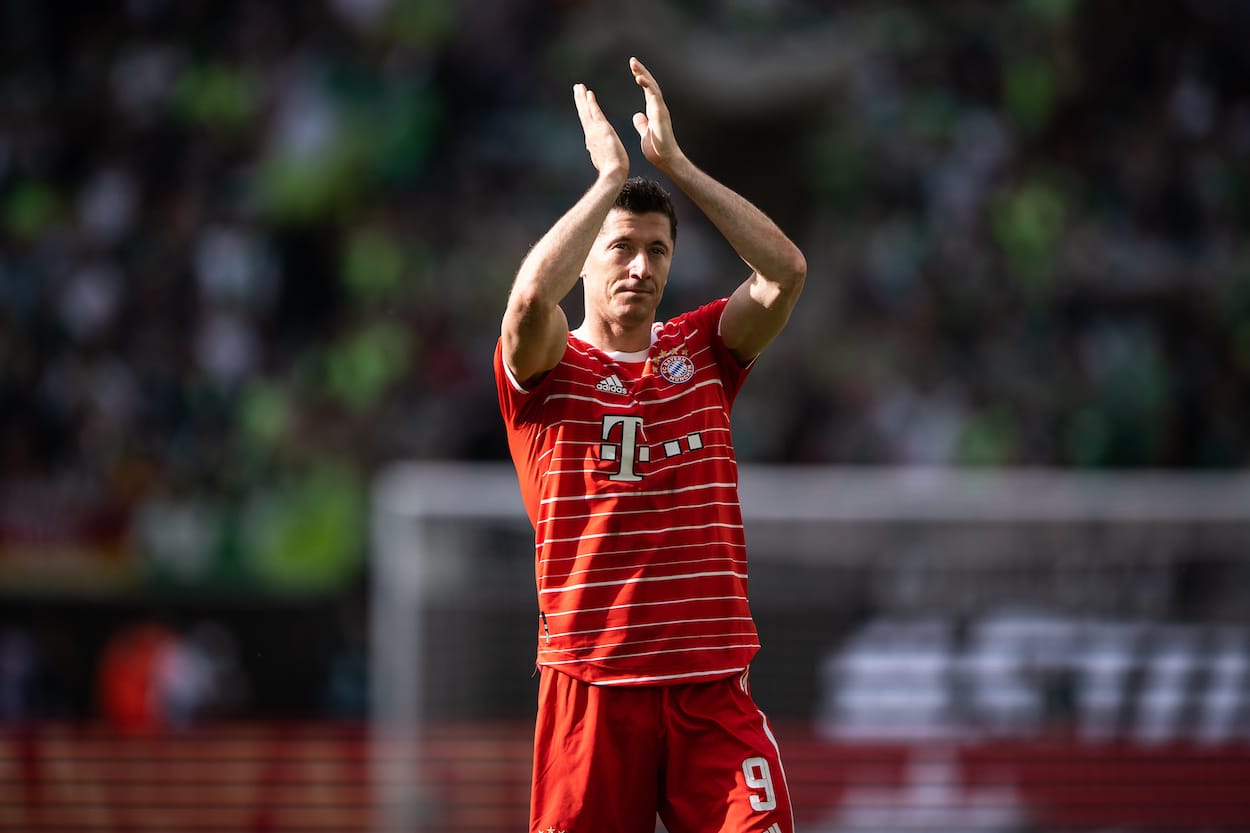 Robert Lewandowski Shockingly Says Farewell to Bayern Munich in Press Conference: 'I Hope They Don't Stop Me'
Bayern Munich striker Robert Lewandowski just told the world, in no uncertain terms, he doesn't want to be with Bayern Munich next season.
The Champions League Final marks the end of the 2021-22 European football season. Now, we enter the silly season when transfer rumors abound. One superstar player, Bayern Munich striker Robert Lewandowski, didn't wait for the rumor mill to weigh in on his future. He flat-out told reporters at a press conference that he's done in Germany, and he hopes his club doesn't stand in the way of him leaving.
Robert Lewandowski is one of the best strikers of all time
Robert Lewandowski grew up in Warsaw, Poland, and played professional football in his teens and early twenties for Polish sides like Znicz Pruszków and Lech Poznań. At 22, Bundesliga's Borussia Dortmund paid $5.23 million to bring him to Germany.
Lewandowski went from a middling prospect to a star during his time in Dortmund. In four seasons at the club, he scored 103 goals and added 42 assists in 187 appearances. Under the tutelage of manager Jürgen Klopp, Lewandowski and Dortmund won two Bundesliga titles, one DFB-Pokal, one DFL-Supercup, and make a UEFA Champions League finals.
With his contract running out ahead of the 2014-15 season, Lewandowski agreed to a free transfer to German giants Bayern Munich.
The Polish forward has become an even more lethal goal-creator during his time in Munich. Over the course of 375 appearances for his club, Lewandowski has 344 goals and 75 assists. These statistics have helped Bayern Munich win eight Bundesliga trophies, eight domestic cups, and a Champions League Final.
With 75 goals for the Polish National Team, Lewandowski is also his country's all-time leading goal-scorer.
At 33, Lewandowski is getting up there in age, but it doesn't seem as though he's lost much yet. He had a staggering 50 goals and seven assists in 46 appearances for Bayern Munich this season.
Those 50 goals were more than anyone in Europe in 2021-22, winning the Polish striker the European Golden Shoe Award.
The striker wants out of Germany
After eight years in Bavaria's biggest city, Robert Lewandowski is ready to move on. While rumors of his desired move have circulated, the Polish striker hadn't declared his intentions until now.
Unhappy with his most recent contract negotiations were going with Bayern Munich, Lewandowski told reporters at a press conference for the Polish National Team that he wants out of his current club:
My era at Bayern is over. I don't see any possibility to continue playing for this club anymore. Bayern's a serious club, and I believe they won't keep me. I don't want to play there anymore. A transfer is the best solution. I hope they don't stop me because only they can do it.

Robert Lewandowski on his future at Bayern Munich
Lewandowski's statement on his future with Bayern is about as forceful and final as you'll ever hear from a player trying to force his way out of a club.
After saying that, it seems as though there is no way Lewandowski returns for his ninth season in Munich in 2022-23. Now the biggest questions are, where will he go, and what is a 33-year-old striker who is still one of the best in the world worth?
Where will Robert Lewandowski play in 2022-23?
All reports have LaLiga's Barcelona as the favored destination for Robert Lewandowski. Barca is one of the premier clubs in the world, and rumors are that it's always been a place Lewandowski would like to play someday. He also has a home in Spain.
Barcelona and Lewandowski's agents are apparently already working on a deal, but there is one major hurdle. Barcelona is in terrible financial straights recently.
The club is in massive debt, and reports are that the best they could pay Bayern Munich for Lewandowski is around $37 million. The problem is, even at his advanced athletic age, Lewandowski's value is still around $55 million on the open market.
At 33, Cristiano Ronaldo went from Real Madrid to Juventus for $110 million. And just last offseason, Chelsea paid Inter Milan $124.3 million for Romelu Lukaku. The Belgian striker was 29 at the time, but he's nowhere near as productive or talented as Lewandowski.
If not Barcelona, there are sure to be other suitors for the Polish striker this offseason. Real Madrid is always an option, and they have a war chest after missing out on Kylian Mbappe. However, the only aging striker who had a better 2021-22 than Lewandowski was Los Blanco's hitman Karim Benzema.
Liverpool could be a destination as well. Rumors are that Bayern Munich is hot on Red's forward Sadio Mane, so a swap deal could make sense.
Manchester United may be in the sweepstakes, too. The club is looking to revamp under new manager Erik ten Hag, and getting Lewandowski to play next to Ronaldo could make the turnaround quicker.
Stats and figures courtesy of Transfermrkt
Like Sportscasting on Facebook. Follow us on Twitter @sportscasting19 and subscribe to our YouTube channel.