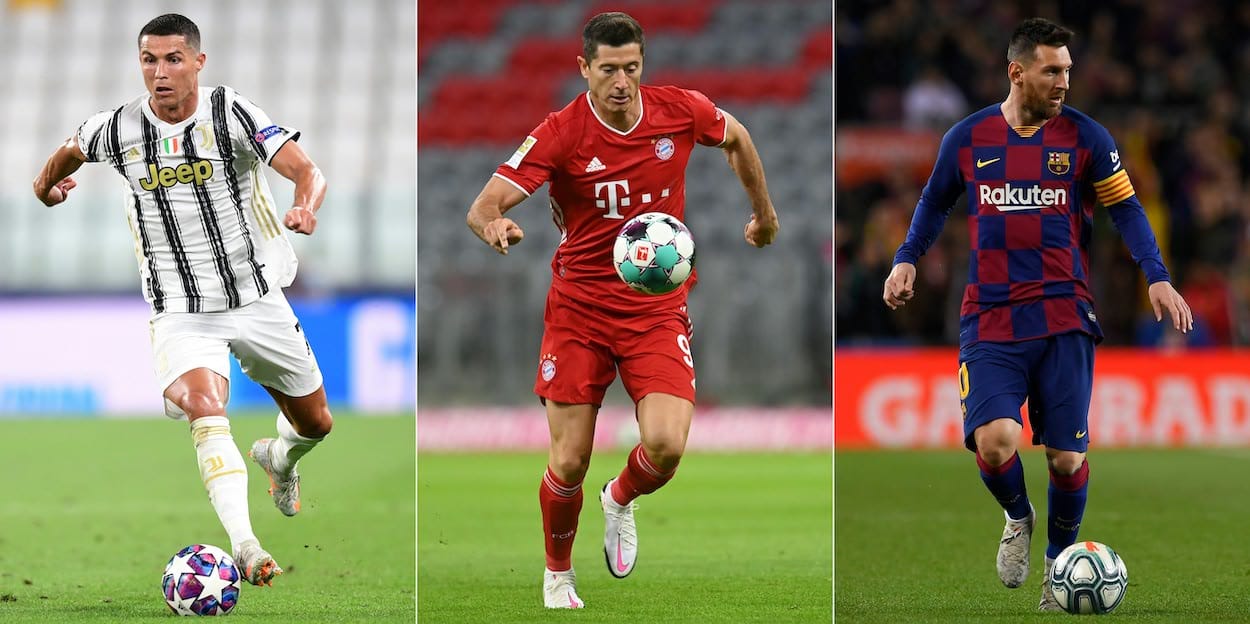 Who Has the Most Goals in Champions League History?
The superstar who has the most goals in Champions League history has 141 goals in the European tournament and second place isn't that close.
The best soccer clubs in Europe have gone head-to-head in a yearlong tournament since the 1955-56 season. Back then, it was called the European Cup, and in 1992, the tournament changed its name to the UEFA Champions League. No matter what you call it, the best players in the world have scored thousands of goals over the years, but there's only one who can claim to have the most goals in Champions League history.
Cristiano Ronaldo has the most goals in Champions League history
Portuguese superstar Cristiano Ronaldo is on the shortlist of the greatest footballers of all time. Lionel Messi, Diego Maradona, and Pelé are on that list as well, but Ronaldo has a strong argument.
One of the cruxes of that argument is that Ronaldo has the most goals in Champions League history with 141, and second place (Messi, 125) isn't even that close.
Ronaldo started his Champions League journey in the 2002-03 season with Manchester United. However, he didn't score a goal in his first three European tournaments. That changed in the 2006-07 campaign when the forward notched his first three goals.
After that, Ronaldo was off. He played in two more UCL tourneys with Manchester United (the first time around) and ended his time there with 15 Champions League goals.
A transfer to Real Madrid followed, and that's where Ronaldo truly made his mark. In addition to winning four trophies, he also scored 105 goals for Los Blancos. In 2018, he moved to Italy and added 14 more tallies before heading back to United and scoring six this season.
Ronaldo's 2017-18 UCL with Real Madrid, where he scored 17, is still the mark for most Champions League goals in a single tournament.
The world's most-followed Instagram celebrity isn't just a goal-scorer, either. He also holds the record for most assists in Champions League history with 42.
The rest of the top 10 Champions League goal scorers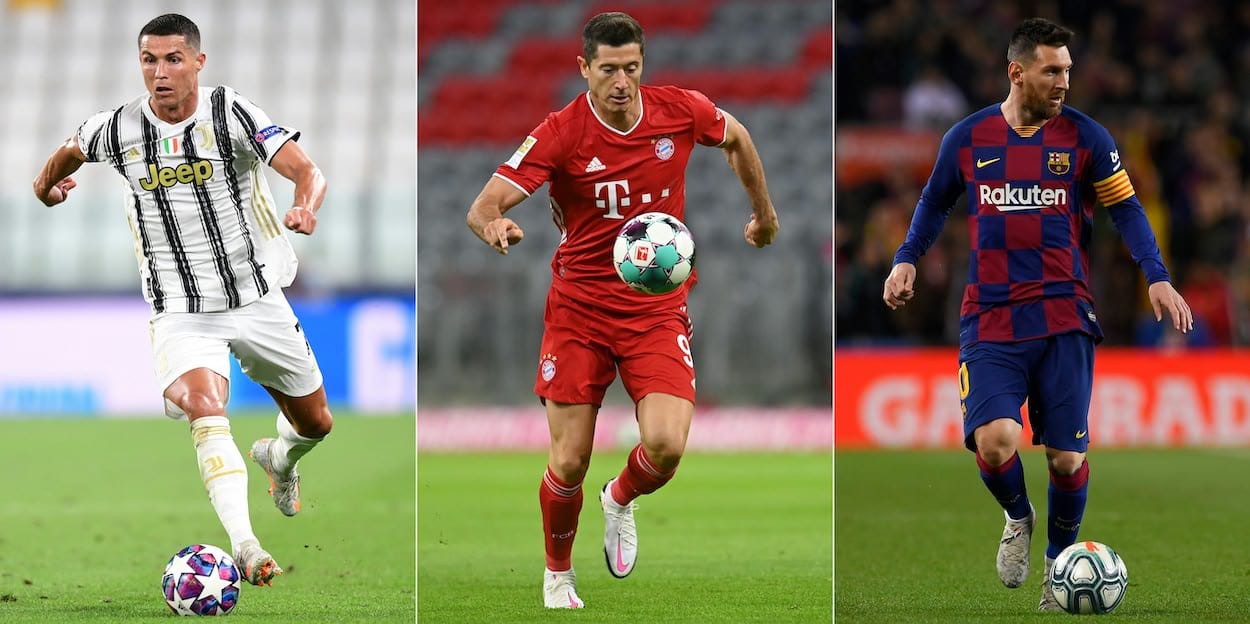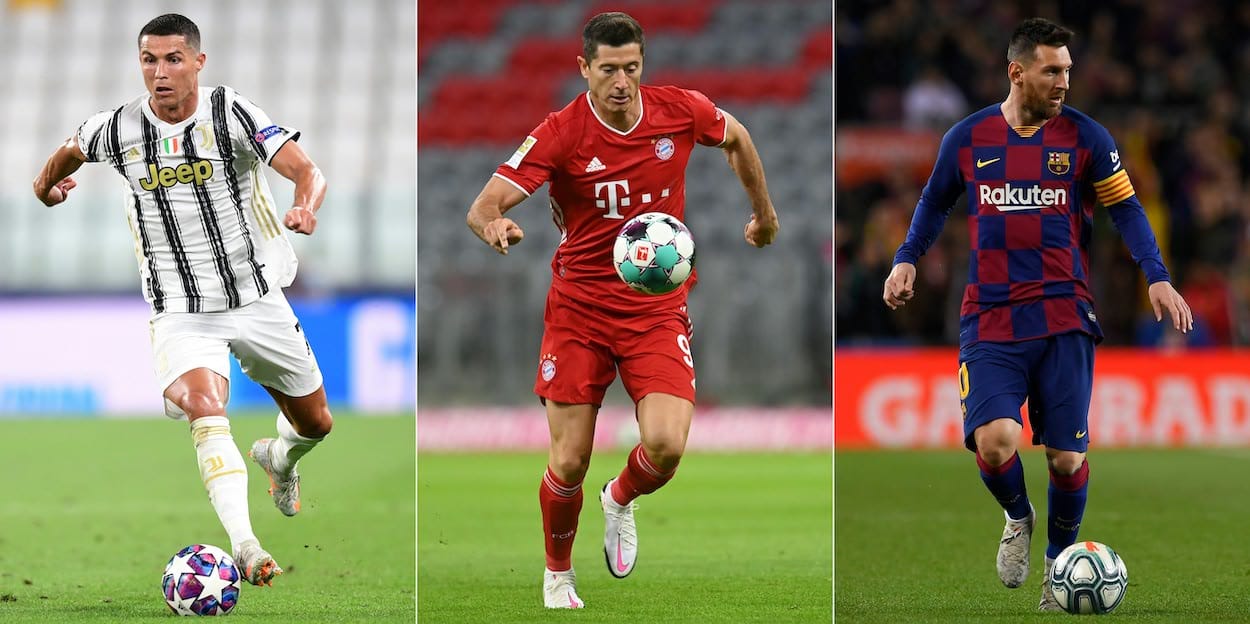 After Cristiano Ronaldo, the number of goals scored falls off dramatically to Lionel Messi. After Messi, that number drops significantly again.
One note to consider when looking at the top players with the most Champions League goals is that the tournament has expanded the number of games played over the years. For that reason, the top goal scorers' list skews toward modern stars. The top 10 are:
| | | |
| --- | --- | --- |
| PLAYER | GOALS | TEAMS |
| Cristiano Ronaldo | 141 | Manchester United, Real Madrid, Juventus |
| Lionel Messi | 125 | Barcelona, Paris Saint-Germain |
| Karim Benzema | 86 | Lyon, Real Madrid |
| Robert Lewandowski | 86 | Borussia Dortmund, Bayern Munich |
| Raúl González  | 71 | Real Madrid, Schalke |
| Ruud van Nistelrooy | 65 | PSV Eindhoven, Manchester United, Real Madrid |
| Thomas Müller | 52 | Bayern Munich |
| Thierry Henry | 50 | Monaco, Arsenal, Barcelona |
| Zlatan Ibrahimović | 48 | Ajax, Juventus, Inter, Barcelona, AC Milan, PSG, Manchester United |
| Andriy Shevchenko | 48 | Dynamo Kyiv, AC Milan, Chelsea |
As you can see, six of the top 10 (Ronaldo, Messi, Benzema, Lewandowski, Müller, and Ibrahimović) are still active players. The other four are only slightly older. González, Van Nistelrooy, Henry, and Shevchenko are all either 44- or 45-years old.
One thing to watch in the 2021-22 Champions League Final is Real Madrid's Karim Benzema. He will start for the LaLiga side, and with a goal against Liverpool, he can move into sole possession of third place on the list above.
All stats courtesy of UEFA.com