Manchester United Must Extend Marcus Rashford Contract to Regain Past Glory
Marcus Rashford was one of the stars of the 2022 World Cup for England, scoring three goals in his five appearances. And since returning from the world's biggest soccer tournament, the 25-year-old Manchester United star has been on fire, scoring 17 goals in all competitions. There is currently one year left of the Marcus Rashford contract after the club triggered a one-year option in December. And now, extending Rashford past 2024 is the most important deal United has made in a decade.
The Marcus Rashford contract 
Marcus Rashford left for Qatar with eight goals under his belt in all 2022-23 competitions. But after finding his form in the Doha desert, the Manchester United forward has gone on a tear.
Since returning to his club, Rashford has scored in nine of his 10 Premier League matches, four of five Carabao Cup tilts (on the way to United's first trophy since 2017), and in one of two fixtures, in both the FA Cup and Europa League.
Rashford blossoming into the goal-scorer the Red Devils thought he could become when he joined the academy at age seven and the first team at 19 is a blessing and a curse for United.
The current Marcus Rashford contract is a four-year, £41,600,000 (~$49.9M) deal he signed in 2019, which breaks down to £200,000 (~$240K) per week and an annual average value (AAV) of £10,400,000 (~$12.4M), per Spotrac.
These weekly wages make tied for the 20th-highest-paid player in the EPL this season.
The four-year Marcus Rashford contract also had a fifth-year option on it, which Man United picked up in December. That keeps him at Old Trafford through the 2023-24 season.
However, Rashford hasn't committed to extending his stay in his hometown past 2024. And that puts the pressure on United to get the deal done to right the wrongs of the last decade that has seen them become the second team in Manchester to their "Noisy Neighbors," Manchester City.   
Why Manchester United must extend Marcus Rashford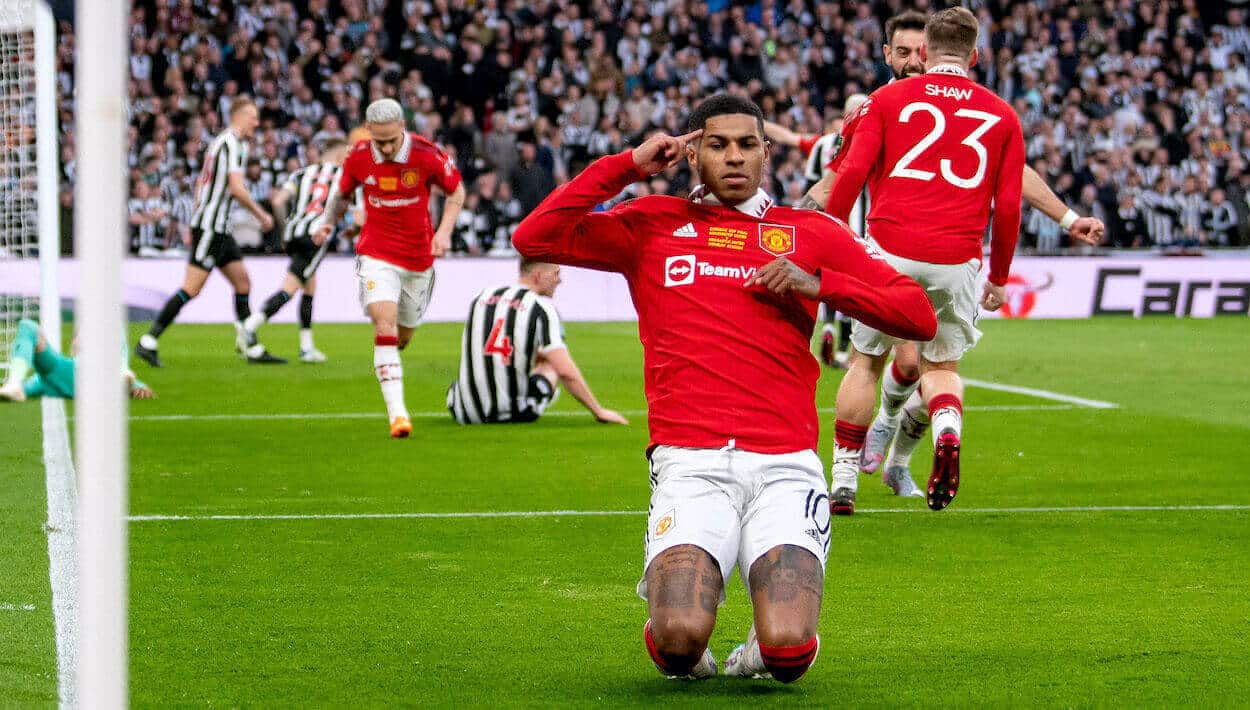 The 2012-13 season was a significant campaign in Manchester United history, as it was the last time the club won the Premier League. They did so with the last remnants of the bounty of homegrown talent they cultivated in the late '90s and early 2000s.
On that team were the last two members of the Class of '92, Paul Scholes and Ryan Giggs, who led the Red Devils to two decades of domination along with fellow academy products David Beckham, Nicky Butt, Gary Neville, and Phil Neville.
That 2013 team also included stars who didn't come up in the academy system but that United bought relatively young and developed, like Rio Ferdinand and Wayne Rooney.
This winning roster also demonstrated two problems to come, though.
One is that it featured big-name stars who wouldn't live up to the hype in Manchester (Javier "Chicharito" Hernandez, Robin van Persie) and academy players who wouldn't blossom into stars (Jesse Lingard, Tom Cleverley, Michael Keane).
Over the next 10 years, this trend would continue with the likes of Romelu Lukaku, Angel Di Maria, Anthony Martial, Juan Mata, Paul Pogba, Alexis Sanchez, Henrikh Mkhitaryan, and, of course, Cristiano Ronaldo Part II, coming in for big money and not living up to their deals.
That coincided with a generation of academy players (and Marcus Rashford peers) like Dean Henderson, Timothy Fosu-Mensah, Adnan Januzaj, and Axel Tuanzebe never becoming first-team stars.
United finally won another major trophy in 2023. However, the team is still mostly outsourcing stars from around the world. That's what makes the Marcus Rashford contract extension so crucial, though.
Keeping him will send a clear signal to its academy players about the club's committment to homegrown talent. And that is almost as important to Manchester United's future as an extended Marcus Rashford contact is to the present.