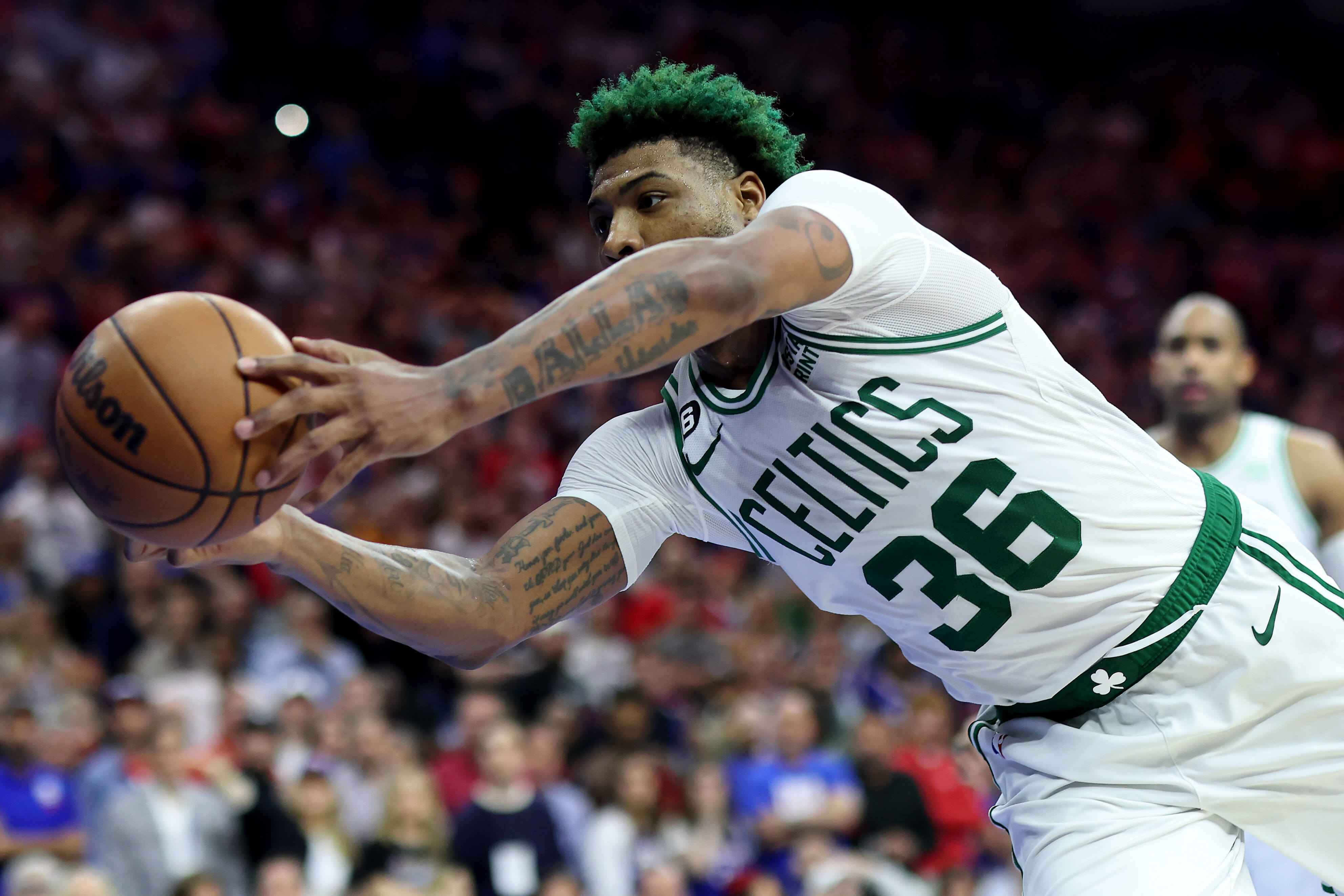 Marcus Smart on Joe Mazzulla: 'He's Been Killed a Lot —Rightfully So'
Marcus Smart had a surprising take on the criticism Boston Celtics coach Joe Mazzulla has gotten during the playoffs.
Led by Marcus Smart, the Boston Celtics avoided elimination Thursday night against the Philadelphia 76ers. Smart scored a game-high 22 points as the Celtics went into Philly and escaped with a 95-86 victory to set up a winner-take-all Game 7 on Sunday. The winner advances to the Eastern Conference Finals.
The Celtics were a heavy favorite heading into the matchup but have faced a series of questions as the series wears on. One burning question was whether first-year Celtics coach Joe Mazzulla could handle the heat of an intense NBA postseason. Smart admitted Mazzulla has been crushed in the media but surprisingly added it's been justified.
Marcus Smart came through Thursday when plenty of others didn't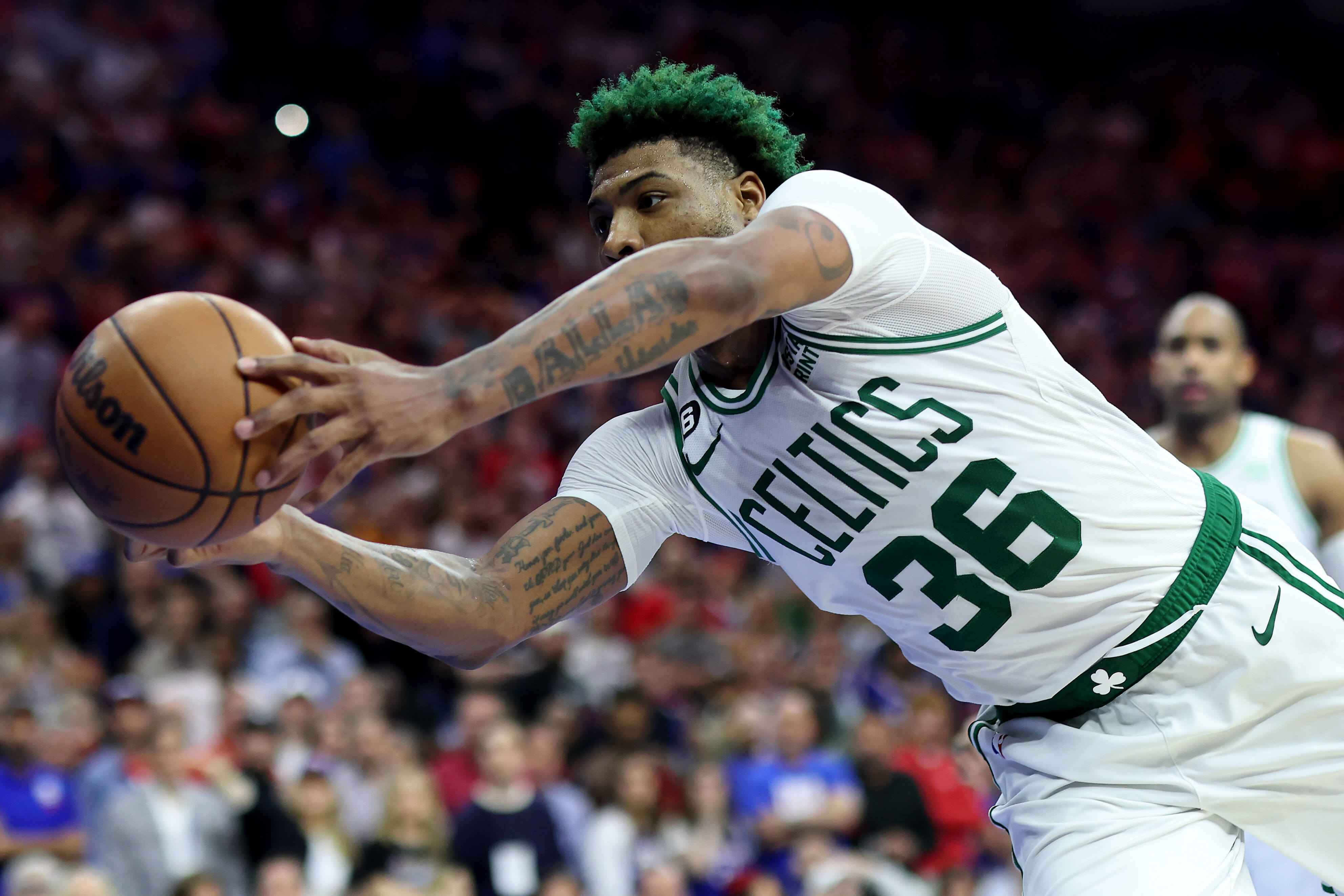 The best part of the Boston Celtics this season is what they didn't have a year ago — depth. The offseason acquisition of veteran guard Malcolm Brogdon has beefed up Boston's bench, making the Celtics one of the deepest teams in the NBA.
The Celtics have plenty of options when things break down. In Game 6, Celtics star Jayson Tatum was one of the players who broke down. Tatum had one point at halftime and made five of 21 shots for the game. Al Horford struggled yet again, finishing with more personal fouls (3) than points (2).
Smart came through with his best performance of the series when it counted most. He went 8-for-15 from the floor and had seven rebounds and seven assists to go along with his 22 points.
Tatum has struggled for much of the series. He missed all 10 shots in the first half. That came on the heels of a Game 5 performance where he was invisible before halftime.
He bounced back with a solid fourth quarter Thursday and finished with 19 points. Smart knew it was a matter of time before Tatum bounced back.
"Just continue to tell him he's one of the best players in this league," Marcus Smart said of his message to Tatum, per MassLive. "He makes the big bucks for a reason. Let it go. It's going to come to you. Just let the game come to you. Take what they give you, don't make it hard on yourself, and just do what you do."
Smart agreed the criticism of Mazzulla has been warranted
The Celtics have made this series with the Sixers much more difficult than it should be, and there's plenty of blame to go around. Most of the blame usually falls on the superstar, and Tatum certainly deserves his fair share. Tatum has been flat-out bad in this series, yet the Celtics are still alive. Tatum has failed to play a complete game in any one of these six games.
When blame isn't on the star, it can be shifted to the coach. Mazzulla has been oft-criticized this series for failing to make adjustments and not using timeouts in key situations.
Boston fans and media have been all over Mazzulla in the series. Smart addressed that after Thursday's win. He said Mazzulla has been killed lately, but he also added that criticism has been justified.
"Joe's learning," Smart told reporters after the game. "Just like all of us. I know he's been killed a lot — rightfully so. He needs to make some adjustments, and he did that."
Mazzulla's biggest adjustment for Game 6 was starting center Robert Williams alongside Al Horford. Having Williams and Horford in there gave Boston a much better defensive presence in the middle. Williams is a game-changer on defense with his athleticism and rim protection. The Celtics had struggled in the early part of games but got off to a 15-3 lead with the adjustment change.
"That's all you can ask for," Smart said. "Just continue to be the best he can be. It takes everybody. It's a full team effort.
"We're teaching him as well. We're teaching ourselves, and we get to learn more about ourselves. It allows Jayson, it allows Jaylen, and it allows me to be more vocal on the court and go figure things out. It's not going to be perfect. Joe's not perfect. He was just put in a very tough situation this year, and he's doing the best he can. That's all we can ask for."