Marcus Smart Showing His Worth From the Boston Celtics Bench
If this were a contract year for Marcus Smart, he'd be seeing dollar signs — from the bench. The Boston Celtics point guard has missed the last six games with an injured ankle suffered against the Toronto Raptors on Jan. 21.
The Celtics have owned the best record in the NBA for most of the season but have stumbled without their veteran point guard, going 2-4 in his absence. Smart makes the Celtics go, and it's never been more evident with him on the sideline.
Marcus Smart is the heart and soul of the Celtics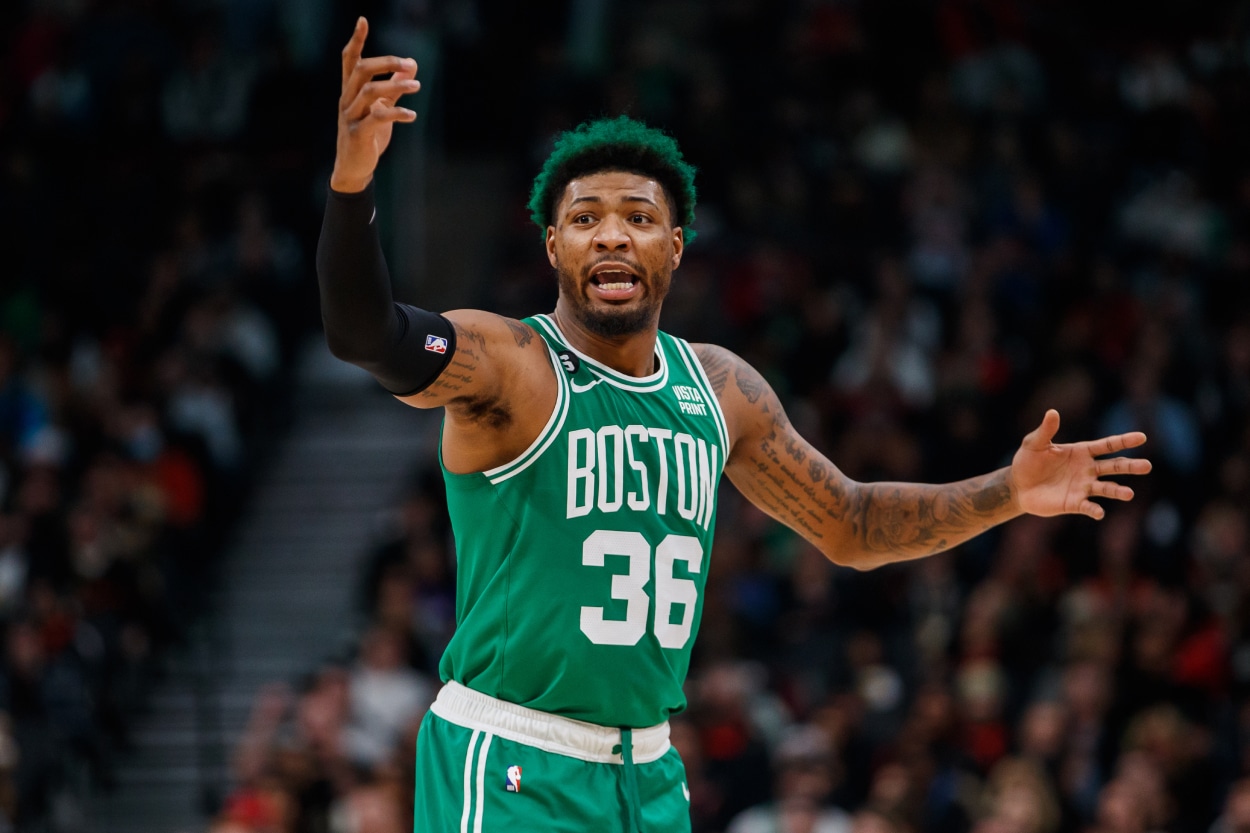 Smart often gets criticized for his shooting, but that might be because he does everything else so well. He's one heck of a playmaker, and he's the reigning Defensive Player of the Year. What sets him apart from others, though, is his heart and toughness.
He's one of those guys that if he's on your team, you love him. If he's playing against you, you love to hate him.
Known for his flopping, Smart knows what it takes to draw an offensive foul. He realizes he gets under the skin of some opponents, and he loves every minute of it.
"There's no better feeling to get a guy, you bait him into a trap, get him thrown out of a game, get a foul called on him, and he just goes ballistic," Smart said during a live taping of The Old Man & The Three podcast with host JJ Redick last year. "It's one of the best feelings in the world."
Nobody works harder than Smart. Nobody wants to win any more than he does. He's the one diving on the floor and doing whatever it takes to pick up the win. Individual stats mean nothing to him.
"I play the game to win, and the individual stats will come with it, but for me, it's just about winning," he said.
Jaylen Brown explains how important Smart is to the Celtics
The Celtics, fresh off a 106-94 loss at home to the Phoenix Suns, have been reeling as of late. It's no coincidence that their struggles coincide with Smart's absence.
Smart played 16 minutes in a 106-104 win over the Raptors before injuring his ankle. He's been out since. The Celtics dropped the next three games and have gone 2-4 without their leader. It hasn't gone unnoticed.
"I think Marcus is great energy to the game," Brown said after Friday's loss to the Suns, per NESN. "He brings pace to the game, he gets easier shots, easier looks for our guys, and defensively, he has that tenaciousness that gets us going or picks us up in games like this."
Brown said that energy was lacking against Phoenix.
"I think they came out and outplayed us," Brown said. "From start to finish for the most part. We got off to a decent start, but they outplayed us. No energy. They got more shots than we did. Walking the ball up the floor with every possession. We just didn't have the enthusiasm tonight. Just kind of going through the motions."
It's uncertain when Smart will return to action. Boston plays at the Detroit Pistons on Monday.