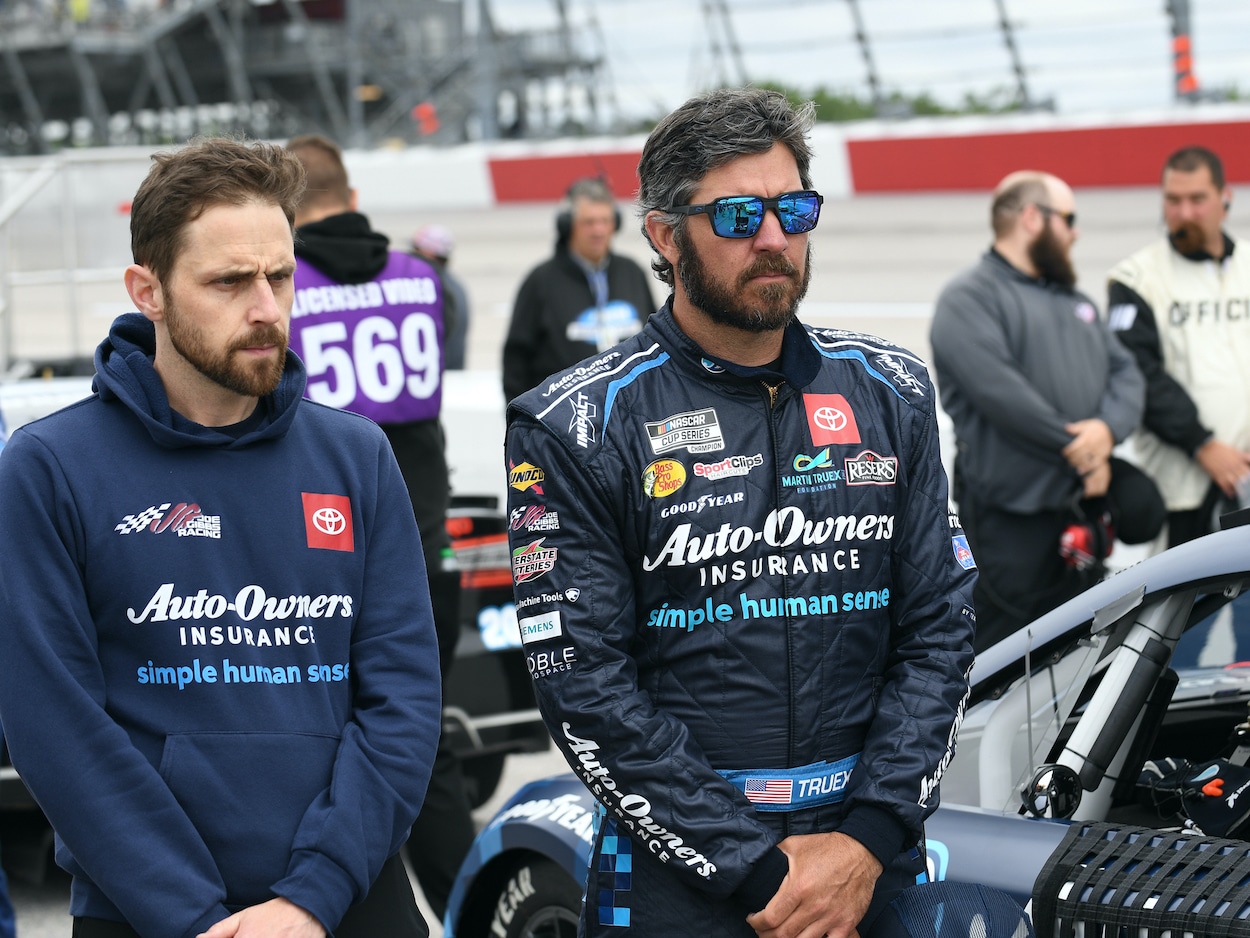 Martin Truex Jr. Crew Chief James Small Calls Out Media for Its Reporting on His Disagreement With Driver at Richmond
Martin Truex Jr. crew chief James Small admitted this week he wasn't happy with what the media reported on the tense exchange with his driver late at Richmond.
Martin Truex Jr. isn't known for being loud. He lets his actions on the track do the talking. Now that's not to say the Joe Gibbs Racing driver doesn't get heated at times over the team radio. 
That happened a few weeks ago at Richmond Raceway when he and crew chief James Small got into a tense conversation at the end of the race over a failed tire strategy that cost him a chance at the win. The media provided details on the exchange between the pair. This week, the crew chief responded to that incident and didn't hide how he wasn't happy with what was reported.  
Martin Truex Jr. gets into heated exchange with crew chief James Small
Martin Truex Jr. drove a fast car at Richmond last month, leading 50 of the race's final 100 laps. However, a caution came out with 28 laps to go that dramatically changed the fortunes of the No. 19 team.  
Due to an earlier pit strategy call, the JGR car only had seven-lap scuffs remaining in the pits, while the rest of the field had sticker tires. Unaware that he was running on older tires than everyone else, the driver voiced his frustration over the team radio with several laps to go.
"What a f****** nightmare," Truex said. 
"I know it. Let's survive here," his spotter told him.
"My tires are flat," the driver offered. 
Soon after the No. 19 took the checkered flag and finished 11th, Small apologized to his driver. 
"Sorry. We f****** hosed ourselves," he told the driver. "We're f****** out of tires. We had seven-lap scuffs there. So we were f*****."
"I don't understand what you just said," Truex responded, unable to hear his crew chief. "But that was pitiful."
"Had f****** scuff tires on there because we hurt ourselves taking our set in Stage 1. So we were f***** regardless. Sorry. We f***** up." 
"You didn't tell me you put scuffs on," Truex surprisingly revealed. "I didn't know what the f*** was wrong, OK? Jesus."
"There's no point in telling you. We were f***** either way," Small concluded the communication between the pair. 
Small not happy with what media reported
That conversation was noteworthy, and numerous media outlets, including this one, reported on the tense discussion. This week, Small made an appearance on SiriusXM NASCAR Radio and was asked about that exchange and how long it took him and Truex to move past what happened. 
"Yeah, like literally three hours," Small said. "I don't read anything, but people told me some of the crap that was written out there. There was never an issue at all. We spoke at length on Monday for quite a while. It's not a problem. 
"You know we both want to win. We're both highly motivated to achieve success this year after last year. We just didn't need that yellow. If a yellow didn't come out, we win the race, and it's a completely different story. Yeah, it was unfortunate."
Kyle Petty thinks Martin Truex Jr. and James Small are headed for divorce
Martin Truex Jr. is on a 52-race winless streak. It's the longest he's gone without going to Victory Lane since 2014. The last race he won was, ironically, at Richmond in 2021. All of those numbers add up to mounting frustrations for the No. 19 team.
According to NBC analyst Kyle Petty, he suggests the pair's future together is in doubt, and someone will walk away from the relationship.
"Who makes a change? Does Gibbs and those guys step in to make Martin happy, to make James Small happy?" Petty questioned. "Because I think we're getting to a point where this is not a viable option.
"When the day goes away like that, you just got to pick up the pieces and and go to the next race. Martin seems to want to blame James for everything that goes on or everything that has happened. That's just part of the game, man. You live as a team. You die as a team. That's the way it is. And when it becomes an individual sport then the game needs to be played with a different group of players. So I think we're really close to that and I think we're seeing the beginning of the end in this situation for these two guys."
Strong words from Petty. And likely the type of media report Small wasn't happy about.
For the latest breaking news and information about NASCAR's three national series, check out @kdsportswriter on Twitter.