Matthew Wolff Woke Up With a $1 Million Surprise in His Bank Account After Missing the Cut at the Wyndham Championship
Matthew Wolff just experienced maybe the greatest missed cut in PGA Tour history.
After missing out on the weekend at the Wyndham Championship, Wolff woke up on Saturday morning with a $1 million surprise in his bank account. How, you ask? Let us explain.
Matthew Wolff's up-and-down regular season ends with a missed cut
Wolff has been all over the place this season. He kicked off his 2020-21 campaign with a runner-up finish at the U.S. Open at Winged Foot, and he followed it up with another second-place finish at the Shriners Hospitals for Children Open the next month.
But the strong play didn't last for the 22-year-old phenom. Wolff played in 18 more PGA Tour events throughout the regular season, and he didn't record a single top 10 along the way. He withdrew from two tournaments after abysmal first rounds, and in his most bizarre finish of the year, he was disqualified from the Masters after signing an incorrect scorecard.
Wolff has battled injuries all season, but he found some form earlier this month with a T17 at the WGC-FedEx St. Jude Invitational. He looked to be gaining some momentum heading into the upcoming FedEx Cup playoffs. However, the Oklahoma State product couldn't continue his resurgent play into the regular-season finale this weekend.
In the Wyndham Championship at Sedgefield Country Club, Wolff shot 69 and 70 in the first two rounds to miss the cut by two strokes.
Even so, he might've had the best weekend of anyone in the field.
Wolff woke up with a $1 million surprise in his bank account after missing the cut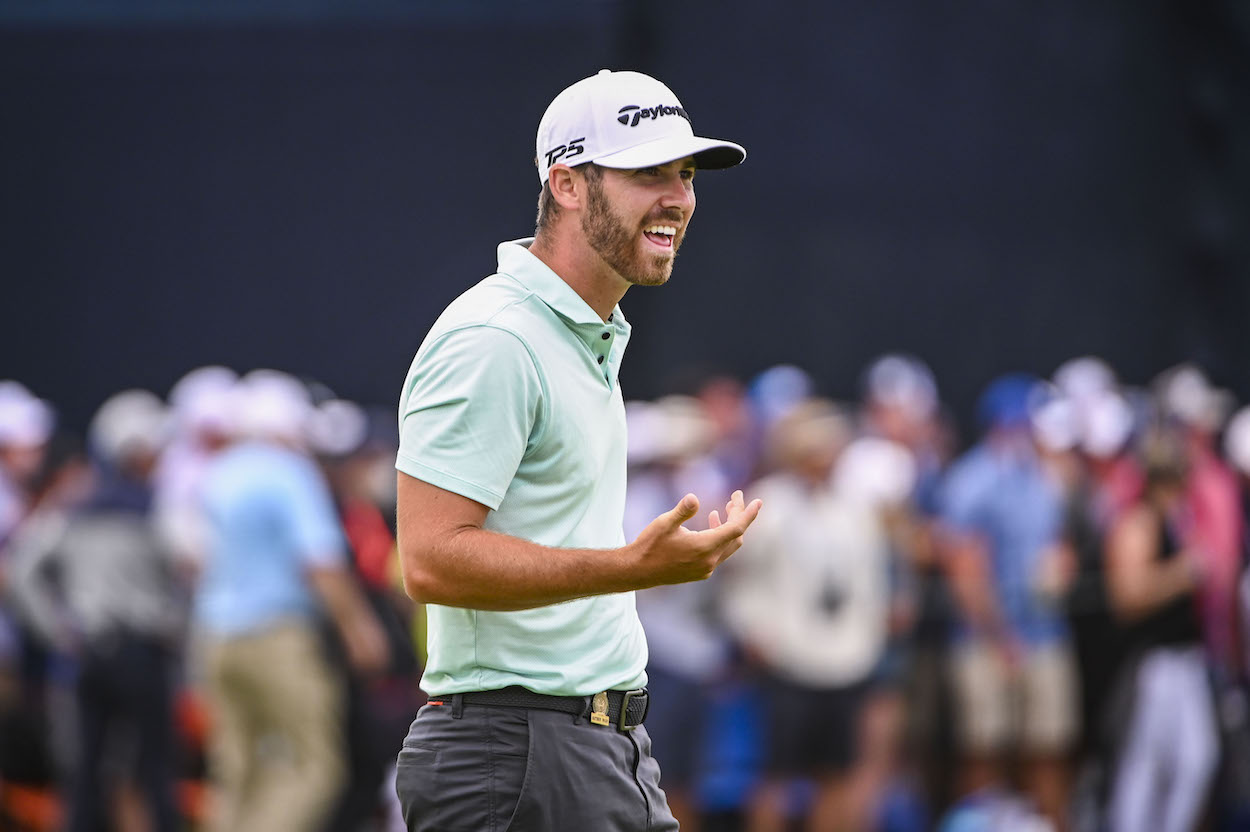 Wolff may have missed the cut at the Wyndham Championship to finish his regular season, but he still left Sedgefield with the second-biggest check of anyone in the field.
But how?
You see, on the PGA Tour, there's a season-long competition called the AON Risk Reward Challenge. It takes the average of a player's two best scores on a predetermined hole in designated tournaments, and the player with the lowest average by the end of the season is rewarded with $1 million.
Wolff finished the season with a -1.105 average on 10 AON Risk Reward Challenge holes, which was good enough to take the 2021 title and the $1 million prize.
Not too shabby.
Wolff: "Every little bit helps"
Wolff made just over $2.5 million in tournament earnings this regular season, but he made nearly half of that in one night thanks to the AON Risk Reward Challenge. As a PGA Tour newbie, he knows that big of a check can go a long way.
"Yeah, it means a lot," Wolff said Friday. "I think, you know, obviously there's a lot of money to be made out on Tour, but I'm new out here and every little bit helps. And AON puts on a great contest, year-long contest. Just happy that I got it done. And I knew about it kind of the last couple months, so on the AON holes I was a little more nervous than I usually am, but played them pretty well and just came out on top." 
We might never see a more impressive missed cut than the one we just witnessed from Wolff.