Max Homa Awkwardly Gawked at Tiger Woods the First Time He Met His Boyhood Hero
Max Homa's first encounter with Tiger Woods was a little awkward.
Multi-time PGA Tour winner Max Homa makes no secret of the fact that he idolizes Tiger Woods. So he's certainly not hiding the excitement he's feeling about getting to tee it up alongside Tiger for the first two rounds of the 2022 Open Championship at St. Andrews.
See what I mean?
Now, Thursday's first round certainly won't be Homa's first interaction with Tiger. About a month after Homa's first PGA Tour win in 2019 at Quail Hollow, Woods found him on the range at the Memorial and congratulated him.
And when Homa, now the 19th-ranked player in the world, collected PGA Tour win No. 2 at the Genesis Invitational at famed Riviera Country Club, it was Woods who handed him the trophy as Tiger hosts the tournament. A moment Homa said afterward made him "as happy as I could ever possibly be."
That happiness turned to sadness two days later when he learned of the crash that nearly took Tiger's right leg, an accident that kept Woods away from competitive golf for more than a year. But Woods is in the field this week at St. Andrews, the site of two of his three Open Championship victories, and Homa is ecstatic.
This week marks just the sixth major championship in which both Tiger and Homa have both appeared. The first was back in 2013 at the U.S. Open at Merion, where Homa met his idol for the first time. And what an awkward first meeting it was.
Max Homa recalls his first encounter with Tiger Woods at the 2013 U.S. Open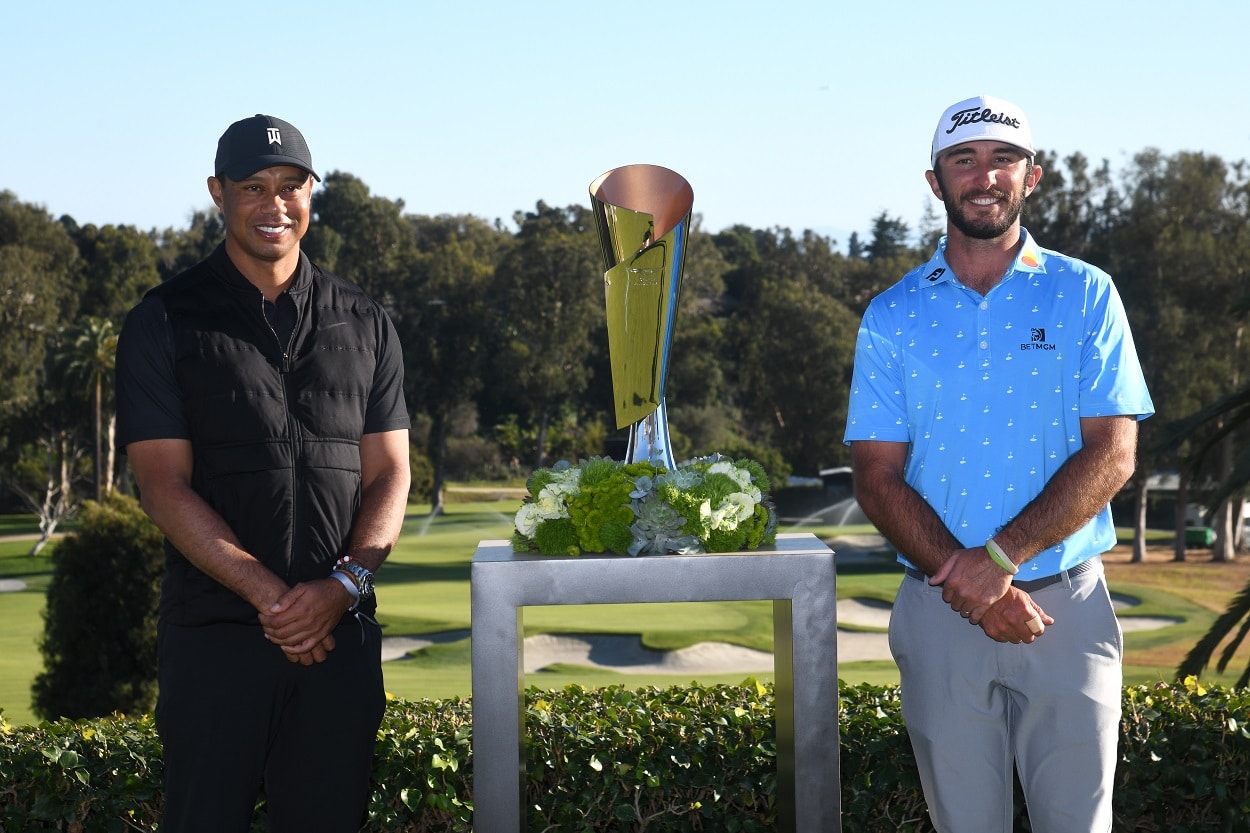 Then just a 22-year-old amateur at Cal-Berkeley, Max Homa made it into the field at the 2013 U.S. Open by way of a sectional qualifier in Newport Beach.
Woods was teeing off just a few groups ahead of Homa's in Thursday's first round, which meant they would be warming up around the same time. And it was there on the range at Merion where Max made his move.
He instructed his caddie to put his bag next to Tiger's and says that while he warmed up, all he was thinking about was introducing himself. That's when Homa was actually warming up anyway. The youngster was simply in awe of being that close to the then-14-time major champion and found himself watching his hero hit balls instead of preparing for his first round in a major.
And he was apparently watching a little too long and a little too awkwardly. And his pals let him know about it. Golf Channel, as it does, was airing Tiger's warmup. Homa began receiving text messages letting him know that he was on the air staring at Woods as he prepped for his 68th major championship. You can always count on your friends, right?
Homa finally got up the nerve to say hello and opened with this line:
"Hey Tiger, I'm Max. There's no chance you know who I am but I'm a big fan."

Max Homa on Tiger Woods
Homa says Tiger "was so nice," shook his hand, and wished him well. The two shot matching 73s that day. Homa fired a second-round 78 and missed the cut, while Woods ultimately tied for 32nd.
Max Homa says he still has the picture of him gawking at Tiger Woods that day at Merion. And I'm sure he'll find another keeper when the two walk the Old Course at St. Andrews this week.
Stats courtesy of PGATour.com
Like Sportscasting on Facebook. Follow us on Twitter @sportscasting19 and subscribe to our YouTube channel.