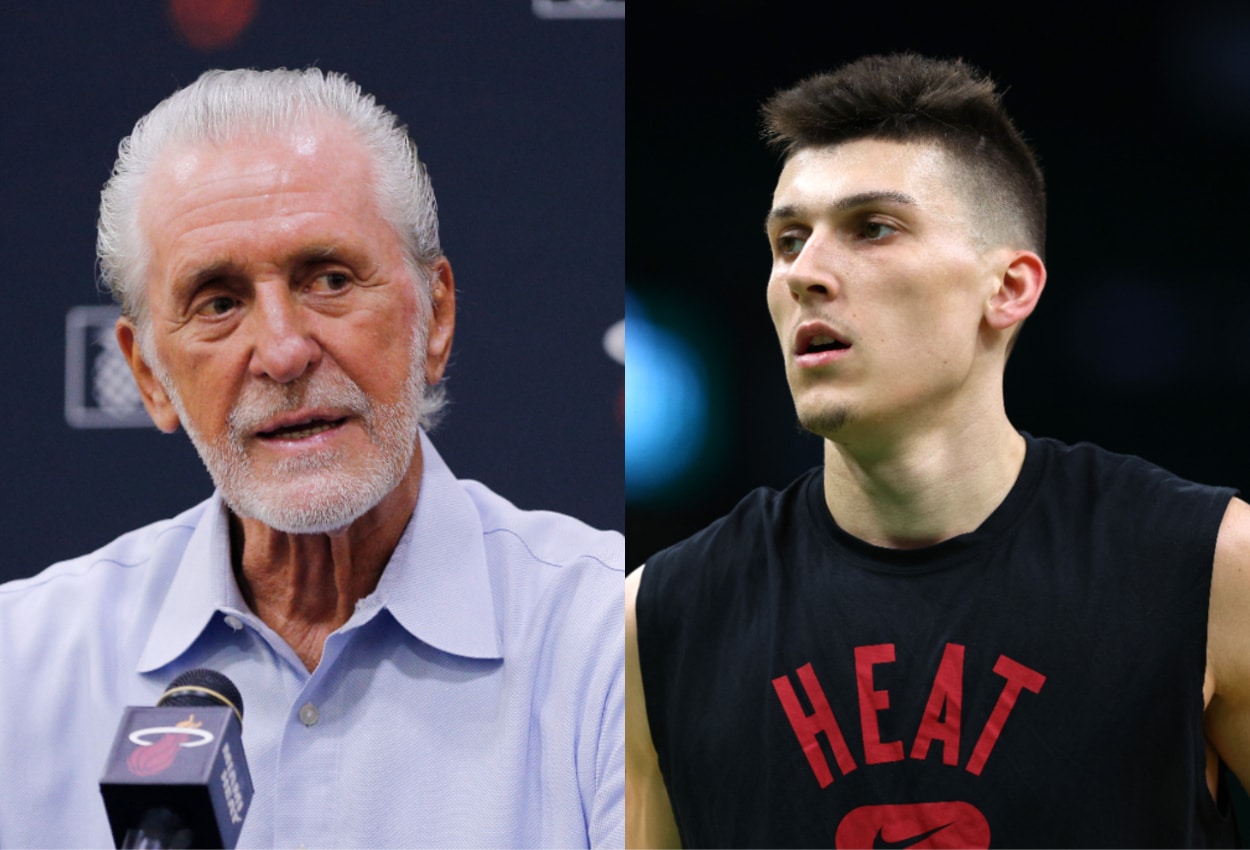 Miami Heat: Pat Riley Issues Direct Challenge to Tyler Herro
Tyler Herro had a great season with the Miami Heat. However, he has a lot of work to do if he wants to start, and Pat Riley made that clear.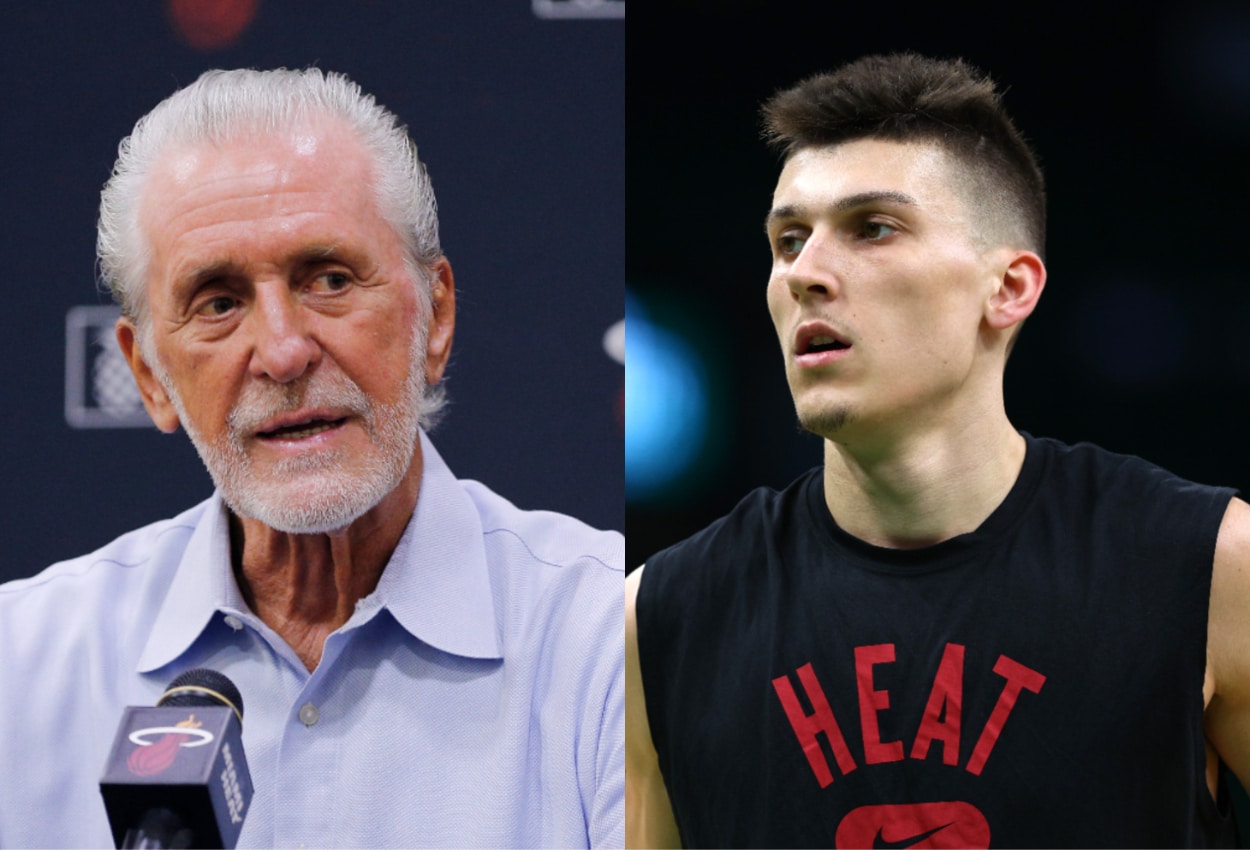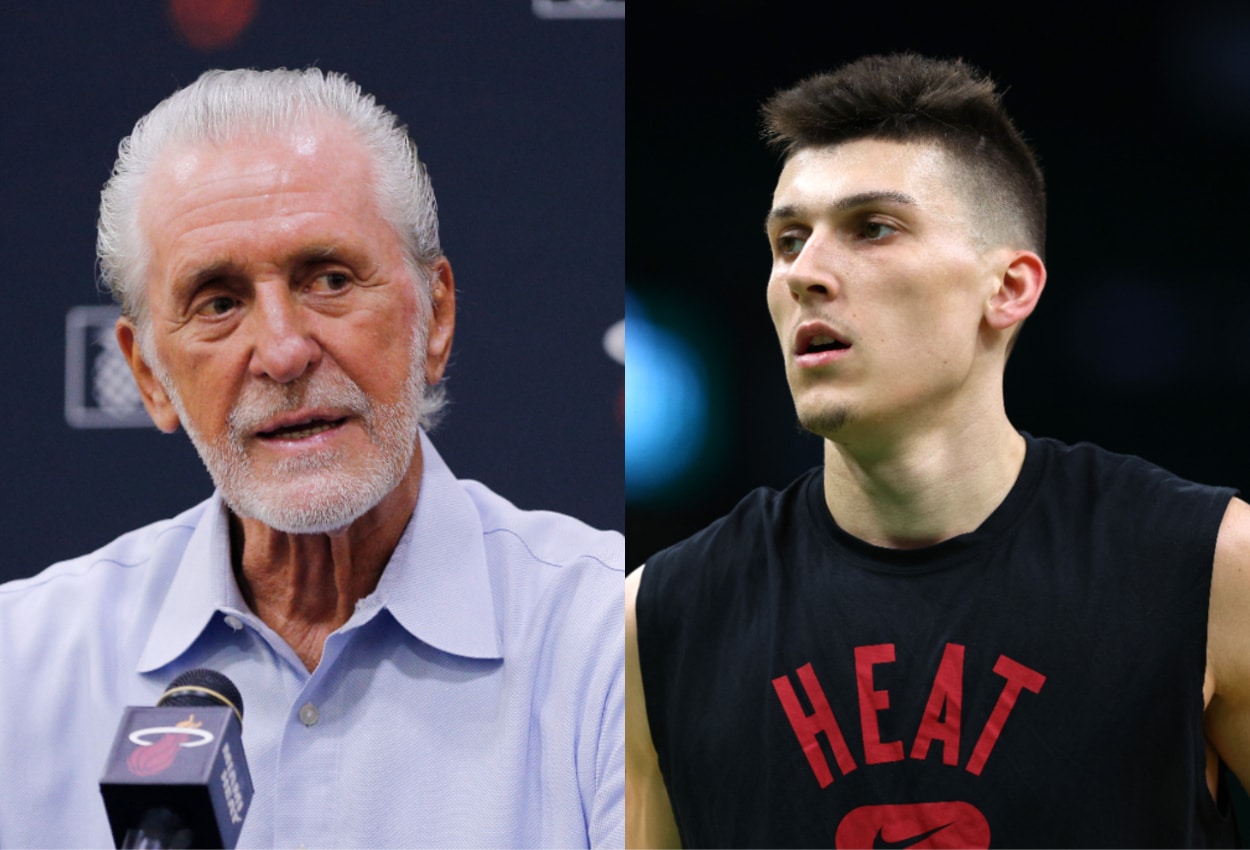 Tyler Herro has proved he can be an impactful player for a championship-contending team. The Miami Heat guard averaged a career-high 20.7 points and shot nearly 40.0% from three-point range this season. His play helped him win the NBA's Sixth Man of the Year Award.
However, despite finding a lot of success off the bench, Herro wants to become a starter for the Heat, a team that came within just one win of reaching the NBA Finals last week. During his exit interview, the guard told reporters he feels he has "earned" a spot in the starting lineup. But making the jump won't be easy. Team president Pat Riley recently issued a direct challenge to the third-year star.
Herro needs to improve defensively.
Pat Riley issued a direct challenge to Tyler Herro
It's hard to blame Tyler Herro for wanting to be a starter. After averaging 15.1 points in 2020-21, he recorded 20.7 per game this season. He improved his field-goal percentage from 43.9% to 44.7%, and he shot 39.9% from beyond the arc. Herro also recorded 5.0 rebounds and 4.0 assists per game.
"I would like to start," he said, per NBA.com. "It's my fourth year (next season), so I think I've earned it. We'll see what happens."
How does team president Pat Riley, who also won five championships and reached nine NBA Finals as a head coach, feel about that possibility?
"The next step for him — and I think we're seeing this in the league — if you want to win a championship and you wanna be a starter, you really have to become a two-way player today," Riley said on June 6, per Brendan Tobin. "You have to improve in certain areas of your game. … I saw improvement in his defense this year, he's got great feet; he's got quick feet. He just needs to get stronger, again, and another 10 pounds of muscle mass, and he just needs to get stronger from a leverage standpoint."
Riley then issued a direct challenge to Herro.
"As far as being a starter: Come to training camp and win it," Riley added. "Sometimes it's that easy, and sometimes the fit … it was better for us coming in, balancing the energy of scoring and having somebody that can really control the ball. If he wants to be a starter, we'll see in October. That's something that you earn. There's no doubt that he has the qualities to be that."
You can't get any clearer than that. If Herro wants to start for the Heat, he must improve on the defensive end of the court.
Tyler Herro is a talented offensive player, but he must improve defensively
Everyone knows Tyler Herro is a talented offensive guard. But Pat Riley even said opposing teams targeted Herro and other guys like Duncan Robinson this season because they are lesser defensive players.
Despite playing along the perimeter, Herro only recorded 0.7 steals per game. That ranked seventh on the Heat behind Jimmy Butler, Bam Adebayo, Kyle Lowry, Caleb Martin, Gabe Vincent, and P.J. Tucker. Only two of those players averaged more minutes than Herro this season.
The Kentucky product also had an atrocious -0.9 defensive box-plus-minus, a box score estimate of defensive points a player contributes above a league-average player per 100 possessions. That was the worst mark on the team of players who appeared in at least 20 games.
Believe it or not, Herro has improved. He only averaged 0.6 steals the two previous seasons, and he had a -1.2 defensive box-plus-minus his rookie year before recording a -1.0 in 2020-21. But he still has a long way to go, and if Herro wants to start for a team with championship potential in the Heat, he must become a factor on that end of the court.
Right now, Tyler Herro is more of a liability defensively. That needs to change if he wants to take the next step.
Stats courtesy of Basketball Reference