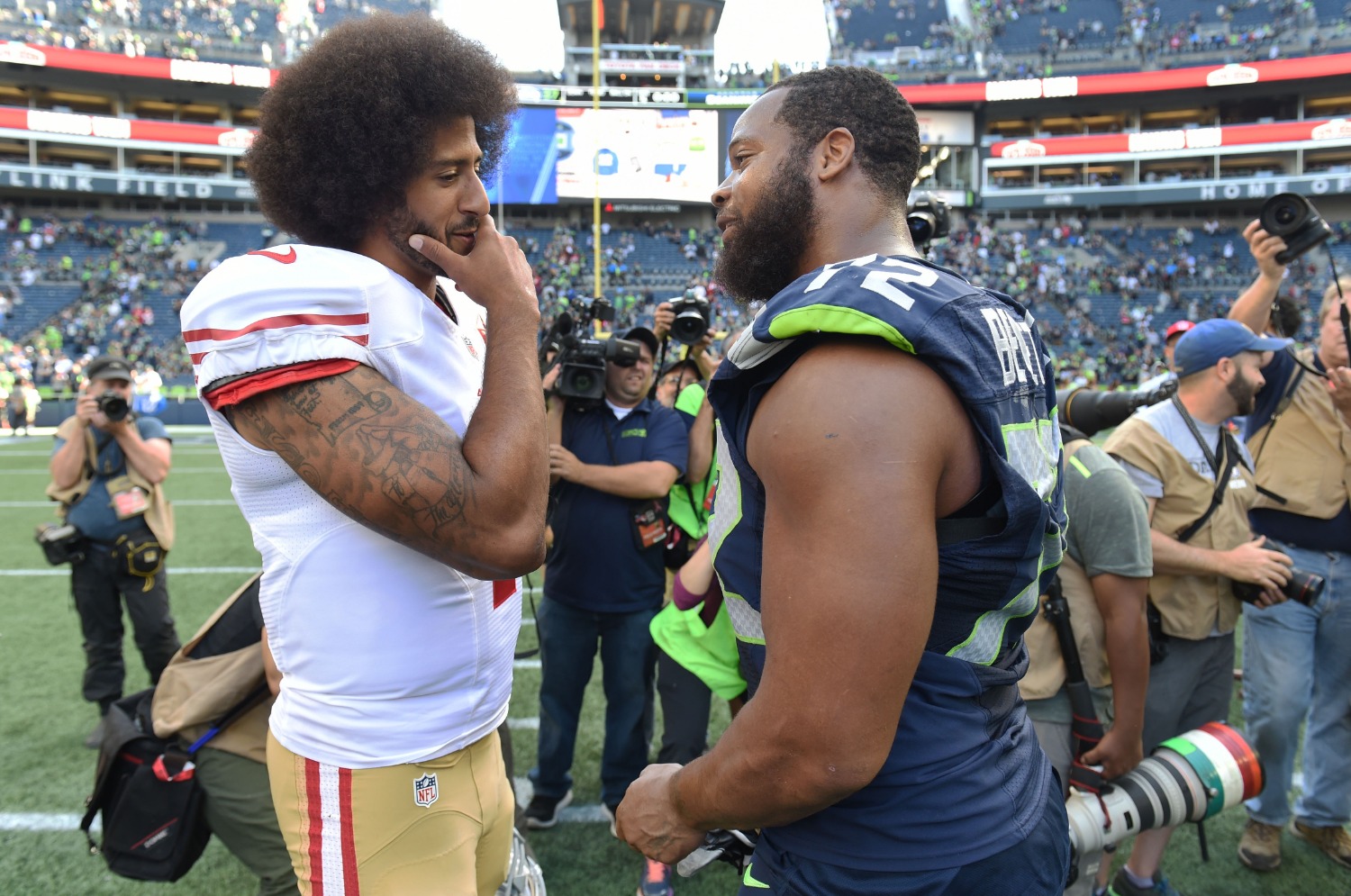 Michael Bennett Can Become the Next Colin Kaepernick in Retirement
Michael Bennett retired on Tuesday. The former Seahawks star can become the next Colin Kaepernick now that his NFL career is over.
For more than a decade, Michael Bennett terrorized quarterbacks and offensive linemen. Along the way, he established a reputation as not only a tenacious defensive lineman but also an outspoken advocate for social justice and racial equality. And now that the longtime Seattle Seahawks star has retired from the NFL, he can become the next Colin Kaepernick.
Michael Bennett's journey to NFL greatness
Michael Bennett didn't have quite as easy of a journey to the NFL as his younger brother. While Martellus Bennett got drafted by the Dallas Cowboys in the second round, his sibling never heard his name called during the 2009 NFL draft. Instead, the former Texas A&M defensive lineman signed with the Seahawks.
However, after making the final roster, he got waived by Seattle in October. Bennett got claimed by the Tampa Bay Buccaneers. Capable of playing both end and tackle in Tampa's 4-3 front, the 6-foot-4, 275-pounder flashed dominant ability. Following a career-high nine-sack season in 2012, he rejoined the Seahawks as an unrestricted free agent.
With Bennett on board, Seattle turned into one of the most dominant defensive units in NFL history. The talented defensive lineman earned a Super Bowl ring in his first year back with the team that originally took a chance on him coming out of college.
From 2013-2017, Bennett started 62 games and racked up 39 sacks, 118 quarterback hits, 69 tackles for loss, and seven forced fumbles. Though he never achieved elite status, his versatility and pass-rush ability made him nearly impossible to block one-on-one.
Once the Legion of Boom era ended, Michael Bennett found himself in need of a new home. He spent a year with the Philadelphia Eagles before splitting his final season with the New England Patriots and Cowboys.
The former Seahawks star retired on Tuesday
Considering he entered the NFL as an undrafted free agent, Michael Bennett beat the odds to just make a roster. By turning into a three-time Pro Bowler with a Super Bowl ring to boot, he easily ranks as one of the best UDFA finds in league history.
But after 11 years of subjecting his body to physical punishment, the 34-year-old announced his retirement on Instagram on Tuesday. In his post, Bennett wrote the following caption:
Retiring feels a little like death of self, but I'm looking forward to the rebirth – the opportunity to reimagine my purpose.
⠀
I would like to thank my wife and children, who have sacrificed so much for me to succeed. I'm looking forward to supporting them the same way they have me these past 11 years. I have never been more at peace in my life.
⠀
As the great Toni Morrison said: "Freeing yourself was one thing, claiming ownership of that freed self was another."
For Bennett, the end of his NFL journey must be bittersweet. After all, he still showed that he could make an impact as a part-time player in 2019. But now that he's free of the confines of the NFL, he can become the next Colin Kaepernick in retirement.
Bennett can become the next Colin Kaepernick
Despite their different approaches, both Colin Kaepernick and Michael Bennett have utilized their platforms as professional athletes to voice their concerns about key issues. Both NFL stars have spoken at length about police brutality and racial inequality. In Kaepernick's case, he sacrificed his NFL career to bring attention to these issues that our country faces.
Fortunately for Bennett, he did not have to give up his lucrative NFL career. Still, he discussed many of these issues throughout his career and even began kneeling during the national anthem during the 2017 season.
Now that he can truly express his opinion freely, the father and husband can follow in Colin Kaepernick's footsteps. And according to a New Yorker story, it certainly seems like Bennett has designs on making a huge impact off the field in retirement through an organization called Athletes for Impact, which connects athletes to support learning opportunities about worthy causes.
And while the longtime Seahawks star acknowledged that not everyone can be like Colin Kaepernick, he said that players "can do small things in their community to make change."
Plus, Bennett wants to address a key issue that the NFL faces: a lack of Black coaches and executives. Perhaps the now-retired former NFL star can use his platform, which includes a podcast with his wife, to speak more about how the NFL can diversify its top-level workforce.
At the end of the day, Michael Bennett is truly his own person. That's what made him such a unique player and personality in a league chock-full of them. In retirement, he can follow in Colin Kaepernick's footsteps and be an advocate for change. Just don't expect him to do everything the same. Just as he showed for 11 years, Michael Bennett is truly one-of-a-kind.