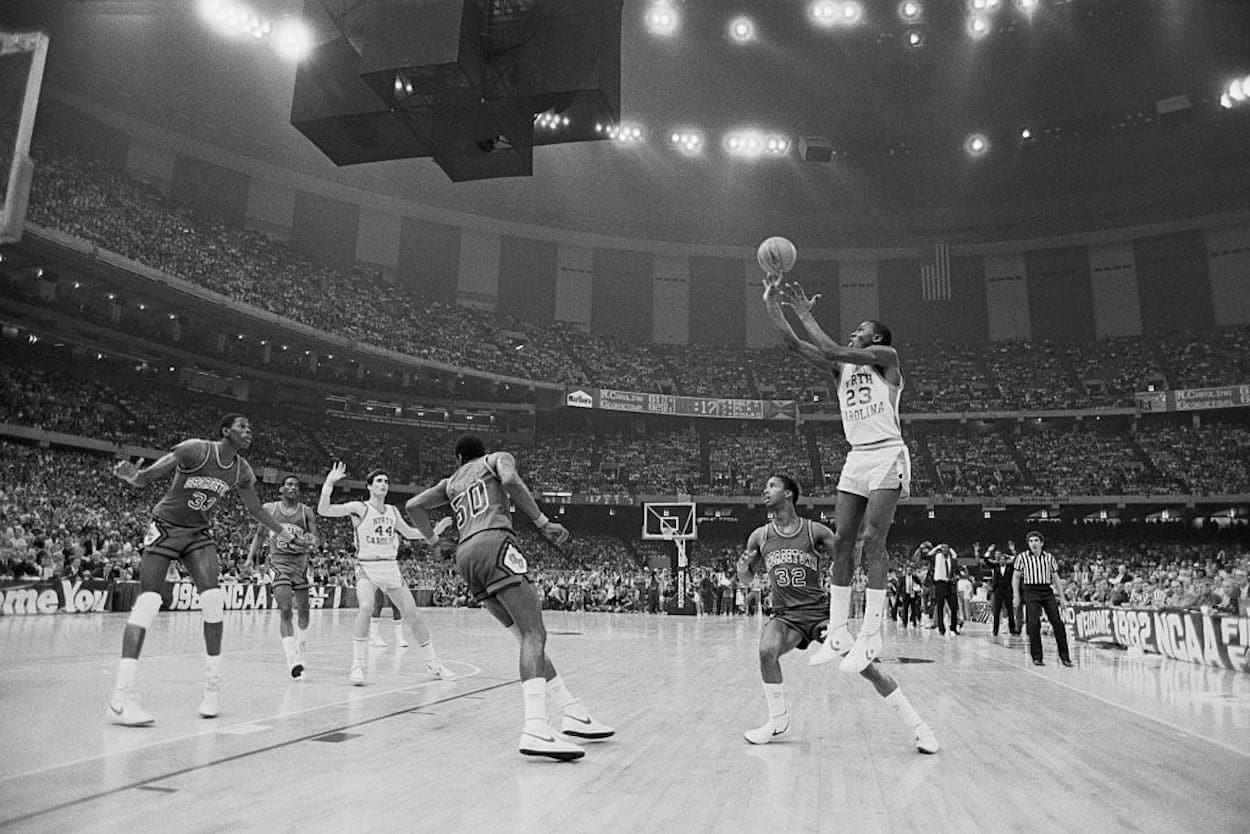 Michael Jordan $2 Billion Empire Could Look Incredibly Different Without a Single NCAA Jumper
For all of the shots Michael Jordan made in the NBA, one from his time at UNC may be the most significant of all.
During his time on the hardwood, Michael Jordan scored countless baskets. From highlight reel dunks to big-time jumpers, he's been responsible for plenty of iconic moments. And while many of them were important, the impact of a single play in 1982 can't be overlooked.
As longtime sports fans will surely remember, His Airness nailed a game-winning jumper to clinch the NCAA title for the University of North Carolina that March. And while the on-court implications of that shot are apparent, it also set a larger chain of events in motion.
Without that shot, the Jordan brand and, in turn, MJ's fortune might look rather different today.
Michael Jordan impressed Sonny Vaccaro by beating Georgetown, and the rest is history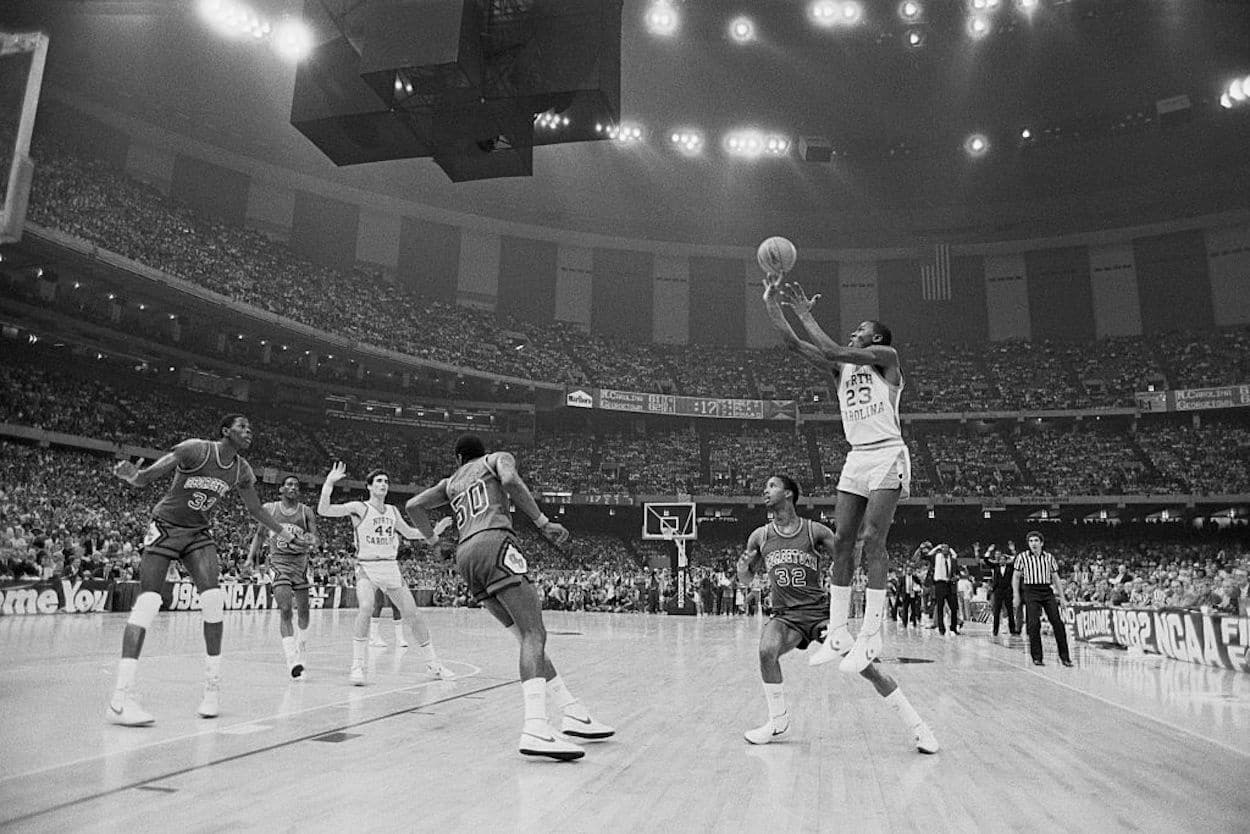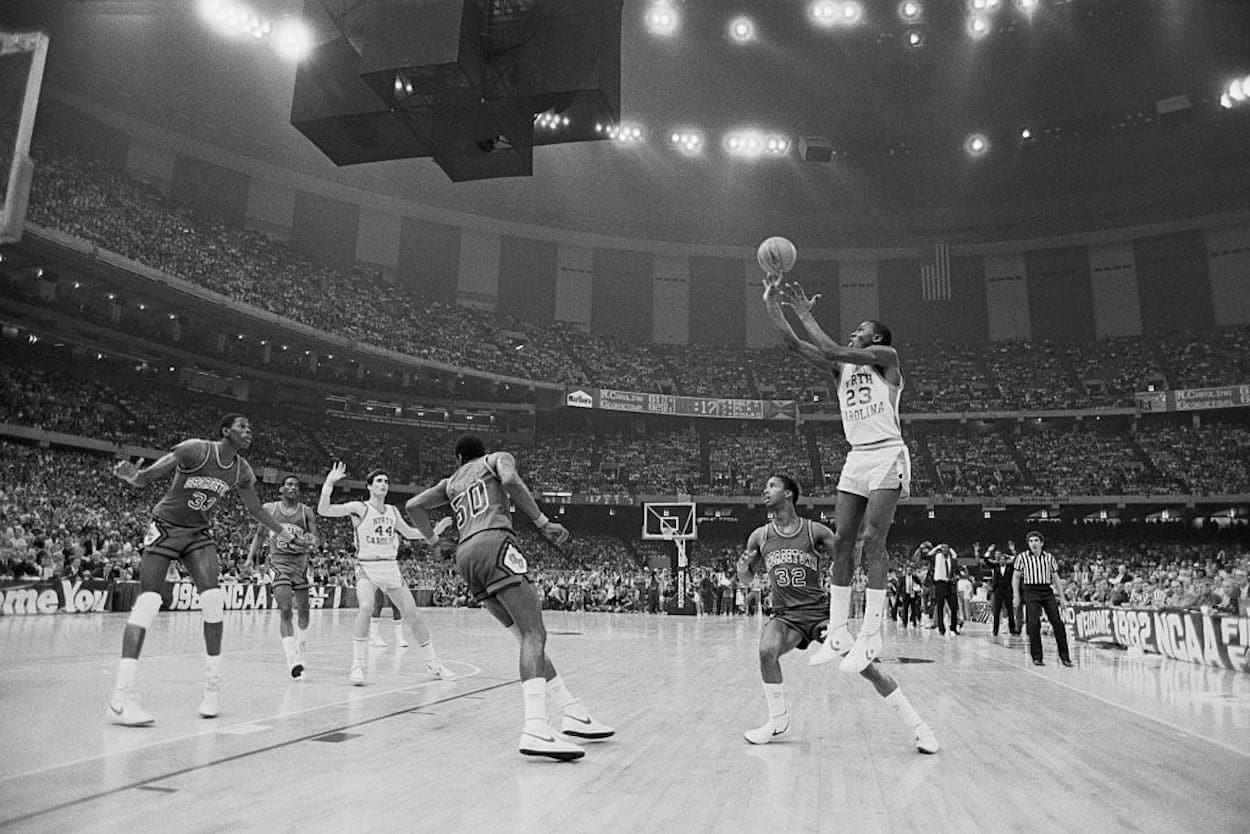 At this point in time, it's impossible to think of someone being unfamiliar with Michael Jordan. In the early 1980s, though, things were a bit different.
Writing for Andscape, Nick DePaula took a look at Air and considered where it deviated from the real-life story of Nike chasing His Airness. And while there were some dramatic leaps, many of the beats remained true to form.
Take, for example, Sonny Vaccaro, who DePaula describes as a "talent scout and college dealmaker." While it's inaccurate to depict him watching Jordan beat Georgetown over and over again, that shot did make quite the impact.
"I never saw Michael Jordan in my life until he played against Georgetown in the '82 game," Vaccaro explained. "Georgetown, at that time, was coached by John Thompson, one of my best friends. We were selling a lot of shoes because of Georgetown." 
As you might expect, that connection had Vaccaro rooting for the Hoyas. When the chips were down, though, he realized what he was seeing.
"It was Matt [Damon, who plays Vaccaro] and [screenwriter] Alex [Convery's] idea to show the actual NCAA film of that shot," Vaccaro continued. "This kid hit the damn shot. It told the story in two minutes of why I liked Michael Jordan.
"It's about the killer and the belief in himself. … That's what I saw with Michael Jordan that night."
While it would take some time to consummate the deal — Jordan didn't sign with Nike until 1984, after leaving UNC — Vaccaro played a key part in bringing His Airness aboard.
And once Mike laced up that sneaker for the first time, the rest became history.
While Jordan still would have been incredibly wealthy, partnering with Nike changed the world
While it's impossible to know what would have happened had Sonny Vaccaro not seen Michael Jordan's game-winner, it's easy to consider that the start of a butterfly effect. Let's chart out some of that hypothetical chain of events.
Let's assume that Vaccaro doesn't take a particular interest in Jordan. If that were the case, maybe His Airness joins Adidas. The brand, after all, was his original preference.
Not only would that deal have been smaller — Adidas offered $100,000 — but it lacked any royalties. For context, Jordan's first deal with Nike was worth $500,00 with 5% royalties and Nike stock. While there would certainly have been the possibility of renegotiating the agreement or even jumping to a different brand later, that would mean MJ was working from a worse position.
It's also crucial to note that Adidas didn't have a signature shoe to offer Jordan at the time. Again, that could have changed over time, but it would have affected how things unfolded. His Airness wearing his own shoes as he burst onto the NBA scene was a key part of the story.
The elephant in the room is the Jordan brand. Would Adidas have given Mike his own label within the company, and if they pulled the trigger, when would they have done so? Maybe Nike would have hitched their wagon to someone else, and we'd all be wearing Olajuwons today.
With all of that being said, it's possible that things could have reached the same logical endpoint. Jordan was, well, Michael Jordan, and once he started shining on the court, virtually every brand would have been desperate for his services. Once he hit critical mass, he would have essentially had a blank check. Even if that delay means he'd be a bit short of his $2 billion net worth, His Airness wouldn't exactly be fishing for spare change in the couch cushions.
At the same time, though, it's impossible to know what would have happened if MJ wasn't wearing Nikes. While no one can argue with his talent, maybe the living legend wouldn't have reached the same level of pop-cultural presence without his signature footwear. Consider, for example, Vaccaro's take on the issue. You could argue he has a vested interest in preserving the Jordan-Nike mythology, but the man does theoretically know a great deal about marketing.
"Michael Jordan changed the world. It wasn't because he was the greatest basketball player in the world, it was because of a shoe," Vaccaro said. "It was just a shoe until, like Deloris [Jordan] says, her son put his foot in it. I don't think there's an athlete, dead or alive, that ever played the game that can replicate what Michael Jordan did with that shoe and with his greatness. That will live forever."