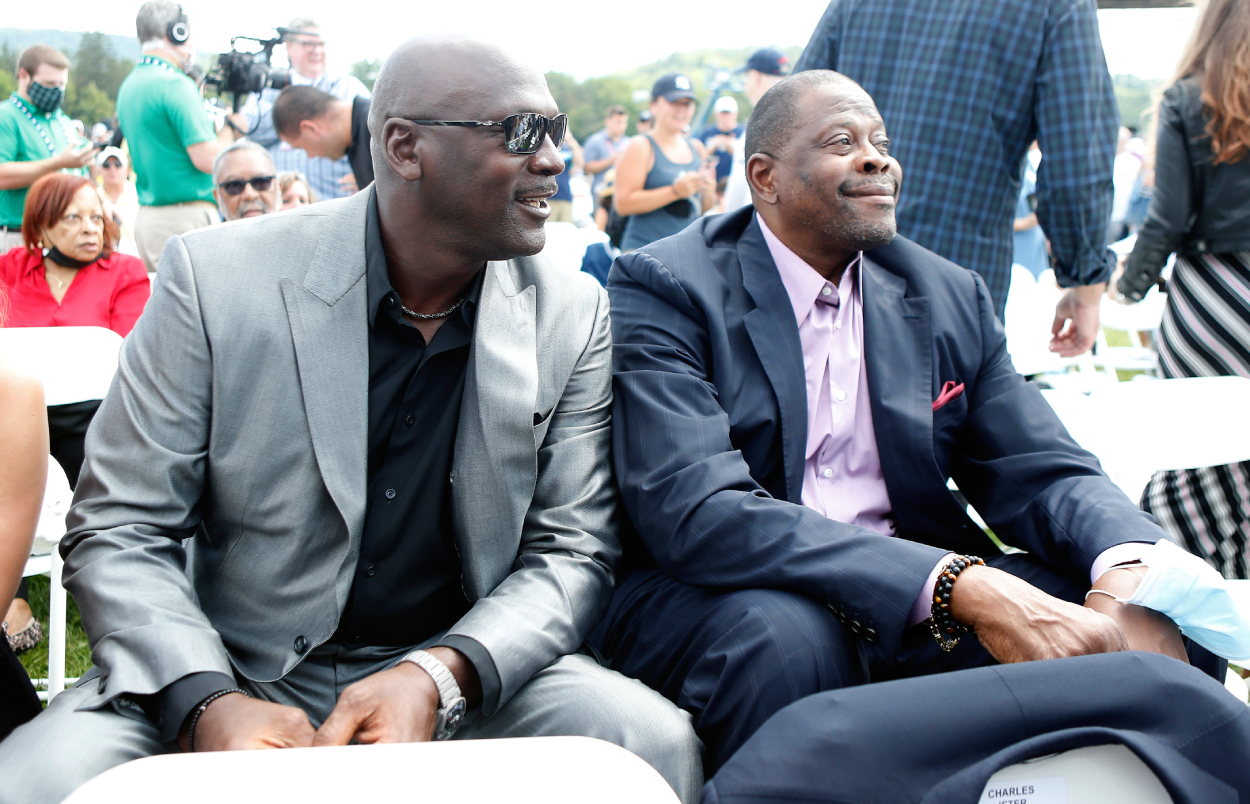 Michael Jordan Was Adamant Patrick Ewing's Transformation Began Because of a Young Shaquille O'Neal
Michael Jordan believed a young Shaq was the reason Patrick Ewing turned into a vocal leader midway through his career.
Michael Jordan and Patrick Ewing were similar, yet so different. The two met in 1981 on a college recruiting trip. The next year, they faced off against each other in the 1982 NCAA title game. Their basketball journey went down the same NBA road, but that was when the similarities ended.
Jordan became a star in the league, hungry for championships. Ewing and the New York Knicks were mired in mediocrity, with Ewing appearing disinterested in the spotlight. That quickly changed, and Jordan said Ewing's newfound spark erupted because of a young Shaquille O'Neal.
Michael Jordan and Patrick Ewing had a pre-NBA history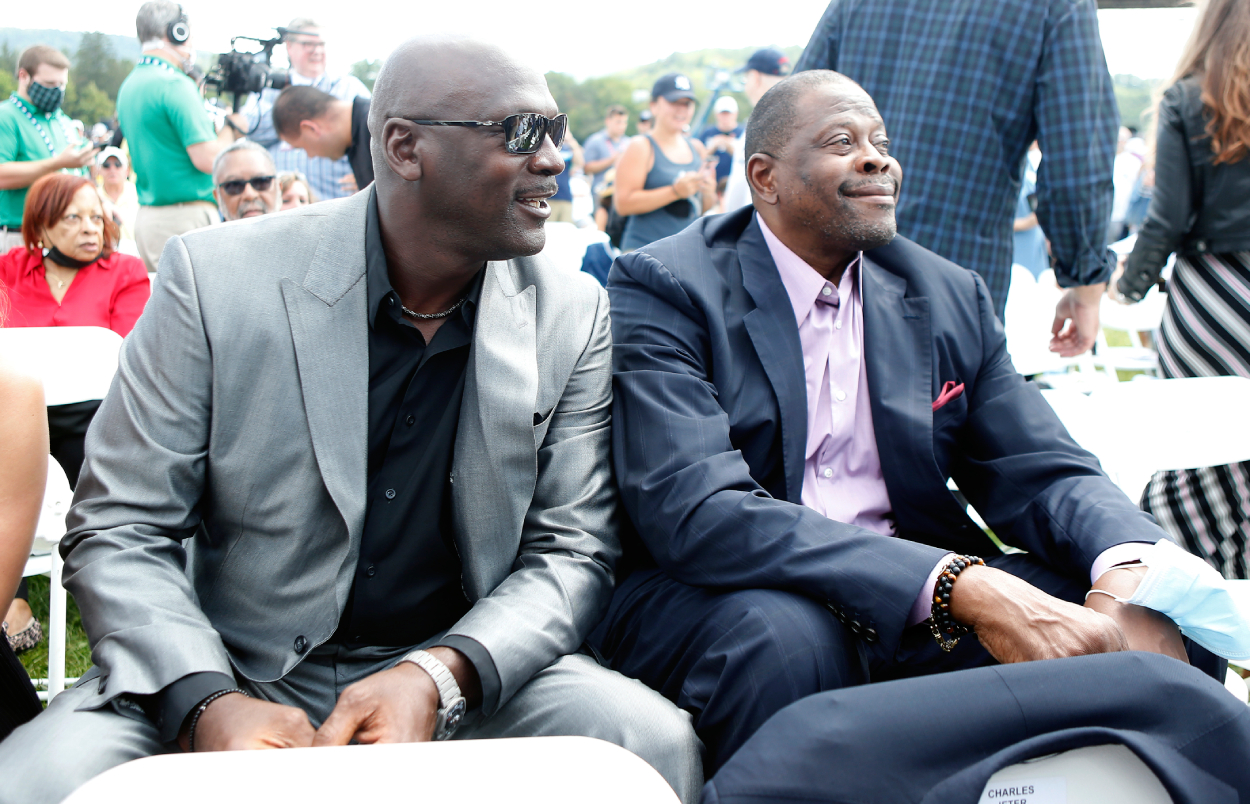 Jordan and Ewing had lengthy Hall of Fame careers in the NBA. Jordan was the third overall pick in the 1984 NBA Draft, while the Knicks made Ewing the top selection in 1985. Ewing played 17 seasons and was a 2008 inductee into the Naismith Memorial Basketball Hall of Fame. Jordan spent 15 years in the league and was honored by the Hall of Fame in 2009.
Prior to their NBA success, the two had a brief history. According to Sports Illustrated, the two met in the spring of 1981. They visited Chapel Hill, North Carolina, when UNC head basketball coach Dean Smith made sure their visits were together.
While Jordan attended UNC, Ewing played his college ball at Georgetown. It just so happened that in 1982 North Carolina and Georgetown met in the NCAA title game. Jordan hit the game-winning jumper in a 63-62 win that may have put him on the national basketball map.
The two signed the same agent, and Jordan and Ewing together on the 1984 Olympic team. Although they both went to the NBA as franchise saviors, that's when their differences came out.
Michael Jordan insisted Patrick Ewing made a change because of Shaquille O'Neal
In each of Ewing's first four years in the league, the Knicks had losing seasons. They made the playoffs once. Although he was playing in New York, he wasn't the marketing machine Jordan was. Jordan believed that had a lot to do with Weing's personality.
"I think when he came out of college, Patrick felt a little overwhelmed, a little hesitant about his surroundings," Jordan said to Sports Illustrated in 1993. "He's an intelligent guy, a great guy, but he's shy, and he didn't want to appear backward or dumb in interviews. He only made himself open to people that he felt comfortable with, and that meant he often didn't sign autographs or smile for the cameras."
As the years went by, Ewing changed. He became more vocal, more animated. With that, his play blossomed.
"Before, I think he wouldn't exert himself to the point where he really became a dominant force," Jordan said. "I don't mean he didn't play hard, because he always played hard. But now he has made himself practically unstoppable. I used to be able to slip behind him and get his shot from behind, for example, but it doesn't happen anymore because Patrick will not let it happen."
What really may have sparked the change was Ewing not getting respect on the court. During the 1993 NBA All-Star Game, a young Shaq beat out Ewing as the starting center. Jordan insisted that lit the fire under Ewing and began his new transformation.
"Patrick is not a guy who cares what the media says about him," said Jordan, "but I know he cares deeply about getting the respect of his peers, of the other great centers in the game. And when he thought that he wasn't getting it this year, when Shaquille beat him out for the All-Star team, I know that it was driving him and is still driving him. He may not admit it, but it is."
Ewing's new vocal role was evident in the Knicks' playoff series with the Indiana Pacers
In the first round of the 1993 playoffs, Ewing's teammate, John Starks, headbutted Indiana Pacers star Reggie Miller is a fit of frustration. Miller, known for his trash talk and dirty tactics, repeatedly elbowed Starks before the Knicks guard headbutted Miller, who dramatically flailed in front of the referees. Starks was ejected in the Knicks' loss.
"That needed to happen," Starks told MSG Networks in 2017. "No matter what, it needed to happen. That particular time, I remember, he kept hitting me with 'bows."
Immediately after the incident, Ewing took charge, getting in Starks' face and ripping into the guard. That show of passion by Ewing surprised Trent Tucker, then a member of the Chicago Bulls who had previously played with Ewing for six years.
"That surprised me when I saw it on TV," Tucker said, per SI. "Pat's instinct is to lead by example, but there comes a time when a leader has to become visible and vocal. For a lot of years in New York, the team tried to get Patrick to do it, but I think it's only lately that he's accepted it."
As Ewing became the vocal leader, the team flourished. The Knicks made the NBA Finals in 1994 and 1998 and made it to the conference finals in 1993 and 2000.