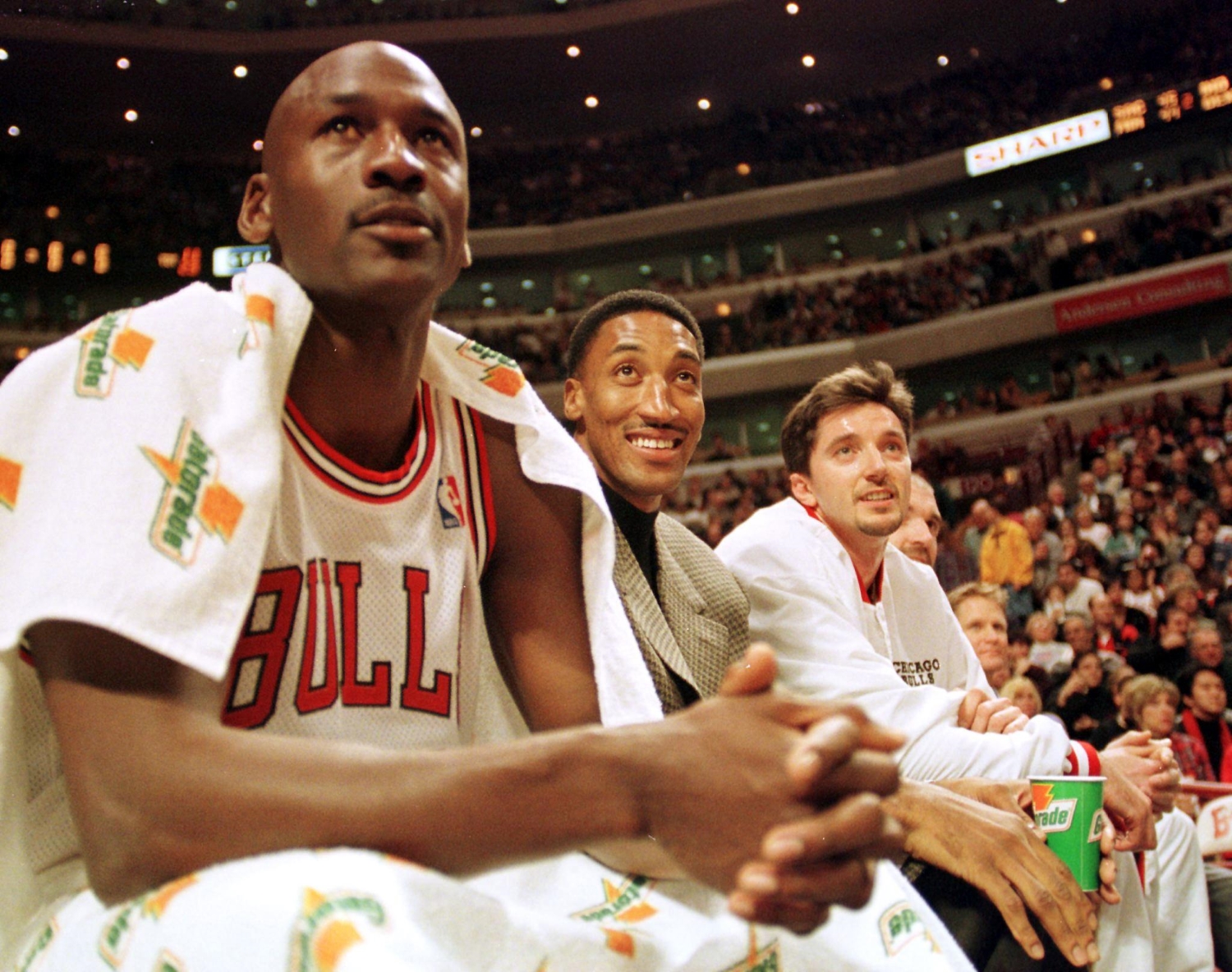 Michael Jordan and Scottie Pippen Officially Suffered a Dose of Karma From the Basketball Hall of Fame
The Chicago Bulls had no shortage of star power during their dynasty run. Michael Jordan obviously stood out the most, but the greatest player in NBA history had help, too. However, neither he nor Scottie Pippen welcomed Toni Kukoc—one of the biggest contributors to the franchise's success—with open arms. Ironically, 21 years after the Bulls …
The Chicago Bulls had no shortage of star power during their dynasty run. Michael Jordan obviously stood out the most, but the greatest player in NBA history had help, too. However, neither he nor Scottie Pippen welcomed Toni Kukoc—one of the biggest contributors to the franchise's success—with open arms.
Ironically, 21 years after the Bulls took a chance on the Croatian prodigy, the two NBA legends officially suffered a dose of karma courtesy of the Naismith Memorial Basketball Hall of Fame.
Michael Jordan and Scottie Pippen refused to embrace the apple of Jerry Krause's eye with open arms
The Last Dance documentary series provided incredible insight into everything that went on during the Jordan era in Chicago. While the Bulls achieved unparalleled success on the court, the franchise featured some big personalities that didn't always see things the same way.
Jordan and Pippen made magic happen on a nightly basis. Yet, general manager Jerry Krause didn't enjoy a particularly rosy relationship with either NBA Hall of Famer. Between trying to take too much credit for Chicago's championships to his handling of Pippen's contract, Krause faced backlash from players. In fact, some called him "Crumbs" as a reference to him having donut shavings on his shirt.
Unfortunately for Kukoc, he paid the price for being the apple of Krause's eye. The Bulls GM refused to hide his affinity for the talented forward, so when Jordan and Pippen got a chance to face Kukoc at the 1992 Olympics, they focused their efforts on making his life miserable.
The strategy worked.
Chicago's dynamic duo (along with other members of The Dream Team) limited the lefty to four points on 2-of-11 shooting. Kukoc committed seven turnovers in his first taste of action against Jordan and Pippen. He redeemed himself with a solid outing later in the tournament, but he faced a significant challenge in having to overcome the stigma of being Krause's guy when he made the leap to the NBA.
The two NBA legends suffered a dose of karma courtesy of the Basketball Hall of Fame
As much as Jordan and Pippen didn't like the idea of Kukoc coming to Chicago, they ultimately benefitted from his arrival. Although the 6-foot-10 big man never averaged more than 15.7 points per game during his time with the team, he played a critical role in helping the Bulls win their last three titles.
In the end, Kukoc ended up getting the last laugh over his former teammates. Because thanks to Hall of Fame voters, Jordan and Pippen officially suffered a dose of karma.
Kukoc, who retired after the 2005-06 season, will get enshrined as a member of the class of 2021. In addition to capturing three championship rings with the Bulls, the 52-year-old won three EuroLeague titles, a FIBA World Championship MVP award, and a FIBA World Cup gold medal.
Talk about a twist of irony, too.
Jordan and Pippen are the only players in the Hall of Fame who spent the majority of their careers with the Bulls. Kukoc—who they tried to embarrass on an international stage—will become the third. In the end, Krause got it right by going after the EuroLeague star. And Hall of Fame voters cemented that fact by ensuring Kukoc will have a permanent place in Springfield.
Where does Toni Kukoc rank among the best players in Bulls history?
Jordan and Pippen clearly rank above everyone else they played with in Chicago. However, figuring out where Kukoc belongs on the list of best Bulls players of all time isn't so easy. After all, he only averaged 14.1 points, 4.8 rebounds, and 4.2 steals per game in seven seasons with the team. That's solid production but certainly nothing legendary.
Horace Grant, who also spent seven years in Chicago, provided excellent results as a rebounder and defender. Plus, he averaged 12.6 points per game with the Bulls. A case can be made that he should rank above Kukoc given his contributions to the franchise's first threepeat.
Don't dismiss Derrick Rose, either. Sure, he had a short run as an NBA star. But he won an MVP award and made three All-Star teams before injuries sidetracked his career. Kukoc never came close to impacting the game at that level.
Of course, Luol Deng and Jimmy Butler also called Chicago home for a while. Both forwards developed into All-Stars—a feat Kukoc didn't accomplish during his NBA career.
At the end of the day, the soon-to-be Hall of Famer falls behind a few other names when it comes to the best players in the history of the Bulls. Still, a top-10 ranking is nothing to scoff at.
All statistics courtesy of Basketball Reference.