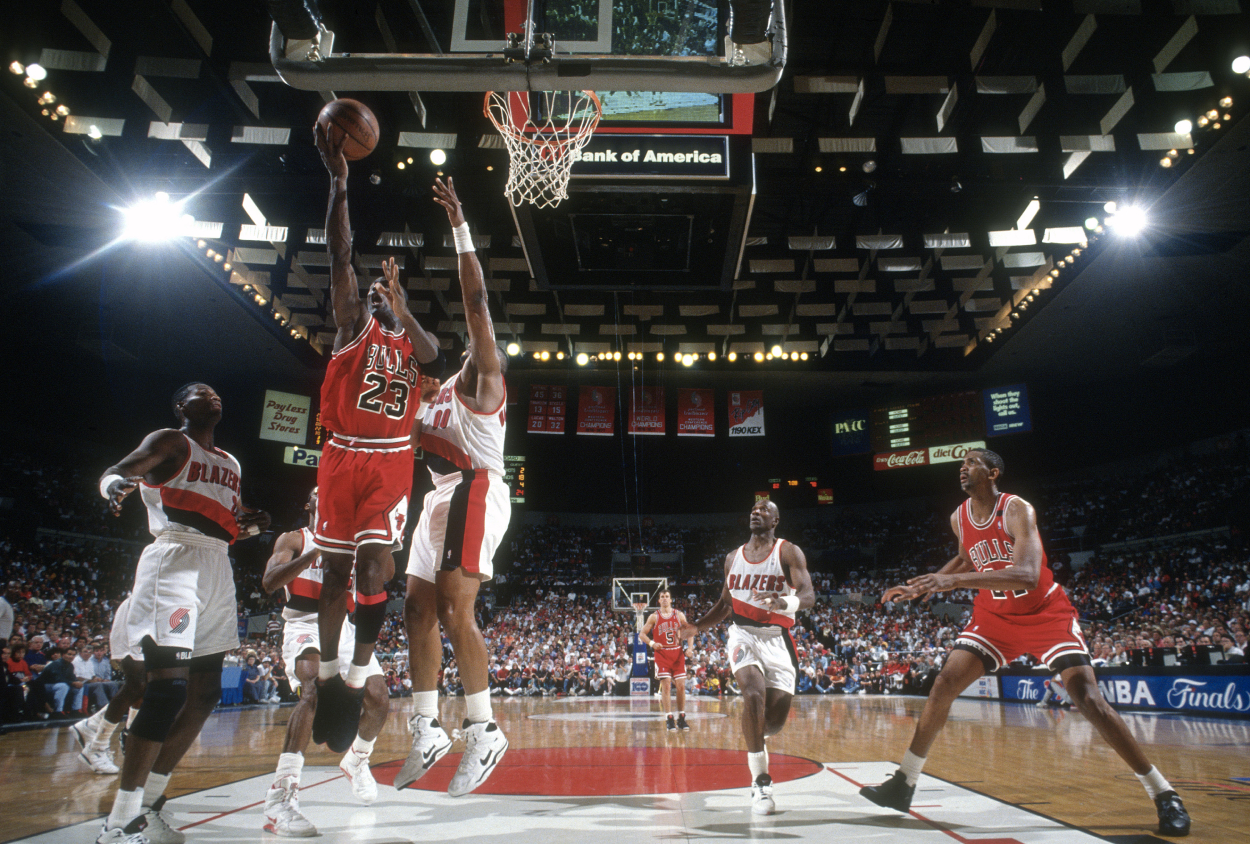 Michael Jordan Blew Off Marv Albert Before Game 1 of the 1992 NBA Finals, and the Result Was His Famous Shrug
Michael Jordan's famous shrug came after he blew off broadcaster Marv Albert earlier in the day.
It was an iconic Michael Jordan moment. Jordan displayed a rare hot long-range shooting touch during the 1992 NBA Finals against the Portland Trail Blazers and looked over to the broadcast booth, shrugging his shoulders as if to say, "how am I this good?" Not known as a deadly 3-point shooter, Jordan glanced over at Marv Albert & Co. after hitting six in the first half. It may have been an I-told-you-so moment directed at Albert after blowing him off earlier in the day.
Michael Jordan lit it up from downtown in Game 1 of the 1992 NBA Finals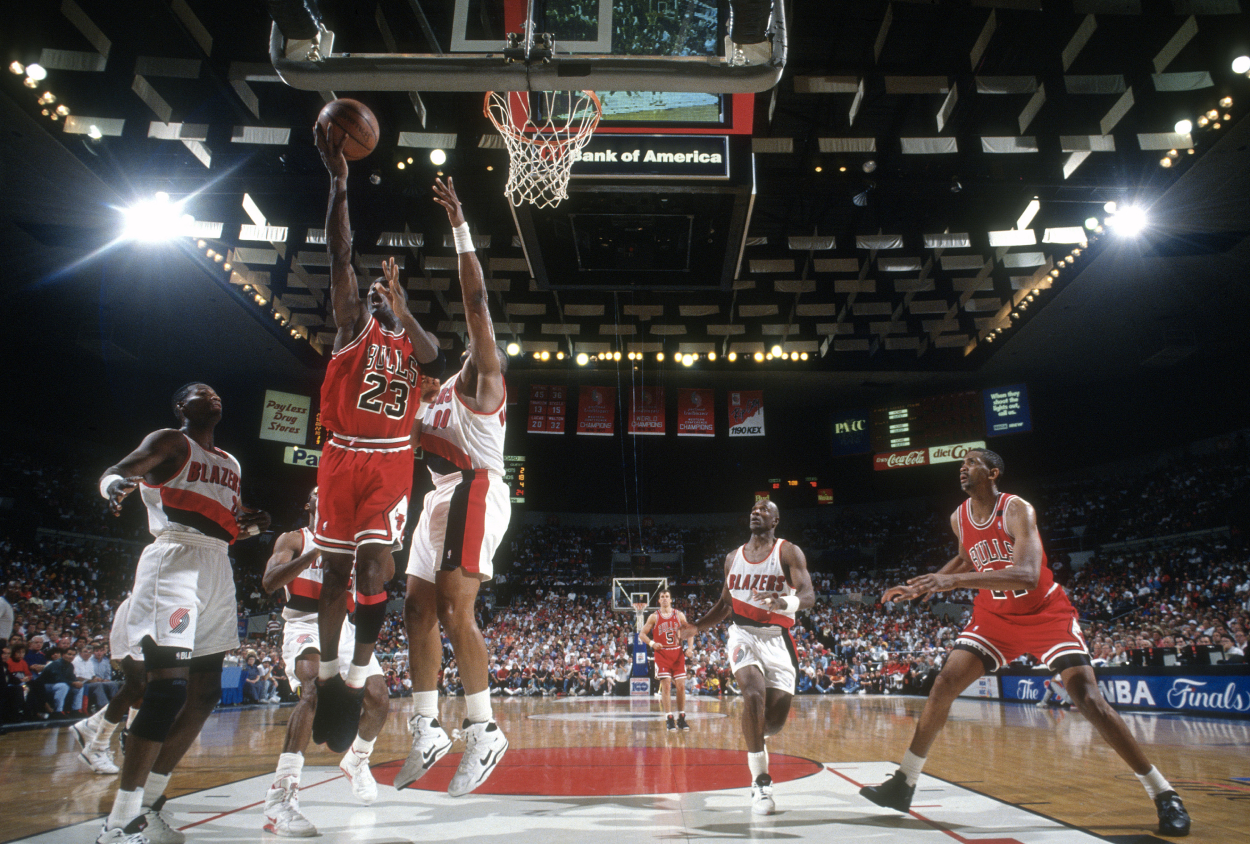 Jordan set the tone early for the 1992 NBA Finals against the Blazers. He gave Portland a message in Game 1 with what may be the best long-range shooting performance of his career. It's certainly the most memorable.
Jordan knocked down a then-record six 3-pointers in the first half. He was never known for his precise 3-point shooting. In fact, that season he made just 27% of them. For his career, he shot 32.7% from behind the arc. On that night, however, he was on fire.
Jordan had 35 points – in the first half. He sat out much of the second half and finished with 39 points. The Bulls dominated the Blazers, 122-89 in the series opener. Although Portland came back to pull off an upset on the road in Game 2, the Bulls closed out the series in six games.
Michael Jordan blew off Marv Albert earlier that day
During a Q&A session with NBA.com, Marv Albert, the longtime broadcaster who is calling it a career after the Eastern Conference Finals, was talking about today's 3-point shooting. He said he believed basketball was at its best in the 1990s.
"The way it is now, the 3-point shot does hurt it because the big guys can shoot 3s so it puts them outside and a lot of bad shots are being taken," he said. "I thought the best game was in the 90s."
The 3-point topic triggered memories of Jordan's big game. Albert said Jordan would always meet him and the broadcasting crew before the game, but didn't that day. He blew off the meeting to work on his game.
"He would sit down with us before the game, but he missed that session on that day because he said he had to go out early for practice," Albert recalled. "That struck me as strange and he rarely did that, but all he was doing was shooting 3s. Then he had the game where he made six in the half. He looked over at the table and gave his famous shrug.
"It was myself, Mike Fratello, and Magic sitting at the table. The czar (Fratello) still claims Michael was looking at him."
Albert gives the nod to Jordan as the game's all-time best
While the NBA's GOAT debate is always up for debate, Albert has a pretty good grip on the topic, having been in the broadcasting business for 55 years. He's seen it all. He believes Jordan is the best ever, even if it's by a slim margin.
"That's so hard but I go old school and give a slight edge to Jordan," he said. "When he first started as a rookie, he was a bit skinny, but I think if he played today he'd have LeBron's body. He'd have the same motivation in terms of offseason training."
Albert believes Jordan and several other former stars would thrive in today's NBA.
"There are guys in the 60s and 70s who would be able to play today, too," he said. "Bob Cousy would be a star because you see smaller guards now doing things that Cousy did then. His body would've changed. He'd still be 6-1, but he'd have a better shot, a jump shot instead of a push shot. Rick Barry would be sensational. If Michael played today he would be off the charts."
Jordan not only proved he could shoot, but he also showed that practice was much more important than those pregame media interviews.