Yes! And It's Done: NBA Legend Marv Albert Has Made a Major Decision on His Future
Headlined by Kobe Bryant, Kevin Garnett, and Tim Duncan, nine of the sport's greats entered the Naismith Memorial Basketball Hall of Fame on Saturday. Now that he's heading into retirement, who would be better than Marv Albert to do the introductions at future induction ceremonies?
The New York Post reported that Albert, 79, has decided to call an end to his unmatched career as a play-by-play announcer. He will step down after the Eastern Conference finals of the NBA playoffs.
Marv Albert ranks among the broadcasting greats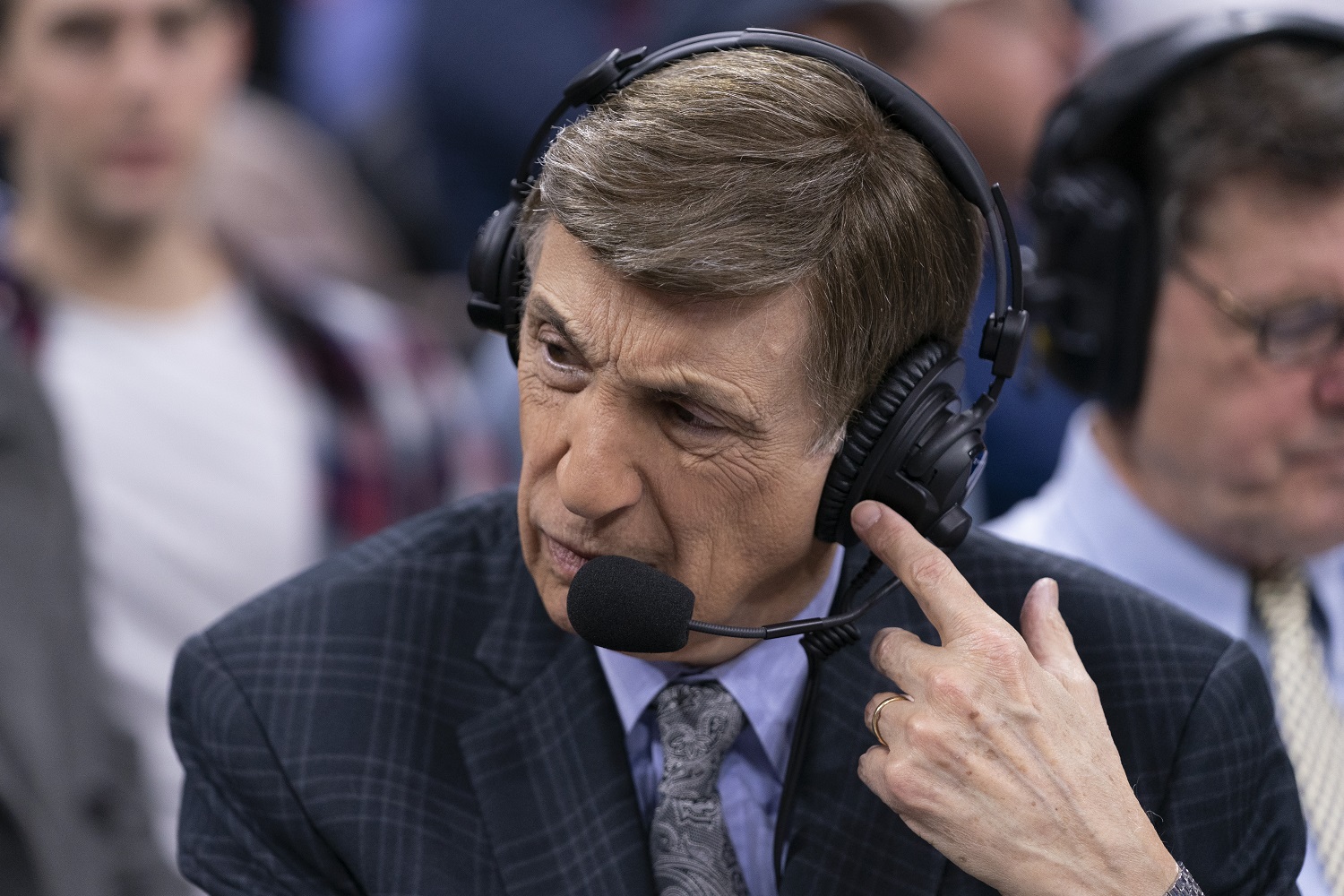 Broadcasting historian and author David Halberstam created a stir in 2009 when he ranked Howard Cosell No. 1 on his list of the top 50 network announcers of all time. Part of his rationale was Cosell's willingness to delve into political and social issues, and he also played a big role in making Monday Night Football appointment viewing for sports fans.
Already well into his career, Albert ranked 12th among play-by-play announcers and 14th overall on Halberstam's list. Seven of those ahead of him have died or retired. There's a valid case that Albert has remained near the top of his game in the 12 years since the list came out, and he would rank closer to the top five in a re-vote.
Albert, arguably the sport's best announcer ever, is already a member of basketball's hall of fame. Like others at the top of the industry, he has worked multiple other sports, including eight Super Bowls, two World Series, and seven Stanley Cup finals.
On top of his duties on national network telecasts, Albert was the voice of New York Knicks broadcasts from 1967-2004.
There will be big shoes to fill
Albert's trademark call in NBA games is, "Yes! And it counts," when the shooter is fouled while making a basket. He's been making that call since the early days of a career working Knicks games on radio as a 21-year-old fill-in for Marty Glickman, another announcing legend.
More recently, Albert has been the lead NBA announcer for TNT for more than 20 years. According to the New York Post, the network will announce his retirement before the start of the play-in round of the postseason. The paper cited sources as saying TNT has been contacting people around the league to pay tribute to Albert during the playoffs.
TNT will juggle analysts during the postseason following the announcement that Albert's partner, Chris Webber, is done. Albert will be paired with Jim Jackson, Reggie Miller, or Grant Hill through the conference finals.
The bigger question involves Albert's replacement next season. According to the newspaper, Turner Sports already has Kevin Harlan, Ian Eagle, and Brian Anderson on its roster. Replacing Albert would be a big responsibility for any of them, but also an honor.
Broadcasting is the Albert family business
The Albert brothers have been fixtures in sports broadcasting for decades. Youngest brother Steve Albert did play-by-play for the New York Mets, New York's NHL teams, and four NBA teams, finally retiring following the Phoenix Suns' 2016-17 season.
Al Albert, a former minor-league hockey goaltender, followed his brothers into the business, as an affiliate sports anchor in New York City and as the voice of the New York Nets and Islanders. He went on to be the longtime voice of the Denver Nuggets.
Marv Albert's son, Kenny, 53, is the radio voice of the New York Rangers and works a variety of assignments for Fox Sports.
Like Sportscasting on Facebook. Follow us on Twitter @sportscasting19.