Michael Jordan Could Be Making 'Trillions' If NIL Deals Existed Back in His Day, Says His Daughter
These days, the name Michael Jordan has become synonymous with success. Everything started on the court, where MJ established himself as a relentless winner with the talent and drive to dominate the competition. That made him famous, and, in turn, set the stage for plenty of financial victories. Today, His Airness still towers over the basketball landscape and is worth roughly $2 billion, to boot.
Believe it or not, though, the living NBA legend could have even more money in the bank.
As Jordan's daughter, Jasmine, pointed out, the UNC product could have reaped the rewards if name, image, and likeness deals were around in his day. And even if her math is probably a bit off, there is a valid point beyond the numbers.
Let's break it down.
Imagining Michael Jordan playing during the era of NIL money
Although the fundamentals of basketball remain constant — and, even in that case, you can argue that the modern game is different than the one from the 1980s — the landscape of college basketball has shifted since the early 1980s. Not only are players more than comfortable leaving campus after a single season, but they're allowed to reap the financial rewards of their fame.
And while it's tough to apply today's framework to events from the past, Michael Jordan's daughter believes that her dad would have made a killing thanks to modern NIL rules.
"Maybe that first Nike deal wouldn't have been as low as it was," Jasmine told Footwear News. "It would have changed the game. He would have potentially approached his contracts with Nike differently. Looking at his Funko Pop collectibles or the fact that people still wear his UNC jersey, to reap the benefits from it today, we're talking making trillions at this point." 
Upon first blush, that certainly seems possible. MJ is, of course, arguably the most famous athlete of all time and is incredibly wealthy despite not earning big-time money until the end of his NBA career. Surely building a brand as a teenager would have changed things, right?
Even with NIL deals, going from billions to trillions is a big ask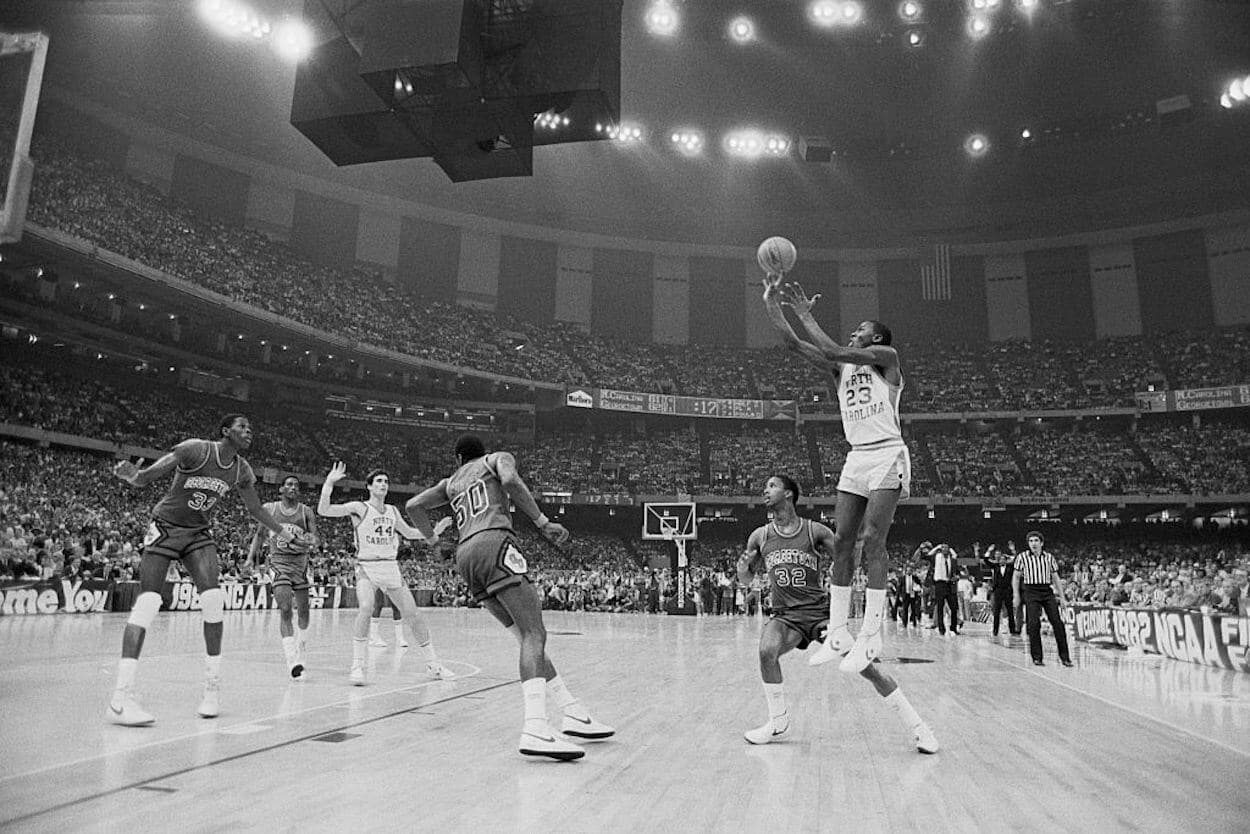 Before moving forward, I want to get two disclaimers out of the way. First, it's tricky to try to project how the past would have unfolded had a different set of rules being applied. I'll try to follow the logical chain, but it's impossible to trace every single potential butterfly effect. Secondly, Michael Jordan is pretty darn good at the whole basketball thing; any holes I poke in the concept of him earning trillions isn't an insult to him.
Now, with those disclaimers out of the way, I'd assert the following: Saying that Jordan would have earned billions is a big leap, even for someone of his talent.
First off, Jordan wasn't someone who was on the national radar from the time he was a child. As the famous story goes, he didn't even make his high school's varsity team on the first attempt. He did eventually burst onto the scene and earn McDonald's All-American honors, which, in turn, would have earned him a bit of cash, it's not like he was entering college as a 1980s LeBron James.
Would that number have increased during His Airness' time in Chapel Hill? Of course. Jordan nailed the game-winning shot to clinch an NCAA title as a freshman and only continued to dominate from there. That would have surely caught the attention of brands.
At the same time, though, it's important to consider the scale of NIL deals. While there are some caveats — these numbers were from July 1, 2021, to June 30, 2022, and didn't specifically address basketball — an NBC story reported that the average compensation is between $1,524 and $1,815. Even if you want to argue that Jordan would have pushed the range higher, it does seem like there's a ceiling. The same data showed that the average deal for an NCAA football player was $3,390.
Even if Mike was topping out the range like Alabama quarterback Bryce Young, who the Action Network reported has a NIL valuation of $3.2 million, that's not going to translate into billions by itself.
Now, let's move on to Mike's first Nike contract, which Jasmine asserted would have been larger in the era of NIL money. While that's probably true — a five-year, $2.5 million deal won't move the needle when someone's hypothetically pocketed a few million already — it's unlikely that increase would have made a significant difference. Nike's offer was already record-setting at the time; adding a bit more to the compensation wouldn't have added up to trillions.
The same principle could be applied to NBA contracts. Is it possible that the Chicago Bulls would have had to pay MJ a bit more a bit sooner? Perhaps, but it's unlikely that NIL money would have affected TV deals. Once the Association cashed in on its broadcasting rights, the salary floor significantly rose.
On the whole, it all comes down to the scale of money. While it might sound like billions are close to trillions, those numbers are miles apart. At this point in his career, Jordan has turned all of his on-court success, brand deals, and, perhaps most significantly, his NBA ownership into $2 billion. That's nothing to sneeze at, but a trillion is equal to 1,000 billion. No matter how the financial landscape had changed, it's unlikely that Jordan's fortunes would be that much bigger.
With all of that being said, though, His Airness probably won't be losing sleep over those calculations.