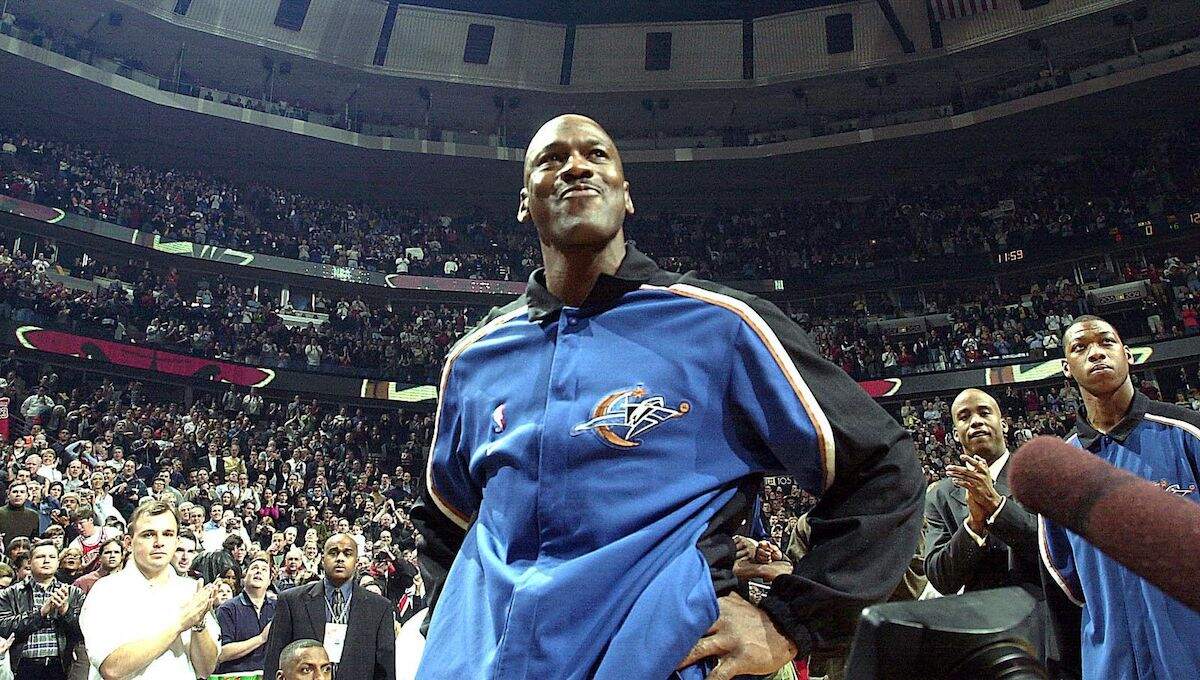 Michael Jordan Height: How Tall Is the NBA Legend?
Michael Jordan's height seemed tall from an average person's point of view. But he was actually quite average compared to other NBA players.
It's an understatement to say Michael Jordan was a larger-than-life figure in the annals of NBA history. He's seen by many as the single greatest basketball player of all time. Even those who don't rank him at the very top must admit he's at least among the top two. And he was certainly a tall man, at least from an average person's point of view.
While he may be larger than life figuratively, how tall was Michael Jordan exactly?
How tall is Michael Jordan?
The Chicago Bulls legend may have been one of the biggest stars ever to play the game. However, he wasn't the biggest player from a size perspective. According to Basketball Reference, Michael Jordan is 6 feet, 6 inches tall (198 meters). That's middle of the pack for NBA players but quite tall for his shooting guard position.
In addition to his impressive height, Jordan was known for his incredible wingspan and vertical leap, which allowed him to dunk over even the tallest defenders. The six-time NBA champion earned five MVP awards and 10 scoring titles during his 15-year NBA career.
His sneaker, the Air Jordan, has become one of the most popular of all time. MJ was also a two-time Olympic gold medalist, helping Team USA win in 1984 and 1992. There's no question Jordan is rather tall for the average person. But how did he stack up against his colleagues? 
Michael Jordan height compared to other NBA stars
Here's how Michael Jordan compared to other NBA stars throughout history:
Oscar Robertson, a guard who preceded Jordan and was the first player to average a triple-double throughout an entire season (1961–62), was 6-foot-5 while competing in the NBA.
LeBron James, one of the only players alongside Jordan in the GOAT discussion, is 6-foot-9.
Jordan's peer and one of the most dominant players of the '80s, Larry Bird, stands a few inches taller than MJ at 6-foot-9.
Kobe Bryant, who many NBA fans compare to Jordan in terms of style of play and competitive nature, was the same height as Michael Jordan: 6-foot-6.
How does His Airness stack up? According to Hoops Geek, the average height for an NBA player during Jordan's era (1984 to 2003) ranged anywhere from 6-foot-6 to 6-foot-7, depending on the year. So Michael Jordan was pretty average, at least concerning his height.
Michael Jordan sons
As People reports, Jordan has five children, including two sons, Jeffrey and Marcus. Born in 1988 and 1990, respectively, Jeffrey and Marcus both grew up playing basketball. Marcus played for the University of Central Florida, while Jeffrey played for the University of Illinois before transferring to UCF to join his brother. 
Neither played professionally. However, considering how difficult it is to even make it to the Division I level of NCAA basketball, one should look at both as having relatively successful careers in the sport compared to the average person. 
Jordan's actual family may be well-documented. But that hasn't stopped social media trolls from creating rumors about other basketball stars who may be related to the legend. 
Is Jimmy Butler Michael Jordan's son?
One often-discussed-but-ridiculous conspiracy theory surrounding Jordan is that he fathered NBA player Jimmy Butler while in college. Several viral TikTok videos speculated that Jordan is Butler's father. While it's true that Jordan and Butler bear a resemblance, there is no evidence to support this theory.
Butler was born in 1989, several years after Jordan graduated from college and began his NBA career. Additionally, Butler's birth father is well-known, and he's talked publicly about their relationship.
It would appear that the commonality between Butler and Jordan begins and ends with their prodigious basketball talent — though the lack of evidence isn't likely to stop irresponsible social media conspiracy theorists from making unprovable claims. 
Stats courtesy of Basketball-Reference.com.