Michael Jordan: 'I'm Putting My Cape Back on Tonight'
At the end of the 1995 NBA season, Michael Jordan returned to basketball after an 18-month hiatus that included a stint playing minor-league baseball. Upon his return, Jordan helped the struggling Chicago Bulls eke their way into the playoffs wearing the same No. 45 he had worn while playing baseball. On May 10, 1995, after a Game 1 loss to Orlando in the second round where Jordan struggled, it was time for a dramatic change. What happened that night will go down as one of the most memorable number changes in sports history.
Michael Jordan returns to basketball
On March 19, 1995, a day after Michael Jordan announced he was returning to play for Chicago, the Bulls superstar suited up against the Indiana Pacers and his personal rival Reggie Miller. There was something different, however, about Jordan's return. Instead of the traditional No. 23, he was wearing No. 45—the same number he had worn while playing baseball.
In that Indiana game, which was nationally televised and watched by an estimated 35 million people and still ranks as one of the top three most-watched games in NBA history, Michael Jordan was understandably rusty and scored just 19 points in a losing effort.
Outside of a 55-point effort against the New York Knicks, Jordan wasn't top-level Jordan after the layoff. He was, however, good enough to carry the Bulls, which had been hovering around the .500 mark all season, into the playoffs.
Michael Jordan: "I'm putting my cape back on tonight"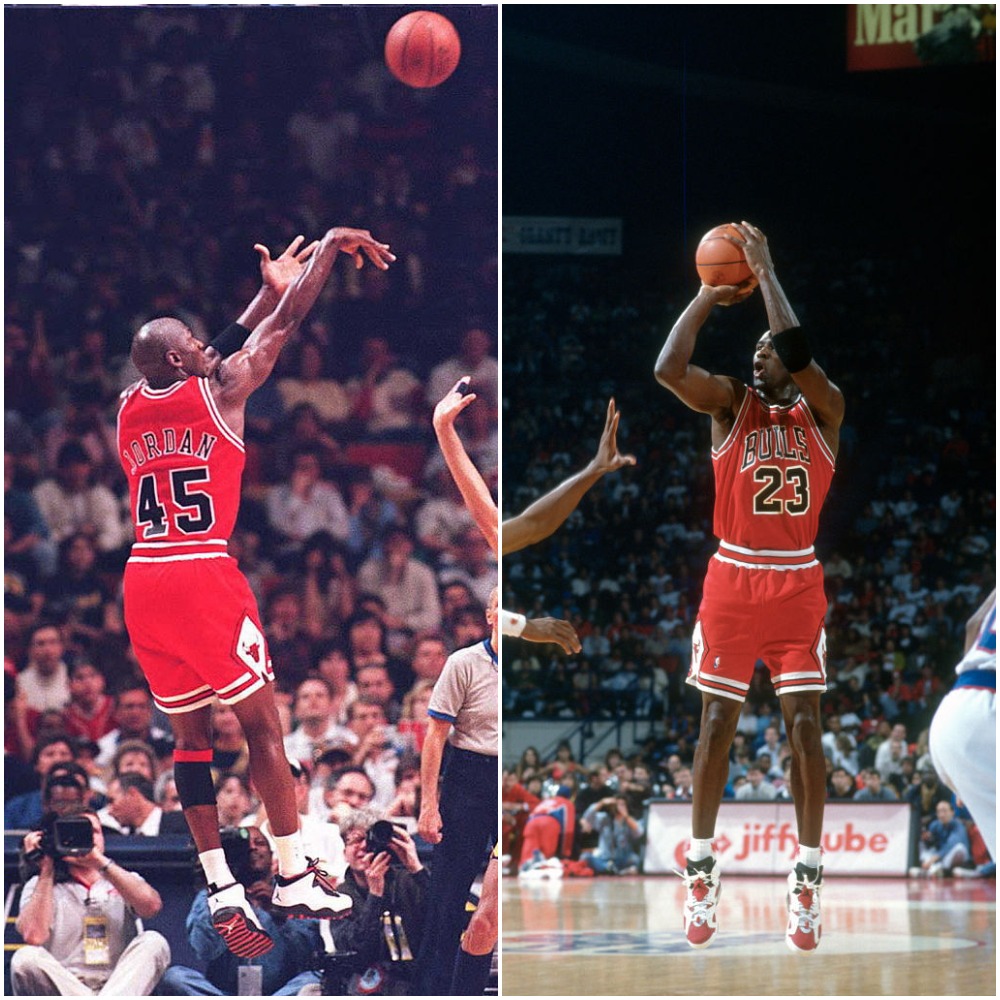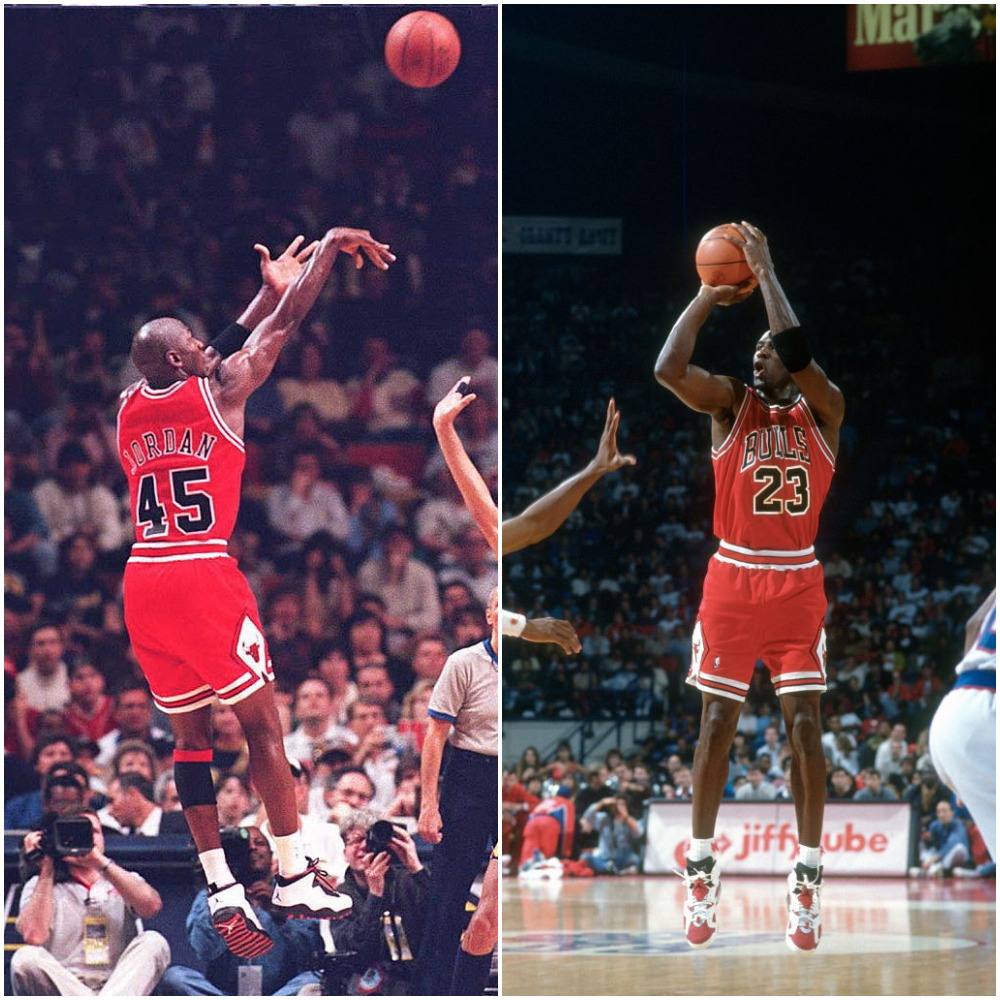 After dispatching the Charlotte Hornets in the first round, the Bulls headed to Orlando to take on Shaquille O'Neal, Penny Hardaway, and former teammate Horace Grant in the second round.
Following a loss in Game 1, in which he had scored just 19 points, Michael Jordan, who had contemplated a switch back to his old No. 23 jersey for days, decided it was time. He and his team needed a boost and this was the time to do it. Understanding the significance of the number to him, the Bulls, and sports fans, Jordan approached television announcer Tom Dore before the game revealing his decision.
"Hey, I'm putting my cape back on tonight," Jordan told Dore, who understood exactly what he was talking about. "Which camera is ours?" Jordan asked, pointing to the multiple television cameras positioned around the court. After talking on his headset with the director, Dore pointed to the Chicago broadcast camera. Jordan nodded, and the pair devised a plan.
"Here's what I'm going to do. They will call out the starting lineups, and when I'm about to take my warmup off, I'm going to turn right at your camera, so make sure your guy has got me," Jordan told him.
"You'll see the red light," Dore assured him. Jordan approved and headed to the locker room, excited about the upcoming jersey reveal.
Jordan introduced and reveals his No. 23
During the pre-game broadcast, Dore went out of his way to build up that evening's game, telling the viewing audience they were in for a special treat. At the pre-game introductions, everything went precisely as planned. When the public address announcer called out Michael Jordan's name, he looked directly at the Chicago camera and ripped off his warmup top revealing the No. 23 underneath. Back in Chicago, Bulls fans screamed at their televisions in excitement to see Superman was ready to go to work.
When the Bulls came out after halftime to warm up before the start of the second half, Jordan headed straight for the press table to talk with Dore.
"How was it?" he asked.
"It was great, man. You will love it. If you win this game, I'll have it shipped to you here in Orlando so you can see it."
Michael Jordan was excited to hear it had gone off without a hitch and played well with the cameras. He went on to score 38 points that night as the Bulls won the game 104-94. Jordan averaged 33.4 points the rest of the series, but it wasn't enough as the Bulls lost in six games and were eliminated from the playoffs.
The next three seasons, wearing his cape, Jordan and the Bulls earned their second three-peat winning the NBA championship from 1996-1998. Following the 1998 season, Superman retired his Bulls cape forever.