Michael Jordan's NBA Greatness Can Be Explained With a Single Question From Tim Grover
At this point in time, it's not groundbreaking to say that Michael Jordan is one of the greatest players in NBA history, if not the outright GOAT. Even if you never saw His Airness play, you probably have a good sense of what made the Chicago Bulls star so special. Not only was he incredibly talented, but he refused to accept anything less than sitting atop the metaphorical mountain. If something could make MJ better, it was worth the effort.
If you want an example of that, consider a simple question that trainer Tim Grover would ask the UNC product after every NBA game. That, along with Jordan's answer, will explain everything you need to know.
After each Bulls game, Michael Jordan was ready to hit the gym and work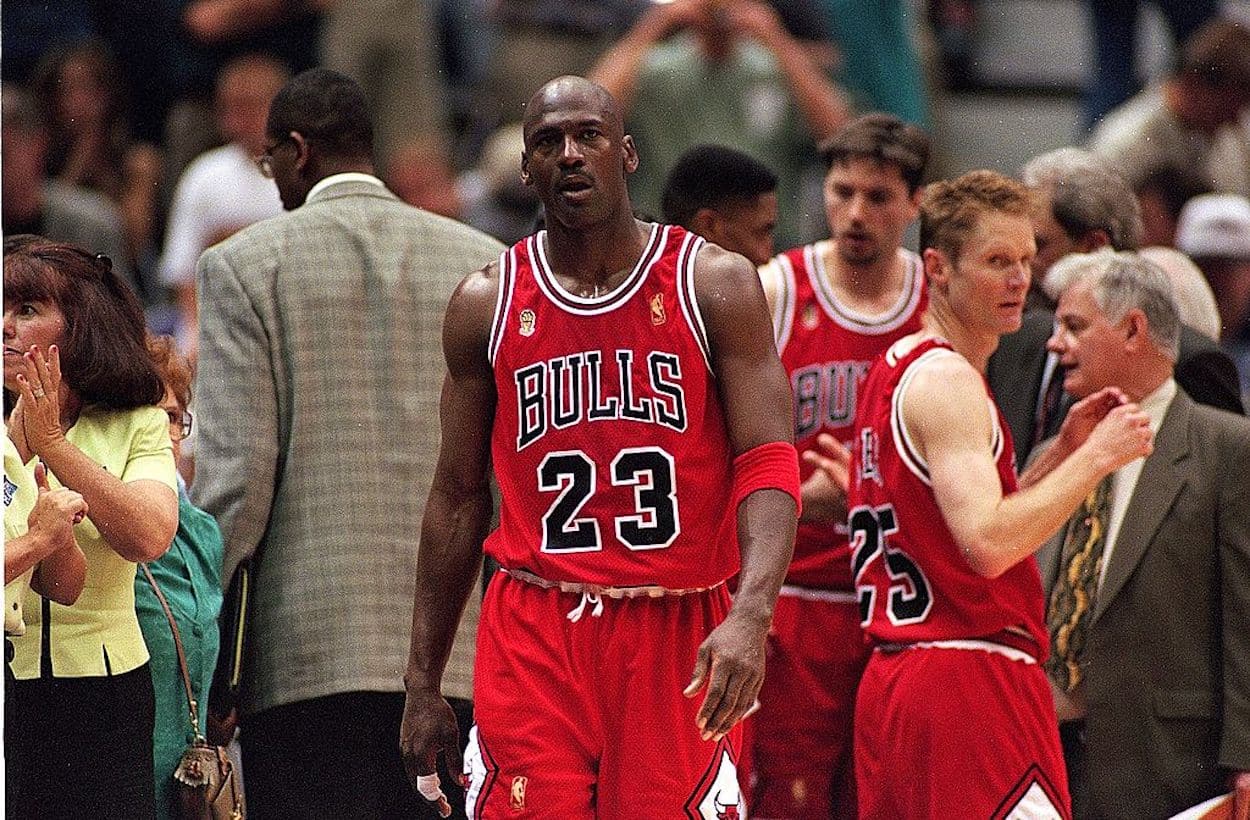 If you've ever played a game of full-court basketball, even at a recreational level, you know how draining that can be. Now, imagine going through 48 minutes of high-stakes NBA action with the entirety of the opposition's attention focused on stopping you. That's the challenge Michael Jordan faced every time he took the floor.
Those efforts, however, weren't enough to convince His Airness to take a day off, though. After a brief rest, it was time to get back to work.
"After every game, I used to ask Michael one question: Five, six, or seven?" Tim Grover wrote in his book, Relentless: From Good to Great to Unstoppable, according to a 2013 ESPN write-up. "As in, what time are we hitting the gym tomorrow morning?" 
His Airness, as you'd expect, always had an answer.
"And he'd snap back a time, and that was it," Grover continued. "Especially after a loss, when there wasn't a whole lot else to say. No discussion, no debate, no lame attempt to convince me he needed the morning off."
And while it's easy to rely on narratives and overlook talent — no amount of early morning workouts is going to turn a benchwarmer into Michael Jordan — Grover's story does help highlight what made His Airness so great.
As we've probably all experienced, there's a certain appeal to relaxing, especially after a hard day's work. And while His Airness certainly knew how to have fun, he never let that get in the way of his work. At the risk of going down a work ethic-related rabbit hole, Jordan had that drive to fight against human nature and always push toward the next level.
How often have we seen a player with all the potential in the world become overconfident and fail to put it all together? Jordan would have been well within his rights if he chose to rest on his laurels but couldn't bring himself to take a morning off. That's what elevated him from very good to an all-time legend.
Is that the healthiest way to live your life? You can be the judge of that. But it's certainly a part of Michael Jordan's larger body of work and overall greatness.