Michael Jordan Once Claimed the Triangle Offense Wouldn't Work 'Without a Michael Jordan or a Kobe Bryant'
Is a system only as good as its best player? Michael Jordan seems to think that's the case when it comes to the Triangle Offense.
While they spent plenty of time apart, Michael Jordan and Phil Jackson are forever linked in NBA history. His Airness reached his peak under the Zen Master, winning six championships, claiming five MVP crowns, and generally dominating the game of basketball. A part of that success, as the story goes, was the Triangle Offense. The system might seem counterproductive when you have a star like MJ on the team, but spreading the ball around helped prevent opposing defenses from keying too heavily on the Bulls' star.
And, while the Triangle Offense brought Chicago plenty of success, Jordan didn't seem 100% sold on its merits. In retirement, he even went as far as saying that the system could only work with a star running the show.
Michael Jordan didn't seem sold on the Triangle Offense, even after the fact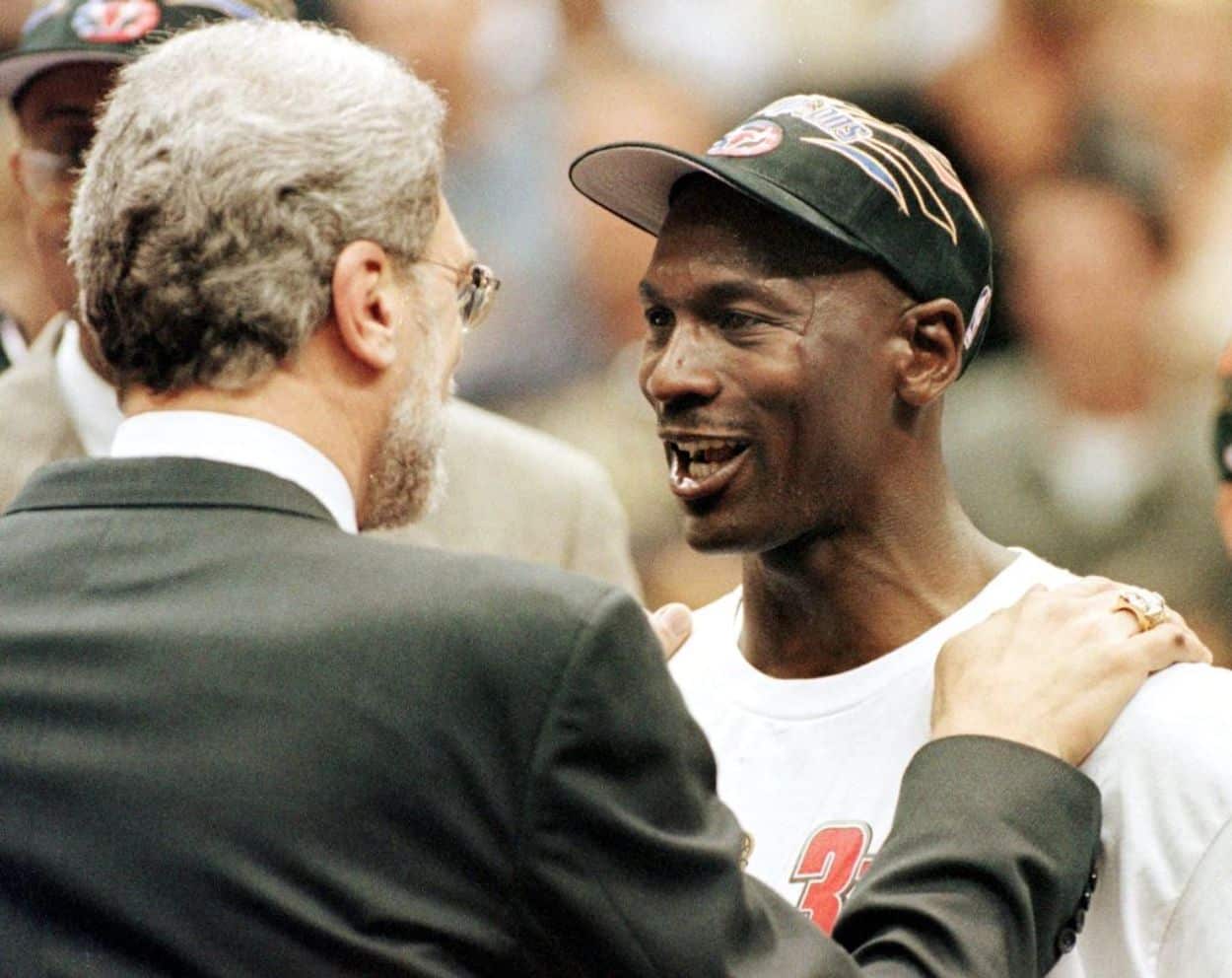 In sports, there's a cliche that says winning can paper over a lot of issues. That doesn't seem to be 100% accurate when it comes to Michael Jordan's perception of the Triangle Offense, though. Despite finding incredible success within the system, he doesn't seem entirely convinced that it can stand on its own.
In a 2007 GQ interview, His Airness was asked about the Triangle and whether it was critical to his success or fell by the wayside when the game was on the line.
"It's a bit deeper than that," MJ explained. "I give Tex [Winter] credit—he expanded my horizons about seeing everybody in terms of certain roles and letting me decide how to utilize all of them. The Triangle kept everybody occupied, doing their roles. It gave me opportunities in the post. When I involved John Paxson or Steve Kerr, it was built on the Triangle, but it was also built on my mentality to say, 'Hey, I'm going to see if this guy can knock down the big shot.' If it was Game 7, would I make that pass? Probably not."
In a similar vein to that Game 7 comment, Jordan also seemed to suggest that the system was inherently flawed and required a certain level of talent to work.
"In the NBA, you need someone who can break away from the system," he continued. "The Triangle won't work without a Michael Jordan or a Kobe Bryant."
Larry Bird also made a similar comment about Jordan being the key to the Triangle Offense
Upon reading those comments, it's easy to think that MJ is being a bit egotistical. He's the man, after all, who can seemingly turn anything into a slight and take it personally. In this case, though, he's not alone.
In his book Bird Watching, Larry Bird publicized his skepticism of the Triangle Offense. Similar to Jordan, the Celtics sharpshooter felt the system was too reliant on outstanding talent.
"As for the triangle offense, it's great if you have the right players, which Chicago did up until 1999," Larry Legend wrote. "Take Jordan and Pippen out of the equation, and I'm not sure how effective it would be."
And while the two men have a point — if you don't have a center, forward, and guard capable of making a play, whether that's scoring or passing, the Triangle does crumble — it's tough to turn that into a truly substantive critique. Every coach and every system is dependent on the roster; something that works for the Bulls wouldn't always click in Boston or Indiana.
If anything, though, we can take Jordan and Bird's comments as a reminder of that reality. It's easy to paint with a broad brush, especially from the sidelines. When we've seen something work before, whether it's with our favorite team in the past or a rival, it's easy to apply that to the present. "Why can't my team just run the triangle/shoot 45 three-pointers per game/do anything else?"
In reality, though, it's not that easy. Personnel matters. Chemistry matters. Philosophies matter.
Do you need Michael Jordan on your team to win? No, but trying to run the Triangle is an automatic ticket to the NBA Finals, either. Just ask the New York Knicks about that.
Have thoughts on this topic? Keep the conversation rolling in our comments section below.