Almost 25 Years Later, Michael Jordan Remains the King of the Bulls With His $33.1 Million Payday in 1997-98
Michael Jordan led the Chicago Bulls to each of the franchise's six NBA championships. And almost 25 years after his last dance in Chicago, he retains a surprising title. Jordan will eventually fall off this throne. But the fact he's still perched upon it is remarkable enough.
The business of basketball no longer resembles the atmosphere of Jordan's era in Chicago. Dramatic revenue increases drove the salary cap more than four times higher than in Jordan's final season with the Bulls. But that doesn't matter for Jordan, who was the highest-paid player in the NBA for two seasons.
Michael Jordan's career NBA earnings are shockingly small
Salary figures for Michael Jordan's career only go back to the 1990–91 season, but over the last 10 seasons of his career with the Chicago Bulls and Washington Wizards, he earned $86.76 million.
By comparison, Stephen Curry's checks over the next two seasons will total $93.85 million; his $45.78 salary for next season is the largest in the NBA.
More remarkable about Jordan's earnings is this tidbit: Almost three-quarters of his career salary came in just two seasons. He was the highest-paid player in the NBA in 1996–97 and 1997–98. Over the other eight seasons in which data exists, he averaged less than $3 million a season.
Indeed, it was a different era. But it's not like we're talking about the black-and-white television era when players had offseason jobs because basketball didn't pay enough.
Jordan's 1997–98 salary is still the biggest in Chicago Bulls' history
In 1996–97, Michael Jordan's salary skyrocketed from $3.85 million to $30.14 million. In 1997-98, it jumped another $3 million to $33.14 million.
A free agent after the 1995–96 season, Jordan signed a one-year deal that was more than the NBA salary cap of $24.3 million. In 1997–98, another one-year contract again outpaced the cap of $26.9 million. This was obviously before the era of maximum salaries.
There was a chance Jordan's place atop Chicago's all-time list of big paydays was in jeopardy. All-Star Zach LaVine said he wanted "his respect." LaVine is extension-eligible this summer.
The final year of a four-year, $105 million extension (the largest he can get this offseason) is $33.7 million. With an All-NBA berth in 2021–22, LaVine enters a whole new tax bracket. Five years and more than $235 million is a nice bracket. Even without the All-NBA distinction, he's in line for more than $200 million on a max deal.
The Bulls have spent freely, and almost all of it has been on the backcourt. Between DeMar DeRozan, Lonzo Ball, and Alex Caruso, Chicago has committed $207 million, per Spotrac.
At some point, a member of the Bulls will pass Jordan as the highest-paid player in franchise history for a single season. But not yet.
Michael Jordan's equalized payday in 1997–98 tops the charts today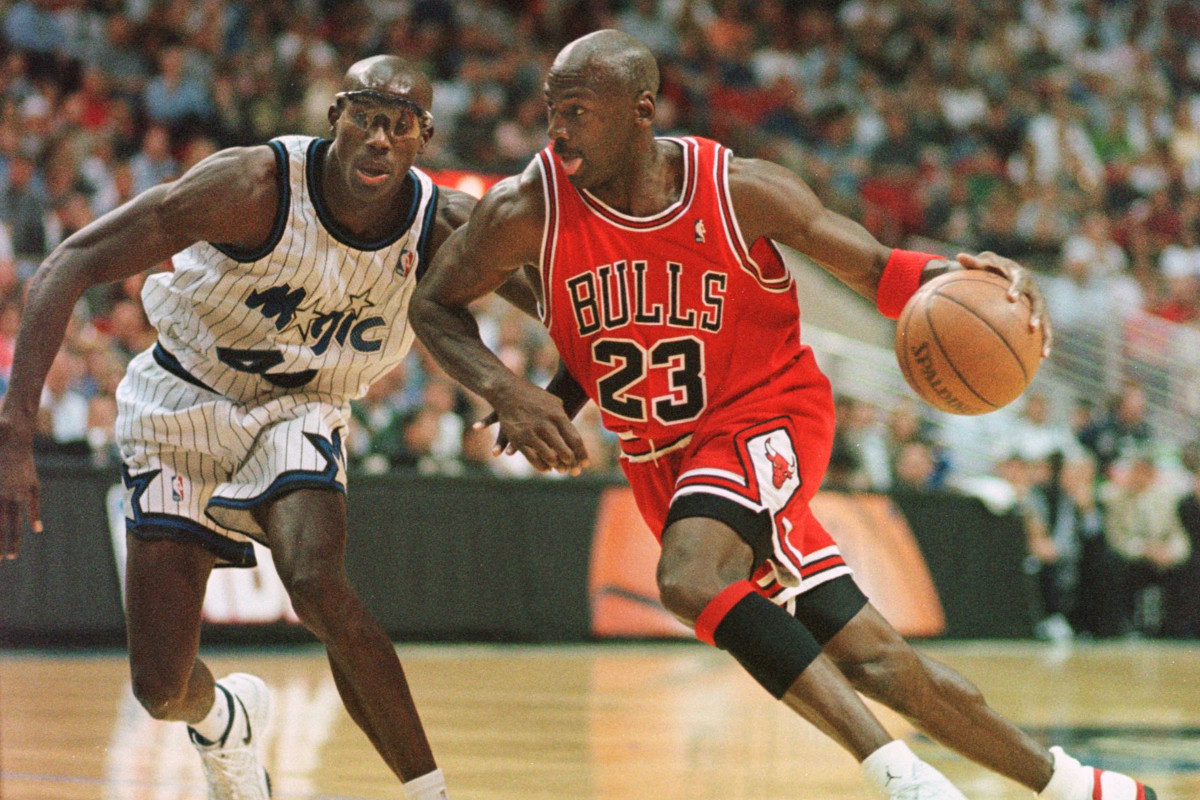 The $33.14 million Michael Jordan earned in 1997–98 goes up by more than two-thirds to nearly $55.72 million when adjusting for inflation. That is almost $10 million more than Curry's salary for 2021–22.
On the other hand, the $85 million each the Chicago Bulls for Ball and DeRozan is nearly as much in four and three years, respectively, as Jordan made over the last 10 seasons of his career.
Heck, at $37 million, Caruso seems like a dollar-store pickup. But that total will be more than Hall of Famer Scottie Pippen pulled in over 12 years in Chicago.
The nature of sports and athletes drives this never-ending surge in salaries. The public nature of salary information, coupled with an athlete's innate competitive drive, makes that dollar figure a de facto ranking system. Think of it this way. It bothers you if you are making $5 million, and Random Guy makes $8 million, but you are clearly better than Guy.
Michael Jordan hit huge paydays just twice in his career. But those are still the biggest paydays in team history. It does seem to explain why the Chicago Bulls have struggled to be more than average since the days of Jordan.
Salary information courtesy of HoopsHype and Spotrac. Inflation data courtesy of the U.S. Bureau of Labor Statistics.