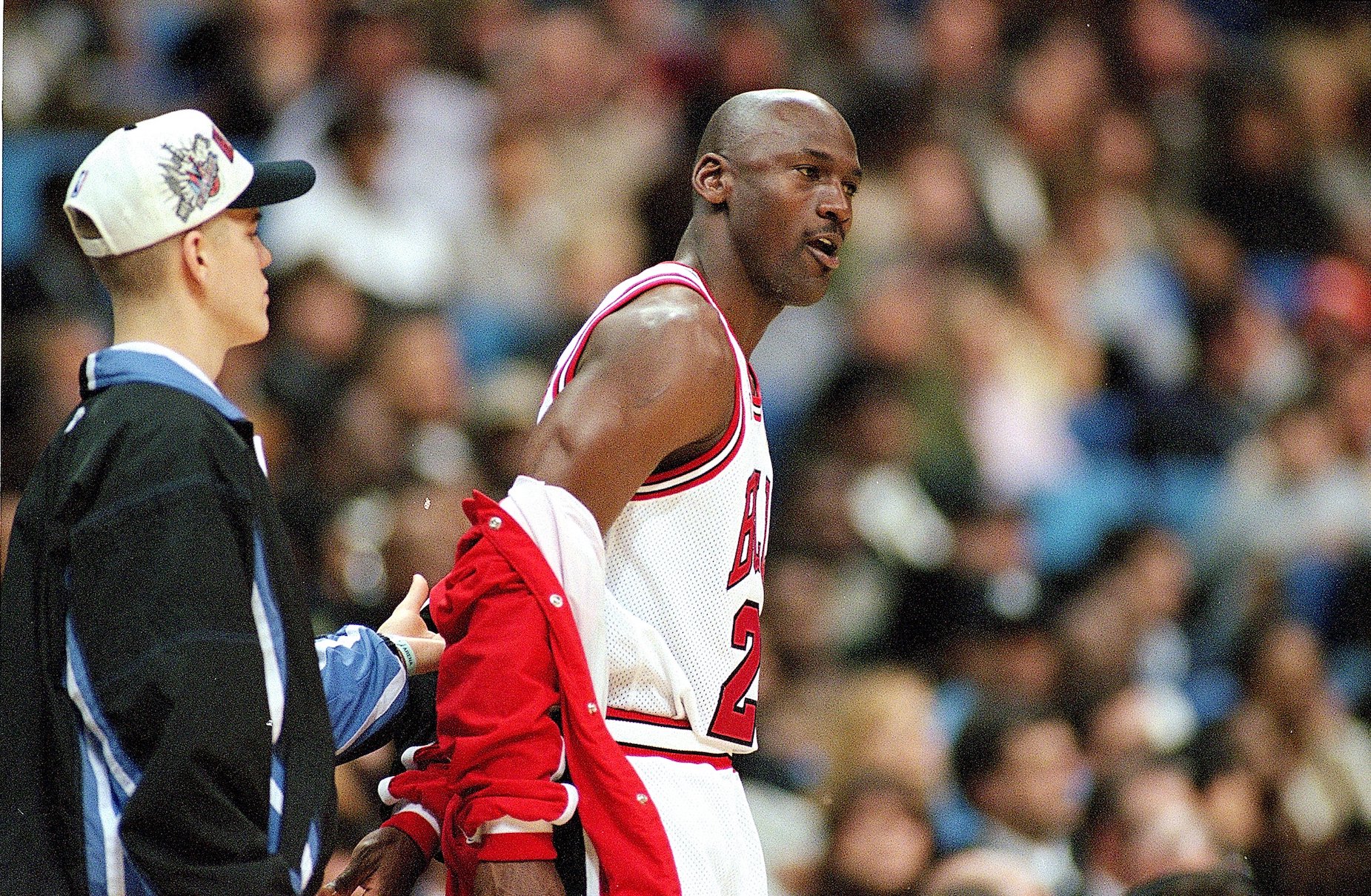 Michael Jordan Once Said Only 4 Modern NBA Players Were Capable of Cutting It in His Era
Michael Jordan never pulls any punches, including when it comes to assessing players from the modern era.
For better or worse, there's nothing sports fans love more than debating how current players would stack up against historical greats. Michael Jordan, despite being firmly entrenched in the latter category, seemingly can't help but join in on the action.
While His Airness doesn't give too many interviews anymore, he once provided ESPN's Wright Thompson with plenty of access for a 50th birthday-based story. In that piece, MJ waded into the sports-talk-radio territory and proclaimed that only four modern NBA players could have cut the mustard in his era.
Michael Jordan, for better or worse, isn't afraid to speak his mind
As anyone who ever saw him play can confirm, Jordan was supremely confident in his own abilities. The Chicago Bulls star also had no issue speaking his mind.
By and large, most of that confidence translated into trash-talking. His Airness never pulled any punches; if there was a prize on the line, he was going all-out. Whether you were a teammate like Rodney McCray, an opponent, or a former president of the United States, MJ had no problem giving a tongue-lashing.
His Airness' willingness to speak his mind wasn't limited to basketball, though. During his time in Chicago, he found himself in the spotlight for saying, "Republicans buy sneakers, too." While he later claimed he made the comment as an off-hand remark, Jordan still said what he was thinking at the time. More recently, he's also spoken up about social and racial justice, throwing his weight around in a space that's bigger than sports.
Only 4 modern players could have starred in Jordan's day
Even though he's been retired for quite a while, Jordan is still involved in the NBA scene as an owner. Unsurprisingly, the living legend has plenty of opinions about today's game.
Around MJ's 50th birthday in 2013, ESPN's Wright Thompson penned a feature looking at the more human side of His Airness. As part of his reporting, the veteran scribe witnessed Jordan watching an NBA game on TV. That quickly turned into a discussion of all-time greatness and competition between different eras.
Jordan plays his new favorite trivia game, asking which current players could be nearly as successful in his era. "Our era," he says over and over again, calling modern players soft, coddled, and ill-prepared for the highest level of the game. This is personal to him, since he'll be compared to this generation, and since he has to build a franchise with this generation's players.

Wright Thompson, writing for ESPN
According to Thompson, Jordan quipped that he could "only come up with four" modern players. Those select few? Kobe Bryant, LeBron James, Tim Duncan, and Dirk Nowitzki.
Michael Jordan doesn't seem to have changed his opinion, but he did offer some wise advice for comparing players from different eras
In fairness to Jordan, quite a bit of basketball has been played since he turned 50; theoretically, it's possible that he believes a few more players from today's game could shine in the 1980s and 1990s. With that being said, though, it doesn't seem like much has changed.
In fall 2019, Jordan made headlines by saying Stephen Curry wasn't a Hall of Famer just yet. During that same interview, His Airness confirmed that if he were building a starting five, he'd still hit the court with Scottie Pippen, James Worthy, Magic Johnson, and Hakeem Olajuwon. All of those men, unsurprisingly, played in his era.
Before we bury Jordan for being biased toward the past, it's important to look at a different quote. During an NBA press conference in early 2020, MJ fielded a question about comparisons between himself and LeBron James. In that setting, the living legend provided a more measured response.
"We play in different eras," Jordan explained. "He's an unbelievable player. He's one of the best players in the world, if not the best player in the world. I know it's a natural tendency to compare eras to eras, and it's going to continue to happen. I'm a fan of his, I love watching him play."
"But when you start the comparisons, I think it is what it is," MJ continued. "It's just a stand-up measurement. I take it with a grain of salt. He is a heck of a basketball player without a doubt."
When it comes to comparing across eras, that's probably the best approach to take. It's all fun and games to debate who could have survived in a different time, but at the end of the day, that shouldn't blind us to what we're currently witnessing. Watching a star, whether it's Michael Jordan, LeBron James, or anyone else, should be fun, not an invitation to argue and lose sight of the greatness that's on display.