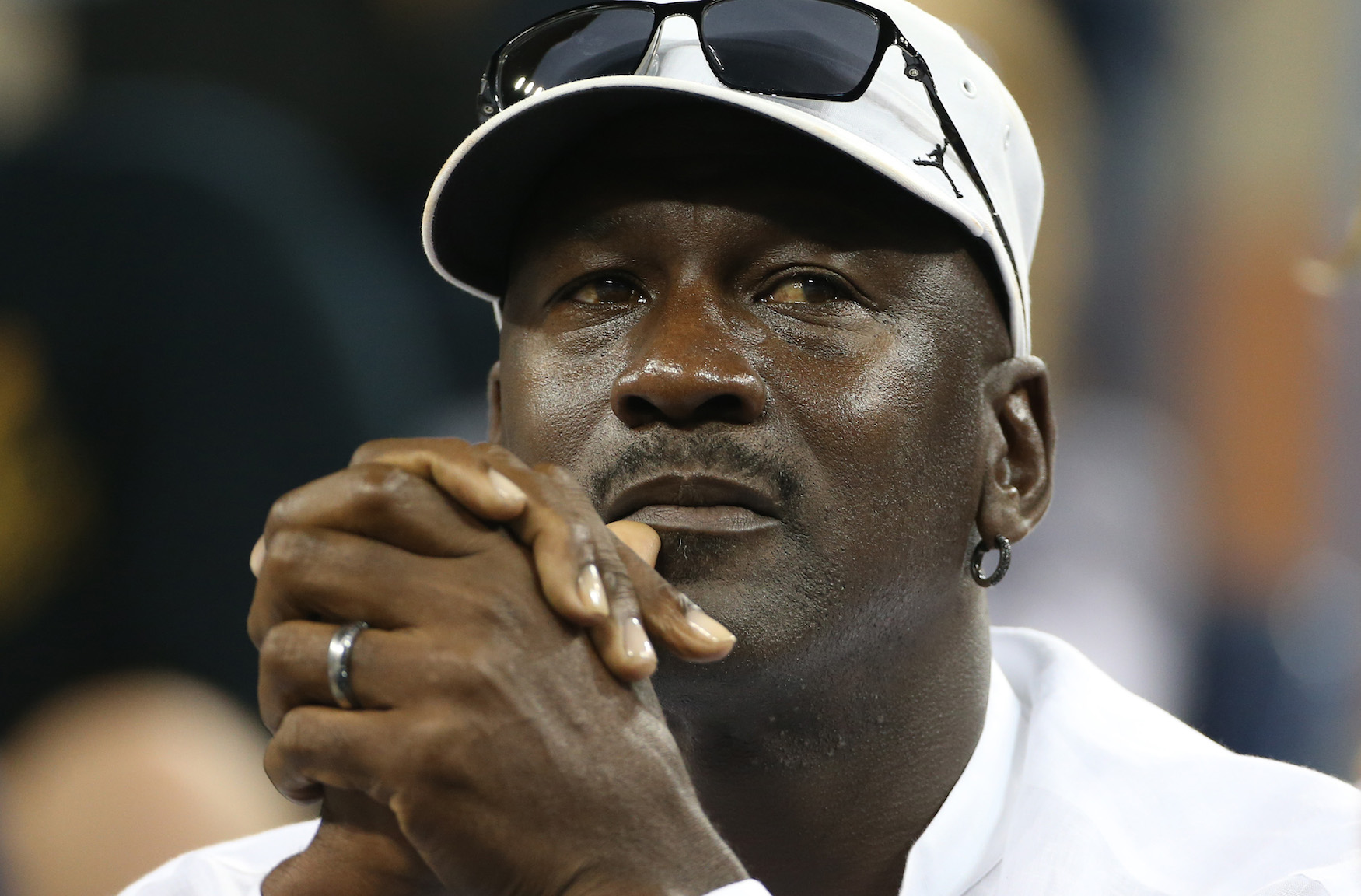 Michael Jordan Is Making Sure That He Doesn't Repeat the Political Mistakes of His Past
Michael Jordan once infamously stated that "Republicans buy sneakers, too." In 2020, however, the NBA legend has no problem speaking out.
During his time on the hardwood, it was virtually impossible to criticize Michael Jordan's game. His Airness became an NBA legend for a reason; as a member of the Chicago Bulls, he dominated the league, scoring with ease, trash-talking anyone who opposed him, and winning six championships. Away from the court, however, Jordan wasn't infallible.
During his playing career, MJ faced criticism for avoiding social issues and politics. In 2020, however, he's making sure that he doesn't repeat that same mistake.
Michael Jordan's legendary basketball career
Any discussion of Michael Jordan, though, has to address the elephant in the room. Purely from a basketball perspective, no one can touch His Airness' legacy.
While things didn't get off to the best start—Michael failed to make his high school's varsity basketball team at the first attempt—Jordan promptly made up for lost time. He joined the varsity squad the following fall and, by the time he graduated, had become a McDonald's All-American and a highly-rated college recruit.
Jordan headed to the University of North Carolina, where he played his college ball under Dean Smith. During his freshman year, MJ nailed the game-winning shot to clinch the national championship; he would play two more seasons in Chapel Hill before entering into the 1984 NBA draft and landing with the Chicago Bulls.
In the Windy City, Jordan took his game to the next level. While it took the Bulls a few attempts to get past the Detroit Pistons, they eventually came to dominate the NBA. Barring his two retirements, His Airness shone for almost 20 years; he won six championships, claimed 10 scoring titles, and earned five NBA MVP awards, literally changing the game of basketball in the process.
An infamous political misstep during a 1990 U.S. Senate race
For all of Michael Jordan's athletic prowess, though, he didn't always cover himself in glory off the court. During a 1990 United States Senate race, the Bulls star infamously put his (sneakered) foot in his mouth.
As explained by Jesse Washington of The Undefeated, that North Carolina race pitted "Harvey Gantt, a black Democrat, [against] the incumbent white Republican, Jesse Helms," who had a "long list of racist transgressions." Given Jordan's status in the state, he was reportedly asked to endorse or film a PSA for Gantt. As the story goes, he declined because "Republicans buy sneakers, too."
Whether you agree with Jordan's sentiment or not, that quote painted a very specific of the Bulls star. Many came to see him as selfish and profit-driven; rather than taking a stand, he preferred to protect his bottom line.
In The Last Dance, Jordan finally addressed that quote. While he confirmed that he did say it, His Airness suggested that he was only joking and didn't feel obligated to wade into politics.
"I don't think that statement needs to be corrected because I said it in jest on a bus with Horace Grant and Scottie Pippen," Jordan said, according to ESPN. "I wasn't a politician when I was playing my sport. I was focused on my craft. Was that selfish? Probably. But that was my energy. That's where my energy was."
Michael Jordan isn't making that same mistake in 2020
While Michael Jordan's comments may seem regrettable in hindsight, he seems to be doing things a bit differently these days.
Earlier this summer, His Airness announced that the Jordan brand would give $100 million "over the next 10 years to organizations dedicated to ensuring racial equality, social justice, and greater access to education." On July 29, we got additional clarity about those donations.
According to an official Nike statement, the first batch of money will three specific organizational partners. Both the NAACP Legal Defense and Educational Fund, Inc. (LDF) and the Formerly Incarcerated & Convicted People and Families Movement (FICPFM) will each received $1 million; Black Voters Matter will get $500,000.
MJ himself also reiterated that he's committed to making a difference. "I'm all in with Jordan Brand, the Jordan family and our partners, who share a commitment to address the historical inequality that continues to plague Black communities in the U.S.," he said in the statement. "There is a long history of oppression against Black Americans that holds us back from full participation in American society. We understand that one of the main ways we can change systemic racism is at the polls. We know it will take time for us to create the change we want to see, but we are working quickly to take action for the Black community's voice to be heard."
As with most celebrity donations, a certain amount of cynicism comes with the territory; it's not unreasonable to ask why Jordan is choosing to make a statement now and question how much of his overall finical might he's using. With all of that being said, though, it does seem like he learned a lesson from the 1990 United States Senate race.
Not only is His Airness taking action, but he's standing behind his decision each step of the way.