Michael Jordan's Used Underwear Are Going to Cost a Collector At Least $500
Even though his playing career ended almost 20 years ago, Michael Jordan still looms large in basketball history. Due to his superhuman talent and incredible success, His Airness sits near the top of the sport's pantheon; even if you don't think he's the GOAT, you have to admit that he was still quite the player. Understandably, that reality has made anything tied to MJ rather desirable for collectors. Everyone, it seems, wants a piece of the living legend.
Take, for example, one of the items currently hitting the auction block. If you're willing to shell out at least $500, you can be the proud owner of a pair of Jordan's used underwear.
Michael Jordan had a legendary basketball career, making anything tied to him a valuable piece of history
These days, Michael Jordan towers over popular culture. His Airness, to some extent, is no longer a man; he's a real-life basketball deity with a highlight reel that could run for hours at a time. At the end of the day, though, it all started with his athletic ability.
At the risk of stating the obvious, MJ had an impeccable career. Thanks to a fusion of talent and inner fire, the shooting guard found success at every step of his journey. He won an NCAA title at North Carolina, then joined the Chicago Bulls and immediately started claiming individual honors. Once he managed to overcome the Detroit Pistons and their "Jordan Rules," six championships followed.
While that's only an abbreviated version of his career — it would take a while to list every accomplishment, award, and average — it does give a sense of Jordan's dominance. That reality has made anything connected to the former Chicago Bulls star highly collectible.
Over the years, plenty of Jordan-related items, which understandably include multiple pairs of sneakers, have hit the auction block and sold for big bucks. Take, for example, a lot of nine MJ items, including a pair of Air Jordans the star wore in a scrimmage, which went up for sale in 2020. According to CNN, the total package went for $931,875, including buyers' fees; the headlining sneakers went for $615,000, which, at the time, was the most a single pair of shoes had ever sold for at auction.
Now, a pair of MJ's old underwear is up for auction
To some extent, buying a pair of Michael Jordan's game-worn shoes makes sense. While you could argue that there are wiser ways to spend $600,000, at least MJ is indelibly linked with basketball sneakers. A pair of underwear, however, feels a bit different.
For those looking to secure a Jordan collectible, though, that underwear could provide a more affordable option. A pair of compression shorts recently hit the Lelands' block. As of August 31, there's only one bid on the item, which currently clocks in at $500.
"Unusual item shows definite use as this pair of underwear/compression shorts was worn by Michael Jordan with some loose threads evident at the seams," the lot description explains. "Originating from a family member of MJ's 'Last Dance' security guard John Michael Wozniak, it even has a dry cleaning tag inside with the last name 'Wozniak' as well as a tag that says Michael Jordan, with the iconic last name on the waistband. About as close to greatness as one can get, this is just one of the many items in this auction that were given to Wozniak from MJ himself, including suits, ties, belts, and jackets."
As that write-up notes, Wozniak was one of Jordan's security guards and close companions. Viewers of The Last Dance will remember him as the man who beat MJ at his own game, then mimicked his famous shrug for the camera.
At this point, it's not clear what the final price of the underwear will be. If previous auctions are any indication, though, anything Air Jordan will be worth a pretty penny.
For Michael Jordan, the answer to 'boxers or briefs' was apparently 'neither'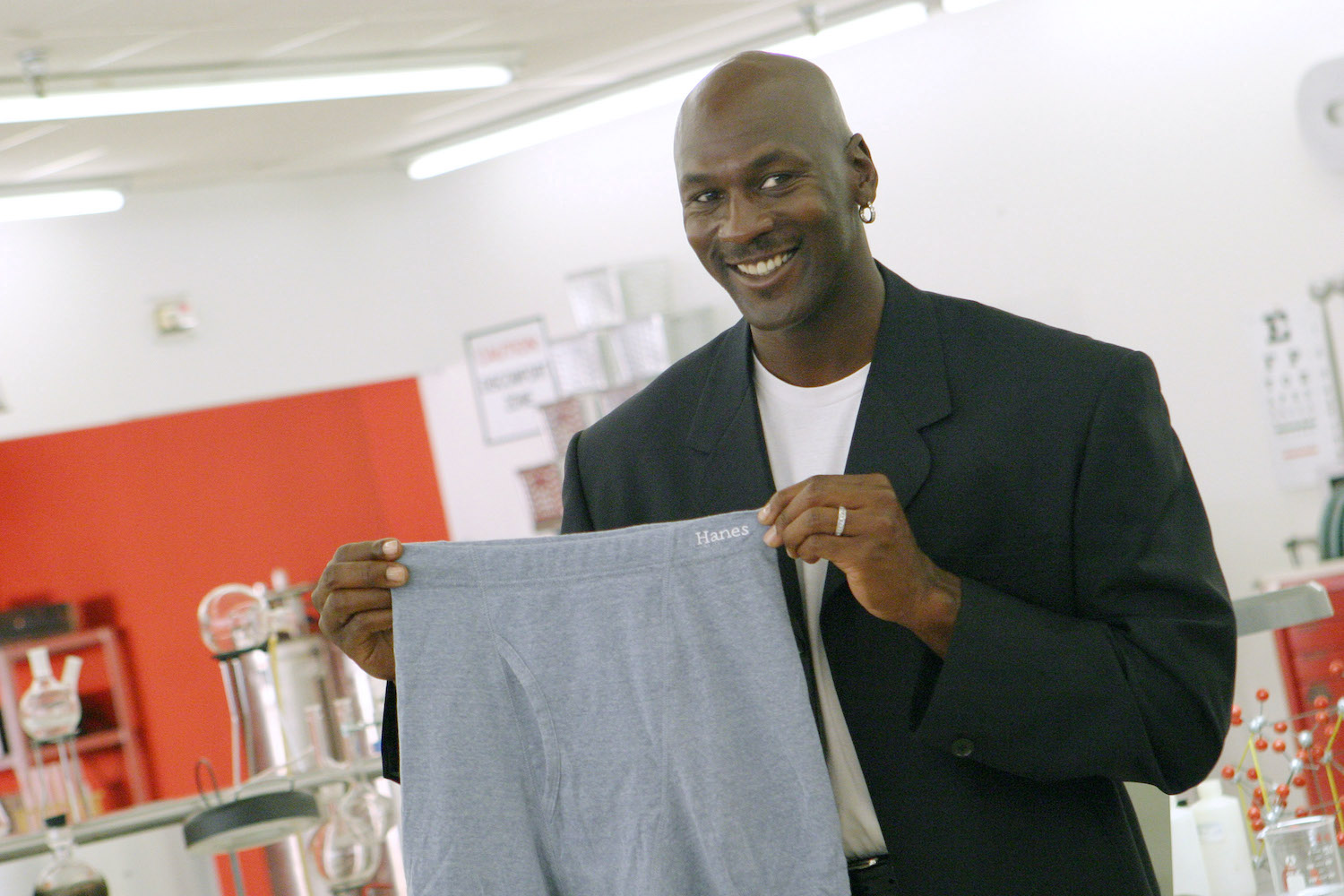 This auction isn't the first time that Michael Jordan has been linked to underwear, though. As fans of a certain age will remember, His Airness once appeared in a famous Hanes commercial focused on his undergarments.
In that ad, a pair of women are sitting on a park bench, speculating if each person is wearing boxers or briefs. When Jordan passes, though, they're too starstruck to offer their assessment. MJ, unfazed by the situation, informs the duo that "They're Hanes. Let's just leave it at that." before walking away with a smile.
While we never learned the answer to that eternal question during the commercial, this auction does provide a glimpse into Jordan's personal life. In some situations, it seems, he took the third option and wore compression shorts.