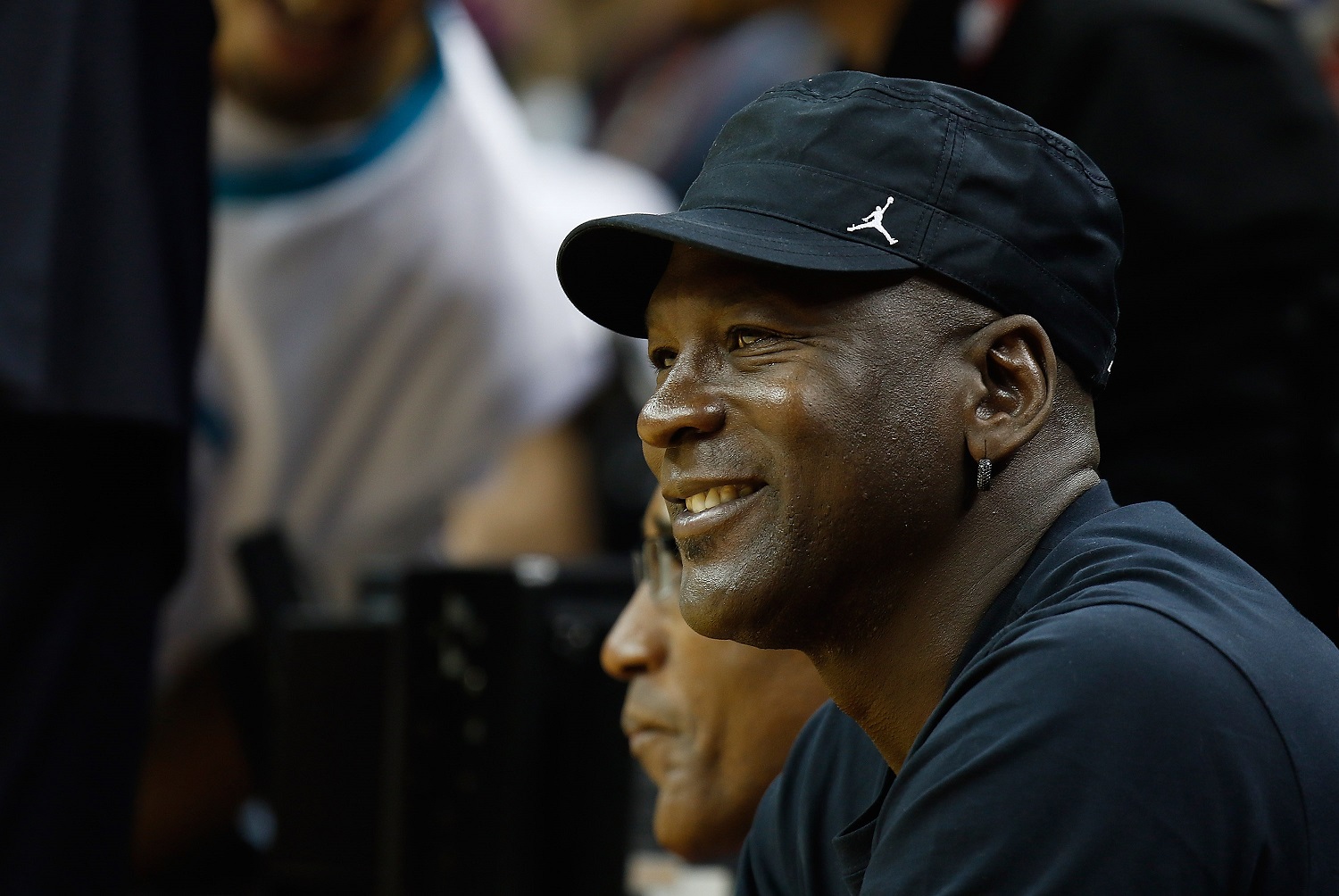 Michael Jordan Will Be Back on an NBA Court Next Season…Sort Of
Six-time NBA champion, five-time MVP and Charlotte Hornets owner Michael Jordan will play a fun part in the league next season.
It's been more than 17 years since Charlotte Hornets owner Michael Jordan played his final NBA game, last suiting up for the Washington Wizards in 2003. But despite that fact, the six-time champ obviously still has a major impact on the game.
Long one of the most popular athletes in history, Jordan's following may be as big as it's ever been thanks to the airing of The Last Dance docuseries on ESPN. And, as it turns out, Michael Jordan will have an even bigger presence in the NBA next year. No, it's not another comeback although it does sometimes look like he could still get out there and contribute a few points. But he'll instead contribute in another way.
Michael Jordan's playing career
Taken by the Chicago Bulls with the third overall pick in the famed 1984 NBA draft, Michael Jordan quickly became one of the top stars in the league. He won the first of five NBA MVP trophies in 1988, the same year he was named Defensive Player of the Year.
In 1991, he led the Bulls to their first championship in franchise history, one of six NBA titles that Jordan won in the 1990s. In parts of 13 seasons in the Windy City, Michael Jordan averaged 31.5 points, 6.3 rebounds, 5.4 assists, and 2.3 steals. He was a 12-time All-Star, a 10-time All-NBA First Team selection, a 10-time scoring champion, a three-time steals leader, and a nine-time All-Defensive First Team selection.
After his second retirement in 1998, Jordan returned to the NBA in 2001 with the Washington Wizards and played two seasons in the nation's capital, averaging 21.2 points and adding two more All-Star appearances before retiring for good in 2003.
Michael Jordan first signed with Nike in 1984 and the Jumpman logo debuted in 1988
Michael Jordan signed his first contract with Nike in 1984, a five-year deal worth $2.5 million. However, as he'd reached certain performance incentives, he was free to leave after three years and almost did. Jordan's longtime agent, David Falk, convinced MJ to stay in 1987 and the famous Jumpman logo premiered a year later, first appearing on the Air Jordan III in February 1988.
The Jumpman logo quickly became one of the most famous logos on the planet and has remained as such for more than three decades. While still under the Nike umbrella, the Jordan Brand became its own entity in 1997 and now brings in more than $3 billion annually.
The Jumpman logo will be featured on all NBA Statement Edition jerseys next season
While Michael Jordan himself obviously won't be on the court next year, the Jumpman logo will have a bigger presence than it already does in the NBA. Many players, some of whom weren't even alive when Jordan was in his prime, still wear Jordans on their feet but all players will wear the Jumpman logo at certain points next season.
The NBA and Jordan Brand announced on Tuesday that all 30 teams will feature the Jumpman logo on their Statement Edition uniforms next season. Currently, NBA uniforms feature the famous Nike swoosh on the right shoulder of the jersey and the left leg of the shorts.
When teams wear the Statement Edition uniforms, which are usually reserved for big games and feature an alternate color scheme, the swoosh will be replaced with the Jumpman logo. Only Michael Jordan's Hornets have the logo on all of their jerseys, which began in 2017. The new jerseys will be available for purchase this October.