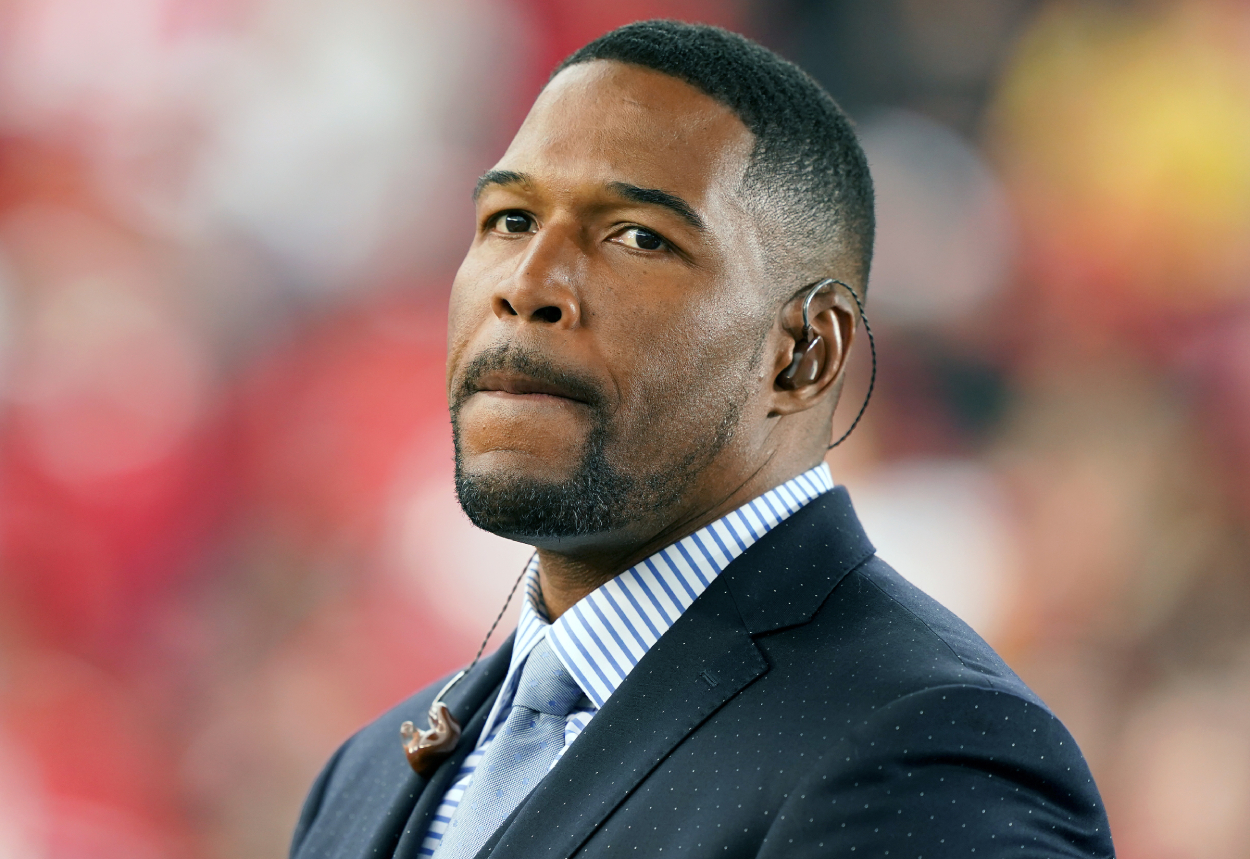 Michael Strahan Made $76.3 Million in the NFL but Once Fought a 'Rookie' to Gain Respect: 'I Told You Not to Mess With Me'
The New York Giants selected Michael Strahan and Chris Maumalanga one year apart. Strahan once fought Maumalanga after Maumalanga had just finished his rookie season, too. He did it to gain his teammates' respect. This is a look at their fight and how they went on to have completely different NFL careers.
Michael Strahan was one of the greatest defensive ends in NFL history with the New York Giants. For most of his career, Strahan probably didn't need to do anything extra to earn his teammates' respect. His play on the field did everything he needed it to do. However, early in his career, Strahan once fought a rookie just so that he wouldn't lose their respect.
Michael Strahan and Chris Maumalanga went to the Giants one year apart
Michael Strahan went to the New York Giants in the second round of the 1993 NFL draft. He then had an OK rookie season before finding significant success in 1994. Strahan had 4.5 sacks and 40 total tackles that year.
However, also in 1994, the Giants selected defensive lineman Chris Maumalanga in the fourth round. Strahan said that he had a nice rookie year, too.
"Great player, defensive tackle; big guy," Strahan said on a March 2018 episode of In Depth with Graham Bensinger. "… He had just finished his first year, was going into his second year, and I guess he was feeling good about himself; he had a good year."
The confidence Maumalanga had, though, ultimately led to him picking on Strahan one day. Things did not turn out well for the former fourth-round pick, either.
Michael Strahan fought Chris Maumalanga for respect
In that same interview with Graham Bensinger, Strahan said that Maumalanga was known for fighting guys off the field. However, on that day that Maumalanga had been picking on him, Strahan didn't really want to fight.
"[I was] trying to be quiet about it, but then he kept going," Strahan said. "Then I think I offended him when I said, 'You know what, why you even talking to me? You're a rookie. So, just shut up, rook.' And we got a room full of guys. So, either I gotta act like this and I gotta say these things after trying to quiet down for a while, or you're not going to be respected."
He continued: "So, I had to say, 'You know what, shut up, rook. You're a rook; you shouldn't even be talking right now. You have no right to talk.' He kept going, and he kept going. He's like, 'You think you can whip me?' I'm like, 'I'm not saying I can whip you. I'm not even talking about fighting you. But, if you start it, we gonna have to go.' In the back of my head, I'm thinking, 'Oh, Lord, I don't want to fight this guy.'"
After a while, words only went so far. The two players then finally stood up and decided to fight.
"I knew he had a thing about just stealing guys, just 'Bam!' hitting you before you knew it was coming," he said. "… I'm thinking, 'Oh, he's going to swing; here it comes.' He swung, but I was ready. I duck, and he swung so hard … he spun around to where I locked him from behind, picked him up, and slammed him on the ground. By that time, I'm in control."
In the interview, Strahan then acted as if he were punching someone on the ground and said: "'I told you not to mess with me, boy. I will whip you like I said.'"
It appears that Strahan ultimately won that battle. He went on to have the better career, too.
Michael Strahan went on to have a Hall of Fame career
Strahan said that Chris Maumalanga wasn't the same player after their fight.
"I think it was a confidence thing; it took his confidence away," Strahan said. "I liked the guy; had his moments as a player. But I learned you gotta stand up for yourself."
Even if you don't agree with fighting, no one can really question Strahan's philosophy. Whatever he did ended up working, as Strahan went on to have an incredible career.
After having some decent seasons to start, Michael Strahan had some excellent years with the Giants in 1997 and 1998. He recorded 14 sacks in 1997 and then 15 sacks the next year, which earned him Pro Bowl and First-Team All-Pro honors in both seasons. 
Strahan then went on to become one of the most dominant players of his generation after that. He ultimately led the NFL in sacks twice, recording an NFL-record 22.5 in 2001. He also earned seven Pro Bowl and four First-Team All-Pro selections, and the Defensive Player of the Year award in 2001.
Strahan finished his career with 141.5 career sacks, the sixth-most in NFL history. He also won a Super Bowl in his final season in 2007. Strahan's dominance helped him become a pretty wealthy man, too, as he earned an estimated $76.3 million during his NFL career, per Spotrac.
Michael Strahan ended up becoming one of the greatest players in NFL history. Who knows how things would have gone, though, had he not stood up to Chris Maumalanga to earn his teammates' respect.
Stats courtesy of Pro Football Reference