CBS Broadcaster Phil Simms Once Allegedly Threatened To Punch Desmond Howard for Simply Doing His Job on ESPN
Phil Simms has become one of the most well-known personalities in sports media. Desmond Howard has also become one of the most recognizable faces in sports broadcasting. This comes after they both had successful football careers that resulted in them both winning Super Bowl MVP awards. However, despite the two of them working in the same industries during their lives, Phil Simms and Desmond Howard have had their issues with each other. In fact, Simms once even allegedly threatened to punch Howard.
Phil Simms has found success at CBS after his NFL career with the Giants
Phil Simms went to the New York Giants with the No. 7 overall pick in the 1979 NFL draft. He then had a pretty successful career as the Giants' quarterback, too.
Simms earned two Pro Bowl selections in his career, one in 1985 and the other in 1993. He also threw for as many as 4,044 yards in 1984 and as many 22 touchdowns in both 1984 and 1985. However, what made Simms really successful was what he did in the postseason. He helped lead the Giants to two Super Bowl appearances, and they ultimately won both of them. Simms even won the Super Bowl MVP award during the Giants' first appearance in Super Bowl 21. He threw for 268 yards and three touchdowns in a win over the Denver Broncos.
Simms finished his NFL career with 33,462 passing yards, 199 passing touchdowns, and 157 interceptions. He then joined CBS as an analyst in 1998 and has worked there ever since. According to his CBS bio, Simms called games with Greg Gumbel from 1998 through 2003 before working with Jim Nantz from 2004 through 2016. He has been an analyst on the studio show, The NFL Today, since the 2017 season.
Desmond Howard has been great on ESPN after an excellent football career
Desmond Howard played for Michigan in college, and he ultimately became a star with the Wolverines. In 1991, Howard caught 62 passes for 985 yards and 19 touchdowns. He also had two kickoff/punt return touchdowns. Those numbers ultimately helped him win the 1991 Heisman Trophy award, and he then went to the Washington Football Team with the No. 4 overall pick in the 1992 NFL draft.
Howard wasn't as great in the NFL, specifically at receiver. He never gained over 730 receiving yards in his career. However, he was a great punt/kick returner. Howard led the NFL in punt return yards and punt return touchdowns in 1996 as he returned 58 punts for 875 yards and three touchdowns.
Then, from 1997 through 2001, Howard gained 1,000 kickoff return yards or more in four of five seasons. Additionally, his 1,872 all-purpose yards in 2000 helped him earn a Pro Bowl selection. The biggest accomplishment of Howard's NFL career, though, was winning Super Bowl MVP in Super Bowl 31. Howard returned six punts for 90 yards and four kickoffs for 154 yards in the game. This included his 99-yard kickoff return for a touchdown in the third quarter that helped the Packers defeat the New England Patriots, 35-21.
After his NFL career, Howard joined ESPN in 2005 and has been on College GameDay ever since, according to ESPN bio.
Phil Simms allegedly threatened to punch Desmond Howard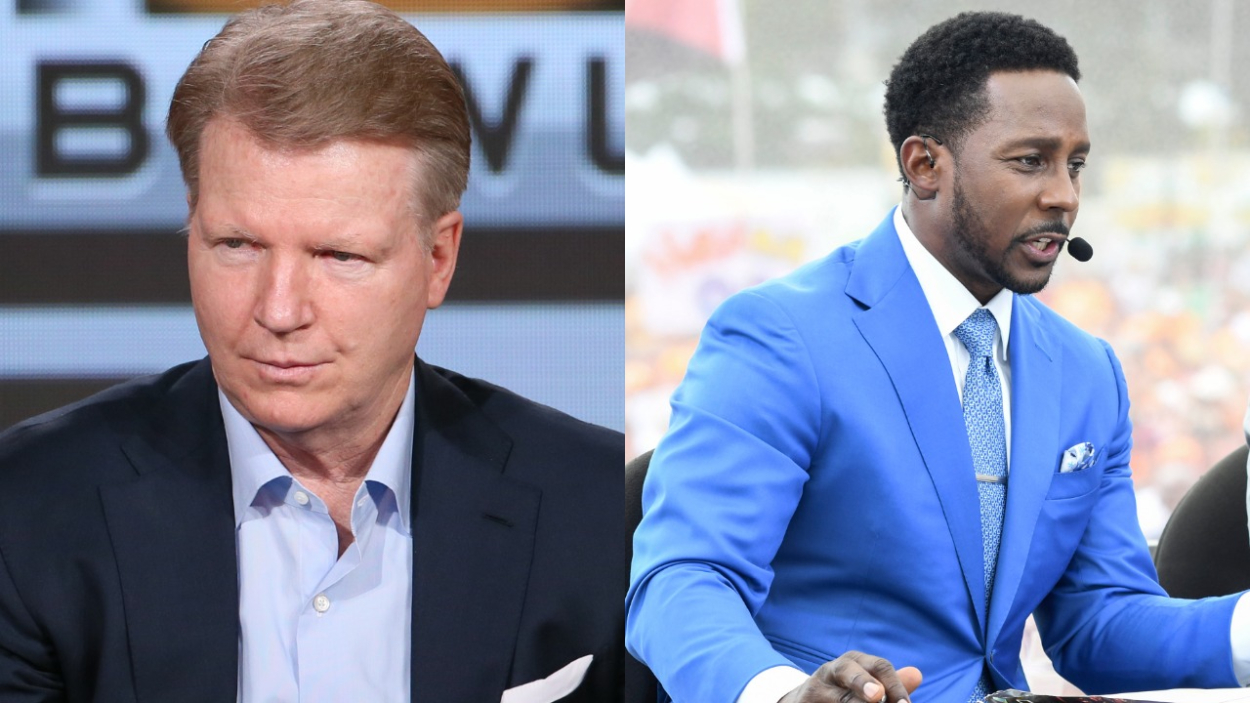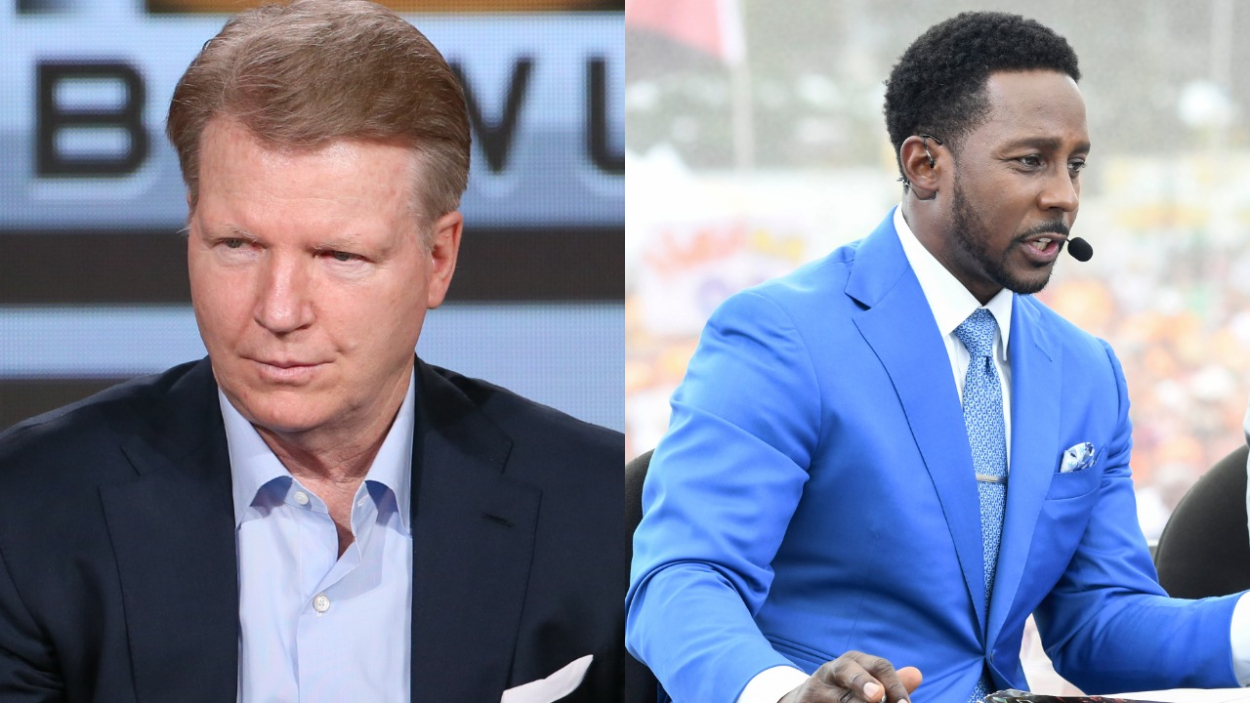 While Simms and Howard both analyze football players on TV, Howard's analysis on ESPN of Simms' son, Matt, did not sit well with Simms.
In 2011, Howard tweeted, "At NFL-Xperience and Phil Simms just threatened 2 hit me b/c I said his son was 1 of the worse QBs in the SEC. I told him 'LET'S GO!'" In case people didn't believe him, Howard then added, "I am DEAD serious about the Phil Simms thing. We all thought he was joking, but he kept going and said he wanted 2 take a swing at me!!"
Then, he said that police eventually got involved.
"It ended w/police stepping in between so I could continue my appearance w/fans," Howard posted.
Simms later apologized for the incident on Sirius XM's Mad Dog Radio.
"It's over," Simms said, according to ProFootballTalk. "I'm sorry. I really, I mean this, I'm sorry it happened. I really am because even if it remained private, there's still nothing gained. So I've learned another lesson."
Simms, though — who reportedly said there was "no chance" of there being a physical altercation, per ProFootballTalk — wasn't too fond of Howard tweeting everything out.
"It is what it is," Simms said, according to ProFootballTalk. "It's a great lesson learned, and of course I'm not excusing myself. You know, I've got to know better. It's a new day and age … It's just not good on my part, either. I understand that."
It's been a decade since this happened, so Simms and Howard might be cool now. But in 2011, the two former Super Bowl MVPs did not like each other too much.
Stats courtesy of Sports Reference and Pro Football Reference