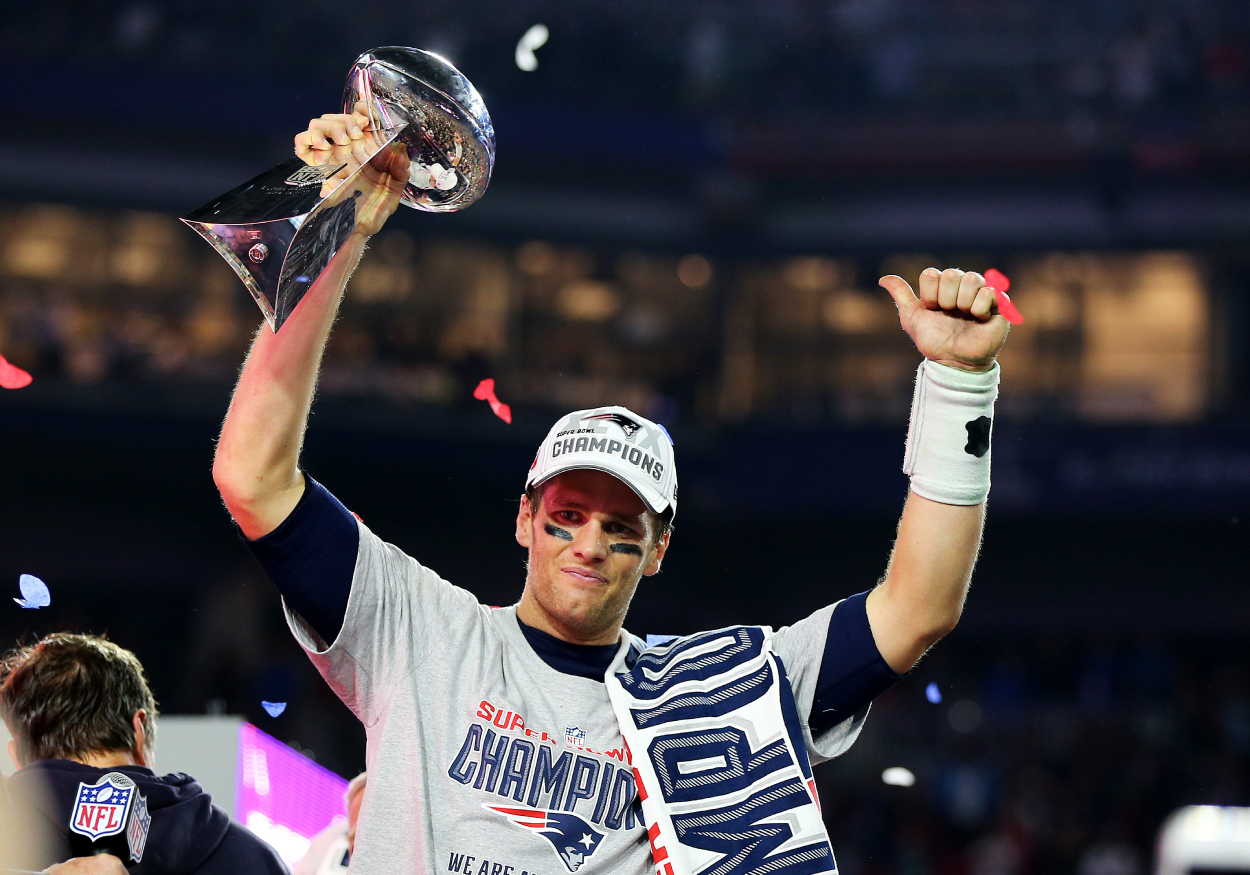 How Many Times Has Tom Brady Won Super Bowl MVP?
Tom Brady seems to play in the Super Bowl almost every season. So, how many times has Tom Brady won Super Bowl MVP in his career?
Unless you have lived under a rock for 20 years, you probably know that Tom Brady has cemented himself as the GOAT among quarterbacks to ever play in the NFL. He has played in and won a bunch of Super Bowls and is atop almost every NFL passing record. So, since he has won so many championships throughout his career, how many times has Tom Brady won the Super Bowl MVP award?
Tom Brady has become the greatest quarterback of all-time
What might be the greatest thing about Tom Brady's story is that he was the underdog coming into the NFL. The New England Patriots ultimately selected him in the sixth round of the 2000 NFL draft.
He only threw three total passes in his rookie season, but ever since becoming the Patriots' starter in 2001, he has been a star. Brady has led the NFL in passing touchdowns in a season four times in his career, including the 2007 season when he threw for 50. He has also led the league in passing yards three times and threw for as many as 5,235 in 2011. Brady has also thrown for more than 4,000 yards 12 times in his career and has tossed 25 touchdown passes or more 15 times.
Overall, Brady has earned 14 Pro Bowl and three First-Team All-Pro selections. He has also been NFL MVP three times, and was the Comeback Player of the Year once. Through 2020, he has thrown for 79,204 passing yards, which is second in NFL history, and he is No. 1 in passing touchdowns with 581. 
However, while he has all the stats, those aren't the reasons why people say that Brady is the GOAT.
He has won six Super Bowl titles
What has ultimately made Brady come out on top in the GOAT conversation is the number of Super Bowl rings he has won. Brady won a Super Bowl title in his first season as a starter in 2001, as the Patriots defeated the St. Louis Rams, 20-17.
Then, after not making the playoffs the next season, Brady and the Pats went to two consecutive Super Bowls in 2003 and 2004. They ended up winning those back-to-back titles, too, as they defeated the Carolina Panthers and Philadelphia Eagles.
The Patriots then missed out on the Super Bowl in 2005 and 2006 but went 16-0 and reached the big game in 2007. Brady and New England, though, ultimately lost to Eli Manning and the New York Giants.
Brady and the Patriots then went to their fifth Super Bowl together in 2011. They, however, lost to the Giants yet again. However, in 2014, the Pats defeated the Seattle Seahawks in the Super Bowl, their first of four Super Bowl trips in five seasons from 2014 through 2018. This also included three straight trips in 2016, 2017, and 2018 and two wins in 2016 and then in 2018, ultimately giving Brady his fifth and sixth Super Bowl rings.
In total, Brady and the Patriots won six Super Bowl titles in nine appearances. He then took the Tampa Bay Buccaneers to the Super Bowl during the 2020 season, reaching the big game for his 10th time.
How many times has Tom Brady won Super Bowl MVP?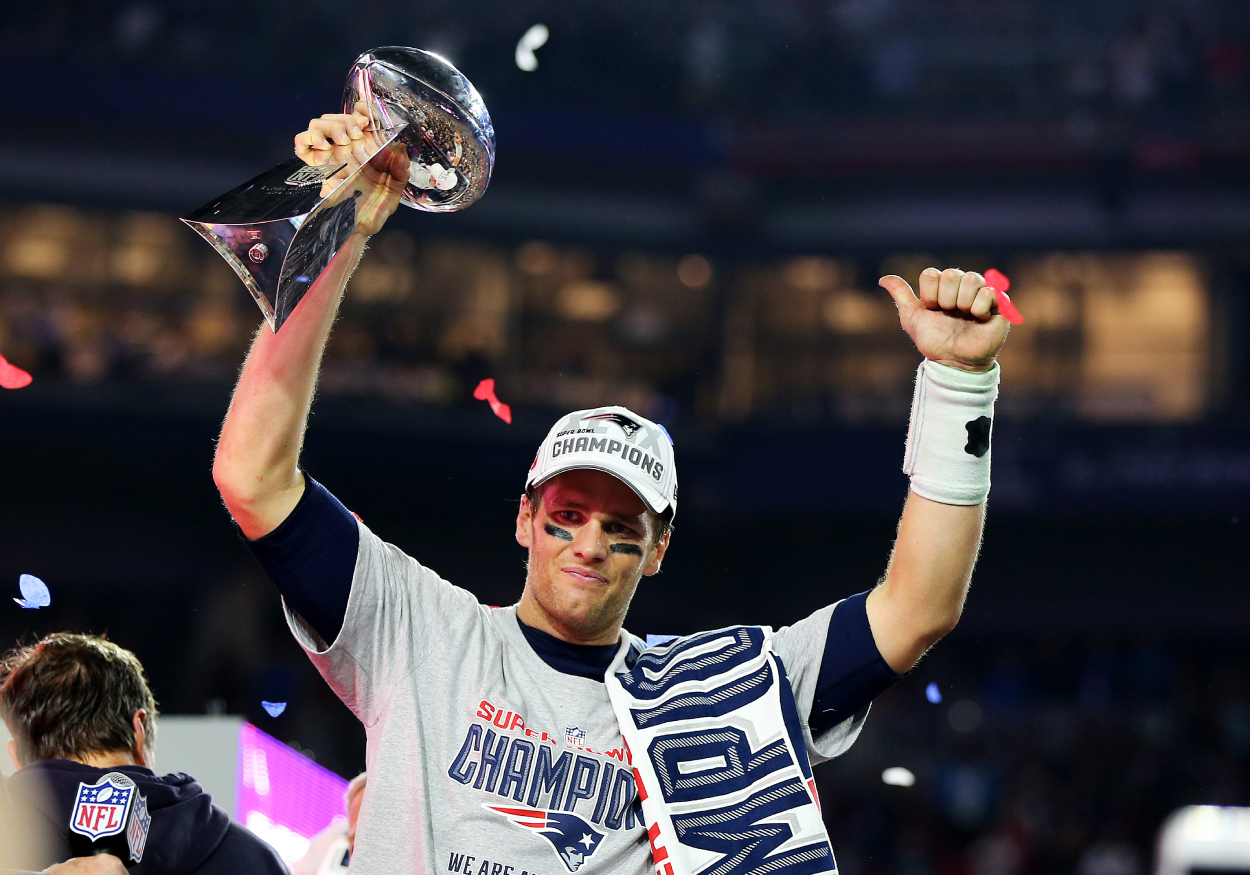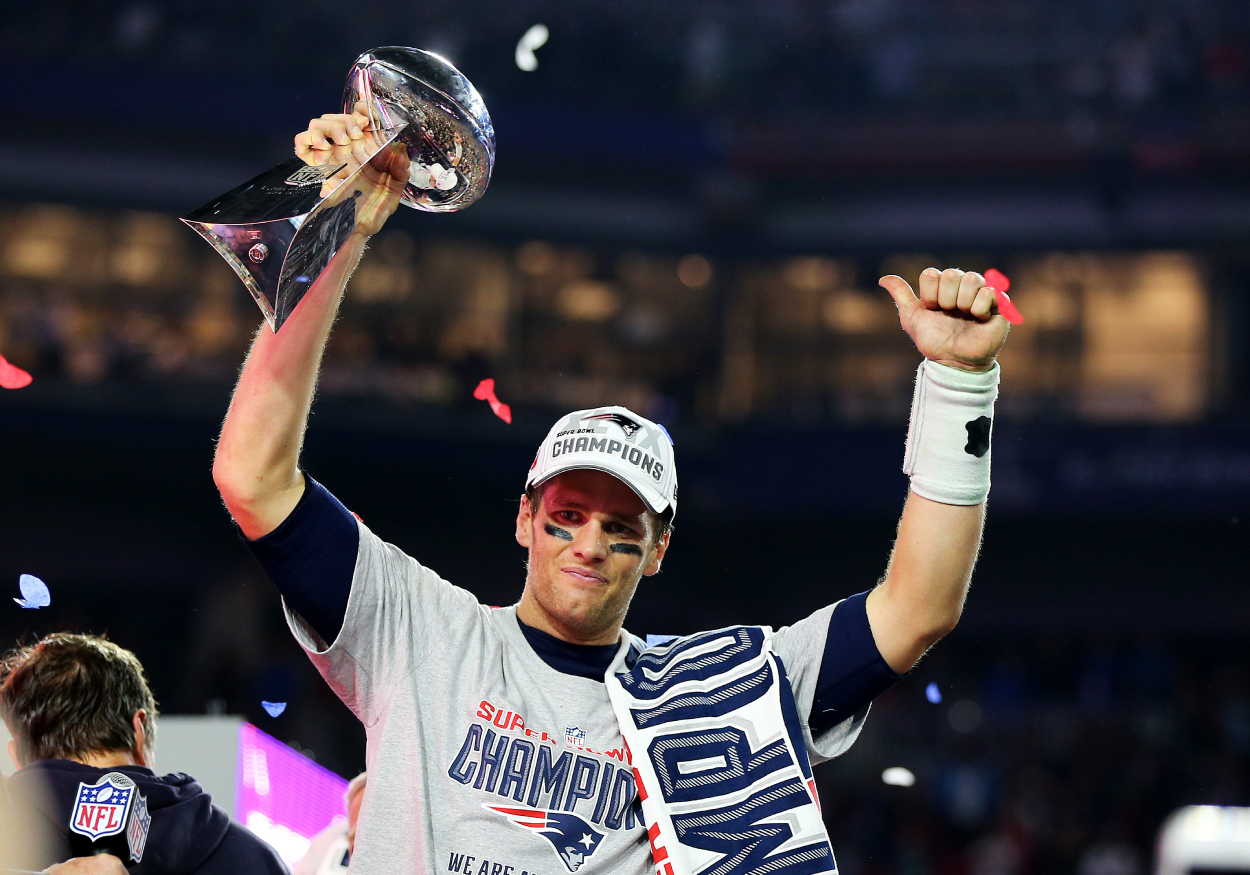 So, since he has won six Super Bowls, how many times has Tom Brady won the Super Bowl MVP award? He has incredibly won it four times.
Brady won his first Super Bowl MVP in his first-ever Super Bowl, which came in Super Bowl 36. His stats weren't really that great in that game, though. He just threw for 145 yards and one touchdown. Brady then won his second Super Bowl MVP in Super Bowl 38 during the 2003 season. He had an incredible game that year, too, as he threw for 354 yards, three touchdowns, and one interception. Brady also led the Pats on an end-of-the-game drive that resulted in Adam Vinatieri kicking the game-winning field goal.
Deion Branch then won the MVP award in Super Bowl 39. Brady, though, won it again in Super Bowl 49 during the 2014 season. He ultimately led the Pats to a win over the Seahawks by throwing for 328 yards, four touchdowns, and two interceptions. 
Brady then won his fourth Super Bowl MVP in Super Bowl 51 when he led the Patriots to an OT win over the Atlanta Falcons after trailing 28-3 in the third quarter. He threw for an incredible 466 yards, two touchdowns, and one interception in the game, too. During Brady's sixth Super Bowl win in the 2018 season, his receiver, Julian Edelman, won MVP, as he caught 10 passes for 141 yards in a win over the Rams. 
Tom Brady has become the GOAT. His four Super Bowl MVPs should be enough to prove it, too.
Stats courtesy of Pro Football Reference