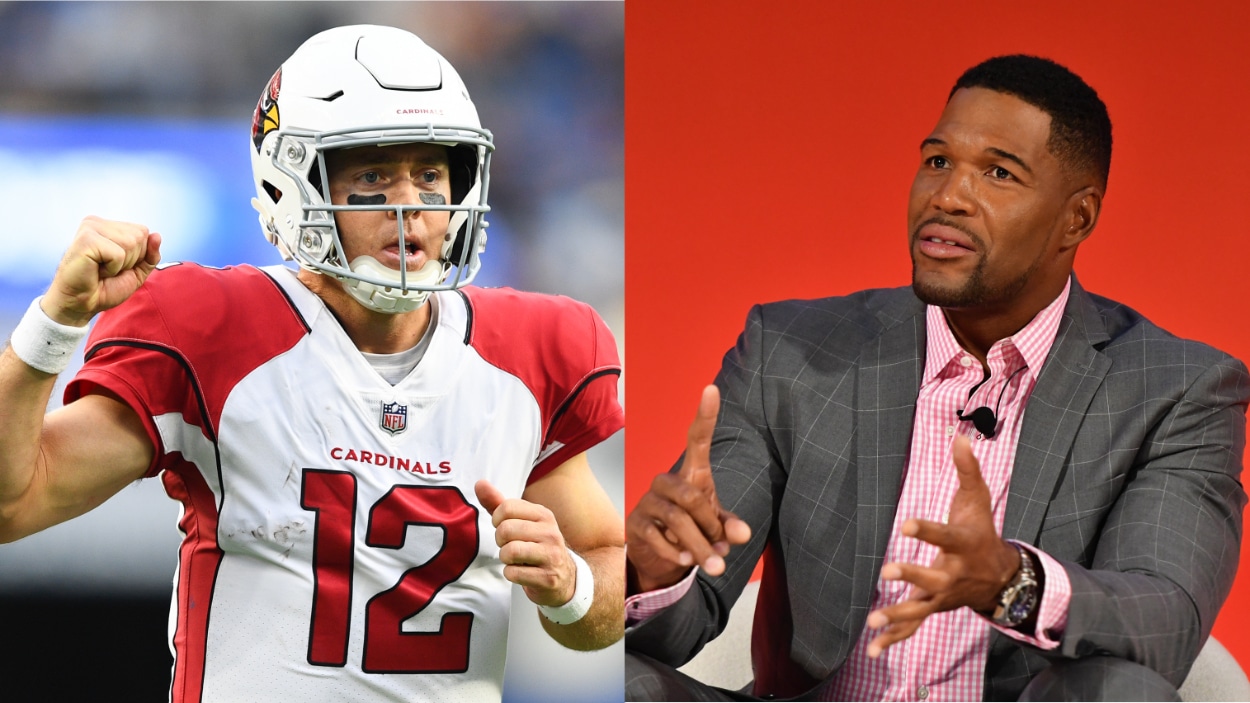 Michael Strahan Crushes Cardinals Before They Beat Rams in Week 10
The Cardinals proved Fox's Michael Strahan wrong in Week 10 by beating the Rams, but the W raised bigger questions about QB Kyler Murray.
Michael Strahan knew he would offend Arizona Cardinals fans on Fox NFL Sunday when it was his turn to talk about the team ahead of their Week 10 game vs. the Los Angeles Rams. The former New York Giants pass rusher told the U.S. military crowd watching the show that quarterback Kyler Murray was out, but it didn't really matter, as the team is bad with or without its star QB. In the 4 pm ET NFL window on Sunday, the Cardinals somewhat proved Strahan wrong by beating the Rams, but they also raised questions about Murray in the process.
Michael Strahan had a harsh critique of the Cardinals and quarterback Kyler Murray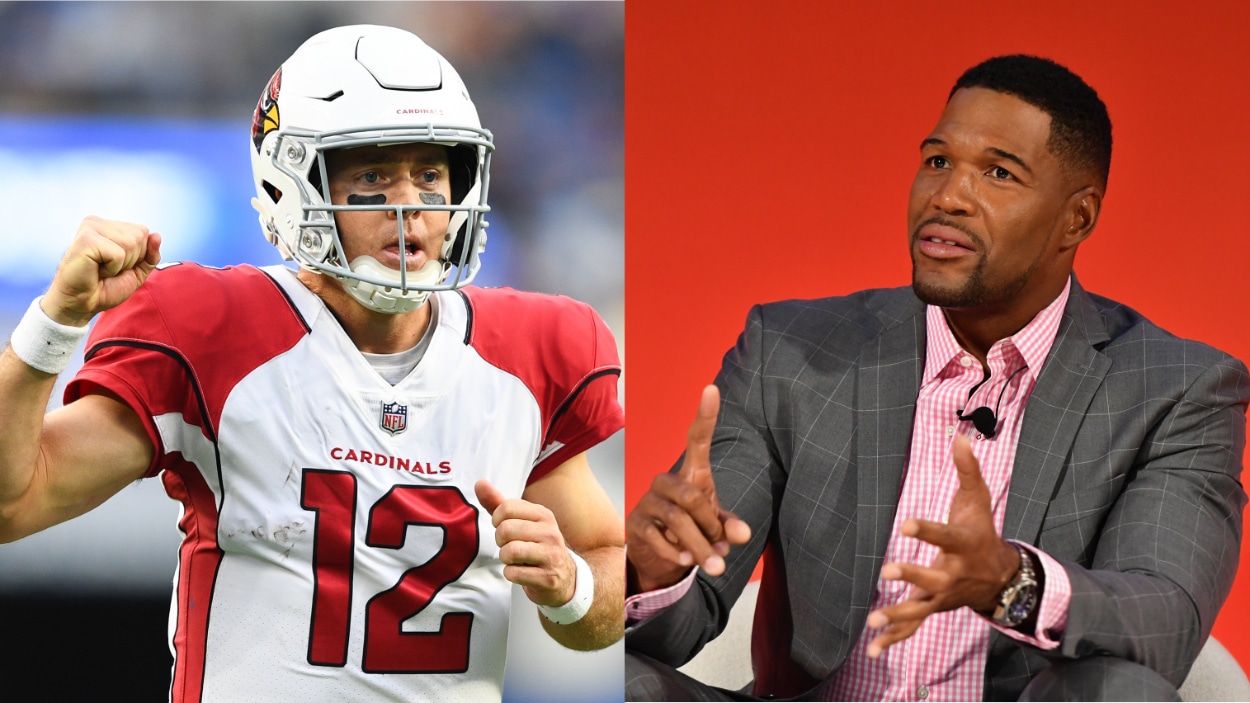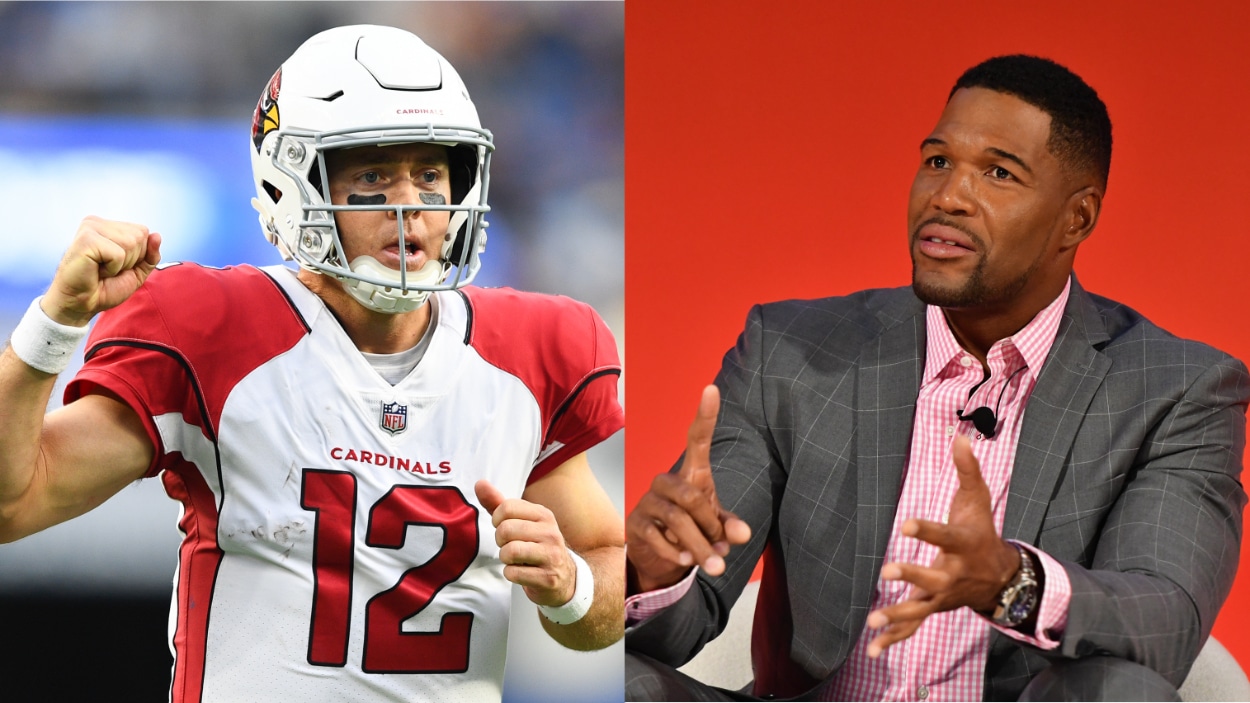 As the Fox NFL Sunday crew broadcast from Al Udeid Air Base in Qatar, the Giants legend turned to the raucous crowd of airmen and asked, "Do we have any Arizona Cardinals fans here?" After the sack master was greeted with silence, Strahan said, "I didn't think so," and launched into his takedown of the AFC West team.
"You look at the Arizona Cardinals, and Kyler Murray's out. But when Kyler Murray was in the game, he was the worst in the league as far as yards per completion. Four yards per completion? For such a dynamic player, that's hard to understand," Strahan complained.
"But defensively, they can't stop anyone in the Red Zone. Colt McCoy is coming in, Strahan continued. "He needs teammate support, and I don't know if he's going to get that."
A few hours later, the Cardinals, as a whole, proved Strahan wrong. The Cardinals earned a 27-17 win over their division-rival Rams, and McCoy's teammates helped him have a solid game, going 26-of-37 for 238 yards with a touchdown and no interceptions.
The running game added 78 yards and two touchdowns on the ground, and the Cards' defense held the Rams to 256 total yards with an interception, a fumble recovery, and three sacks.
While the Cardinals players exceeded expectations on Sunday, they may have also proved Michael Strahan right in a way. After this victory to move to 4-6 on the season, it is fair to ask if the Arizona Cardinals are better without their $230 million QB, Kyler Murray?
Is Arizona better without Kyler Murray? 
In the 2022 offseason, Kyler Murray huffed and pouted and bullied the Cardinals into giving him a five-year, $230.5 million contract extension after just three seasons of NFL football.
In those three seasons, the former Oklahoma Heisman Trophy winner went 22-23-1 as a starter and promptly began the current season with a 3-6 record. Most of his numbers aren't bad this season. Murray is completing 66.7% of his passes and had 2,168 yards with 12 TDs and six interceptions.
However, Murray just isn't playing winning football. He and the Cardinals are notoriously slow starters this season, leading at the half of just one game this season prior to Week 10. Also, the return of DeAndre Hopkins has helped juice the QB's numbers. Since returning from a PED suspension, Hopkins has 32 targets, 26 catches, 298 yards, and two TDs with Murray in three games.
All that said, it's hard to take too much from Week 10 because the Rams are so bad. After going all in for a Super Bowl last season, they are legitimately one of the worst teams in the NFL in 2022.
Even so, watching Colt McCoy execute Kliff Kingsbury's offense simply and efficiently instead of running around, ad-libbing, and trying to do his own thing as Murray does, had to be intriguing for Cards fans.
It's not time to say McCoy would be better for the Cardinals yet, but if Murray and Kingsbury can't get on the same page soon, it might be time to give McCoy an opportunity whether Murray is healthy or not.