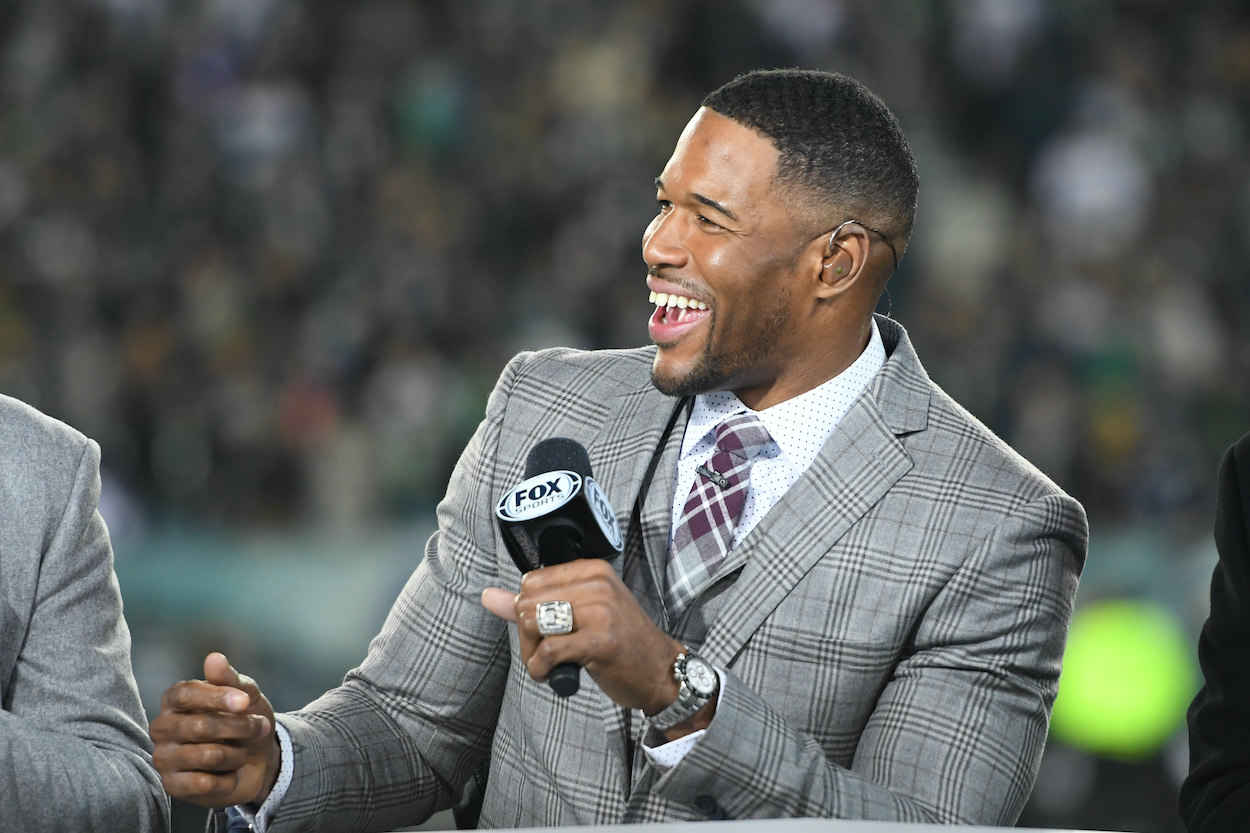 Michael Strahan and Fox NFL Sunday Crew Don't Mince Words and Call out League for Systemic Racism
Fox NFL Sunday analyst Michael Strahan and his broadcast partners called out the NFL for its systemic racism during Sunday's pregame show.
Michael Strahan and his Fox NFL Sunday teammates like to banter back and forth each Sunday during the pregame show, often taking shots at each other for any number of reasons. During Sunday's broadcast before the NFC Wild Card Game, the show took on a serious tone during one segment when Strahan and his partners jointly called out the league for its systemic racism.   
Jay Glazer talks about head coach situation around NFL
Each week, NFL insider Jay Glazer provides the latest news and rumors about what's going on around the NFL during his "The Inside Scoop" segment. This week, after reporting on JJ Watt's surprisingly early return from a major shoulder injury, Glazer talked about the eight head coaching vacancies around the league. 
He said that teams with openings are waiting on wild-card results to schedule in-person interviews. Then, he brought up a couple of interesting in-person interviews that happened in Green Bay this past week when a contingent of Denver Broncos officials interviewed Packers offensive coordinator Nathaniel Hackett and quarterbacks coach Luke Getsy. 
Glazer raised an interesting point on how the Broncos interviewed the two coaches who work the closest with Aaron Rodgers, a quarterback the team was rumored to be linked with during the offseason and whose future in Green Bay is uncertain with no contract beyond this season. 
Michael Strahan and Fox NFL Sunday crew go off on systemic racism in league
Michael Strahan listened intently to Glazer's report, and the last part about what transpired with Denver's head coaching search stopping in Green Bay this past week set him off. 
"It blows my mind because literally there's zero Black owners. There are two Black GMs — one in Washington and one in Miami (missed a third one in Detroit)," Strahan said. "One Black head coach, Mike Tomlin in Pittsburgh, and 70 percent of the players are Black. Majority of the assistant coaches are Black, I'm sure. So you can't say there aren't Black coaches in the pipeline. There are plenty of Black coaches in the pipeline. Just got to get the opportunity. 
"But it kind of blows my mind when you hear about a coach who is coaching a player who has a good year and all of a sudden he's the coordinator. He's this. He's that. When you have (Byron) Leftwich, and you have Eric Bieniemy — guys who've been coordinators, who've proven themselves, who still are fighting for the opportunity to get a head coaching job. I just don't understand," a clearly frustrated Strahan expressed.
"Eric Bieniemy's been doing it for a while," Howie Long interjected.
"I don't understand how we're still at this point," Strahan resumed. "But when these guys do it, it's, 'Well, they got talent.' When the other guys do it, it's, 'Well, they're a great coordinator.' Can't have it both ways."
"Yeah, Mike, listen, a lot of these coordinators you're talking about are tied to the head coach and everybody is saying, 'It's the head coach that's the reason they're successful and not these coordinators,'" Terry Bradshaw jumped into the fray. "And we all know better than that. And the other thing is simple: There are no Black owners in this league. We need more Black owners. We have none."
"I agree with you, Mike, 100%," Jimmy Johnson said. "But the key is getting Black general managers. If you get Black general managers, then it's going to open up opportunities for Black coaches. But you got to get Black general managers. They're the decision-makers." 
"Yes, you do," show moderator Curt Menefee said, agreeing with Johnson. "But it shouldn't take Black people to hire Black people." 
"Yeah, exactly," Strahan echoed.
"You should hire the best candidate, no matter what," Menefee concluded. 
League has seen increase in Black quarterbacks in recent years
The comments of Michael Strahan and the other Fox NFL Sunday team members are based purely on statistics. While the league likes to publicly proclaim it's fighting against racism with short phrases like "End Racism," "Inspire Change," and "It Takes All of Us" found on the back of helmets, the numbers don't lie. The NFL has always had a systemic racism problem. 
Interestingly, Long brought up how it wasn't that long ago that there was a similar conversation about Black quarterbacks in the league, and he talked about how it's dramatically changed in the last dozen or so years.
In 2017, the NFL achieved a milestone when all 32 active teams had started at least one Black quarterback. That same year, only 25% of starting quarterbacks were Black. However, to open the 2020 season, 10 of the league's 32 teams had Black starting quarterbacks, the most in a single week in NFL history.
Progress. 
The question is: When will the NFL take that next step with more Black personnel making top-level decisions on the sidelines and in the front office? Michael Jordan already owns an NBA team and a NASCAR team. Could the NFL be next?
Like Sportscasting on Facebook. Follow us on Twitter @sportscasting19.