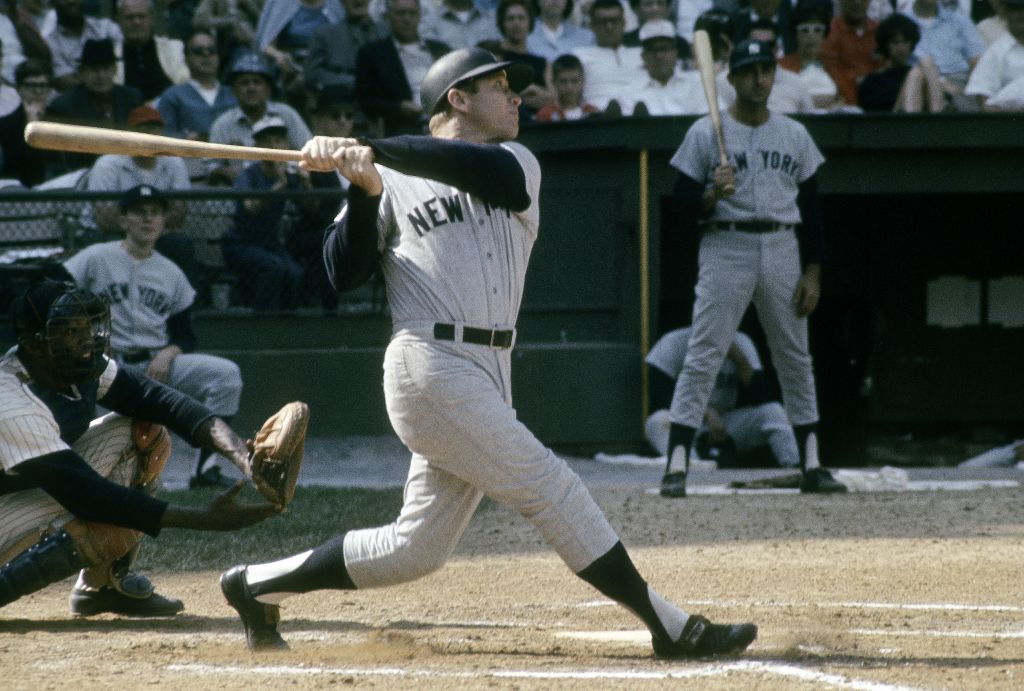 Mickey Mantle Started His Day With an Alcoholic 'Breakfast of Champions'
New York Yankees legend Mickey Mantle would start his day with an alcoholic drink he dubbed the "breakfast of champions."
These days, professional athletes are like fine-tuned machines. While there may be some notable exceptions, most stars are incredibly meticulous; everything from meals to sleep schedules are carefully monitored. Things used to be quite a bit different, though. Just ask New York Yankees legend Mickey Mantle about that.
While Mantle's playing career reached incredible heights, his time on the field was slowed affected by injuries and alcohol. In retirement, that trend continued as he started each day with a potent "breakfast of champions."
Mickey Mantle's legendary Yankees career
Once he joined up with the New York Yankees, Mickey Mantle became one of Major League Baseball's brightest stars. The outfielder's road to the pros, however, was far from easy.
In high school, Mantle developed Osteomyelitis in his shin; if not for the newly popularized penicillin, he could have lost his leg. Mickey also struggled emotionally during his career, considering quitting baseball on at least one occasion.
After a difficult rookie year with the Yankees, however, Mantle found his stride. The outfielder was seemingly capable of doing everything; despite struggling through some notable injuries, he hit for both power and average with incredible ease.
By the time he called it a career, Mantle had spent 18 seasons with the Yankees, batting .298 with 1509 RBIs and 536 home runs. In addition to his famous Triple Crown, he claimed seven World Series titles, three American League MVP Awards, and one Gold Glove before hanging up his spikes for good.
A less than balanced breakfast
During his playing career, Mickey Mantle was known for more than his onfield exploits, however. The outfielder and his teammates were known to have a bit too much to drink. While that led to some notable incidents, like climbing out his hotel window to spy on other Yankees, the habit didn't stop when Mantle retired.
In a famous 1994 Sports Illustrated feature, Mantle revealed the extent of his drinking. Rather than starting off the day with a balanced meal, he'd tip back something much stronger.
"I began some of my mornings the past 10 years with the "breakfast of champions"—a big glass filled with a shot or more of brandy, some Kahlúa and cream," Mantle explained. "Billy Martin and I used to drink them all the time, and I named the drink after us. Sometimes when I was in New York with nothing to do, and Billy and I were together, we would stop into my restaurant on Central Park South at around 10 in the morning, and the bartender would dump all the ingredients into a blender and stir it right up. It tasted real good."
That breakfast usually wasn't Mantle's only drink of the day, though. "If I had a drink to start the day, I'd go out for lunch and go through three or four bottles of wine in the course of the afternoon," he continued. "White wine. Red wine. It didn't matter, and I didn't care about the quality, either. In fact, I thought if I was drinking wine, it wasn't really drinking. To me, wine wasn't liquor."
Mickey Mantle ultimately warned, "don't be like me"
While Mickey Mantle may have seemed like a superhero on the field, he ultimately proved to be all too human. Years of drinking took a toll on his body; while he eventually went to rehab and expressed remorse for his previous behavior, the damage had already been done.
In 1995, Mantle underwent a liver transplant; the operation, however, wasn't able to prevent the aggressive spread of hepatoma, a form of cancer.
Before dying, though, Mantle gave a famous press conference. Suddenly faced with his own mortality, the Yankees outfielder simply told any children listening, "don't be like me."
"In the last year, Mickey Mantle, always so hard on himself, finally came to accept and appreciate the distinction between a role model and a hero," Bob Costas explained at Mantle's funeral. "The fist he often was not, the second he always will be."