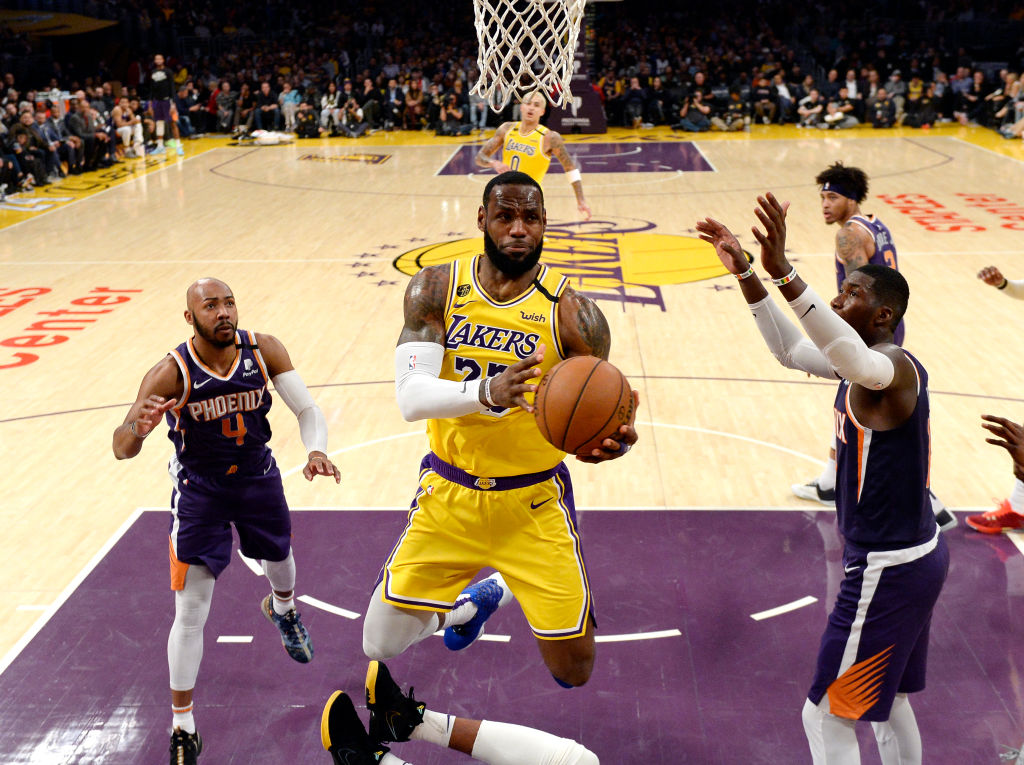 LeBron James is Still an Elite Athlete, But He Apparently Has an Awful Diet
On the court, LeBron James is an incredible athlete. Off the court, the Lakers star's diet apparently features plenty of sweets.
Professional athletes are as close as we get to having real-life superheroes. While they might not be able to leap tall buildings in a single bound, NBA players like LeBron James still have some serious hops. They probably follow impeccably planned diets to maintain that level of production, right?
Although most professional athletes carefully monitor what they put into their bodies, LeBron James is apparently a little different. According to one of his former teammates, King James has a pretty bad diet.
LeBron James' peak production
When a player has been on the national stage for almost two decades, it's easy to take them for granted. LeBron James, however, is still playing at a high level.
While the forward's stats have changed a bit—he's playing fewer minutes and scoring fewer points per night—he's still a force to be reckoned with. LeBron is still dropping an average of 25 points each outing; he's also dishing out more assists than ever before and pulling down almost eight rebounds per night. That's impeccable production for anyone, let alone a 35-year old with over 1,200 games on his legs.
Beyond James' physical talent, a large part of the forward's success has been his relationship with Mike Mancias. The personal trainer has been with LeBron for virtually his entire professional career, helping him with everything from his diet and mental state to his pure physical fitness.
Apparently, LeBron James has an awful diet
During their time together, Mancias has tweaked LeBron's diet depending on what the forward needs. James, however, can't seem to get away from some specific indulgences.
"He has the worst f—–g diet ever," Tristan Thompson, who played alongside LeBron James in Cleveland, told Joe Vardon and Jason Lloyd of The Athletic. "Ask him what he eats for breakfast. He has like five french toast, drowns it in syrup with strawberries and bananas. Then he has like a four-egg omelet and then he goes and just f—–g dunks on somebody. It doesn't make sense."
LeBron doesn't stop once breakfast is done, however. "He eats desserts with every meal," Thompson continued. "He loves sweets. He loves sweets. He eats desserts and French toast. It's crazy how his body just burns it."
Believe it or not, that meal plan might make sense
Upon first glance, it's hard to disagree with Tristian Thompson's assessment. While french toast and dessert don't seem like the healthiest meal plan for an average person, it actually makes sense for someone like LeBron James, who's pushing his body to the limit virtually every day.
"It's a very high caloric intake," Mancias told GQ in 2019. "Do I have a specific number for you? I do not. The key thing for him is balance. He eats about five times a day: a traditional breakfast, lunch, and dinner, and a couple of snacks in between those meals."
We might not be able to eat, or play basketball, like LeBron James, but we can still take a lesson from his diet. "Once you find something that works for you—because we're all different—stay consistent with it," Mancias explained.