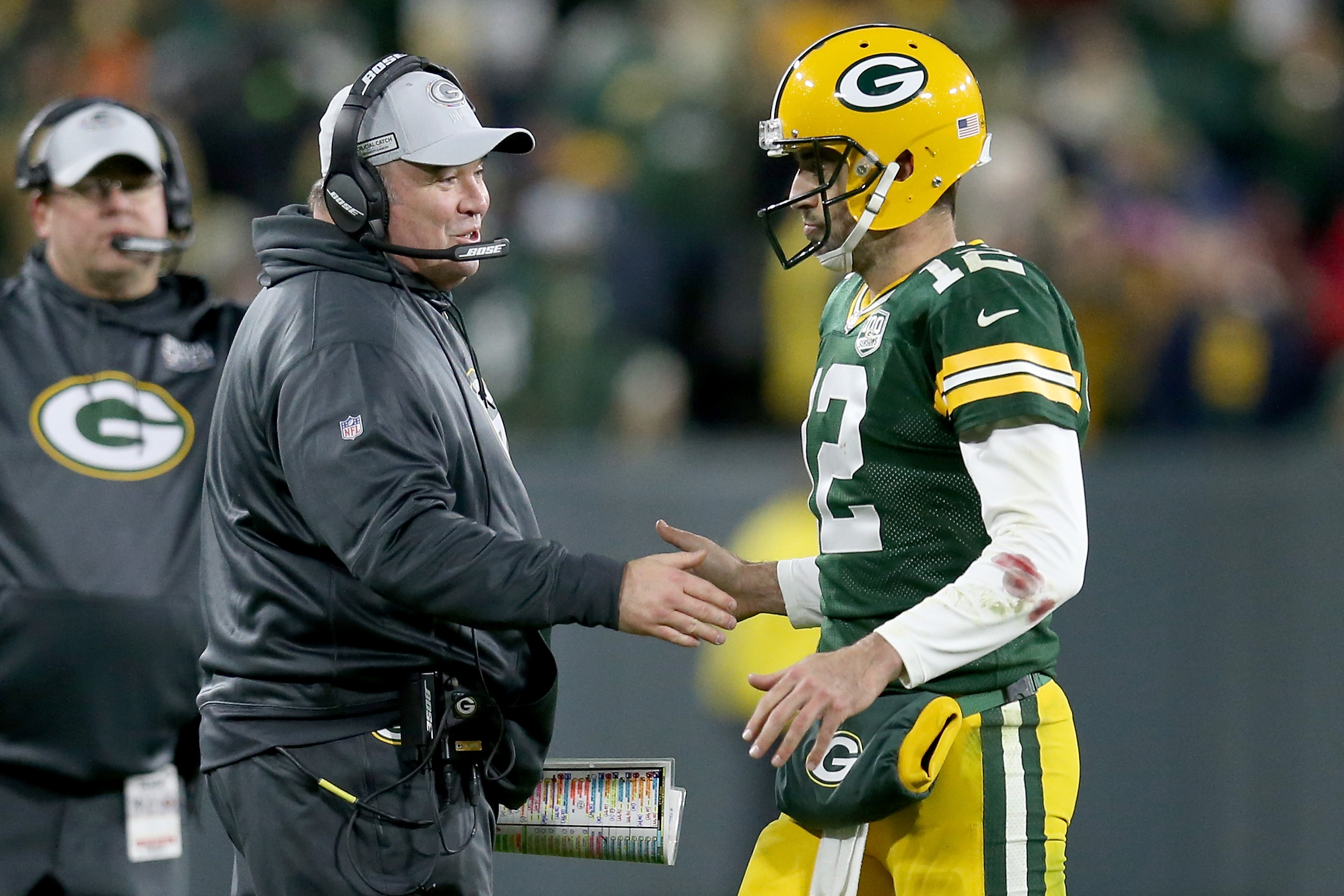 Mike McCarthy Takes Page From Jerry Jones and Labels Packers Drama 'Good News'
Mike McCarthy took a page from Jerry Jones and called the recent Packers drama "good news."
When Mike McCarthy was fired after a 13-year coaching career with the Green Bay Packers, more news emerged about the relationship between the coach and quarterback Aaron Rodgers. Reports came out that Rodgers and McCarthy were headed for a breakup long before it finally happened in 2018. Rodgers now finds himself in another toxic relationship with the front office, and McCarthy has labeled it "good news."
Mike McCarthy had a strong run with the Packers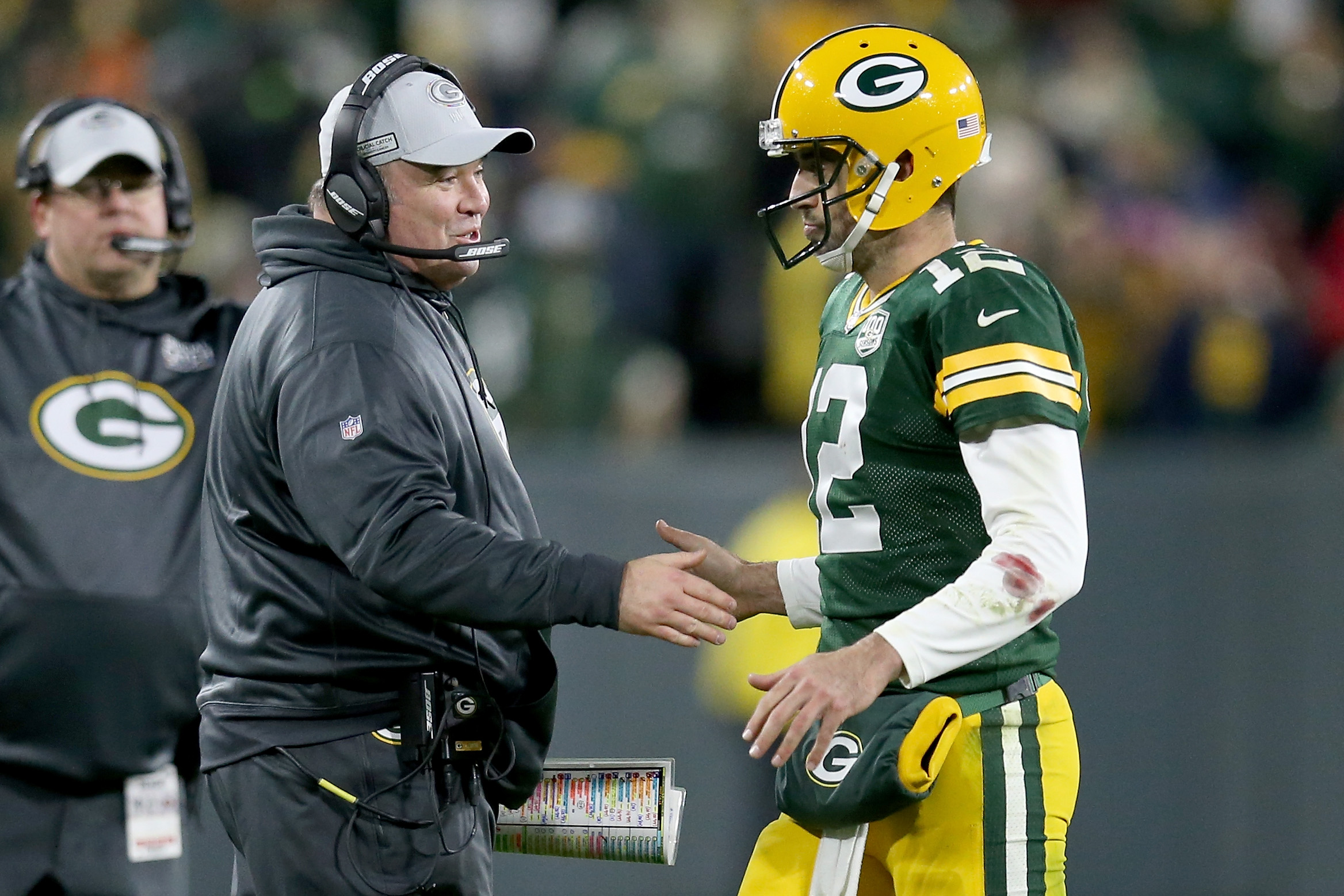 McCarthy took over as head coach of the Packers in 2006. It was the year after Rodgers was selected by the team after he slid down the first round as teams continued to pass on him. The debate heading into the draft was Rodgers or Alex Smith. The San Francisco 49ers held the top pick and were expected to grab a quarterback, but which one?
In the end, the Packers lucked out.
Ted Thompson selected Rodgers late in the first round, and Rodgers became the team's full-time starter in 2008. McCarthy's first losing season in Green Bay came in Rodgers' first year as the starter as the team finished 6-10. Two years later, they were Super Bowl champs.
The year after their Super Bowl title, the Packers went 15-1 but were bounced from the postseason in the NFC title game. McCarthy finished his career in Green Bay with a 135-85-2 record, playoffs included.
Rodgers appears to have had an issue with McCarthy from the start
In 2005, McCarthy was the offensive coordinator of the 49ers and had a hand in the team selecting Smith. After Smith was taken, Rodgers had the longest four-hour wait of his life before the Packers finally grabbed him with the 24th overall pick. According to former teammate Ryan Grant, Rodgers had an issue with McCarthy since that draft.
"Aaron's always had a chip on his shoulder with Mike," said Grant, according to Bleacher Report. "The guy who ended up becoming your coach passed on you when he had a chance. Aaron was upset that Mike passed on him — that Mike actually verbally said that Alex Smith was a better quarterback."
Grant said Rodgers always played with that chip on his shoulder. It rubbed people the wrong way sometimes, but it also made him into the quarterback he has become. "With Aaron, his chip on his shoulder and his sensitivity is actually what makes him great," Grant said. "It's part of what motivates him and who he is. So you can't knock it. Just because you like it in one direction doesn't mean you're going to like it in all directions."
McCarthy watches Packers drama from afar, calls it 'good news'
McCarthy has moved on from the Packers. After he sat out the entire 2019 season, the Dallas Cowboys hired him to take over for Jason Garrett as the head coach. While he's no longer connected to Rodgers, he's watched the drama unfold from a distance.
McCarthy didn't get into much detail on the situation, but he did take a page from Cowboys owner Jerry Jones' book. "I think it's like everything in this business," McCarthy said, according to Jon Machota of The Athletic. "I don't think anything ever surprises you, and I think things like that go on. Conversations are always going on when it comes to player acquisition. 
"Obviously, everyone knows the impact that Aaron Rodgers has made on the Green Bay Packers, but I didn't really give it much thought. I haven't seen anything happen, so it's a good news story. Jerry (Jones) told me when I got here, all news is good news."