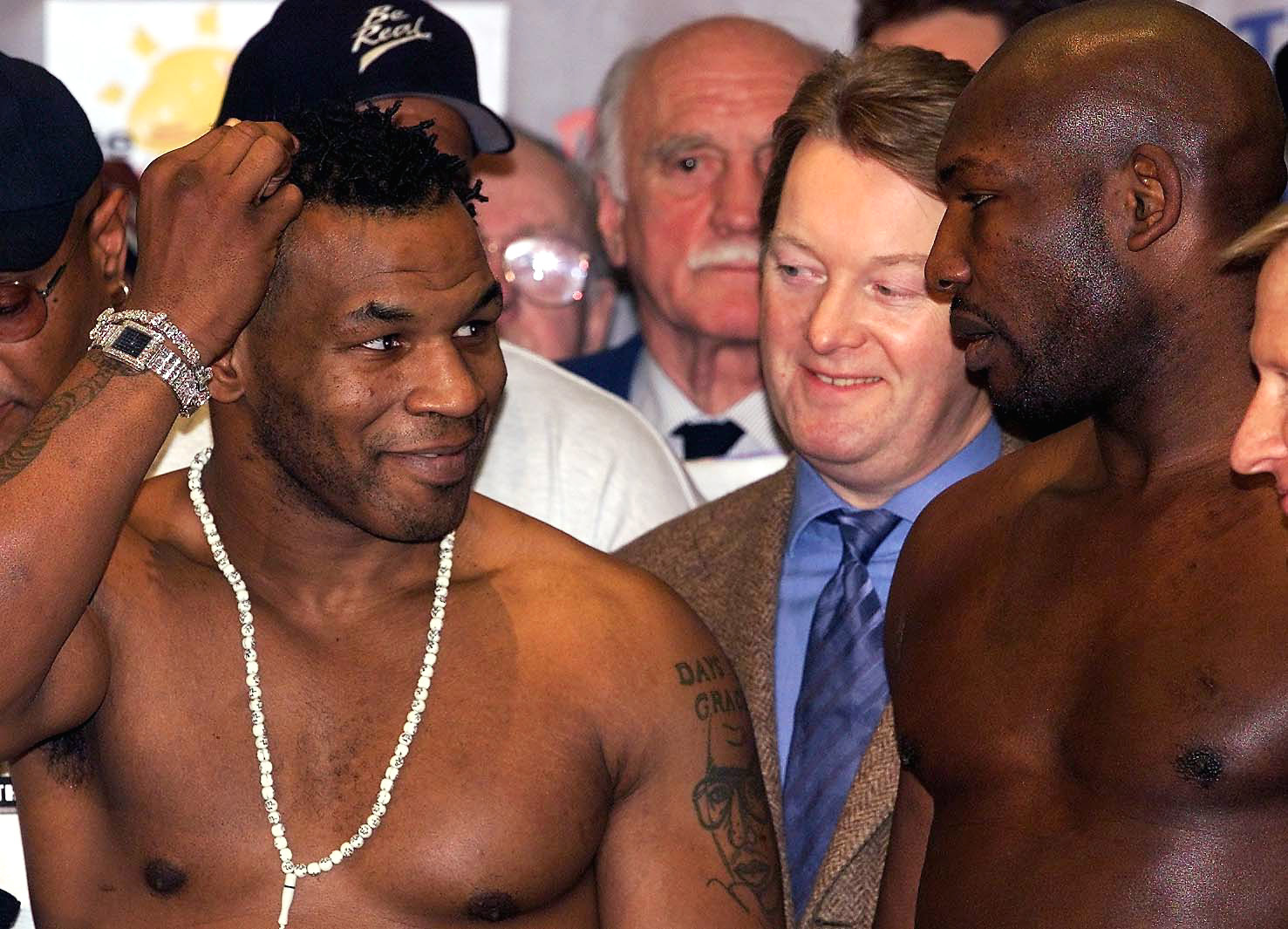 Mike Tyson Reveals Which Boxers Kept His Ego in Check
Former heavyweight boxing champion Mike Tyson said his ego was kept in check because of a couple of boxers.
Former heavyweight boxing champion Mike Tyson had his troubles outside the ring. Tyson also had some issues inside the ring. Just ask Evander Holyfield. Tyson was very dominant inside the boxing ring, but he revealed his ego was kept in check by a couple of boxers.
Tyson's punching power made him a star
Mike Tyson was one of the most dominant fighters in his day. His intimidation, combined with his power and his unpredictability, led to his success. He became boxing's youngest heavyweight boxing champion when he was 20 years old.
Not only was he a young champion, but he was feared. When opponents went into the ring with Tyson, they didn't last long. Tyson won the first 37 fights in his professional career. He won the first 19 of them via knockout. Twelve of those knockouts came in the first round.
Tyson suffered his first loss in fight No. 38 when he was shockingly knocked out by James 'Buster' Douglas in 1990. Tyson finished his career with 50 wins against six losses. Of his 50 victories, Tyson won 44 of them by knockout.
Prison time derailed Mike Tyson's boxing career
When Mike Tyson was upset by James ' Buster' Douglas in February of 1990, he tasted defeat for the first time as a professional boxer. His record fell to 37-1. Tyson then won eight straight fights to improve to 45-1. That eight-fight stretch, however, spanned more than six years as his career was put on hold because of a three-year prison sentence.
In February of 1992, eight months after he defeated Donovan Ruddock for the second straight time, Mike Tyson was found guilty of rape. Tyson was sent to prison after being found guilty of raping an 18-year-old beauty pageant contestant. He was sentenced to six years, but served just three and resumed his boxing career in 1995.
Tyson came out of prison and made quick work of Peter McNeeley and then won his next three fights. On Nov. 9, 1996, Tyson lost his second fight, falling to Evander Holyfield. It was the first of consecutive losses to Holyfield. Tyson was never the same boxer when he was released from prison. Beginning with the first Holyfield fight, Tyson went 5-5 in the final 10 fights of his career.
Tyson reveals two boxers who kept him in check
Mike Tyson won 50 fights as a professional boxer. His 50-6 record is impressive to most, but not to Tyson. In an episode on one of his podcats, Hotboxin' With Mike Tyson, the former heavyweight champ had to dig deep into boxing's history to become impressed.
"Sugar Ray Robinson had 40 fights, went 40-0," Tyson said. "And then he lost one fight, right? After he lost that first fight, he went 80 fights undefeated. You get a guy like Henry Armstrong. He defended his welterweight title 20 times – in two years. Five times in one month.
"Those are some monsters in the past. They put people like me in check. They put our egos in check. There's talk that (Tyson) is the baddest man on the planet, the greatest fighter God created, and then I look in the history books and I'm just talk."