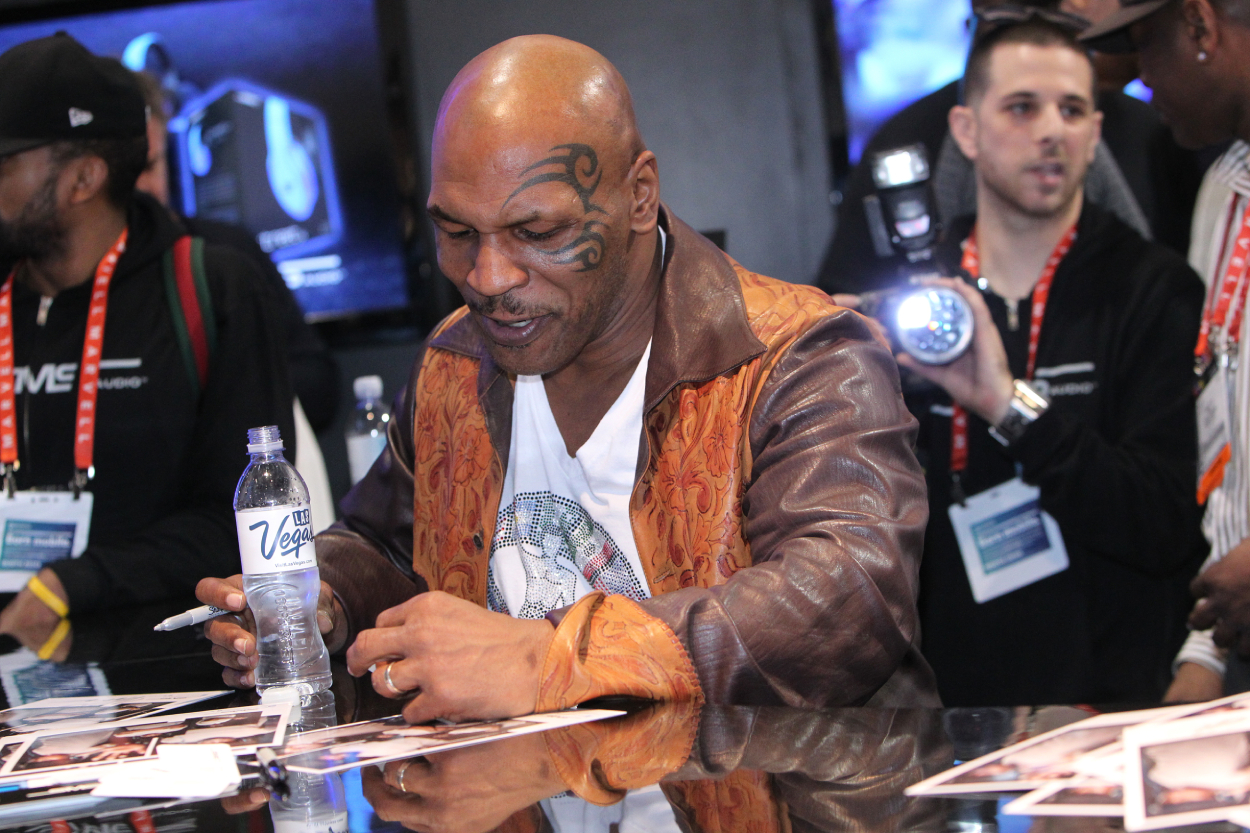 Mike Tyson to Saquon Barkley: '(The Devil) Is Your Master'
Former heavyweight boxer Mike Tyson played the role of therapist with Saquon Barkley, telling him the devil was his master.
Mike Tyson recently gave New York Giants star running back Saquon Barkley a little bit of advice. Barkley admitted he has a tough time letting go. He'll hold a grudge and cut ties with someone who does him wrong. Tyson took on the role of therapist and told Barkley he was taking the wrong approach. He explained why he was wrong and said it all started with the devil.
Mike Tyson has learned to change
Mike Tyson has led a roller-coaster of a life. Tyson was arrested more than 30 times before he was a teen and learned to box in a juvenile detention center. After his mother died when he was 16, Tyson was taken under the wing of legendary boxing trainer Cus D'Amato.
Tyson became the youngest heavyweight boxing champion of the world. He did so in dominant fashion. Tyson won the first 37 of his professional fights and the first 19 of them were by knockout. Twelve of those knockouts occurred in the first round. Tyson's win streak was ended when he was shockingly knocked out by James 'Buster' Douglas in February of 1990. Less than two years later, Tyson went to prison, serving three years for rape.
He returned to the ring and was never really the same boxer. In fact, he's never been the same 'Iron Mike' Tyson he was in the ring. "When I was your age, I wanted to be a savage," Tyson recently told New York Giants running back Saquon Barkley on his podcast, Hotboxin' With Mike Tyson. "I wanted everyone to be afraid of me. Now I want everyone to love me."
Barkley hoping to bounce back from a serious knee injury
After a stellar career at Penn State, Saquon Barkley was a first-round pick in the 2018 NFL draft. He was the second overall pick taken behind quarterback Baker Mayfield. As a rookie, Barkley had himself a monster season. He rushed for 1,307 and 11 touchdowns while catching 91 passes for 721 yards and four more scores.
Barkley missed three games in 2019 with a high ankle sprain and then was hurt in Week 2 this year against the Chicago Bears. Barkley went down with a serious knee injury and missed the remainder of the season. On Mike Tyson's, Hotboxin' With Mike Tyson podcast, Barkley said he believes he's come back stronger than ever.
"I tore my ACL, my MCL, and my meniscus," Barkley told Tyson. "Everything happens for a reason. I'm a firm believer in that. Adversity is going to come in everyone's life and you've gotta welcome it and accept the challenges. That's something I'm facing now and I'm going to try to use it to catapult me to be a better player than I was."
Tyson tells Barkley that the devil is his master
During their conversation on Hotboxin' With Mike Tyson, Saquon Barkley was telling Tyson how he holds a grudge. If someone screws him over, he told Tyson he has no problem cutting ties with them. Tyson said Barkley was taking the wrong approach. When co-host Jeremy Piven said Tyson had people who took advantage of him and Tyson never held a grudge, Barkley said he didn't know if he could do that.
"If you do me wrong, cross the line, I cut ties," Barkley said.
"The devil wins," Tyson interrupted. "The devil wins."
"So you're saying the devil wins because someone did me wrong and I cut ties with that person?" Barkley asked. "I have to be the bigger person?"
"It's because he changed you," Tyson said. "He's your master because he controls your emotions. He's not your enemy, he's your master because you're not who you used to be now. He stole that away from you. He can't do that if you allow him to. If you think you're great now, watch how great you're going to be when you learn compassion, empathy."
All stats courtesy of Pro Football Reference.