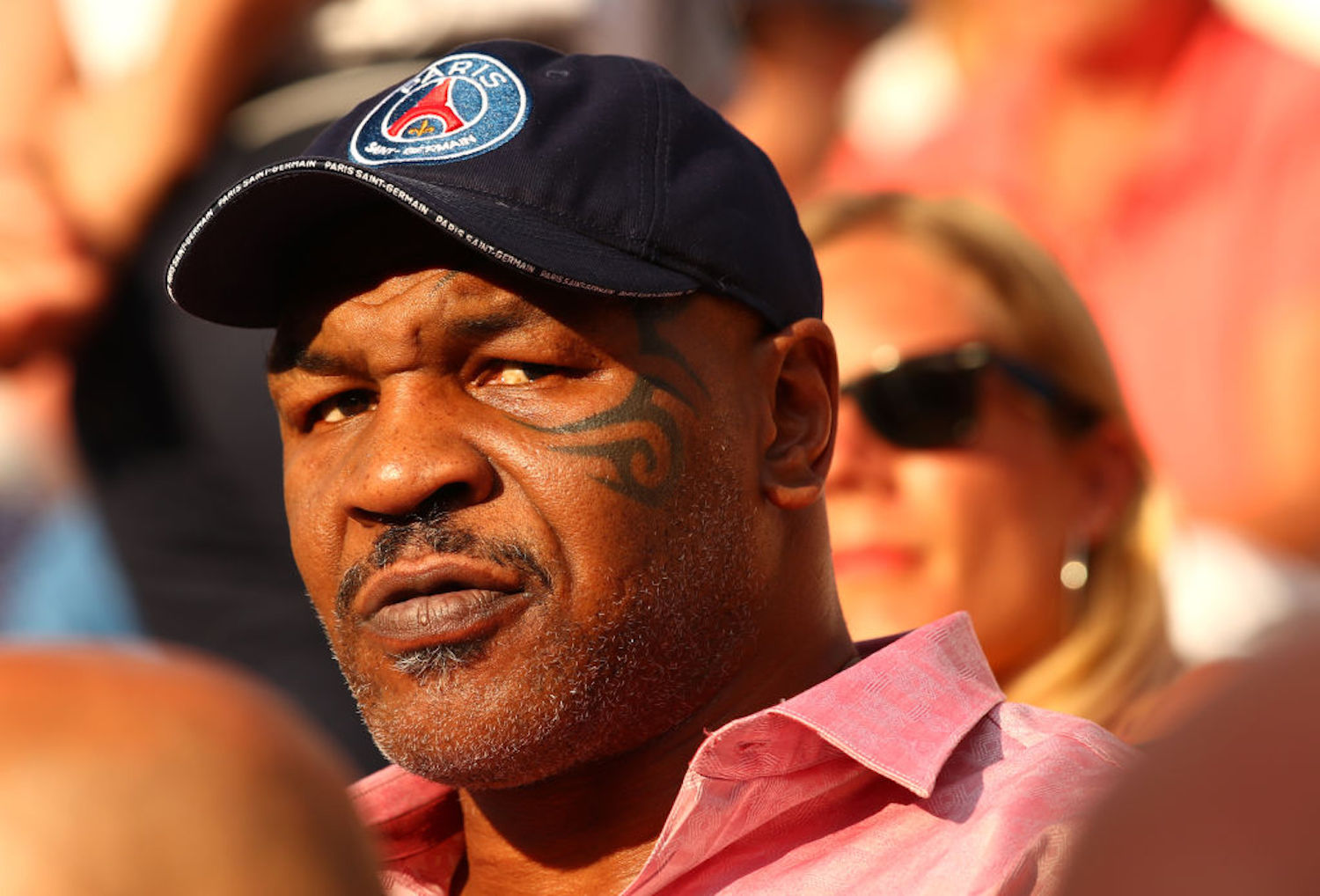 Mike Tyson Was So Scared of His Last Opponent He Vomited Before the Fight
Mike Tyson might be the scariest boxer to ever live, but his last opponent made him so nervous that he vomited before the fight.
Mike Tyson is one of the scariest humans — not just boxers — to ever live. His right hook put the fear of God into his opponents in the ring. "Iron Mike" was never one to back down from a challenge, either. He wanted to beat the biggest and baddest fighters in the sport during the height of his powers, and for the most part, he did.
But when Tyson faced off against his most recent opponent, he couldn't control his fear. Before Tyson jumped in the ocean to fight a shark for Discovery's "Shark Week," he was so nervous he actually vomited.
Mike Tyson faced off against a shark for Discovery's "Shark Week"
On Sunday, Aug. 9, Mike Tyson kicked off "Shark Week" by jumping into shark-infested waters and facing an oceanic killer face-to-face. The 54-year-old boxing champion trained for over a week to face his toughest opponent yet.
Tyson is notoriously scared of the ocean. He doesn't even like to put his foot in water knowing what could be out there. On Sunday, he faced his biggest fear and jumped right in.
"I was scared all the way through and was just trying to get through it alive," Tyson told the New York The Post. "I'm a scary guy but not when it comes to adventurous stuff. One shark kept bumping me and I'm like, 'What the hell do you want?'"
Tyson dropped down into the ocean inside a cage first, but he eventually dove right in with the underwater beasts with no protection.
Mike Tyson was so scared of his underwater opponent he vomited on the boat
Tyson trained with experts in advance of his encounter with killer sharks, but nothing could prepare him for the anxiety and fear that struck him before the moment of truth.
As Tyson was about to jump in the water for the first time, he had his weakest moment as a competitor to date. Tyson got so scared of his underwater opponent that he vomited on the boat before diving into the water.
Discovery cameras caught the embarrassing moment on camera.
After decades of instilling fear into his opponents in the ring, Tyson finally learned what it felt like to be on the other side of the fight. It's safe to say he'd rather fight humans from now on.
Tyson remained the heavyweight champion and "KO'd" a shark
It might've taken Tyson a little while to face his fears, but he eventually dove into the shark-infested waters with no cage. He even "KO'd" a shark by putting it to sleep, just in a different way than he's used to.
Tyson grabbed a female shark as she swam by and started to tickle her nose. This is a tactic used to calm sharks down and put them to sleep. Tyson eventually got the shark to stop squirming and fall asleep, as he notched his must unique knock out to date.
It wasn't exactly the fight fans were hoping for, but Tyson still faced his biggest fear and came out on top, as he always does.