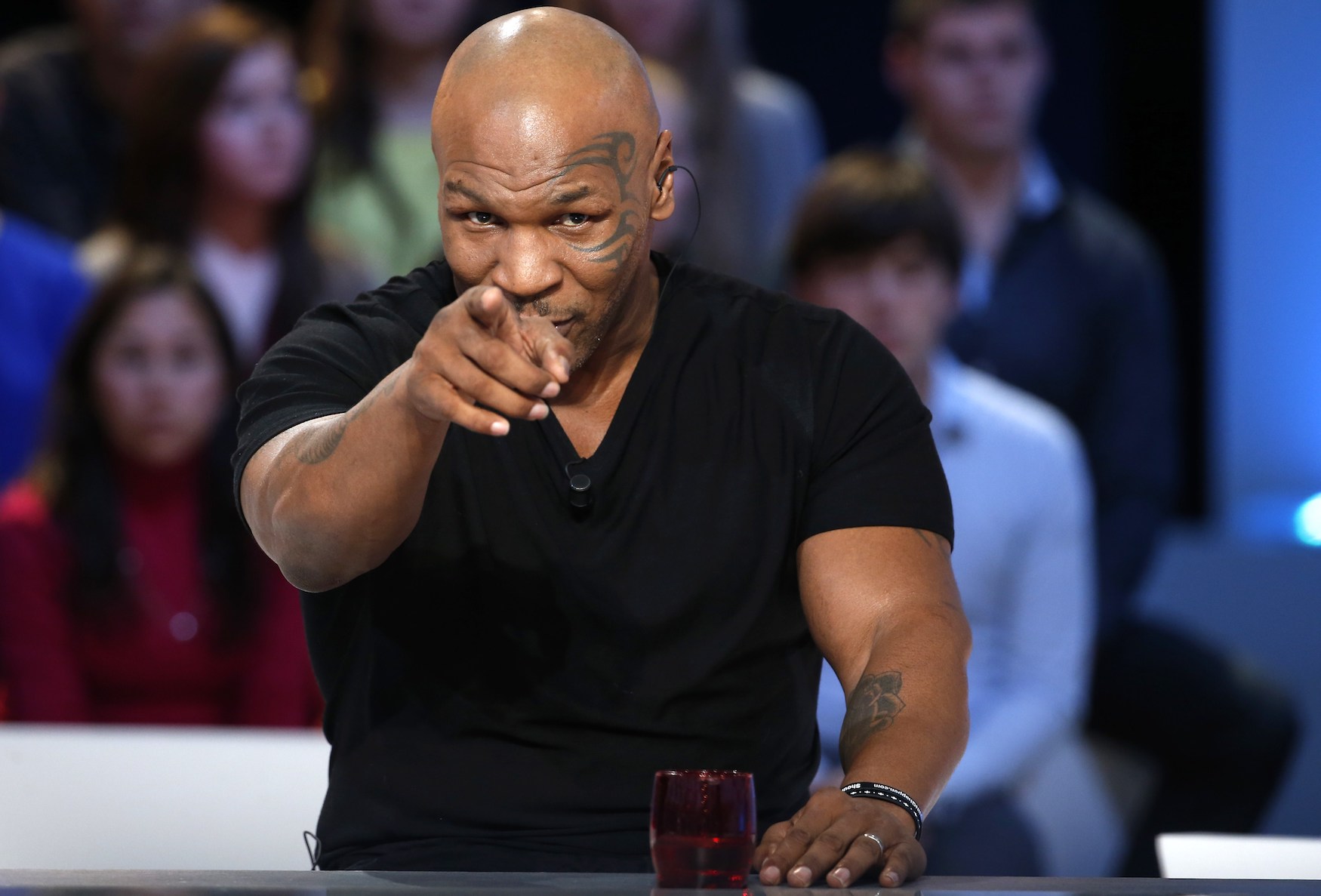 Mike Tyson Believes That He Could Beat Both Rocky Balboa and Conor McGregor in a Boxing Match
Ahead of his comeback fight with Roy Jones Jr. Mike Tyson believes that he could beat "anybody" in a fight, including Rocky and Conor McGregor.
While he's become a bit of a meme in recent years, Mike Tyson was once one of the most fearsome fighters to ever step into the ring. During his prime, Iron Mike could dispatch virtually any opponent in a matter of seconds; with a comeback against Roy Jones Jr. on the cards, the former heavyweight champ still has plenty of confidence in his abilities.
In a recent interview with Jimmy Fallon, Tyson was asked about how he would fare in a fight against some marquee names. Never short of confidence, he boldly claimed that he could beat the likes of Rocky Balboa and Conor McGregor.
Mike Tyson was once one of boxing's most fearsome fighters
In 2020, Mike Tyson has become more of a pop-cultural figure than an athlete. That current reality, however, shouldn't overshadow just how dominant he looked during his prime.
Tyson grew up in Brooklyn but, after frequent run-ins with the law, found himself in upstate New York at the Tyron School for Boys. While that could have ruined his life, it actually set Iron Mike on the path to fame and fortune.
At Tyron, Tyson sought out Bobby Stewart, a former boxer working as a counselor. The teenager wanted to learn the sweet science from a former pro; after a few lessons, however, Stewart realized that he was working with someone special.
Stewart introduced Mike to Cus D'Amato, changing the course of boxing history. The legendary trainer realized Tyson had incredible strength, but raw power alone doesn't make a champion; that's where the peek-a-boo technique came in.
Armed with his brute strength and newfound defensive discipline, Tyson claimed two Junior Olympic gold medals and turned pro. While things eventually collapsed in dramatic fashion, Iron Mike still established himself as one of the most fearsome fighters we've ever seen; when you pile up 44 career knockouts and earn the title of 'the baddest man on the planet,' you're probably pretty tough.
Comebacks against a great white shark and Roy Jones Jr.
For all of Mike Tyson's success, it's been a while since we've seen the former heavyweight champ set foot in the ring. This year, however, Iron Mike will be mounting a comeback.
As part of Discovery Channel's Shark Week, Tyson will take on a great white shark. While it's no abundantly clear what will actually happen—Michael Phelps once 'raced' against a virtual shark in a similar special—the boxer did "equate [facing a shark] with overcoming [his] fear of getting back into the ring at 54 years old."
He'll be able to put that experience to the test in September. After teasing a comeback earlier this year, Tyson is set to face Roy Jones Jr. in a boxing match; while both men are past their prime, they should still have plenty of talent left in the tank.
Mike Tyson believes he can beat anyone, including Rocky and Conor McGregor
Even if Mike Tyson has lost a step from his prime, the former champ isn't short on confidence. In a recent interview, Jimmy Fallon asked Iron Mike how he would fare against some famous fighters; unsurprisingly, he picked himself to beat them all.
Fallon began Rocky Balboa, arguably the most famous fighter of them all; Tyson claimed that he would "kick Rocky's butt," "slaughter," Philadelphia's favorite son, and "lay him out." Iron Mike also noted that he would dispatch Ivan Drago with ease because the Russian's massive muscles would slow him down.
Fallon then moved on to real-world opponents, asking Tyson about facing Conor McGregor. While the Irish welterweight does have a boxing background, Iron Mike didn't seem too concerned. "Yeah [McGregor is nuts]," Tyson said, "but I'm gonna kick his ass anyway."
While Tyson did have some doubts about his ability to beat Daniel LaRusso from The Karate Kid, he didn't seem short of confidence on the whole.
"I'm ready man, I think I could beat anybody who ever lived," Tyson said. He'll be able to put that confidence to the test against Roy Jones Jr. this September.