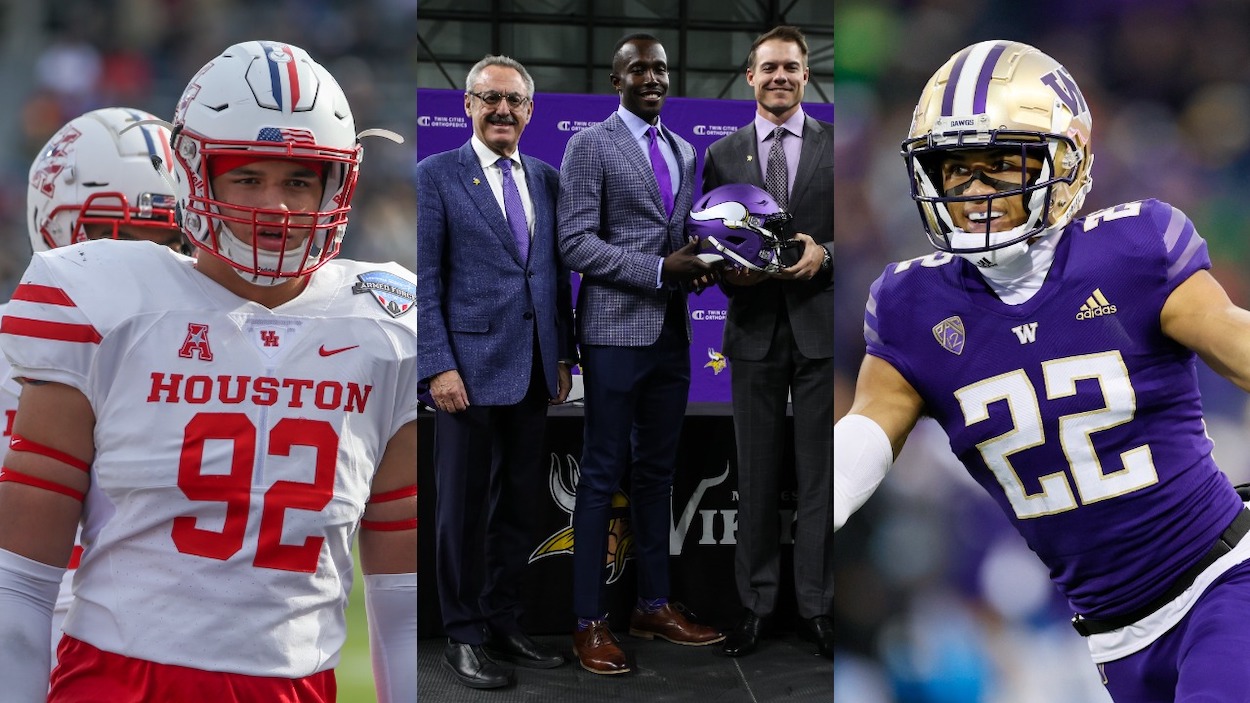 Minnesota Vikings 3-Round Mock Draft
In this three-round Minnesota Vikings mock draft where the team addresses its biggest needs but doesn't get its top choices in Round 1.
The first three rounds are the most important picks in any Minnesota Vikings mock draft. After that, the team doesn't have a fourth-round selection, and players from the fifth-round on are mostly a crapshoot.
In the 2022 NFL Draft, new general manager Kwesi Adodfo-Mensah and head coach Kevin O'Connell will have their chance to fill needs and make their mark on the franchise. That means picking a cornerback, edge-rusher, and interior offensive lineman in this draft. If the Vikings' new management can get starters in these three areas of need with their first three picks, this draft will be a major win for the organization.
The good and bad news is that this draft is relatively deep at all three of these positions. This means there will undoubtedly be players at these positions available at each of the team's three picks. However, it also means other teams are targeting these areas, too, and the Vikings' favorites might be gone before the team picks.
With all that in mind, here is a Minnesota Vikings mock draft showing how the first three rounds could play out.
Round 1, No. 12 overall: Trent McDuffie, CB, Washington
The 2022 NFL Draft has 1A and 1B cornerback prospects in Cincinnati's Ahmad "Sauce" Gardner and Derek Stingley Jr. from LSU. The clear No. 3 is Washington's Trent McDuffie. As corner is the team's biggest need, that's where Kwesi Adodfo-Mensah and Kevin O'Connell will go first.
If Gardner or Stingley is there at No. 12, look for Adofo-Mensah — who played college basketball at Princeton — to show off his 40-time sprinting to the podium to hand in his card. Unfortunately for the Vikings, post-combine, it looks like the top two CBs moved into the top 11 of this year's draft.
Taking McDuffie in this Minnesota Vikings mock draft shouldn't make fans fret, though. The California native was a top 20 corner coming out of high school and started all three seasons as a Washington Huskie, per Go Huskies.com. In 2021, he made the All-Pac-12 first team and was named his team's Most Outstanding Defensive Player.
The 5-foot-11, 193-pound McDuffie — who's not as big as Gardner or Stingley — ran a solid 4.44 40-yard dash at the combine. He also showed off his athleticism and toughness in college, racking up 94 tackles in 28 career games.  
One area Vikings fans will want to see improvement in is his catching. McDuffie had a solid 10 passes defended in college, and he didn't allow any receiver he covered to score a touchdown in his last two seasons in Washington. However, he only had two career interceptions at Washington.
Round 2, No. 46 overall: Logan Hall, EDGE, Houston
An edge rusher should be part of any Minnesota Vikings mock draft, whether the team keeps Danielle Hunter or not or signs Za'Darius Smith or not. You can never have enough pass rushing in the NFL these days and as Hunter and Smith are both seven-year NFL vets, adding a young rusher to the mix is a solid idea.
New defensive coordinator Ed Donatell has run both 3-4 and 4-3 schemes in his career. The Vikings are set up for a 4-3, but by adding a versatile player like Smith and others, Minnesota could show more hybrid looks in 2022. That's why the one-of-a-kind, 6-foot-6, 283-pound Logan Hall from Houston should be the pick here.
Hall put up 6.5 sacks in his senior season, per UCougars.com, which was a significant improvement from his junior year, and shot him up draft boards. His athleticism for a big man and scheme versatility is also causing his stock to rise. He could conceivably play defensive end in a 4-3 or 3-4 or defensive tackle in a 4-3. This makes him ideal for the Vikings as a developmental pass-rusher who can also play a role this season even if Hunter and Smith are on-board.
Round 3, No. 77 overall: Dylan Parham, C/G, Memphis
In this Minnesota Vikings mock draft, the team got a little unlucky with the top two CBs going off the board before the No. 12 pick. So, let's have the organization get a little luck with versatile interior offensive lineman Dylan Parham slipping a few spots past his consensus ranking — somewhere in the mid- to high-60s — and making it to the Vikings at No. 77.
Parham is an athletic and versatile lineman (see a trend here?) who played at right tackle, right guard, and left guard at Memphis after playing tight end and linebacker in high school, per GoTigersGo.com. At 6-foot-3, 311-pounds (he played at 285 in college), Parham projects as an NFL center, although he's never played the position competitively before. This is a reason he may drop in the third round.
With his experience at multiple positions, though, wagering that Georgia native will pick the center position up seems like a good bet.
At worst, Parham should give the team a sixth or seventh lineman who can come in at any spot during a game and hold it down for a few quarters. At best, he can turn into a legit starting C or even OG.
Like Sportscasting on Facebook. Follow us on Twitter @sportscasting19