Upset About Missing Key Daytona 500 Action? Dale Earnhardt Jr. Puts Some of it on Announcers
NASCAR topic No. 1 on Sunday was Ricky Stenhouse Jr.'s Daytona 500 win. Topic No. 2 – by a margin closer than the distance between Stenhouse and runner-up Joey Logano – was fans' frustration with the commercials during the Fox Sports telecast.
Stenhouse winning for the first time since 2017 was surprising. Complaints about commercials have been constant the past few seasons. Surprisingly, Dale Earnhardt Jr. pins some of the responsibility on the announcers calling the races.
Complaints were up by a lot, commercials by a little
Perception is reality for NASCAR fans. They feel as though Fox Sports crammed far more commercials into last weekend's Daytona 500 than in races from recent seasons, so it was a topic on social media and in reader comments attached to online stories.
However, information posted on Twitter (see above), which we haven't independently verified, showed the number of laps missed was approximately unchanged from races in 2001 and 2010. Additionally, "side-by-side" commercials have replaced some of the complete departures from previous coverage.
Perception comes into play because there were lengthy breaks in the first half of the race. It's called "front-loading," and Fox and NBC both do it in their NASCAR Cup Series coverage.
Some complaints may stem from quasi-commercials, such as going to a sponsored in-car camera of a mid-pack driver for 30 to 60 seconds or posting a graphic of how the Toyotas are doing.
Dale Earnhardt Jr. says announcers call some of the shots on commercials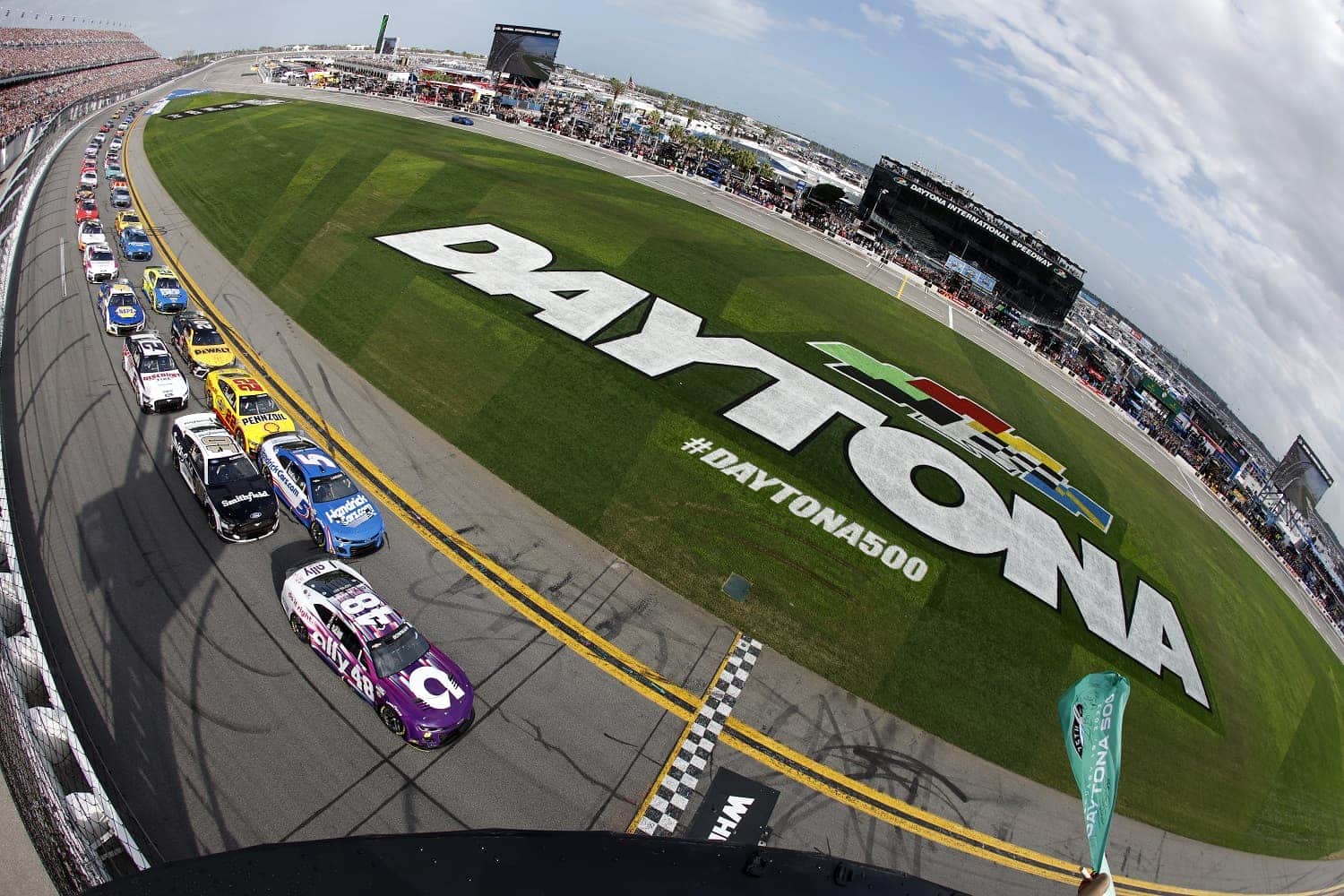 Hall of Fame driver Dale Earnhardt Jr., an analyst on NBC's NASCAR Cup Series coverage, made an interesting revelation on his Dale Jr. Download podcast by explaining that producers in the control truck sometimes ask the announcers if it's a good opportunity to take a commercial break. While no one can reasonably anticipate a wreck, announcers can sometimes project that there's a potential lead change coming.
"If they think the lead changes happen, they'll try to hold off," Earnhardt said. "Usually, they take a little direction from the booth. 'Clint Bowyer, Tony Stewart, what are you feeling? They about to wreck? We need to stay here?'"
Unfortunately for Fox, the network was in a commercial break when Kyle Larson took the lead from teammate Alex Bowman on Lap 11 in the day's first major development. There were 50 subsequent lead changes, but plenty of complaints focused on that instance.
Though you can't put that one squarely on the announcers because of the pack racing on superspeedways, lead changes do frequently get missed elsewhere.
The only commercials during the last 40 laps on Sunday came during yellow-flag laps. Still, fans continue to compare NASCAR coverage to ESPN's uninterrupted presentation of Formula 1 races. The difference, of course, is that Fox and NBC pay much more for NASCAR broadcast rights than ESPN does for F1.
"It's expensive to put on these races," Earnhardt said regarding in-race ads. "Sometimes, though, I get, just the frequency of it, or how it's done. Could it be done differently to where we don't step away from where the action really is?"
Viewership was down, but not in a disastrous way
Viewership for the 2023 Daytona 500 declined 8% from a year ago, continuing a long-term trend faced by many major sports. The growth of cable TV and the ascension of streaming options has diluted the audience, and the latter will be an ongoing challenge.
However, Show Buzz Daily reported Fox's racing telecast swamped everything airing on Sunday with 8,173,000 viewers. CBS news show 60 Minutes was second at 6,821,000. And the percentage of TVs in use that were tuned in to the race was the highest for the Daytona 500 since 2016.
It's worth noting that Tiger Woods fired a third-round 67 on Saturday in the Genesis Invitational, which helped the tournament hold on to more viewers than normally would have watched on Sunday. Woods was likely responsible for the tournament's 31% gain in viewership from a year ago.
Woods undoubtedly mattered to the PGA Tour event more than Jimmie Johnson and Travis Pastrana mattered to the 500.
Got a question or observation about racing? Sportscasting's John Moriello does a mailbag column each Friday. Write to him at [email protected]