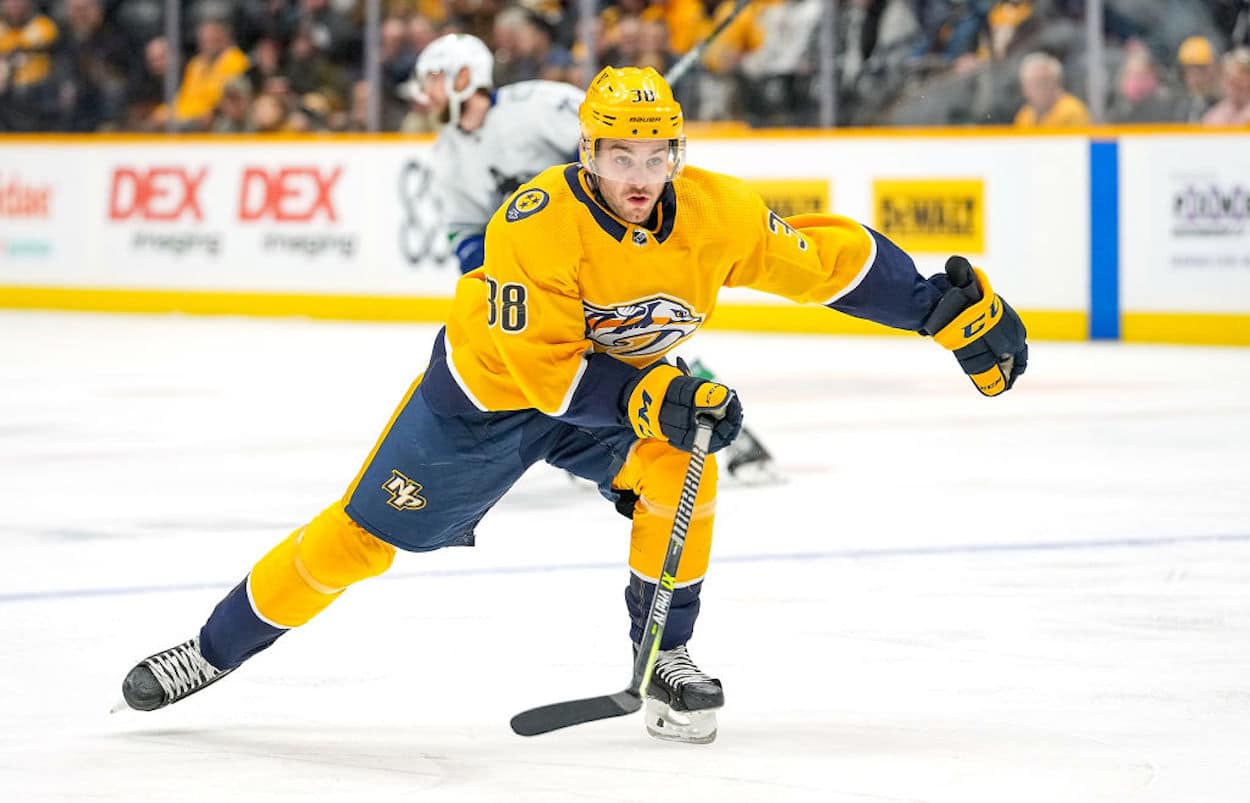 The Most Bizarre Story of 2022 NHL Free Agency Involves the Buffalo Sabres, a Staples Printer, and a 25-year-old Defenseman
NHL free agent can be boring, but it can also produce some bizarre moments. Take Jeremy Davis and his sprint to Staples as an example of that.
With all due respect to the NHL, the league's annual free agent frenzy is more of a gentle murmur than an explosion of action. While you can debate the reasons behind that — Do NHL contracts keep most stars stationary until they're older and less impactful? Does hockey's randomness mean one player simply makes less of a difference? — there's simply not that much to see. This year, however, we did get one bizarre story.
Jeremy Davies isn't a household name. The Buffalo Sabres aren't exactly a marquee franchise. Staples isn't exactly the most glamorous shopping destination. But those three combined to create one of those moments that make professional sports feel a bit more human.
Jeremy Davies had to run to Staples to square away his NHL contract
Thanks to the march of technological progress and the pandemic, more and more things have moved online. NHL contracts, however, are still pieces of paper. While that makes sense — when you're exchanging millions of dollars, it's probably best to have a physical copy of things — it can still cause some logistical problems in today's world.
That's exactly what Jeremy Davies experienced.
During 2022 free agency, the defenseman received a contract offer from the Buffalo Sabres. There was one issue, though. He didn't have a printer to sign on the dotted line.
As seen in a TikTok clip that's made its way around hockey Twitter, Davies and his girlfriend don't own a printer. That meant they needed to head to their local Staples, print out a copy of the deal, and (presumably, since we don't see it in the video) fax it back to Buffalo.
While that might seem goofy, there was an element of stress at play. The TikTok caption alluded to getting the contract signed "before they change their minds." It's not clear if Davies had to return the paperwork within a set timeframe, but given his lack of a real NHL resume (he played 22 games across since being drafted in 2016), it's reasonable to assume the Sabres wouldn't cut him that much slack.
With all of that being said, though, it seems like everything is squared away. The Sabres confirmed that the defenseman has joined the club on a one-year, two-way contract worth $750,000
That might not seem massive by pro sports standards, but it's more than enough to buy a printer and a ream of paper.
Like Sportscasting on Facebook. Follow us on Twitter @sportscasting19 and subscribe to our YouTube channel.