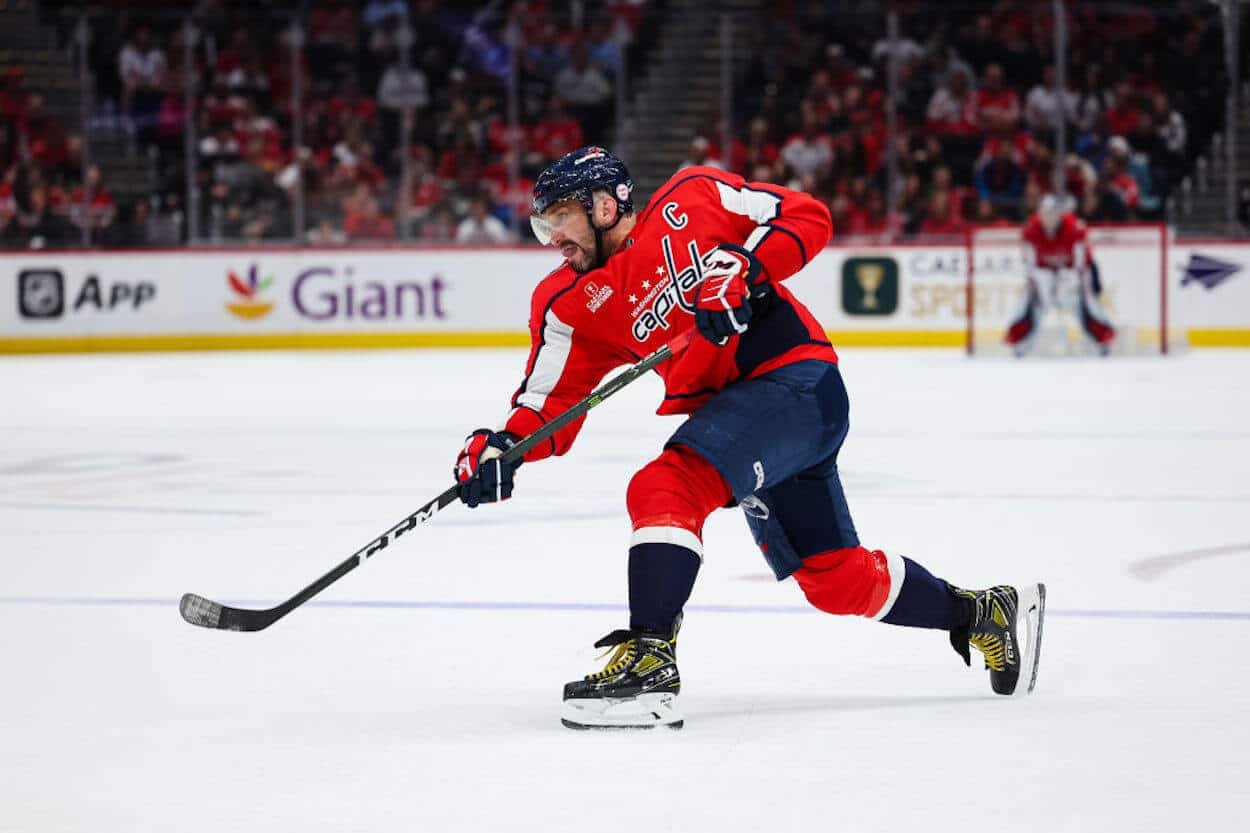 The 10 Most Expensive NHL Contracts of All-Time
They don't make the most money in pro sports, but the highest-paid NHL players still pull in serious cash. Let's look at some of the contracts.
While professional athletes make a good deal of money, things are a bit different for NHL players. Hockey, like it or not, isn't as highly regarded as other sports. That, in turn, means that most salaries within the ice game are a bit smaller. Is it still a sweet deal to earn millions of dollars per season? Of course, but you're not going to see Patrick Mahomes-level contracts here.
Don't believe us? Well, let's check out the 10 most expensive contracts in NHL history, and you'll see exactly the financial realities we're dealing with.
10. David Pastrnak: $90 million
While it's not exactly ground-breaking, goals win hockey games. And since it can be tough to put the puck in the back of the net, the guys who can consistently do so are handsomely rewarded. Pastrnak is one of those.
The Czech forward first joined the Boston Bruins during the 2014-15 campaign, and he quickly proved to be a capable scorer. Pasta, as he's affectionally known, only improved from there, though. He comfortably established himself as a 30+ goal scorer and even earned the Maurice Richard Trophy in 2019 as the league's top marksman.
During the 2022-23 campaign, Pastrnak inked an eight-year, $90 million extension, keeping him in Boston for the foreseeable future. Fittingly, he finished the season with a career-high 61 goals and 113 points. Talk about earning your keep.
9. Erik Karlsson: $92 million
In hockey, it's easy to think of a defenseman as someone who simply plays defense. Erik Karlsson, however, helped to prove that blueliners can do so much more.
After cutting his teeth in Sweden, Karlsson moved to North America and joined the Ottawa Senators. He had some success there, earning two Norris Trophies as the league's top defenseman and pushing past the 70-point plateau on multiple occasions, but was ultimately traded to the San Jose Sharks in 2018.
While his time in California has proved to be somewhat of a mixed bag — Karlsson has dealt with some injuries, and the Sharks never reached the promised land, but he's still a capable offensive player — the Swede is still shining. He inked an eight-year, $92 million extension in 2019 and potted a career-high 101 points during the 2022-23 campaign.
T-8. Zach Parise: $98 million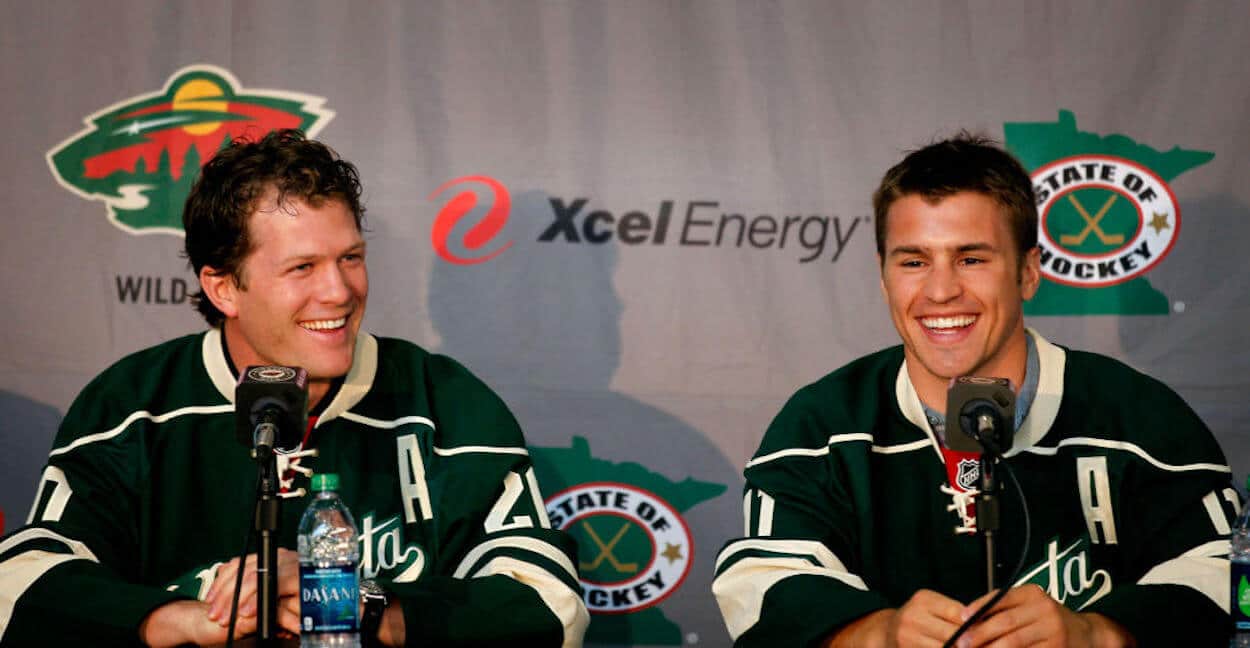 Zach Parise has been around the NHL for quite a while, and he's certainly earned his fair share of money.
The forward made a name for himself in New Jersey, where he rose through the ranks to establish himself as a reliable scorer and the team captain. That status, however, didn't amount to much in free agency. Parise left the Garden State in 2012, signing a big-money contract with the Minnesota Wild. He and Ryan Suter (We'll get to him shortly) were supposed to push the franchise to the next level.
Despite some postseason runs, the Wild never reached the promised land. Parise's production declined — he was never a bad player but didn't live up to the 13-year, $98 million hype — and was eventually bought out. The forward then headed to Long Island, reuniting with former Devils boss Lou Lamoriello and providing the Islanders with some veteran leadership.
T-8. Ryan Suter: $98 million
Remember how I mentioned Ryan Suter being the other cornerstone of the Minnesota Wild's project? Well, he signed the same 13-year, $98 million deal with the club that Parise did. And, unfortunately for all parties involved, the defenseman followed a similar trajectory.
Suter had shone in Nashville and did see some success after moving to Minnesota. He was in the hunt for some Norris Trophies, set a franchise record for the most points as a defenseman in a single season, and tallied a career-high 51 points on two separate occasions. Ultimately, though, his contract had to be judged against the team's success; as we've established, the Wild never made it over the hump.
In July 2021, Suter's contract was bought out on the same day as Parise's. The blueliner promptly signed a four-year deal with the Dallas Stars, where he's continuing his NHL career.
T-6. Connor McDavid: $100 million
When we're talking about the biggest contracts in league history, we're bound to touch on some busts. Connor McDavid, however, is decidedly worth the $100 million he's earning across eight years (at least in sporting terms).
The center joined the Edmonton Oilers as the first overall pick of the 2015 NHL draft and promptly established himself as a star. He's improved season over season and built upon a rare blend of speed and overall offensive talent to become one of the league's top scorers. He's capable of potting 100+ points with ease — he set a career-high with 153 during the 2022-23 campaign — captains the team, and, by all accounts, is a pretty good guy in the room.
And the scariest part? Not only is it possible that he'll keep improving — he's 26, which should still put him sort of his prime — but he'll definitely earn an even larger contract when his current deal expires in 2026.
T-6. Ilya Kovalchuk: $100 million
For most people, a $100 million contract is already massive. Believe it or not, Ilya Kovalchuk's deal could have been even bigger.
Kovalchuk's North American career started with the Atlanta Thrashers (remember them?), but the franchise ultimately traded him to the Devils rather than letting him hit free agency. When the summer arrived, New Jersey inked the sniper to a record-setting deal worth $102 million across 17 years.
But wait, you may be saying, you have him listed as a $100-million earner. The NHL actually voided that deal on the grounds that it was designed to circumvent the salary cap. Ultimately, Kovalchuk and the Devils agreed to a valid contract worth $100 million across 15 years. He would only play three seasons of that contract before retiring from the NHL to continue his career in Russia.
The left wing eventually returned, spending some time with LA Kings, Washington Capitals, and Montreal Canadiens from 2018 through 2020, but he never reached the same heights (statistically or financially) again.
4. Nathan MacKinnon: $100.8 million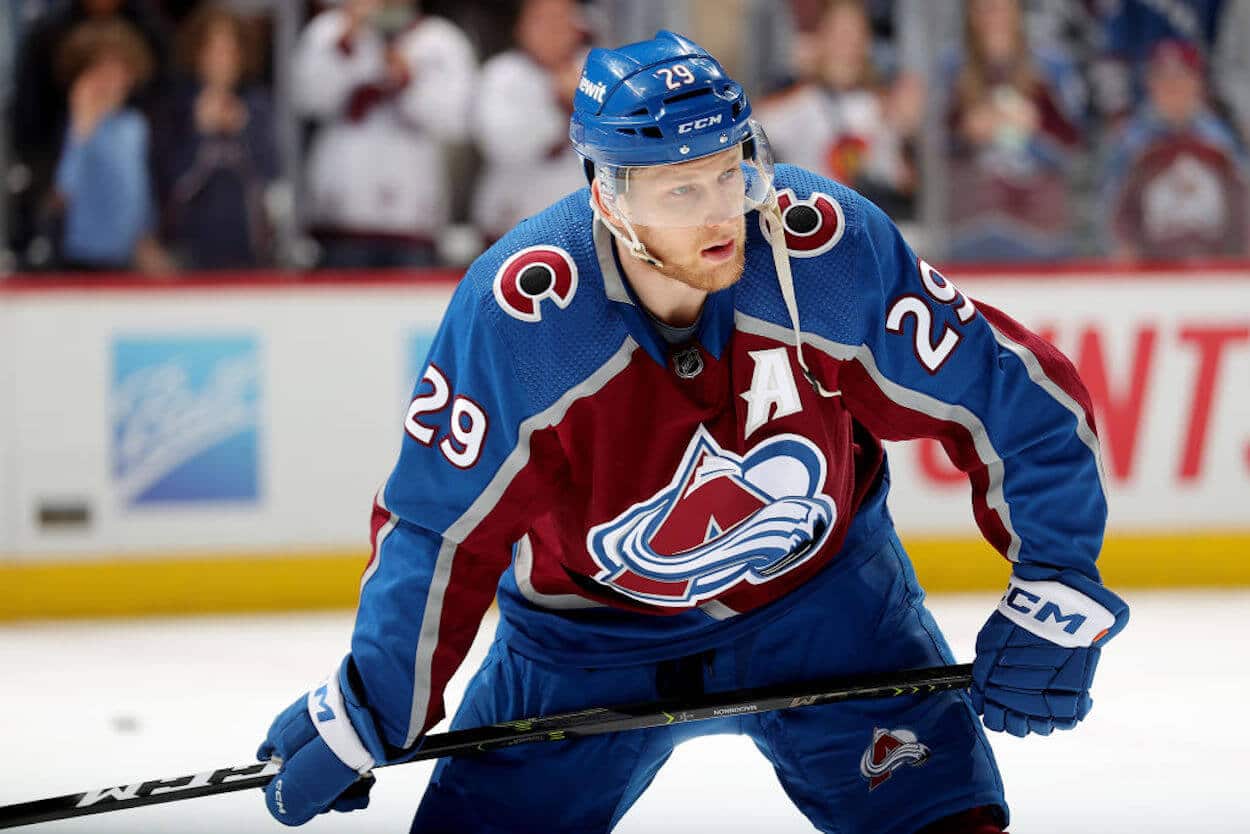 While Colorado might not be the biggest sports market around, the Avalanche have had plenty of talented players take the ice since they moved west from Quebec. Nathan MacKinnon is a contemporary example of that.
The forward joined the Avs as the first overall pick of the 2013 NHL draft and has lived up to the hype. He scored 63 points as a rookie, earning Calder Trophy honors, and continued on from there. There was a brief hiccup — MacKinnon fell below that initial high-water mark for the following three seasons — his upward trajectory eventually continued. Since the 2017-18 campaign began, the Halifax native only tallied fewer than 90 points once, and that was 65 markers during a 48-game 2020-21 season. He also played a key role in the Avalanche lifting the 2022 Stanley Cup.
On the back of that success, Colorado inked MacKinnon to an eight-year, $100.8 million deal. That (comparatively) abbreviated term made him the highest annual earner in the league.
3. Sidney Crosby: $104.4 million
Every league has a handful of players who transcend the bounds of fandom to be known by the general public. Sidney Crosby, whether you like him or not, has certainly reached that level.
While Sid the Kid arrived in the Steel City with plenty of hype around him, he still managed to make a splash. He potted 102 points as a rookie but incredibly fell short of the Calder Trophy. Whether that was motivation or not, Crosby improved during his sophomore campaign, piling up 120 points to earn the scoring title, Hart Memorial Trophy, and Lester B. Pearson Award.
Since then, Crosby's resume has only swelled. He's won three Stanley Cups, two Art Ross Trophies, two Hart Trophies, two Conn Smyth Trophies, and countless other honors. He's also recorded more than 1,500 points in the NHL and has essentially been the face of the league for nearly two decades.
With all of that being said, is it surprising that he's on a 12-year, $104.4 million contract with the Pittsburgh Penguins?
2. Shea Weber: $110 million
While they're rarely seen, the NHL collective bargaining agreement allows for what's known as an offer sheet. That lets any team put in an offer on another club's restricted free agent. If the player signs, his current club can either match the offer and sign him to a contract or allow him to leave and collect compensation.
That's how Shea Weber's 14-year, $110 million behemoth of a contract came to be. The defenseman made a name for himself in Nashville, establishing a reputation for a booming point shot  and a physical presence on the back end. So, when the 2012 offseason arrived, and the Predators were unable to take the Canadian to arbitration, the Philadelphia Flyers swooped in with an offer sheet. Nashville made the decision to match, not wanting to lose both Ryan Suter and Weber in the same summer, and the rest is history.
The blueliner stayed in Tennessee until he was shipped north to Montreal in exchange for P.K. Subban. Weber played five seasons with the Habs, serving as their captain and helping the club reach the Stanley Cup Finals, but injuries eventually proved to be too much. His contract was traded to the Vegas Golden Knights and, in turn, the Arizona Coyotes, but the defenseman is no longer playing; his deal is simply moving for salary cap purposes.
1. Alexander Ovechkin: $124 million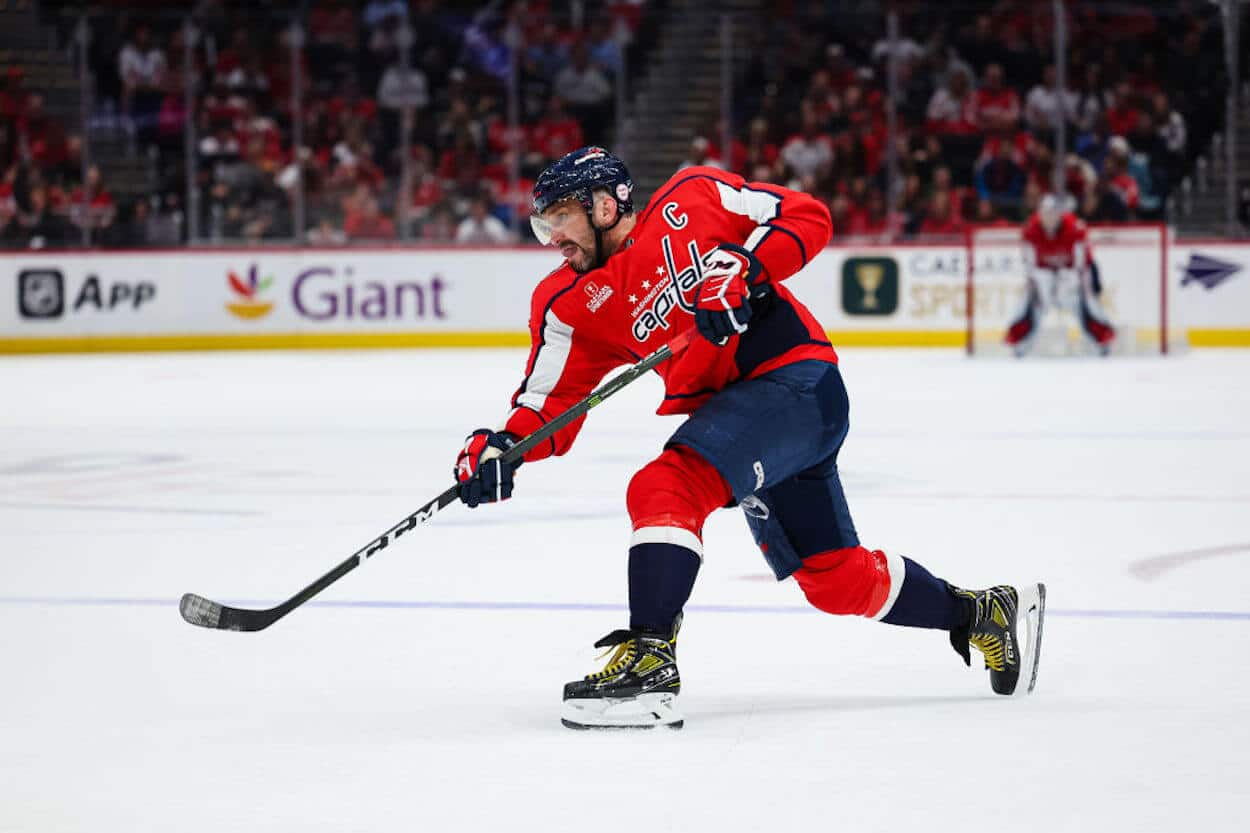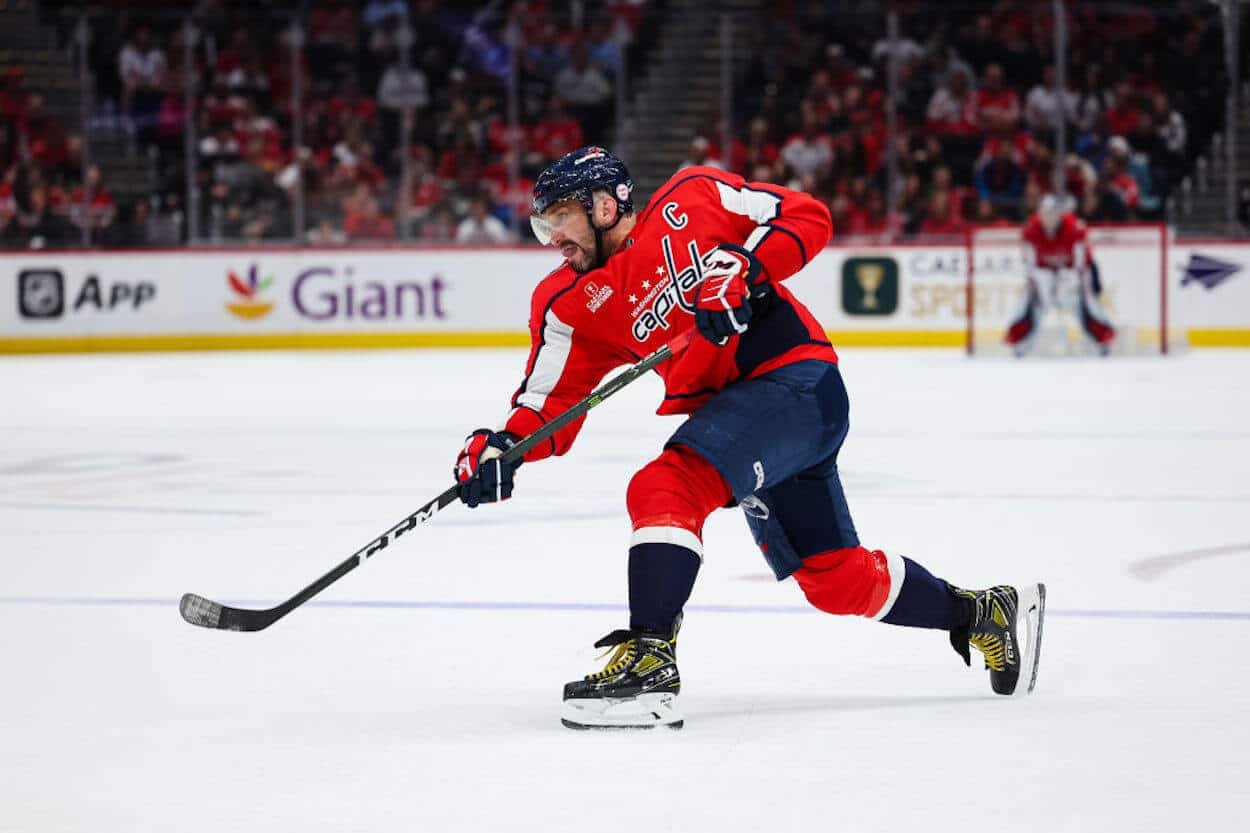 Remember how I began this list by saying that goals win hockey games and scorers are worth their weight in gold? Well, consider Alex Ovechkin as an example of that.
Ever since he arrived on North American shores in 2004, the big Russian winger has been remarkably consistent. He stays healthy, and he scores goals, especially on the power play. Over the years, he's found the back of the net more than 800 times, placing him second in the league's all-time scoring list behind Wayne Gretzky. Ovi has also lifted a Stanley Cup, claimed the Calder Trophy, and won both the Heart Trophy and the Lester B. Pearson/Ted Lindsay Award (the trophy was renamed during Ovechkin's career) three times.
That incredible resume explains why the Great 8 has only signed two NHL contracts in his career: his rookie deal and a 13-year extension worth $124 million.