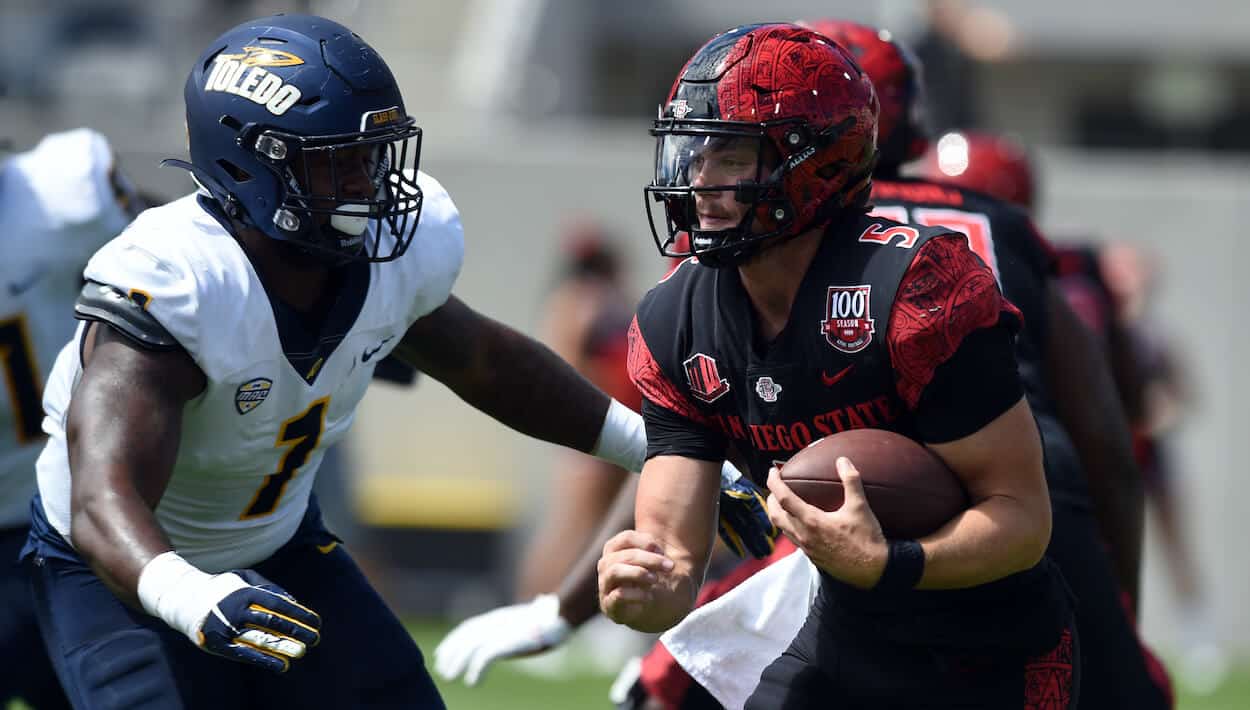 Who Is Mr. Irrelevant 2023? Meet 7th-Round NFL Draft Pick Desjuan Johnson
Rams DE Desjuan Johnson is Mr. Irrelevant 2023, and while he won't make the impact of his predecessor, he is an interesting prospect.
Mr. Irrelevant is the nickname for the last pick of the NFL draft. It comes with a week of fun activities and a footnote in the history books. Usually. In 2022, Mr. Irrelevant became one of the most relevant players of the season when San Francisco 49ers quarterback Brock Purdy led his team to the NFC Championship. Can Mr. Irrelevant 2023 do something similar? We'll see as the career of new Los Angeles Rams defensive end Desjuan Johnson unfolds.
Who is Mr. Irrelevant 2023, Desjuan Johnson?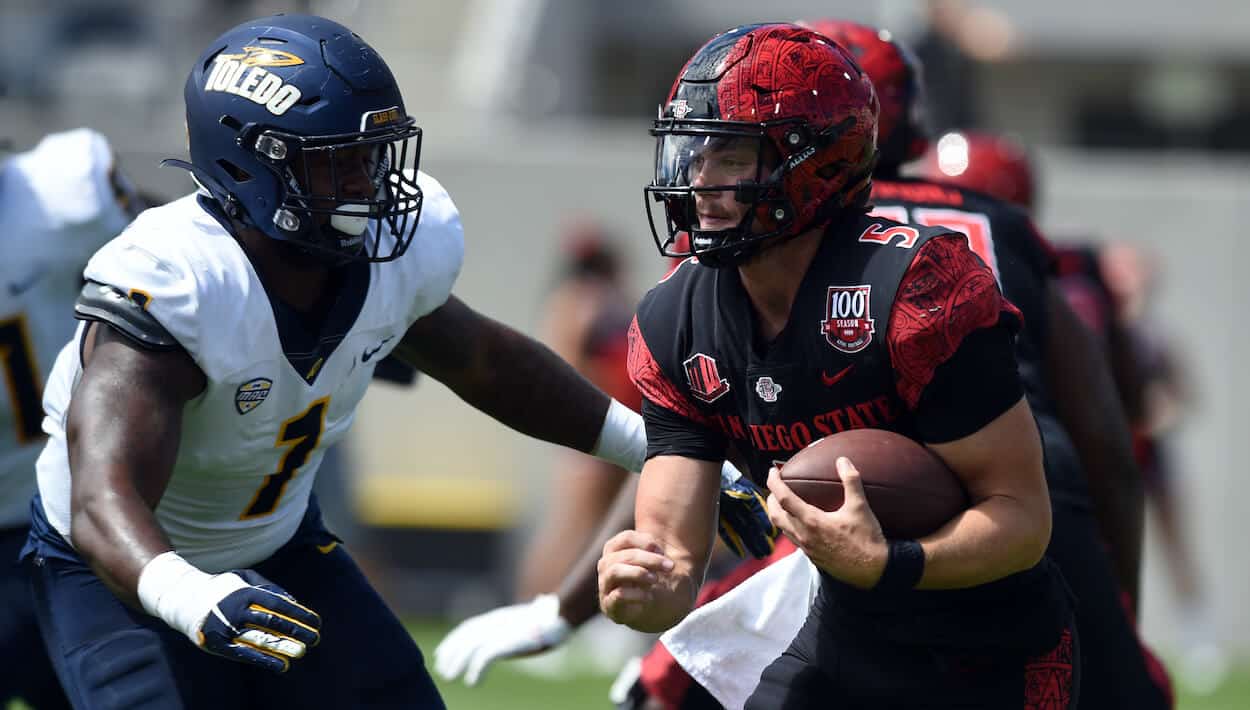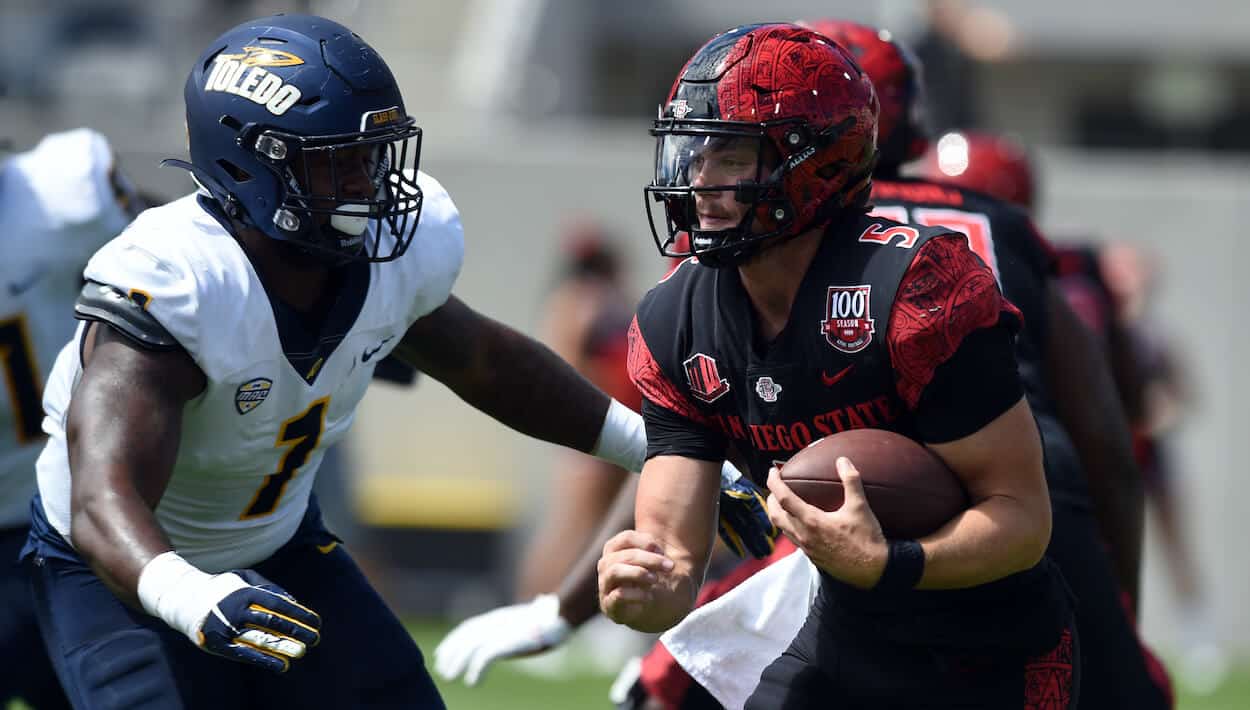 Former USC, San Francisco 49ers, and Baltimore Colts wide receiver Paul Salata started the annual Irrelevant Week back at the 1976 NFL Draft. Dayton and Pittsburgh Steelers WR Kevin Kirk the first Mr. Irrelevant.
Being Mr. Irrelevant comes with a week-long celebration in the player's honor, a trip to Disneyland, and an award called the Lowsman Trophy.
This year's recipient, the 259th pick in the seventh round of the 2023 NFl Draft, is Toledo DE Desjuan Johnson.
Johnson is from Detroit, Michigan, and went to East English Village Prep for high school and became a three-star recruit before signing with Toledo in the MAC Conference. He played five seasons for the Golden Rockets, earning first-team All-MAC honors in his final season.
The Detroit native also had 65 tackles, 5.5 sacks, and a team-leading 16.5 tackles for a loss.
At 6-foot-2, 285 pounds, Desjuan Johnson is a bit of a positional tweener at the next level. His height and arms are a little short to play defensive end in the NFL, and he's a little light to play on the interior.
Johnson is strong with heavy hands, and he can beat double teams. His best path to NFL success would be to bulk up in order to play inside. With the Rams, Johnson will learn from one of the best of all time – and a player who's about the same size — Aaron Donald.
As an interior defensive lineman, Johnson won't have the immediate and highly-publicized impact that Brock Purdy had. Still, he went to a team that could use more depth on the defensive line after losing A'Shawn Robinson and Greg Gaines in free agency.
Even if Desjuan Johnson doesn't create the Brock Purdy Effect like his predecessor, he has a good chance to make the Rams' Week 1 roster next season, which isn't bad for Mr. Irrelevant 2023.